DAVE'S DIARY - 5 MARCH 2014 - LIAM GERNER CD REVIEW
LIAM GERNER
LAND OF NO ROADS (SHOCK)
HANK AND TAMMY AND THE TEXAN JUDGE
"Hank and Tammy, man and wife 69 years old/ living hand to mouth and Winnebago for their home/ too poor to retire and too old to employ/ so they took to running cocaine for the Mexican cartel/ as they drove through Texas they crashed in Anuhuac/ smashed into the fence of the local judge's ranch/ the judge came out to help them and he did just that/ he picked up their sacks of cocaine and handcuffed them to the rack." - Hank And Tammy - Liam Gerner-Eric Lynn.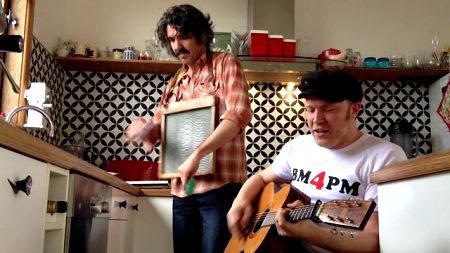 The beauty of Australian community radio is the eclectic music of the more discerning hosts - especially in Victoria.

That's how I discovered Liam Gerner - another Adelaide hills export who lived and toured overseas to source credible country songs that ride high in the saddle of American peers diverse as Texans Robert Earl Keen, Ray Wylie Hubbard, Billy Joe Shaver and Woodstock legend Tom Pacheco.

While riding through the leafy eastern suburbs of the garden state I was tuned to PBS-FM pioneer and Wimmera wheat belt son of the soil David Heard's Acid Country a few months before his satirical Georgian music theme writer Tim Wilson went to God on February 26 at the tender age of 52.

There, loud and clear on a summer's day, I was enthralled to hear the narcotic narrative Hank & Tammy - the saga of two senior citizens whose dope run from Mexico to Florida ended in Texas when they crashed their Winnebago into the ranch of a local judge.

Gerner's crime classic impacted with the same clout I enjoyed when I first heard Keen's classic The Road Goes On Forever and Pacheco parable Robert & Ramona.

In Gerner's memorable classic the spritely travellers, both 69 and holding their dream retirement package in their RV steed, bite the dust in the tail of the tale with no bail from the Mexican cartel mule handlers.

Instead of retiring on a sunny Florida beach after a brief but chilling ice and cocaine fuelled superannuation sprint the couple, who shared monickers with long deceased country music king Hank Williams, who expired at 29 in the back of a Cadillac in 1953, and queen Tammy Wynette who met her maker at 55 in 1998, they are doomed to life and death in a Texas jail.

Laced with a dash of banjo and concertina it's one of many highlights on Gerner's 11 track disc recorded at Rick Rubin's Shrangi La Over 3 studio in Malibu and produced by his engineer and co-writer Eric Lynn.

Gerner cut his album after cutting his teeth on a Trans-Atlantic trek that began in London with pit stops in the U.S. where Gerner toured with artists diverse as Jason Isbell, Drive By Truckers, Oscar winner Ryan Bingham, Dale Watson, Jackson Browne and April tourist and singing actor and Rhodes Scholar Kris Kristofferson.

It's Gerner's incubation as a road scholar of a different sort that fuels this album with a little help from friends Gary Louris, Robbie Fulks, Cajun accordionist Steve Riley and Lucky Oceans - expat Texan multi-instrumentalist and Asleep At The Wheel co-founder, also an ABC radio and TV host in Fremantle.
DEBT AND DENIALVILLE

"Well I woke up this morning like shattered bottle by the bed/ only when a cookie's broken will fortune come to it/ my head feels like an anchor that's caught under a rock/ nobody in my state would ever pull it up." - Debt And Denialville - Liam Gerner-Eric Lynn.
Gerner's journey began 30 years ago in the Adelaide hills - not far from where Greencards co-founder Kym Warner, Quorn born Jedd Hughes and songbirds Beccy Cole and Kristy Cox flew the nest.
His album begins with the wry tale of woe - Debt And Denialville that segues into Hank And Tammy and reluctant young lovers' wedding requiem Say I Do.

Equally regret tinged is What Could Have Been, with slide guitar, but the singer lands punches on Rich Man - a tune that treads a well-worn theme of monetary inequality between a spoiled affluent male and salt of the earth female who has survived a two decade toil at the coal face from the age of 13.
But it was a different hill country in Topanga Canyon in California that inspired Mother Nature's Runaway Girl - the tale of a woman who flees her work place for the freedom of the bush.

And All We've Ever Done is another ruptured romance requiem where summer love rusts and burns out with wine and weather metaphors.
THE RESURRECTION OF HENRY BOX BROWN
"Eighty six dollars is what the papers said/ freedom's worth much more than the postage paid/ get yourself some freedom before you're six feet down/ go be disappearing like Henry Box Brown." - The Resurrection Of Henry Box Brown - Liam Gerner-Eric Lynn.
Narratives are Gerner's strong suit - especially the real life Virginia tobacco slave's escape from serfdom to Philadelphia in The Resurrection Of Henry Box Brown.

I won't spoil the exact escape plot of a song that could have been an apt musical choice for the soundtrack of Oscar winning movie 12 Years A Slave.

Gerner read the story of Henry Box Brown circa 1816 in Richmond, Virginia, while living in the U.S.
Henry Box Brown was born into slavery - his wife and two children were sold and he never saw them again.

Brown's escape - preceded by self-inflicted sulphuric acid burn wounds and aided and abetted by a white store keeper and abolitionist - has a Houdini like sting in the tail.

"I wrote the song that day and performed it that night," Gerner revealed.

The song subject's escape is followed by a 25 year odyssey in England where he toured with his anti-slavery show and married an English woman who became his second wife.

The despair driven Window To A Wall - penned with Louris - and laid back transient love title track finale are punctuated by the whimsical Son Of A Scoundrel - an anthemic and humorous homily about our convict roots here in the southern colony capital.

Henry Box Brown and Son Of A Scoundrel are sibling songs in title but not theme or nationality.

Maybe that's one of Gerner's many strengths - mixing and matching cultures and social mores with rampant sense of humour.

His supply of all 11 song lyrics on post cards is a novel and creative career catalyst - something his Nashville confidantes Tom T Hall and Marty Stuart have yet to chance their arm on.

You won't hear Gerner on the me-too corporate chains of mainstream radio - try Acid Country or Denise Hyland's Twang on RRR-FM.

You won't need to suffer the tuneless techno tattooed texting twerp tribe with hats back to front, topped off with piercings and shrapnel protruding from unusual orifices on feral airwaves.
On a recent trip to a myopic mall I shirt-fronted a texter but on my subsequent search and destroy mission of a nearby chain store failed to locate a tailor made matching hat back-to-front range of apparel in the millinery aisle.

But I digress.

Hank And Tammy wore all seasons head wear and sensible shoes before their incarceration in a Texas jail - and Henry Box Brown had more serious things on his mind in his escape and freedom.