DAVE'S DIARY - 4/1/14 - PREVIEW OF EPISODE 6 - SERIES 21
TEXANS HEADLINE NU COUNTRY TV JANUARY 8
Texan stars George Strait and Miranda Lambert headline Nu Country TV this Wednesday January 8 at 10 pm on Channel 31.

Strait, making his farewell tour, performs a Merle Haggard classic in Behind Bars that also features octogenarian Coalminer's Daughter Loretta Lynn.

Lambert - singing spouse of Blake Shelton - previously joined Loretta in her Coalminer's Daughter video and showcases a recent hit on a show filmed and edited by Laith Graham.

Expatriate Gippsland country singer Gord Bamford and Van Diemen's Land raised artist Kristilee Ransley and her Bluegrass Busters debut on the show repeated Monday at 5.30 am and 2.30 pm and Tuesday at 1 am.

Sydney bluegrass band The Pigs also return to Nu Country with a new video on the eve of the 42nd Tamworth Golden Guitars festival.

Nu Country TV has been added to the C 31 streaming list.
Just follow this link on your computer or mobile phone - http://www.c31.org.au/program/view/program/nu-country-tv
GEORGE STRAIT ON SEASHORES OF OLD MEXICO

Texan George Strait sings of a gringo from Tucson, Arizona, finding freedom and love on the seashores of Old Mexico in his classic video inspired by the Merle Haggard hit.
After losing his stash in Juarez to a senorita the bandit escapes in a farmer's flat-bed truck, laden with hay and chooks, to Durango and then freedom on an idyllic beach with another damsel.

The Seashores of Old Mexico was written by Merle Haggard.

Strait's video was filmed in February 2006 in Tulum, Mexico and directed by Trey Fanjoy.

It was originally recorded by Hank Snow in 1971, Freddy Weller in 1972, Haggard in 1974, and in 1987 Haggard and Willie Nelson recut the song as a duet and video.
Snow's cut was a Top Ten hit in Canada, peaking at #6.

Strait's version, released as the last single, from his 2005 album Somewhere Down in Texas, peaked at #11 on Billboard in 2006.

The 61-year old rancher used his acting experience in the movies Pure Country and The Soldier to illustrate his numbing narrative.

George has recorded 54 songs by Dean Dillon and many of his own songs and some by his son Bubba on his 28 albums.

Strait might be on his marathon farewell tour but he will continue recording in a colourful career.

CLICK HERE for some exclusive George Strait interviews in The Diary on November 16, 2011.
LORETTA LYNN SINGS OF BREEDING
Kentucky Coal Miner's Daughter Loretta Lynn performs a video for one of her classic hits on a TV show hosted by her late duet partner Conway Twitty.

Loretta, now 81, recorded One's On The Way - a comment on her prolific breeding and social mores of the early seventies - a sibling of another of her hits The Pill.

It was penned by late Playboy cartoonist Shel Silverstein and the fifth #1 hit and title track of her 1972 album.

Loretta, second of eight children, was named after film star Loretta Young.

Loretta's dad never got to see his daughter become famous, as he died a year before Loretta's first single I'm A Honky Tonk Girl was released.

Three of Loretta's siblings also pursued country music careers: youngest sister, Crystal Gayle, sister Peggy Sue and brother, Jay Lee Webb.
Patty Loveless (Patricia Ramey) is related to Loretta on Loretta's mother's side, as is Venus Ramey, Miss America 1944.

Loretta married Oliver Vanetta Lynn, commonly known as Doolittle, Doo or Mooney for running moonshine, on January 10, 1948, after meeting him December 10, 1947, and courting for a month.

Mooney was 21 years old and Loretta was 15.

In an effort to escape the coal mining industry the couple moved from Butcher Hollow to the logging community of Custer, Washington when she was 15 years old and seven months pregnant with the first of their six children.

They had three children by the time Loretta was 19 and she gave birth to their fourth child, Cissie, by age 20.

The Lynns had six children including twins Peggy Jean and Patsy Eileen named after Patsy Cline, who recorded as The Lynns.

Miranda Lambert and Sheryl Crowe honoured Loretta on the 2010 Coal Miner's Daughter tribute disc that featured a video filmed at Loretta's Hurricane Mills dude ranch where I was chauffeur for the late Johnny Russell at a 1978 concert.

The singer's Grammys included her Jack White produced 2004 album Van Lear Rose - U.S. President Senator Barack Obama recently awarded her the presidential Medal Of Freedom.

CLICK HERE for a Loretta Lynn CD review on February 1, 2011.
MIRANDA LAMBERT DISCOVERS ALL KINDS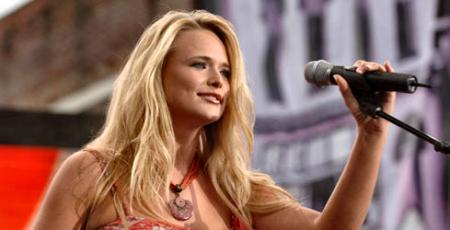 Texan Miranda Lambert proves her dog rescue mission extends to humans in her video for All Kinds Of Kinds from her fifth album 4 The Record.

Miranda performs in a concert setting with her road band and features a collage of characters to illustrate the kinds of people who make up her diverse world.

The Grammy nominated singer, now 30, has her own line of footwear to accompany her perfumes, wines and other merchandising.

Miranda is also active in animal welfare - she also rescued her Oklahoma spouse Blake Shelton and found a duet and writing partner.

Neither Blake nor Miranda's Pistol Annies, with whom she had made two albums, were in her video but she has since topped charts with expat Australasian superstar Keith Urban.

Lambert, daughter of a former Dallas undercover drug cop and private eye, is no stranger to acting.

She made her debut on long-running legal drama, Law & Order: Special Victims Unit in an episode titled Father's Shadow that originally aired on February 8, 2012.

Lambert portrayed an actress named Lacey Ford, who falls under the spell of a nefarious producer (played by Michael McKean) and later claims to have been sexually assaulted by the reality show producer.

"I had to really pull from my gut on this whole role I was playing because I'm a very strong, confident person," Miranda said.

"I really had to really transform my personality, which I wasn't sure I could do until I got on the set and sort of just tried to put myself in her shoes. This was really nerve-racking all around, but also exciting because I've never acted before. And then playing an actress trying to get a role, it was like an audition within an audition. It was sort of my audition for myself to see if I could even act at all."

"I actually played a rape victim, which was crazy to go from never acting to going to such a serious thing. I have a pretty small part, but it's big to me because I've never acted in my life, it was hard. I was really, really nervous, like about to throw up all day. I'm playing a character opposite of my personality, and I'm having to act with people that are actually amazing actors, so it really pushed me out of my comfort zone."

CLICK HERE for a Miranda Lambert feature in The Diary on May 5, 2007
CLICK HERE for a Miranda Lambert CD review on January 11, 2010.
GORD BAMFORD FARM GIRL STRONG
Gippsland refugee Gord Bamford performs the video for his hit Farm Girl Strong in his Nu Country debut.

Gord was born in Traralgon but left for Alberta, Canada, with his country singer mum Marilyn when he was just five years old.

Gord, now 37, has kept the pure country flame blazing by releasing six albums.

Farm Girl Strong is on his fifth disc Is It Friday Yet?
In January 2001, Bamford released his debut album, God's Green Earth, on his GWB Records recorded at Sound Edge Productions in Saskatoon, Saskatchewan.

Bamford wrote two songs on the album that failed to impact and he left the business discouraged.

In 2003 Bamford headed to Nashville, Tennessee writing with Steve Fox, Tim Taylor and Byron Hill who co-produced his second album Life Is Good.

Bamford wrote 10 of the 11 songs - the six singles included top 20 hits My Heart's a Genius, All About Her, Life Is Good and I Would for You.

He soon opened shows for Tim McGraw, Kenny Rogers, Carolyn Dawn Johnson, Don Williams and Terri Clark.

His third album Honkytonks and Heartaches produced by Byron Hill, was released on September 25, 2007 - first single, Blame It On That Red Dress, was Gord's first top 10 hit on the Canadian country singles chart.

Gord Bamford's fourth album, Day Job, was released in April 2010.

Four singles were released - Day Job, Put Some Alcohol On It, My Daughter's Father and Hank Williams Lonesome.

Bamford's fifth album Is It Friday Yet? was released in March 2012 with five singles - Is It Friday Yet?, Leaning on a Lonesome Song, Disappearing Tail Lights, Farm Girl Strong and Must Be a Woman.

Bamford's sixth album, Country Junkie, was released in October 2013 and his first Christmas album, Christmas in Canada, in November 2013.

Further info - www.gordbamford.com
KRISTILEE & HER BLUEGRASS BUSTERS
Kristilee Ransley & her Bluegrass Busters blow a little steam on the mean streets of Fitzroy in her video for Smoke.

Kristilee hails from Hobart and is helped out by local band Blue Grassy Knoll aka the Bluegrass Busters on her disc recorded at Adelphia Studio - also in Fitzroy.

The singer's character's friend try to woo back her beau as he strolls along familiar streets and alleyways before the happy reunion takes places in another famed North Fitzroy locale.

"The final scenes are in Edinburgh Gardens," Kristilee told Nu Country TV.

"We couldn't believe the perfect day that we had. The light was gorgeous, the leaves were falling - we were thrilled."

It was a much more placid scenario than a feral dance party on New Year's Eve that left the gardens like a Beirut bomb zone.

Despite being warned well in advance the local greens council failed to protect their leafy locale from 20,000 Facebook bogans who ignited their own climate change with booze, brawls and bashings in their broken glass jungle.

Kristilee also recorded another original song Ruby with her band for her album - it was a finalist in the Darebin Songwriting Awards, which led to her collaboration with Blue Grassy Knoll.

She filmed another video in the beer garden of the Pinnacle Hotel in North Fitzroy in a career that includes comedy shows, solo piano bar gigs, jazz ensembles and lead roles in musical theatre productions.

Kristilee's overseas sojourns have included Bourbon Street, New Orleans, Pennsylvania, London, Singapore, Morocco and Dresden, Germany.

A notable highlight was an appearance onstage at legendary London jazz club Ronnie Scott's where she sang 60s tunes with the Blues Brothers Band and Eddie Floyd.

Further info - https://www.facebook.com/KristileeMusic
THE PIGS ADD COLOUR
Sydney band The Pigs perform their video for Colour Of The Light Coming Down off its third album The Great Bluegrass Swindle.

They enjoyed a five week festival tour of Germany and Denmark last year.

The band, one of the big hits at the 37th Port Fairy folk fest in March, also played the inaugural three day Broadbeach Country Music Festival from June 21-23.

The Pigs share their name with a Bristol punk rock band formed in 1977 and have appeared on ABC TV shows Rage and Spicks' N Specks.

They recently released their new single and video for Milkshake.

Further info - www.thepigs.com.au
HOW TO KEEP NU COUNTRY ON AIR
We need your support as we celebrate our 21st series of Nu Country TV.

Australian record companies and artists have joined forces to ensure our survival.
We have new CDS by major artists you can win by becoming a Nu Country TV member or renewing your membership.

They include singing actors Willie Nelson and Tim McGraw, Voice judge Blake Shelton, Ashley Monroe, Brad Paisley, Gary Allan, Toby Keith, Dierks Bentley, Eric Church, Carrie Underwood, Chris Young, Charley Pride, Slim Dusty, Adam Harvey, Troy Cassar-Daley and more.

We also have the latest John Denver all-star tribute album and DVDS by Miranda and fellow chart topper Lady Antebellum.

CLICK HERE for our Membership Page for full details.