DAVE'S DIARY - 15/2/14 - PREVIEW OF EPISODE 12 - SERIES 21
GRAMMY WINNER KACEY MUSGRAVES HEADLINES NU COUNTRY TV FEBRUARY 19
Texan Grammy winner Kacey Musgraves headlines Nu Country TV this Wednesday February 19 at 10 pm on Channel 31.

Musgraves returned to the top of Billboard charts with debut album Same Trailer, Different Park after performing her latest video Follow Your Arrow on the Grammys.

Fellow Texan Clay Walker returns to Nu Country TV on the eve of his first Australian tour on the show repeated Monday at 5.30 am and 2.30 pm and Tuesday at 1 am.

Mid Pacific Bob Olson also presents his first summer recipe on Behind Bars & Barbecues on the episode filmed and edited by Laith Graham.

Bob has chosen fruit salad with a kick - a little something to spice up the summer salad selection.

Next week will also be a treat - stay tuned for details.

Dual Louisiana Gubernatorial candidate and singer Sammy Kershaw also returns to the show featuring Western Australian Star Maker finalist Jonny Taylor and Texan singer-songwriter Walt Wilkins.

Nu Country TV has been added to the C 31 streaming list.
Just follow this link on your computer or mobile phone - http://www.c31.org.au/program/view/program/nu-country-tv
KACEY MUSGRAVES FOLLOWS HER ARROW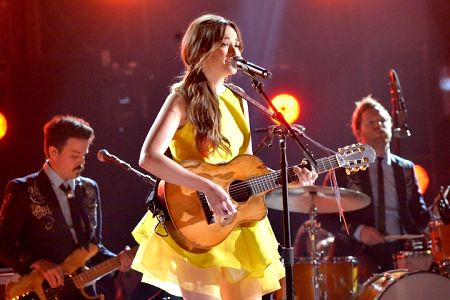 Texan Kacey Musgraves won two Grammys this month for her debut album Same Trailer Different Park for best country album and best country song Merry Go Round.

The singer returned to the top of Billboard charts after performing latest single Follow Your Arrow on the show - album sales increased 146% the following week.

Kacey, 25, performs the video for that song on Nu Country this week - she visits the Jesus House of Prayer in the desert and romps through the sand with a big band and a little pony.

Kacey's album topped Billboard charts on debut last March.

Musgraves sexual liberation anthem Follow Your Arrow has boosted her popularity way beyond the country genre.

"The record was basically done - I was getting a lot of pressure because there were already lot of great songs in the batch," Musgraves said.

"But co-writers Brandy Clark, Shane McAnally and I had these ideas - they just really encapsulated where my head was at. I knew exactly what I wanted to do sonically. I said, 'This isn't a complete record without them.'"

Musgraves thanks McAnally's mother for the inspiration for Merry Go Round that began casually.

"Referring to a neighbour, she said, 'Well, I don't know if she's selling Mary Kay or Mary Jane," Musgraves explained.

"I first heard the song on radio on September while I was driving around Nashville with my sister who is a photographer.

She captured the moment on film, complete with me freaking out, cussing and trying not to wreck my car. I was freaking out to hear the tune through car stereo, so were the listeners. It's a song everyone can relate to. It's not a small-town thing. It's a life thing."

Musgraves is now with fellow Grammy winners Lady Antebellum on their Take Me Downtown Tour.

She will also join pop star Katy Perry on the Perry Prismatic World Tour in August.

CLICK HERE for a Kacey Musgraves feature in the Diary on July 9, 2013.
CLAY WALKER REMEMBERS JESSE JAMES
Texan Clay Walker performs his video for outlaw legend Jesse James on the eve of his Australian debut at the seventh CMC Rocks The Hunter festival from March 14-16.

Clay, now 44, has battled MS since being diagnosed in 1996.

Walker married a rodeo queen in 1995 and later a model in 2007 and has four children.

Jesse James is on his 12th album She Won't Be Lonely Long from 2010.

Texan Clay Walker lived it up on a Gulf Of Mexico beach before the oil spill in his previous video for the same album title track.

It debuted at #5 on Billboard charts.

Walker records for Curb - it's his fourth record label in a career that has produced six #1 hits.

The singer hails from Beaumont - same hometown as George Jones, Tracy Byrd and Mark Chesnutt.

He released She Won't Be Lonely Long after marrying model Jessica Craig in 2007.

Tracy Lawrence performed at the wedding - two band members, Landon Taylor and Ken Smith, served as groomsmen.

Walker's divorce from his first wife, Lori, was finalised in 2006.

Further info - www.claywalker.com
SAMMY KERSHAW
Thrice wed two time Louisiana Gubernatorial candidate Sammy Kershaw tasted hot spice when he lit up at the bar of famed Austin honky tonk - the Broken Spoke - in his video for Matches from his 1997 album Labor Of Love.

His character burned down the kicker bar after his lover left him with nothing but matches.

Kershaw is well versed to write about burning love.

The singer has a penchant for multiple marriages - his journey included six years from 2001-2007 being one of singer Lorrie Morgan's six ex-husbands.

Kershaw, 55, and Morgan, now 54, had better luck as duet partners on two duet albums and solo artists earlier in their careers.
Lorrie's singing spouses included Keith Whitley, Jon Randall Stewart and George Jones bassist Ron Gaddis.

Kershaw and Morgan recorded a vocal duet album in 2001 entitled I Finally Found Someone - the title track was a cover of the Bryan Adams/Barbra Streisand duet.

This album's only Top 40 hit was the #39 hit He Drinks Tequila And She Talks Dirty in Spanish.

Singing actor Tim McGraw also cut the Kershaw hit Better Than I Used To Be - once perceived as a cryptic comment on Tim's bitter parting with Curb Records.

But the song's history - it was the title track of Kershaw's 10th album released on August 31, 2010 - suggests it's a multi-purpose track.

Further info - www.sammykershaw.com
WALT WILKINS - SINGER OF PLENTY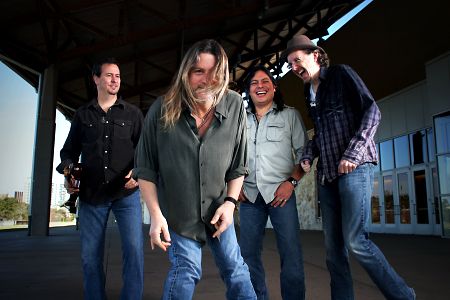 San Antonio born Walt Wilkins performs a live version of his song Just Be from his 10th album Plenty.

Wilkins strutted his stuff midst ornate Texan décor in the studio.

Walt and former Alabama death row warder Davis Raines wrote Someone Somewhere Tonight - recent single for March tourist Kellie Pickler - and also recorded by fellow Texan Kenny Rogers and Pam Tillis.

Walt, now 50, had no master plan for becoming a singer, a songwriter and a record producer.

"I come from a family of readers," he says.

"I started writing poetry and plays when I was in grade school. I got my first record player when I was 9 or 10 and I fell in love with music. When I was 13 I bought my first guitar with my lawn-mowing money and I was done. But things didn't all fall in line until I was 30."

Walt was born in San Antonio, raised in Austin and is based in Cedar Park.

"My mom is from San Antonio. My dad was an Air Force fighter pilot cadet. He met my mom and took her to a Tommy Dorsey dance," Wilkins revealed.

"My dad had a great record collection. He loved Glen Campbell. He also had a lot of Merle Haggard, Bob Wills, Patti Page. When I was growing up neighbour, Larry taught me how to tune my guitar and he was really into the Beatles."

But Wilkins wasn't a songwriting child prodigy.

"I was 24 when I wrote the first song I kept," he said.

"The song was Songs About Texas. Pat Green recorded it. I wrote a song called Ruby's Two Sad Daughters and I thought, 'Man, that's a good song.' Then I realised no one was going to come to my apartment to hear me so I was going to have to play out."

In 1994 Wilkins pulled up Texas stakes and moved to Nashville where he lived for 11 years.

"I had a publishing deal and had some cuts, but no big hits," he said.

"I met my wife there and we had a son. I had a good run in Nashville. I learned a lot. But I was always playing in Texas and I wanted to raise my son in Texas so we moved back."

Wilkins does not bad-mouth Nashville.

His songs have been recorded by Green, Cory Morrow, Brandon Rhyder and Tommy Alverson.

He also has had cuts recorded by Kimmie Rhodes (Espiritu Santo Bay,) Ricky Skaggs (Seven Hillsides) and Ty Herndon (Big Hopes).

Since moving back to Texas, Wilkins has produced albums for Rhyder, Jamie Richards, Bonnie Bishop, Jason Eady, Sam Baker and Brian Langlinais.

"I've kind of got three parts to my life," he said.

"One, I'm a songwriter. Everything else is based on that. Two is the playing. I never thought of myself as a singer or a performer, but I had to learn to be a singer and a performer.

"And three, there's the producing, which came organically. I started producing my own records. I'd heard thousands of records, so I knew how I wanted my records to sound.

Plus, I was broke and I couldn't afford to have Lloyd Maines produce my records. I'm gratified people call and ask me to produce their records. Besides, it's a lot of fun. I love musicians."

Wilkins works with the Mystiqueros, solo and in a duo with Tina who has released her Morning Glory CD.

Walt's latest solo album is Vigil - The Mystiqueros is Agave.

New solo albums and Mystiqueros discs are in the works.

"Each of those has a different set of muscles," Wilkins said.

"Playing solo is the hardest, but it can be the most gratifying. Playing with the band is so much fun. It's about as much fun as a boy can have."

Fun figures heavily into Wilkins' advice for aspiring songwriters and musicians.

"Unless you have a huge hit song or become a star, you're not going to make much money," Wilkins added.

"The reward is you get to play. If you look for anything else, it can be heartbreaking. The fun part is playing."

Further info - www.waltwilkins.com
JONNY TAYLOR - SLAVE TO THE ROAD
Western Australian singer-songwriter and reality TV show graduate Jonny Taylor performs the video for autobiographical tune - Slave To The Road.

Taylor has been a relentless road warrior since leaving home in Mandurah.

The 2014 Tamworth Star Maker finalist kicks footballs, fishes for his supper and takes outdoor showers on his bush journey in his colourful video.

Slave To The Road is on his second album Something To Say.

CLICK HERE for an exclusive Taylor interview in the Diary on July 16, 2013.
HOW TO KEEP NU COUNTRY ON AIR
We need your support as we celebrate our 21st series of Nu Country TV.

Australian record companies and artists have joined forces to ensure our survival.
We have new CDS by major artists you can win by becoming a Nu Country TV member or renewing your membership.

They include singing actors Willie Nelson and Tim McGraw, Voice judge Blake Shelton, Ashley Monroe, Brad Paisley, Gary Allan, Toby Keith, Dierks Bentley, Eric Church, Carrie Underwood, Chris Young, Charley Pride, Slim Dusty, Eli Young Band, Rosanne Cash and more.

We also have the latest John Denver all-star tribute album and DVDS by Lady Antebellum.

CLICK HERE for our Membership Page for full details.
Visit our web & Facebook pages & win CDS by becoming a Nu Country member
We'll be back same time next week on your favourite TV ranch - Channel 31