DAVE'S DIARY - 9 JULY 2013 - KACEY MUSGRAVES FEATURE
KACEY MUSGRAVES - SMALL TOWN TALES HIT BIG TIME
"Mama's hooked on Mary Kay/ brother's hooked on Mary Jane/ and Daddy's hooked on Mary two doors down/ if you ain't got two kids by twenty-one/ you're probably gonna die alone." - Merry Go Round - Kacey Musgraves-Josh Osborne-Shane McAnally.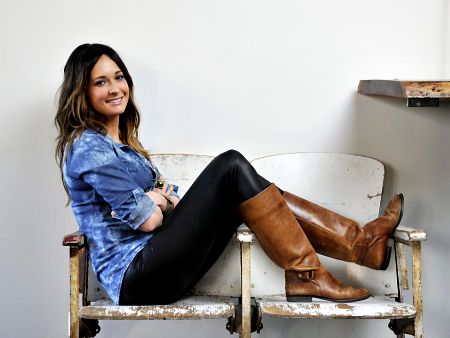 Texan troubadour Kacey Musgraves is riding in the same posse as The Pistol Annies and other hard riding divas fanning the storms of change.

She may be 53 years younger than Tom T Hall but she broke into mainstream radio with a song that shares sentiments with the latter day bluegrass maestro's classic Harper Valley PTA.

Musgraves, 24, charted with her debut single Merry Go 'Round - a riveting reflection of licentious life not behind closed doors in a small town.

The video debuts on Nu Country TV this Saturday - July 13.

Her debut album Same Trailer Different Park topped the Billboard country charts in its first week and was #2 on the all genre Top 200 behind Justin Timberlake.

It was a huge catapult for the singer who grew up in Golden - a sweet-potato-growing country town of about 600 people due east of Dallas.

That's 20 miles northwest of Lindale - hometown of Miranda Lambert with whom she wrote recent Lambert hit Mama's Broken Heart.

She also shared a Nashville Star reality show pit-stop with Lambert.

"I talk about Merry Go 'Round being inspired by growing up in a small town, but really it's like, the cycle of life, that inspired it," Musgraves revealed.

"I guess it's more see-through in a small town, just because there's less to do and all you have to do is focus on yours and everyone else's problems, mainly everyone else's. It always starts with something autobiographical. Some piece of it is something that struck something in me or something that I thought would make a cool subject matter for a song. But I feel like there is a character somehow - like all of my songs are coming from the point of view of the same girl. So that may be me as a character, or that may be the mindset of the young lady that I am now. It could be totally different a year from now, I think.

You don't have to be from a small town to relate to it because it's not just about that. It's also about life and fulfilling your parents' expectations and leaving your own on the back burner. Some people unfortunately have to do that, then later regret it. It's like this whole cycle - their kids learn that from them. But it is what it is. I'm just observing. I don't ever want people to think I'm preaching at them or wearing them out. It's just something that I observed and that I'm pointing out. And it's not coming from an outside or inside viewpoint. I'm just saying, this is how it is. And if that's you, cool. If not, cool. Whatever."
MANDOLIN
"If you save yourself for marriage you're a bore/ if you don't save yourself for marriage/ you're a whore-able person/ if you won't have a drink/ then you're a prude/ but they'll call you a drunk/ as soon as you down the first one." - Follow Your Arrow - Kacey Musgraves-Brandy Clark-Shane McAnally.
Kacey started playing mandolin as her first instrument before she was a teenager - because of the size of her hands.

"The mandolin was just a better fit because it's small and the fret board is small," Musgraves recalled.

"And when I was 10 my little hands couldn't really reach around a guitar yet. A family down the road from my house in Texas had five kids, and they all played a million different instruments. So their youngest one, she was 16, started giving me lessons. I switched to the guitar when I was 12, and now I'm 24 so I've been playing half my life."

Musgraves newfound fame is the ultimate leap of faith from travelling across Texas in her grandparents' minivan.

"They were huge pieces of that puzzle, helping me, paying for guitar lessons, putting rhinestones on shirts or driving me 14 hours to a show. It was never a burden."

She made her public singing debut in church at 8, wrote her first song at 9 and while in junior school became a regular on the Texas Opry circuit.

One of 10 acts on Saturday nights, she'd take the stage in a fringed cowgirl get-up to sing a couple of classics - I Want to be a Cowboy's Sweetheart and Your Cheating Heart.

Then she'd sign pictures for the senior citizens who made up most of the audience.

"All through sixth, seventh, eighth, ninth grade," she says.

"I'd be doing this on weekends while my friends were going to dances."

She also took lessons from John Defoore, who taught at the old Beckam Hotel in Mineola, Texas, and also tutored Lambert and Michelle Shocked.

Musgraves credits him with introducing her to the art of song craft.

"I didn't know how useful that would be down the road, but it totally set me up for what I'm doing now," Musgraves recalled.

"I think he knew I wasn't the kind of student who was going to go home and shred on scales. Instead, I wrote a new song every week and brought it back to him. Four years of that really helped me find my voice."

Musgraves graduated from high school at 17 and headed for Austin and roomed with Lambert's younger brother, Luke.

The Lambert and Musgraves families have known each other for years.

She released three albums independently before she was 18 and finished seventh on Nashville Star.

"I knew that Nashville was going to happen sometime but that it couldn't be right away," Musgraves revealed of her talent quest challenge.

"I had to move away in pieces to get on my own feet. I'm glad that I did it, and I'm also glad that I didn't get further than I did, because that can really brand you, or stain you.
I wanted a fresh start."

Not long after hitting Music City she took a gig playing children's birthday parties.

She'd dress as Cinderella or Ariel, sing a song, paint some faces, and earn $100.

Kacey borrowed from David Allan Coe and told her employers to take this job and shove it when they asked her to dress as a French maid to deliver balloons to a birthday party at a fancy downtown steakhouse.

"This sounded sketchy," she recalled.

"A week later I found out the gig was Blake Shelton's birthday. Everybody I'd worked with, or would have hoped to work with one day, would have been there. I would have never lived it down."
BLOWING SMOKE
"Well Janie got divorced again/ her ex-husband's in the Pen/ with 2 to 5 or 5 to 10 or longer, yea/ and Brenda's trading smokes for cake/ still hadn't lost that baby weight/ and that baby's bout to graduate from college." - Blowing Smoke - Kacey Musgrave-Luke Laird-Shane McAnally.
Musgraves second single Blowing Smoke, accompanied by a video that we feature on Nu Country TV in August, is written from the perspective of a group of waitresses on a smoke break talking trash.

Although Kacey hasn't been a waitress like the one she plays in the video she knows a thing or two about exhaustion after shooting the piece.

Besides taking all day to film, Kacey took a side trip to tape an appearance on The Ellen DeGeneres Show that day, too.

"I got to set at 6 a.m. and shot until about noon," Musgraves revealed.
"Then I went over to Ellen, sang Blowin' Smoke on Ellen. I actually went to Ellen in my waitress uniform. And then I left after that and came right back to the video set and shot until about 9 at night. It was such a long day, I was so worn out I couldn't even think straight. I'm so happy with how it turned out!"

Musgraves says a narrative thread from her Texas roots runs through much of her writing.

"I came from that, but I also moved away from it," she added.

"So I see both sides and I can appreciate both. And I'm not dogging people that still feel that way. It's just time for somebody to be a realist about it."

Musgraves writing preceded her recording - she wrote Lambert's hit Mama's Broken Heart, Undermine from ABC TV show Nashville soundtrack, When You Love a Sinner for Martina McBride and There's a Person There for fellow Texan Lee Ann Womack.

Universal gave Kacey plenty of creative control - she worked with her younger sister on album art and wrote every track on her debut.

Musgraves admits she doesn't have a lot of straight love songs and admits it's more difficult to write now that she's in a happy relationship.

"It hurts a little when you get thrown in the angry Southern chick singer box," Musgraves says.

"I'm not angry. Really, I'm not. I draw inspiration from everywhere. So a lot of what I write is what's happened to me, but I get ideas from observing others, too. Lately, it's funny because I almost need to be depressed sometimes to get good material. It's hard to write when you're really happy so I'll ask a co-writer, 'Please tell me about the terrible parts of your relationship.' I draw inspiration from everywhere. I try to go back to times when I wasn't real happy - and draw from that."
FOLLOW YOUR ARROW
"Make lots of noise / kiss lots of boys / or kiss lots of girls / if that's something you're into / when the straight and narrow gets a little too straight / roll up a joint or don't / and follow your arrow wherever it points." - Follow Your Arrow - Kacey Musgraves -Brandy Clark-Shane McAnally.
Musgraves is a realist about diverse topics in her writing and believes the genre is ready for her kind of honesty, especially in Follow Your Arrow - one of nine songs penned with prolific gay Nashville songwriter and co-producer Shane McAnally.
"It talks about pot, it talks about homosexuality, and obviously for country music that's a very taboo subject," Musgrave says.

"I'm going to ruffle some feathers, but I would almost rather weed out the people who are not going to be my fans because of that, in the beginning, than give them some rosy idea of who I'm not, and then release that later."

< Shane McAnally
The singer, acclaimed by Rolling Stone in the new millennia vanguard with the Pistol Annies - especially Ashley Monroe and Lambert - believes she has age and culture on her side.

"There are some older people in there," Musgraves concedes.

"But I think the majority is younger, and they're outspoken. I think they're open-minded.

Whatever they're feeling when they hear my music, they're liking enough to be really loud about it. At first, I was like, there's going to be backlash. I know a lot of people don't really agree with those things, especially in the South. But there's actually a lot less criticism towards that song than I imagined. I'll play it at shows where there's a huge age range of people and even the older people are getting into it. More than anything, even if they don't agree with the girls kissing girls thing or even the drug reference, I would hope that they would agree that no matter what we all should be able to love who we want to love and live how we want to live."

The song focuses primarily on hypocrisy of society, opening with, "If you save yourself for marriage you're a bore/if you don't save yourself for marriage you're a horrible person."
"It's actually been really fun playing that one and seeing people's reaction when they hear the first line," she admits, referring to the assumption made after that long pause between the first and second syllable in horrible.
OUTLAWS
"If you don't go to church/ you'll go to hell/ if you're the first one on the front row/ you're self-righteous son of a-/ can't win for losing/ you'll just disappoint 'em/ just 'cause you can't beat 'em/ don't mean you should join 'em." - Follow Your Arrow - Kacey Musgraves -Brandy Clark-Shane McAnally
Musgraves edgy lyrics earned her the rebel label.

"That makes me laugh," Kacey says.

"I've heard the word outlaw and stuff. I'm just me. I naturally go against the grain of what's been out there previously. That's the only word that they want to throw at it or something."

Kacey refuses to censor herself as a writer, having co-written every song on her album.

"I feel like that's kind of what country music is lacking," Kacey says.
"If we are wanting to progress and change as a genre, I don't think we should be scared of taboo subjects. Every other genre gets to sing about them; why can't we? I mean, if I listen to a record, I'm not seeing the person. So it doesn't really matter to me what they look like. I mean, I guess it does to other people," she revealed.

She admits she likes to dress up and look attractive, but adds, "Overall I think that I'm not here just to look pretty. Or I don't wanna be. I want the other side of it to come first, and then if people think I'm hot, then awesome."

The songs belie her age and speak of precocious wisdom by tackling controversial issues.
"It feels like it's the only way to do it, to make music. I would much rather bring to light real, almost disturbing issues and have somebody go, 'Damn, I'm not alone' than just skate over it."

SAME TRAILER DIFFERENT PARK
"Same hurt in every heart/ same trailer, different park." - Merry Go Round - Kacey Musgraves-Josh Osborne-Shane McAnally.
Musgraves didn't have a problem with finding her album title.

"I didn't ever want it to be too obvious of a title," Musgraves confessed.

"I like to make people think a little bit. I thought the title of Merry Go 'Round was a little too one-dimensional, and I obviously didn't want it to be Kacey Musgraves. I just liked that line: "Same hurt in every heart/ same trailer, different park."

"It kind of means "same shit, different day." We're all the same, though we may look different or live in different places. But we're all driven by the same emotions. It may mean something different to different people, but I just like the trailer theme. I ended up having a couple of songs referencing trailers, so it just kind of fit."

So why the fascination with trailers?

"Oh, I don't know," she says.

"Maybe it's because it's the first house I lived in when my parents brought me home from the hospital. I didn't necessarily grow up in a trailer park, but there is a brief part of that in my life. So I can make fun of it a little bit. I'm not too much of an outsider, where I'm just making fun of someone.

"That culture is interesting to me. It's pretty transient. There are people always moving in and out. There's always drama, just like any other neighborhood. I like the fact that it's a big metal box that people can move around. It's pretty wild. That's really an American thing. They don't have that in other countries."
IT IS WHAT IT IS
"But I ain't got no one sleeping with me/ and you ain't got nowhere that you need to be/ maybe I love you, maybe I'm just kind of bored/ it is what it is till it ain't anymore." - It Is What It Is - Kacey Musgraves- Luke Laird- Brandy Clark.
The Texan cites John Prine, Patty Griffin, Dolly Parton, Lee Ann Womack, Ray Wylie Hubbard and Loretta Lynn among her primary influences.

"I like anyone with something to say," she explains.

"Loretta was writing stuff that was pretty ahead of its time, like The Pill and Rated X. She pushed a lot of buttons and I love that. I don't make music based on what radio would like. My favorite kind of songs are clever without sounding like they're supposed to be clever. Especially if they sound traditional but push the envelope a little in the message they're conveying.""
Musgraves walks the line between tradition and insurgency in It Is What It Is - a song that's both deeply felt and clever.
It begins like an old-fashioned weeper in slow waltz time with a steel guitar accentuating Musgrave's voice.

But the song is not a weeper - it's a love song about friends with benefits, country music for the hookup generation.

"If the lyrics are something new, then maybe I want to give it a more traditional form," she said, "or the other way around, but not have all one or the other."

The singer said her grandmother, who served as her first booking agent and sewed rhinestones on her cowgirl suits cried when Musgraves had her nose pierced and sang about a casual relationship in the song.

Kacey said her grandmother called it "the Slut Song."

"She's like, 'my friends are gonna hear you say these things,' and I'm like, 'Nana, it's my career to mess up,'" the singer explains. "And not to be rude, but she's not my demographic."

It wasn't the choice for the next single, but It Is What It Is exemplifies the new-order/old-school hybrid Musgraves tries to wed without resorting to faux imagery.

"It's crazy to me that there are people that see the nose ring and think it makes me a heathen," she says.

"I guess they think you have to look country to sing country music. Well, I spent a whole childhood looking like country music."
MY HOUSE
"Who needs a house up on a hill/ when you can have one on four wheels/ and take it anywhere the wind might blow/ you don't ever have to mow the yard/ just hang a map and throw a dart/ and pray to God the engine starts and go/ water and electric and a place to drain the septic." - My House - Kacey Musgraves-Josh Osborne-Shane McAnally.
The diversity of Musgraves music has resonated as far afield as Australia.

I Miss You is a love song, Step Off is a tell-off tune, Stupid is an anti-love song, and My House is a fun ditty that shows her affinity for having a home on four wheels.

"I love words," Kacey says.

"I love how intricate they can get. Even in simple conversation, I like it when language is colorful. When I was in school, one of my favorite subjects was always creative writing."

Publisher Steve Markland teamed her with prolific hit writers Luke Laird and McAnally.

"The first time we got together, we wrote Blowin' Smoke," Musgraves recalled.

She felt the demos nailed the sound she was looking for so she produced the album with them.

"We had been producing all our demos together and I loved the way those came out," Kacey revealed.

"We seemed to be on the same page so Shane signed up to take on a producer role."

Laird soon followed.

"We just like being around each other and that's half the battle. I'm really happy that it came together organically, not the label saying, 'Here, you need to work with this producer. He's well known, he's had lots of hits.'"

Musgraves signed her original deal with Luke Lewis' imprint Lost Highway.

Lewis offered her a chance to be herself - if she failed at least she knew she was being true.

"I had the free reign to completely be who I wanted to be creatively," she says.

"Unfortunately Lewis left. Mike Dungan came in and I was already way down the road on my project, so it wasn't like he could come in and start changing things. We already had the license to do that."

So what about her writing goals?

"A lot of what gets on the radio isn't saying anything other than somebody wants to be famous and will do whatever they're told to get it," Musgraves explained.

"I don't make music based on what radio would like. I'd rather have 100,000 people who really get what I'm doing and like it for what it is than a million who can take it or leave it." When I pointed out that she could have said 10 or 100, rather than 100,000, she laughed and said: "Well, I do want to connect. That's what this is all about."

As a musician she hopes fans take away plenty from her songs.

"I hope that they feel something," Musgraves says.

"I'm all for catchy songs. I love it - something to have in the background that you can sing along to. But hopefully they take the time to actually listen to the lyrics to make them think a little bit or open some minds up. I hope that they see that I'm influenced by a huge range of things. Not just country. So I hope that people who don't like country might appreciate it, too.
SILVER LINING
"Woke up on the wrong side of rock bottom/ if you're ever gonna find a silver lining/ it's gotta be a cloudy day" - Silver Lining - Kacey Musgraves-Josh Osborne-Shane McAnally
Silver Lining is a realistic song about optimism.

It reflects her ability to reach, at just 24, so many dreams she had as a kid.

Musgraves credits Taylor Swift with opening up the genre to younger and more open-minded listeners.

Swift, she says, brings in "a huge group of people who are gay, and loud and proud about it, and that hasn't been catered to yet. Not that I just want to cater to it. I just want to show them some love. Why can't we talk about you? You're a real person, you're in a real relationship, and I'm tired of people acting like it's not, just because of their religious beliefs. It's not fair."

Despite her admiration for Swift she is realistic about the transience of fame.
"Now they're all looking for the next Taylor Swift," Musgraves said recently.

"Then someone else is gonna come along and create a new normal, when in reality they should probably be looking for something different altogether."

Musgraves resisting the pressure to cut a record too soon after her arrival in Nashville.

"I'm so glad that I waited and didn't push anything, because I wouldn't have the songs that I have now, and the point of view and the relationships I have now," Musgraves explained.

"I did the right thing, I went by my gut. I try to make all my decisions like that and it's never really steered me wrong. The making of this record was such a fun and meaningful time for me. As a writer, singer and producer I learned so much throughout the whole process. This album came from a very real and inspired place in my brain and heart."
But she is already working on her challenges.

"It's insane. I've gotten to check so many big things off my bucket list," she said.

"But I want to be around for a long time, so it's a little scary to be checking these things off my bucket list already. I'm like, 'Wait, wait, wait. I'm cool with doing that in five years. I'm willing to work for it.'"

That includes opening for Little Big Town and now the stadium circuit with Tennessean superstar Kenny Chesney.

The early days of flatbed stages and broken sound systems pale in faded memory when she steps out into places like Cowboys Stadium in Dallas.

"I always equate things to the size of my hometown," Musgrave says.

"I don't know why. I went to school down the road in Mineola, and the population is five, almost six thousand, so when I picture a stadium that has 70,000 people in it, I'm like, that is so many of my hometowns squished into one place."

But despite the size of venues she still believes she will connect with her story songs.

"My songs, I feel like you have to listen to every word to get what I'm saying," she added.

"A full band is not something I feel like I had to have. I can get my point across with just a guitar. It's going to be a challenge to take what I do and not make it cheesy, but also reach the person in the back of the stadium. I don't strut the stage, but I'm going to have to compromise a little. You have to."

Musgraves is the only woman performing on Kenny Chesney's summer tour but she credits Chesney for making her feel at home.

"There don't seem to be any weird walls around him that it seems like a lot of famous people have."