DAVE'S DIARY - 2/8/11 - PREVIEW PF EPISODE 9 - SERIES 16
TALL TROUBADOURS TALES
Four tall troubadours headline Nu Country TV this Saturday August 6 - at 10 30 p m - on C 31.

Recent Australian tourists Alan Jackson and Joe Nichols, Oklahoma star Toby Keith and Queenslander 8 Ball Aitken strut their stuff.

The towering quartet was chosen for its videos - not its height.

And veteran band Alabama performs a tribute to the late Hank Williams and Waylon Jennings.

Waylon's son Shooter, who played him in Johnny Cash movie Walk The Line also returns to the show edited by Ashley Hall, repeated on Friday at 5.30 a.m.

JOE NICHOLS SALUTES WOUNDED WARRIORS
Arkansas born country star Joe Nichols performs an evocative video for a song about wounded warriors recovering from battle scars.
The survivors are honoured in The Shape I'm In from Joe's Greatest Hits disc he promoted on his Australian May tour.

Nichols depicts three war victims aided by the Lone Survivor Foundation.

The story of Marcus Luttrell - a former Navy SEAL - is recounted in the book The Lone Survivor.

The sole survivor from Operation Red Wings received a Navy Cross in 2005 for his bravery facing Taliban fighters.

Marcus also inspired the Boot Campaign - George Jones, Randy Houser, Gretchen Wilson, Justin Moore and Joe traded cowboy boots for combat boots in their tribute to U.S. servicemen and women.

Also in the video are retired Captains Chad Fleming and Ivan Castro.
Fleming lost his left leg in battle but finished triathalons, road races and cross-country bike rides.

Castro was blinded in battle and completed 14 marathons, triathlons and long-distance bike races.

He is shown getting ready for a date, putting in his glass eye and putting on his dress uniform.

"What we wanted to do with the video is take it to a different level and we wanted to do something really special," Joe said.

"We wanted to make a video that pays tribute to guys who have faced enormous challenges protecting us. These are guys who do the hardest job on the planet and come home with enormous challenges and have to readapt to their surroundings. What's special about it is the way they capture their attitude about it. It's not just that, 'Hey! I'm recognising that this guy lost a limb and he's got a prosthetic leg and that's how he's got to go about his life.' It's the way director Trey Fanjoy captured the smile on his face, like 'Hey! I know what's going on. I know I've got something to overcome here, but I'm doing allright. I'm getting better. I'm going about my business, and this is not going to stop me.' That's the powerful part of the video - you'd be amazed at what you do when you're given adversity, a tough situation. You'd be amazed what you could do when you believe in yourself. If people out there facing money problems, family, addiction, custody problems, any adversity, self-doubt, faith you can overcome anything, even most impossible of situations, faith is what carries you through. That's what carried these guys through and gave them a positive attitude when they could probably have more of a gripe than any of us."

Joe played CMC Rocks The Hunter in March and returned in May for an east coast tour including the historic Forum in Melbourne CBD.

That concert included Fawkner born duet partner Jasmine Rae who also released her second album.

Nichols, now 34, was only 20 when he landed his first indie deal in 1996 and is now recording a follow-up to eighth album Old Things New.

Joe, son of truckie bassist Mike, was born in Arkansas and decamped Nashville to live in Texas with second wife Heather Singleton.

CLICK HERE for a Nichols interview from the Diary on November 18, 2009.
CLICK HERE for a Nichols concert review on May 7, 2011.

TOBY KEITH - BULLETS IN THE GUN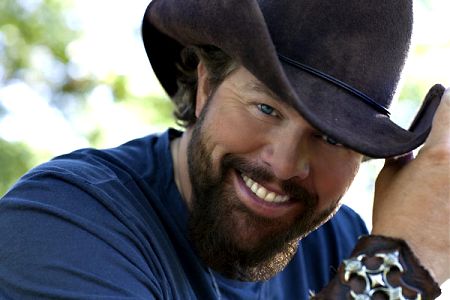 Life imitated art for Oklahoma singing actor Toby Keith in his video for the title track of 16th album Bullets In The Gun.

The lovers in Keith's video emulate the bandit duo in Robert Earle Keen epic The Road Goes On Forever - title track for a Highwaymen album.

But there's a sting in the tail of the tale - the woman escapes with the loot on two fast wheels, Easy Rider style.

Toby was accused of song theft but the boot was on the other foot on July 13 when a bandit robbed Keith's restaurant cash register in broad daylight in Norman, Oklahoma.

A week later fire destroyed part of a pool-house, causing $70,000 damage at the same Bel Mar Golf Club.

But Keith is not broke - he also has a chain of I Love This Bar restaurants and a line of tequila, Mezcal.

Toby hired Shotgun Willie Nelson for latest movie Beer For My Horses - the duo had a #1 hit with the title track.

Keith's 2003 album Shock'n Y'all featured Weed With Willie - successor to Dead Livers 1981 hit I'd Love To Have A Joint With Willie.

Keith produced this album and previous disc Big Dog Daddy - successor to Lari White produced 2006 classic White Trash With Money.

He played singer Bo Price in his first movie Broken Bridges with Kelly Preston, Lindsey Haun, Willie, Burt Reynolds, Tess Harper and Anna Maria Horsford.

Oldest daughter, Krystal, 25, recently started working on her debut CD with Toby at the helm.

Krystal debuted more than six years ago when she recorded a duet of the classic hit, Mockingbird, with her dad.

The tune was on his multi-platinum CD, Greatest Hits 2 - they also did it live on the 2004 CMA Awards telecast.

CLICK HERE for a Toby Keith feature from the Diary on January 25, 2011.
ALAN JACKSON - TRIBUTE TO A GOOD WOMAN
Georgian born superstar Alan Jackson performs a video for Sissy's Song off huge selling 17th album Good Time.

Leslie "Sissy" Fitzgerald worked for Alan until dying in a motorbike accident on May 20, 2007.

Jackson, 52 and father of three daughters, wrote the song for her funeral and recorded it after amazing reaction.

Sissy's husband, who restores cars for a living, works with Alan.

She also left behind a college-age daughter and son in high school.

The shock of the sudden tragedy shattered Jackson who made his debut Australian tour in March this year.

"I didn't sleep for a while," he says. "So I sat down one day and wrote this song, and after that I felt all right. A lot of people told me how much it made them feel better and helped them get through it a little easier. So I was very proud of it."
The black-and-white video, directed by Scott Scovill, features Alan in performance shots against the backlit pews of historic Bear Creek Church - a tiny Civil War-era building on National Registry of Historic Places.

Jackson split with long time record label Arista and is recording his 19th studio album for his indie Alan Jackson Records, released here on EMI.

His most recent #1 hit was a Grammy Award winning duet with fellow Georgian Zac Brown on As She's Walking Away.

CLICK HERE for a Jackson feature in the Diary on October 24, 2010.
ALABAMA AND HANK
Veteran country band Alabama shed retirement in world sock capital Fort Payne for their recording of Are You Sure Hank Done It That Way?

It's on the third Waylon Jennings tribute disc - The Music Inside - first in a new trilogy this year.

Alabama plans a new album and tour after its hit with West Virginia born guitarist Brad Paisley on the song Old Alabama.

The band played the final show of its farewell tour in 2004 in Bismark, North Dakota, rather than home state of Alabama.

"We're talking about doing maybe 20 shows next year," Alabama co-founder Jeff Cook recently revealed.

"I never felt it was right that a band called Alabama should end their career in Bismarck, North Dakota. It should have ended in Birmingham or Huntsville."

If the band tours it will have new songs to perform of a new album set for 2012.

"I feel sure that if we do dates we'll have a recording to go with it," said Cook.

Fellow Alabama members Randy Owen and Teddy Gentry have released solo discs.

Further info - www.thealabamaband.com
SHOOTER JENNINGS - SUMMER RAGE
Shooter Jennings played late dad Waylon in Johnny Cash movie Walk The Line and performed Belle Of The Ball on his dad's tribute disc The Music Inside.
Now he has a strong take on parenting for absentee parents in the video for his new song Summer Of Rage from his fifth album Black Ribbons.

Shooter, 30, and actress wife Drea De Matteo, star of The Sopranos, have two children.

Their second child is a son named Waylon Albert Blackjack Jennings - younger sibling of daughter Alabama Gypsyrose, now aged four.

Shooter's given name is Waylon Albright Jennings.
He and de Matteo have been together for nine years and became engaged in New York City in June 2009.

CLICK HERE for a Shooter Jennings story in the Diary on February 20, 2008.

8 BALL AITKEN - ROGUE PONY
Don't talk to 8 Ball Aitken about the cleansing powers of water.

The Far North Queensland guitar slinger refugee moved down south to Tamworth from the Atherton Tablelands last year.

He later made his video for new single Rogue Pony that we feature on Nu Country this week.

But the horse in the video - entrée track of fourth album The Tamworth Tapes - escapes for a midnight snack.

8 Ball - living in the Peel River city when not touring - was not so lucky.

He recorded The Tamworth Tapes in local Enrec Studio and sent album masters and artwork to CD duplication company Select Media in West End, Brisbane.
The albums were due to be collected for shipping to Tamworth on the eve of the festival but the building was evacuated because of the floods.
The initial run, worth $25,000, sank without trace.

But Aitken sourced more CDs from a Sydney-based manufacturer for the Tamworth music festival.

8 Ball made advance copies of the album and sold them as personally autographed, special Official 2011 Queensland Flood Souvenir CDs.

He previously lost $6000 worth of CDs in the 2010 Nashville floods.

"I guess my music is all about getting your feet wet," he said.

8 Ball spends most of the year touring here and overseas when not hanging his hat in the NSW country capital.

New songs include Honk Stomp, Spooky Swampy Country Rock Blues, Chocolate, Jack Daniels And LSD, Nobody Looks Ugly After Midnight, We Are The Circus and Pit Bull Is Off The Chain.

Further info - www.8ballaitken.com

JACKSON AND LAMBERT PRIZES FOR TOURS
There's great news for fans of Georgian born superstar Alan Jackson and quadruple CMA Award winning Texan star Miranda Lambert.

We have the duo's latest CDS as prizes for viewers who renew Nu Country TV memberships or become members.

Sony-BMG promotions chief Emma Smith also gave us Miranda's new DVD - Revolution: Live By Candlelight.

Alan's 34 Number Ones features his biggest hits including his duet with Zac Brown Band - As She's Walking Away.

The bonus tracks also include his cut of the late June Carter Cash-Merle Kilgore written Johnny Cash hit Ring Of Fire and rare track Look At Me.

Emma also donated the newly wed Miranda's huge selling 4th CD Revolution.

And as a bonus there is Miranda's new DVD featuring rare acoustic performances of six songs White Liar, The House That Built Me, Love Song, Heart Like Mine, Love Is Looking At You and Rolling Stones country classic Dead Flowers.

Jackson played Rod Laver Arena on Friday March 4 before headlining CMC Rocks The Hunter on March 5 and 6.
WIN KEITH URBAN CDS ALSO
Expatriate Australasian superstar Keith Urban returned for a triumphant tour with chart-topping mates Lady Antebellum in April.

And Keith's long time record company EMI-Capitol has great news for Nu Country TV viewers.

Promotions ace Bianca O'Neill donated autographed copies of his huge selling ninth album Get Closer.

She has also donated new compilation The Very Best Of Slim Dusty and CMAA Winners - 2011.

All you have to do to win Jackson, Lambert, Urban and Dusty CDS or the Lambert DVD is become a member of Nu Country or renew membership.

It costs just $20.

Please send a cheque or money order made out to Nu Country Music to us at P O Box 625 - Northcote - 3070.

We also now have electronic banking for membership payment and renewal.

But email us first at music@nucountry.com.au as stocks are limited.

Other prizes on offer include -
Taylor Swift - 2ND CD Fearless.
Tim McGraw Southern Voice Tour CD with 11-bonus video clips.
Dierks Bentley - Feel The Fire.
Felicity - Landing Lights
Slim Dusty Sittin' On 80 Boxed Set
The Very Best Of Slim Dusty
Steve Forde - Guns & Guitars
Catherine Britt - Little Wildflowers.
Mike Brady - Country To Country.
CMAA Winners 2011 and other compilation CDS.