DAVE'S DIARY - 27 JULY 2011 - PREVIEW OF EPISODE 8 - SERIES 16
NEWLY WEDS HEADLINE NU COUNTRY TV
Grammy award winning Texan-Oklahoma newlyweds Blake Shelton and Miranda Lambert headline Nu Country TV this Saturday July 30 at 10.30 p.m. on C 31.

The couple enlisted a posse of fellow stars for their colourful videos.

Fremantle born singer Rose Carleo debuts on the show repeated Friday at 2.30 a.m.

Also debuting is Frankie Ballard who hails from Battle, Michigan - cereal capital of the U.S.
And NSW singers Karen Lynne and Tori Darke also return with their new video clips.

The show is hosted by tertiary students Tom Botterill and Nick Atkinson and edited by Mildura raised, Latrobe University student Tom Swinburn - now completing his Bachelor of Media Studies.

Bottrell, 22, is from Digby in the Victorian western district and studying Agriculture at Latrobe.

And Nick, 22 is from Finley - hometown of Brownlow medallist Shane Crawford, recently deceased VFL premiership champion coach Alan Jeans and Geelong star Tom Hawkins.

Atkinson is studying a TAFE Anthropology/Social Work short course.
BLAKE SHELTON - BUZZING CHARTS
Oklahoman Blake Shelton has plenty of reasons to celebrate - his eighth album Red River Blue topped the all genre Billboard Top 200 chart on its debut last week.

Shelton's album sold 116,402 units - almost 30 % of the sales were in the digital format.
It was Shelton's second #1 album - his 2010 six-pack EP All About You was his first.

Shelton performs the video for the album's first #1 hit Honey Bee - his fourth consecutive chart topper.

In the video Blake enjoys Tupelo Honey with sweet-toothed Bosnian model and CSI actress Amra Silajdzic - and a dog before escaping with both in a pick-up truck.
The singer, now expanding his fame on TV shows such as The Voice, also earned major feature stories in New York Times and the New Yorker.

He lives on his ranch at Tishomingo with wife Lambert.

They served homegrown venison and catfish at their wedding reception deep in the heart of Texas.

Miranda also posted photos of bass caught on their honeymoon on her Twitter page.

Click Here for a Blake Shelton feature in the Diary on February 21, 2011.
MIRANDA LAMBERT - ONLY PRETTIER
Texan Miranda Lambert lured fellow stars Kellie Pickler, Laura Bell Bundy and Hilary Scott to appear in the video of her song Only Prettier.

We reprise the video - one of five #1 hits from Lambert's fourth album Revolution - on this week's show.

Lambert cancelled her 2011 Australian tour with Georgian superstar Alan Jackson but Scott toured here with her chart-topping trio Lady Antebellum and Keith Urban.
Miranda releases fifth solo album Four The Record on November 1 - she will debut a new single in August and been performing Baggage Claim in concert.

Four The Record is being touted as Lambert's fourth album but she also released an indie disc before being signed by Sony.

Miranda has toured the U.S. with The Pistol Annies - featuring fellow singer-songwriters Angaleena Presley and Ashley Monroe.

In May the trio released the title track of debut album Hell On Heels - out on August 23.

East Tennessee born Monroe - a prolific writer with tunes written with and recorded by Catherine Britt - is a descendant of the Carter Family.

Kentuckian Presley - who writes for the publishing company of expats Barry and Jewel Coburn - has had songs recorded by Australian artists Jasmine Rae and Kirsty Lee Akers.

Click Here for a Miranda Lambert feature in the Diary on May 5, 2007
Click Here for a Miranda Lambert CD review in the Diary on January 11, 2010.

FRANKIE BALLARD - ELECTRIC HILLBILLY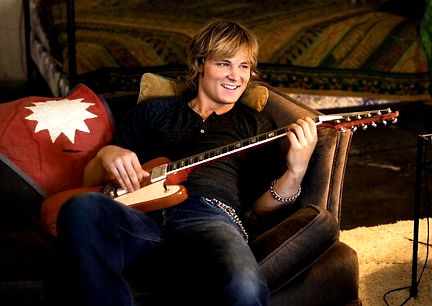 Michigan born singer Frankie Ballard debuts on Nu Country with the video for Tell Me You Get Lonely from his self-titled debut album.

Frankie, discovered by Kenny Chesney in his next Big Star contest after releasing an indie EP Electric Hillbilly, hails from Battle Creek.

"It's the cereal capital of the world," said Ballard, 28.

"Kellogg's and Post are both there. Downtown smells like cornflakes. It's blue-collar, man. It's just blue-collar. It's very laidback with a lot of hard-working people. My parents still live in the same house I was raised in. It's very down-home."

Ballard, who has toured with Chesney, Uncle Kracker and Bob Seger, reached #33 on the charts with his debut.

Frankie moved to Nashville in 2007, signed to Sony Publishing in 2008 and Billy Currington was the first to record one of his songs.

He released another single A Buncha Girls, now top 30, before he opened shows in June for young superstar Taylor Swift.

Further info - www.frankieballard.com
ROSE CARLEO -RUNAWAY HEART
Fremantle born singer Rose Carleo debuts on Nu Country with the video for her song Runaway Heart.

Rose filmed the video with Bill Posters on the mean streets of Fortitude Valley in Brisbane.

It's on her second album Life Gets In The Way that she produced with Michael Flanders and Robert Mackay in Nashville and Hervey Bay in Queensland.

Rose, whose late mother Mary was a music promoter, wrote seven songs on the album.

They include five with Drew McAlister with whom she won a 2009 Tiara Award.

She also wrote with Tamara Stewart, Michael Fix and Allan Caswell.
Rose was born in Fremantle, moved north of the river to Perth when she was 12 and to Beenleigh in Brisbane about six years ago.

She performs at the 30th Gympie Muster in August - the same month she moves south to live in Sydney.

Rose released her debut album Everything I Need in 2007.

Further info - www.rosecarleo.com

KAREN LYNNE - BLUE MOUNTAIN RAIN
Blue Mountains bluegrass artist Karen Lynne and a bunch of friends return to Nu Country with the video for her song Blue Mountain Rain.

Karen wrote the evocative song with former national ABC radio host Richard Porteous.

The multi-instrumentalist thought the song was so nice she recorded it twice on her albums Changes and Wishing Well.

Lynne also adorned her song with plenty of fiddle, banjo, mandolin and acoustic guitar.

Karen spent time songwriting in Nashville, Tennessee, before and after release of her debut CD, Labour of Love.

Collaborators included Music Row writer Mark Selby who has written with other Australians.

Karen's debut featured three originals and a version of Henry Lawson's poem Water Lilly and Enda Kenny's Colours Of Australia.

In 1999 Karen teamed with Sydney singer-songwriter, Pat Drummond.
They released duet album Six Days in December - featuring 10 originals - in January 2000.

Lynne has released seven albums including 2007 album Mountain Rain, The Singles compilation and a 2008 Drummond duet disc Long Journey Home.

Lynne previously appeared on Nu Country in the video for the title track of her fourth album Second Wind.

Alabama bluegrass singer Claire Lynch, 54, penned that song and Karen performed it at the 20th Bunyip Country Music festival.

Further info - www.karenlynne.com
TORI DARKE AND CONVICTS
Camden singer Tori Darke filmed her new video for Someone Else's Baby at the 1834 convict built Menangle House south west of Sydney.

The historic home is now a museum and restaurant - ideal locale for the song on her debut album Dreams & Chances.

Mt Annan born Tori, now 21, recorded 14 songs last year in Nashville with her producer Michael Davey.

They include Not My Time To Fly and You Better Run from her debut EP.

The former Elderslie High School student visited Canada in 2009 where she played Merritt Mountain Country Music Festival, opening for Kenny Chesney, Jo Dee Messina and Doc Walker.

Further info - www.toridarke.com

JACKSON AND LAMBERT PRIZES FOR TOURS
There's great news for fans of Georgian born superstar Alan Jackson and quadruple CMA Award winning Texan star Miranda Lambert.

We have the duo's latest CDS as prizes for viewers who renew Nu Country TV memberships or become members.

Sony-BMG promotions chief Emma Smith also gave us Miranda's new DVD - Revolution: Live By Candlelight.

Alan's 34 Number Ones features his biggest hits including his duet with Zac Brown Band - As She's Walking Away.

The bonus tracks also include his cut of the late June Carter Cash-Merle Kilgore written Johnny Cash hit Ring Of Fire and rare track Look At Me.

Emma also donated the newly wed Miranda's huge selling 4th CD Revolution.

And as a bonus there is Miranda's new DVD featuring rare acoustic performances of six songs White Liar, The House That Built Me, Love Song, Heart Like Mine, Love Is Looking At You and Rolling Stones country classic Dead Flowers.

Jackson played Rod Laver Arena on Friday March 4 before headlining CMC Rocks The Hunter on March 5 and 6.
WIN KEITH URBAN CDS ALSO
Expatriate Australasian superstar Keith Urban returned for a triumphant tour with chart-topping mates Lady Antebellum in April.

And Keith's long time record company EMI-Capitol has great news for Nu Country TV viewers.

Promotions ace Bianca O'Neill donated autographed copies of his huge selling ninth album Get Closer.

She has also donated new compilation The Very Best Of Slim Dusty and CMAA Winners - 2011.

All you have to do to win Jackson, Lambert, Urban and Dusty CDS or the Lambert DVD is become a member of Nu Country or renew membership.

It costs just $20.

Please send a cheque or money order made out to Nu Country Music to us at P O Box 625 - Northcote - 3070.

We also now have electronic banking for membership payment and renewal.

But email us first at music@nucountry.com.au as stocks are limited.

Other prizes on offer include -
Taylor Swift - 2ND CD Fearless.
Tim McGraw Southern Voice Tour CD with 11-bonus video clips.
Dierks Bentley - Feel The Fire.
Felicity - Landing Lights
Slim Dusty Sittin' On 80 Boxed Set
The Very Best Of Slim Dusty
Steve Forde - Guns & Guitars
Catherine Britt - Little Wildflowers.
Mike Brady - Country To Country.
CMAA Winners 2011 and other compilation CDS.