DAVE'S DIARY - 12 JULY 2011 - PREVIEW OF EPISODE 6 - SERIES 16
VALE - TRAVERS TEX HAMMOND
Pure country singers Josh Turner and Ashton Shepherd headline Nu Country TV this Saturday - July 16 - at 10.30 pm on C 31.

The Jane Dear Girls and Easton Corbin debut on the show, edited by Ashley Hall, and repeated Friday at 2.30 am.

South Australia born singers Chris Altman and Danny Hooper also make their Nu Country premieres.

Langwarrin icon Travers Tex Hammond - the "Irish Cowboy" - makes his posthumous debut.
We dedicate the show to Tex who died suddenly aged 72 on June 4.

More below.
ASHTON SHEPHERD GARAGE SALE
Alabama singer-songwriter Ashton Shepherd delivers summary justice to a lying, cheating ex lover in the video for recent hit Look It Up.
The singer's character sells the cheater's boat, golf trophies, whiskey and even a bible.

She also uses a dictionary to demean the banished beau.

Look It Up is on Shepherd's second album Where Country Grows.

She wrote it with Angaleena Presley and Robert Ellis Orrall whose songs are published by expatriate Australasian Barry Coburn and ex wife Jewel Blanch Coburn.

Ironically, Fawkner singer Jasmine Rae also recorded Look It Up during her sojourn in Nashville.

Expatriate Australian Mark Moffatt - pedal steel guitarist for Melbourne outlaw band Saltbush - produced Rae's version.

Shepherd, now 24 and mother of two, broke in 2008 with a traditional sound that dominated her debut single Takin' Off This Pain.
That album featured a raft of songs she wrote before she turned 21.

Ashton thrived on her new album - featuring nine songs she penned in her Picking Shed on her farm at Leroy - and the video.

"It was so fun! It was so different," Shepherd says.

"When I read the concept, I thought, 'This is perfect!' Yard sale, I am mad, I am selling this guy's mess, he's fixing to be out of my life, I'm through with this, and it's such a fun little idea that he just can't catch up with her. He's tryin' to get back everything, and then on top of that he's losing her. I like fact that it's me in my little plain outfit in the beginning, and then to me at the end of the video in the performance scene is like, 'I'm over it. I'm going out tonight, looking like this, without you.' I just love the whole idea."

And what about the disc that features More Cows Than People, I'm Good, That All Leads To One Thing and I'm Just A Woman?

"One of my favourites is called Rory's Radio that I wrote about my late brother Jeff's best friend growing up, Rory Dunigan," said Shepherd who hails from Coffeeville - population 340.

"I dedicated my first record to Jeff who was killed 11 years ago at the age of 23 in car accident in 1999. I didn't have any songs on the album about him but I did dedicate the record to him. Rory and Jeff were almost the same person, that's how close they were. He lived a big life and he made an impact on my life. It was a way of keeping him alive, of bringing him into a song, without writing a typical losing-someone-song. The song just takes me back there - it reflects back on us riding and listening to Rory's radio growing up and remembering my brother. It's really special to me and it made the record. I pushed for it. I love it."

CLICK HERE for an Ashton feature in the Diary on December 23, 2008.
JOSH TURNER AND RANDY TRAVIS
South Carolina born baritone Josh Turner showcases his amazing voice in the video for his recent hit I Wouldn't Be A Man.
Josh recorded the song, previously cut by Texan Don Williams, on fourth album Haywire.

Turner's character falls in love with a blonde from courting to maternity. Josh recently recorded a duet with North Carolina born star Randy Travis on the song T.I.M.E. on Travis's 25th Anniversary album.

Turner, 33, and Travis, 52, performed a live duet on Josh's breakthrough hit Long Black Train at a recent Turner gig in Nashville.

Josh, born at Hannah, and wife/keyboardist Jennifer are parents of three children.

They now live on 40 acres south of Nashville - they use their 1,700-square-foot log cabin for songwriting.

Jennifer attended Belmont University to pursue Christian music but wound up singing opera in Europe.
"Over there I realised I missed other kinds of music," she said.

"When you're in opera, you just practice opera for hours and hours."

She returned to Belmont to get her masters and become a teacher - that's when she met Josh.

Jennifer says he's responsible for her going "from opera to the Opry."

Josh won acclaim for his role as gospel singer George Beverley Shea in the latest movie about famed evangelist Billy Graham.

He was cast as Graham's sidekick Shea in Billy: The Early Years.

It opened on October 10, 1988 - Graham's 90th birthday.

Josh scored two #1 hits from Haywire but lost one of his best friends.

Turner's purebred bloodhound Moses, a celebrity after appearing in his video for Everything Is Fine and several photo shoots, has died.

"We unexpectedly lost Moses due to kidney failure," Turner said of his family's only dog.

"Moses was a special part of our family. It's been a very hard time for us. He was the best dog there ever was."

Moses, aged six, died on September 24 last year.

Click Here for a Turner CD review in the Diary on December 11, 2007.
JANE DEAR GIRLS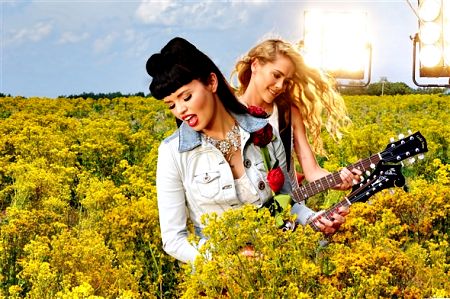 Jane Dear Girls - Utah born Susie Brown and Texan Danelle Leverett - debut their video for first Top 15 single Wildflower this week.

"Literally on our first day that we wrote a song together our co-writer noticed that we were a duo," Amarillo born Danelle revealed.

"He said 'You play alike, sing alike and talk alike.' I know that sounds weird, but really the first day that we even hung out we both knew this was what we were going to end up doing."

"From there we started knocking on publishers doors and five-and-a-half years later we're sitting here" says Alpine born Susie raised in her family bluegrass band.

"I started violin when I was 4 then I switched over to fiddling when I was 8. I played with my family band for about 10 years or so."

Susie and Danelle play eight instruments: accordion, acoustic and electric guitars, bass, fiddle, gango, harp and mandolin.

They lured Big & Rich producer John Rich for their debut Reprise disc.

The girls were at ease in the studio but Danelle admits one struggle.

"Deciding what songs to record prior to going in was tough because we had so many of them," she says.

"We'd written, like, 200 songs for this first album. Once we got into the studio, knowing what songs we were going to do, it was really painless and fun. Trying to decide on those songs was really tough, though. You listen through 50 songs how do you even begin to try and narrow them down?"

Leverett credits an expatriate Australasian superstar as her inspiration.

"Keith Urban really is the reason I first fell in love with country music - like really fell in love," she confessed.

"I loved how he took kinda rockin' music and played it with the ganjo - a banjo with a guitar neck and had innovative melodies but with lyrics that related to the country demographic - and also to just really anyone. I take pride in being part of a genre that cares so much about lyrical content. The songs we sing make sense and they're thought-out and sometimes they're even pretty brilliant lyrically. I think Keith was the best of both worlds, musically and lyrically. He really spoke to me."

Further info - www.thejanedeargirls.com
EASTON CORBIN
Easton Corbin earned a degree in agribusiness in Florida as entree to his singing career.

He performs in the video for latest single I Can't Love You Back from his self-titled debut CD.

The Gilchrist County born star is wary of women reversing cars and roles in the clip.

The song, written by his producer Carson Chamberlain, Clint Daniels and Jeff Hyde, has a universal message of loss.

"It can mean different things for different people," says Easton who wrote three songs on the disc.

"She could have died, she could have left him - people can interpret it the way they feel."

His debut #1 single, A Little More Country Than That, written by Rory Feek, Don Poythress and Varble, paints a picture of rural life that echoes his small town sensibilities.
"Even though I didn't write it, this song identifies who I am," he says.

"It shows character and that's important where I'm from. You learn to say 'yes, ma'am' and 'no, sir,' and to open the door for the ladies."

Corbin, now 29, lived on his grandparents cattle farm after his parents split when he was a child.

"I lived a mile from the Suwannee River," he says. "I grew up fishing on it and I loved to work on the farm. Every weekend, that's where I'd be."

Easton showed cattle at a local livestock fair and at 15 had guitar lessons from Pee Wee Melton - a local musician who played Nashville sessions.

After earning a business degree at the College of Agriculture, University of Florida, Easton took two important steps.

"My wife, Brinn, and I got married on September 2, 2006 - on October 14 we moved to Nashville," he says.

"I always knew I wanted to move up here. There was never any question about it. I didn't want to wake up one day and wish I would have tried it, but I had to get my education first so I had something to fall back on."

Further info - www.eastoncorbin.com
CHRIS ALTMAN - QUE PASO
Adelaide hills raised dairy farm boy Chris Altmann opened for Joe Pug on his March tour of Australia before touring overseas.

Multi-instrumentalist Altmann performed with his band and guests in the video for recent single Other Side Of The Mountain.

Part of it was filmed at the famed Thornbury Theatre with Susanna Espie among guests on stage.

Altmann is touring to promote his debut solo album Que Paso - Spanish for What Happened - out on Riding High Records in September 2010.

Que Paso is a tongue-in-cheek reference to change from the hard rocking style from Altmann's previous band The Vandas.

The sound is influenced by the Texas border town grooves of Doug Sahm and Jerry Jeff Walker, combined with the up tempo country rock beats of Chuck Berry and Levon Helm.
Altmann arrived in Peterborough - a university city 140 kilometres east of Toronto - in June.
Further info - chrisaltmann.com.au
DANNY HOOPER OUTBACK
Danny Hooper grew up on a remote station in outback South Australia where he played in a family band in the seventies.

That was after taking guitar lessons from his dad at the age of 10, a rock band Niteshift and writing songs from 18.

When he sang his first song, You're The One For Me to girlfriend Lea - her teary response sparked a passion for song writing.

Lea and Danny began entering country music competitions in 1987.

They won numerous awards and cut an album in 1992 - Talkin' Bout Love.

Danny was a Top 10 Grand Finalist in the 1994 Tamworth Toyota Star Maker.

Danny recorded with Lea, now his wife, as a duo before making children and solo albums including The Legacy in 2007.

This week he explores lost love in his bus on the coast and desert in the video for Heartache.

Further Info - www.dannyhooper.com.au/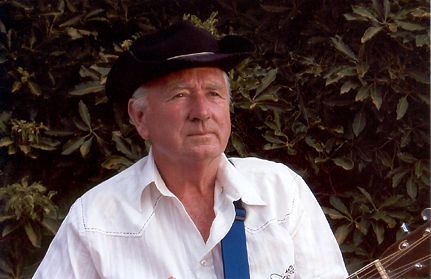 We dedicate this week's show to Travers Tex Hammond who died at 72 on June 4.

Travers - known as the "Irish Cowboy" recorded five albums featuring his original songs.

He was known from the sixties for his one-man show Legends of Country Music at festivals, clubs and later Crown Casino.

Hammond was also an accomplished whip cracker and rope spinner and appeared on Foxtel show Country Crossroads.

Travers - born Travis - learned his cowboy trade and got his stage name from American mentor - B-movie star-producer Denver Dixon.

"I met Denver when I was about 18," Hammond recently recalled.

"He came to Australia to promote Western movies in the cinema. He'd ride around town cracking whips and twirling rope to get folk interested in the movie showing at the time."

Travers learned the ropes in travelling tent shows with Big Chief Little Wolf - an authentic Navajo Indian wrestler.

They put on Cowboys & Indians shows, often setting up next to the late Slim Dusty.

Travers - a fundraiser for Royal Children's Hospital Foundation - also played Lang-Lang Farm Expos.

His albums included original tunes The Snowy Mountain Scheme, The Greatest Outlaw, The Old Convict Days, Music Of The Past, Without You, Remember The Yodellers Original and #2.

We farewell Travers with a snippet of his original - The Cairns-Kuranda Line.

Check out all his albums by visiting - traverstexhammond.com
JACKSON AND LAMBERT PRIZES FOR TOURS
There's great news for fans of Georgian born superstar Alan Jackson and quadruple CMA Award winning Texan star Miranda Lambert.

We have the duo's latest CDS as prizes for viewers who renew Nu Country TV memberships or become members.

Sony-BMG promotions chief Emma Smith also gave us Miranda's new DVD - Revolution: Live By Candlelight.

Alan's 34 Number Ones features his biggest hits including his duet with Zac Brown Band - As She's Walking Away.

The bonus tracks also include his cut of the late June Carter Cash-Merle Kilgore written Johnny Cash hit Ring Of Fire and rare track Look At Me.

Emma also donated the newly wed Miranda's huge selling 4th CD Revolution.

And as a bonus there is Miranda's new DVD featuring rare acoustic performances of six songs White Liar, The House That Built Me, Love Song, Heart Like Mine, Love Is Looking At You and Rolling Stones country classic Dead Flowers.

Jackson played Rod Laver Arena on Friday March 4 before headlining CMC Rocks The Hunter on March 5 and 6.
WIN KEITH URBAN CDS ALSO
Expatriate Australasian superstar Keith Urban returned for a triumphant tour with chart-topping mates Lady Antebellum in April.

And Keith's long time record company EMI-Capitol has great news for Nu Country TV viewers.

Promotions ace Bianca O'Neill donated autographed copies of his huge selling ninth album Get Closer.

She has also donated new compilation The Very Best Of Slim Dusty and CMAA Winners - 2011.

All you have to do to win Jackson, Lambert, Urban and Dusty CDS or the Lambert DVD is become a member of Nu Country or renew membership.

It costs just $20.

Please send a cheque or money order made out to Nu Country Music to us at P O Box 625 - Northcote - 3070.

We also now have electronic banking for membership payment and renewal.

But email us first at music@nucountry.com.au as stocks are limited.

Other prizes on offer include -
Taylor Swift - 2ND CD Fearless.
Tim McGraw Southern Voice Tour CD with 11-bonus video clips.
Dierks Bentley - Feel The Fire.
Felicity - Landing Lights
Slim Dusty Sittin' On 80 Boxed Set
The Very Best Of Slim Dusty
Steve Forde - Guns & Guitars
Catherine Britt - Little Wildflowers.
Mike Brady - Country To Country.
CMAA Winners 2011 and other compilation CDS.
http://www.braindumps.com
http://www.test-king.com/exams/70-247.htm
http://www.clarku.edu/
http://www.actualtests.com/exam-HP2-E58.htm
http://www.certkiller.com/exam-117-102.htm
http://www.emc.com/index.htm
http://www.braindumps.com/642-427.htm
http://www.test-king.com/exams/70-463.htm
http://www.northeastern.edu/
http://www.actualtests.com/exam-70-243.htm
http://www.certkiller.com/exam-70-685.htm
http://www.pmi.org/