DAVE'S DIARY - 28 JUNE 2011 - PREVIEW OF EPISODE 4 - SERIES 16
LEGENDS REIGN ON NU COUNTRY TV
We feature a posse of legends on Nu Country TV this Saturday - July 2 at 10.30 p m on
C 31.

Hank Williams Jr heads the cast who explore the past and future of the genre, moonshining, movies and the economy.

Texan fireball Miranda Lambert and Sheryl Crow help icon Loretta Lynn celebrate her rise from rags to riches in a show edited by Ashley Hall and repeated on Friday at 2.30 am.

Former Trick Pony singer Heidi Newfield eulogises late legends Johnny Cash and wife June Carter Cash.

And Texan singing actress Leann Rimes revives a song made famous by Florida born stone country star John Anderson.

Georgian father of four Zac Brown performs an evocative tale about the rigors of the road on a marriage.

And Shipwreck Coast born Damian Howard performs his latest video on the banks of Little Yarra River at Gladysdale in the Yarra Valley.

HANK JR - POPCORN MOONSHINE LIQUOR
Red, White & Pink Slip Blues - Hank Williams Jr Global Financial Crisis song is equally relevant today.

Bocephus wrote it four years ago for 51st studio album 127 Rose Avenue - named after his childhood home in Georgiana, Alabama.

But now, with the U.S. economy still hurting and massive unemployment, we have revived Hank's video for our TV show.

Four times wed Hank Jr is doing his bit to revive the U.S. economy with moonshine liquor - his Popcorn and White Whiskey distillery.

Popcorn Sutton manufactured the finest moonshine in Cocke County in East Tennessee in the 1970s.
Popcorn never bothered anybody with his business enterprise but his business just happened to be against the law.
The Feds arrested him and planned to put him away.

Following a trial, he was sentenced to 18 months in a federal penitentiary and fined $5,000.
The five grand was for not paying taxes on his illegal whiskey.

Jamie Grosser and Popcorn were friends.

After the trial, Grosser visited him to continue his legacy of making Tennessee white whiskey.

When he asked for the recipe, Popcorn told him, "Corn, sugar, water and yeast. And here's the recipe, but you have to promise to go on a mission and find Hank Williams Jr.
because a country boy can survive. He'll know what to do."

Popcorn gave him the recipe with a promise Grosser would find Hank to share the legacy.

But before Popcorn, 62 and suffering cancer, could find Hank he chose his own exit strategy - suicide.

He didn't have five grand and had no intention of being locked up inside four walls away from sunshine and trees and all that goes with loving the outdoor life.

< Popcorn Sutton
He was determined he was not going to be locked away in prison.

Grosser found Hank, also 62, and told him the story.

The more Hank thought about Popcorn's legacy, the more he knew he had to legally manufacture the old man's liquor.

Partnering with Grosser and using Popcorn's recipe, they're now running one of the first Federally approved white whiskey distilleries in America. And it's being made in Nashville.

To announce his latest venture, Hank hosted a party and invited some of his rowdy friends over to make them aware Popcorn Sutton's Tennessee White Whiskey is now on the market.

The party attracted Jamey Johnson, Kid Rock, Josh Thompson, Travis Tritt, Colt Ford, Martina McBride, Rodney Atkins, Randy Houser, Zac Brown, Tanya Tucker, Little Texas, Dave Gibson, Lee Brice, Little Big Town, Eddie Montgomery, Kentucky Headhunters, Two-Foot Fred, the Roys, Heidi Newfield, Jaron Lowenstein with live music by Grascals.

Plans are being made to turn the Popcorn Sutton saga into a new movie with Hank Jr & Grascals - Dolly Parton's bluegrass band - in major roles.

Before he died, Popcorn penned his autobiography - Me and My Likker: The True Story of a Mountain Moonshiner.
The movie is based on Popcorn's autobiography.

Hank Jr.'s son, Hank III, mentions Popcorn in his song Moonshiner's Life on his Rebel Within CD.

Bocephus went on the road at the age of eight singing songs by famed father Hank Snr.

He was just 17 when he starred in his first movie - A Time To Sing.

Richard Thomas of The Waltons fame played Hank Jr in The Living Proof movie and George Hamilton played Hank Sr in 1964 film Your Cheating Heart.

Hank Jr was also in Roadie with Meatloaf, Roy Orbison, Alice Cooper, Joe Ely, Asleep At The Wheel and many more.

Bocephus and sister Jett recently approved another new movie on their dad who died at 29 in 1953.

This album also features All the Roads - a Hank Jr. composition with the Grascals.

Williams, now 60 and father of recording artists Hank 111 and daughters Holly and Hilary, wrote All The Roads to be performed and recorded as a bluegrass song.

Hank Jr pays homage in Last Driftin' Cowboy to Don Helms - celebrated steel guitarist and longest surviving member of his father's band.

Helms died at 81 on August 11, 2008, from a heart attack and diabetes.

CLICK HERE for a Don Helms obituary from the Diary on September 8, 2008.
CLICK HERE for a Hank Jr CD Review in the Diary.
LORETTA, MIRANDA & SHERYL MINING HISTORY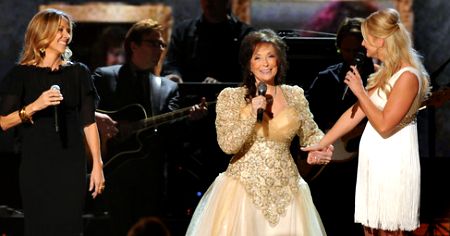 Kentucky born Loretta Lynn, now 78, is living proof real talent endures fads, fashion and foibles.

Loretta returns to the show with Sheryl Crow - former fiancé of Texan cycling champ Lance Armstrong - and Miranda Lambert to revive her epic Coal Miner's Daughter.

Diverse peers honour the merry widow of 14 years on Coal Miner's Daughter - A Tribute To Loretta Lynn.

A half-century ago Loretta drove across the south with husband Mooney Doolittle Lynn, handing records to DJS for airplay.

The mother of six, who wed at 13, scored airplay, record, book and movie deals, Grammy Awards and Country Music Hall of Fame membership.

In her 50th anniversary year - 2010 - tributes flowed with Grammy Salute at the Ryman, re-release of her autobiography and new multi-artist album.

Texans Lee Ann Womack, Miranda Lambert and Steve Earle, Gretchen Wilson, Alan Jackson, Martina McBride, Faith Hill, Lucinda Williams, Carrie Underwood, Allison Moorer, The White Stripes, Paramore and Kid Rock are featured on the disc.

In 1976 she released best-selling memoir, Coal Miner's Daughter that led to the 1980 film version.

Sissy Spacek's Oscar-winning lead role performance expanded Loretta's fan base.

It also helped Sissy's singing and acting career that found her back with octogenarian Robert Duvall and Bill Murray in 2011 movie Get Low.

Seven years ago Lynn recorded critically acclaimed CD Van Lear Rose with rocker Jack White of White Stripes.

We feature the video with Loretta, newly wed Lambert, 27, and Crow sharing vocals to backdrop of Lynn's journey from Butcher Holler to her dude ranch in Hurricane Mills, Tennessee.

That's where I caught her live in 1978 at a boy scouts concert with the late Johnny Russell and singing spouse Beverly Heckel, Kenny Starr and various members of the Lynn-Webb clan.

As chauffeur for Russell, who wrote Buck Owens-Beatles-Ringo Starr hit Act Naturally, I enjoyed a midnight roast chicken and steak BBQ hosted by Loretta and Doolittle who died at 69 in 1996.

CLICK HERE for a Loretta Lynn feature from the Diary on February 1, 2011.
HEIDI NEWFIELD CASHES IN
Former Trick Pony singer Heidi Newfield performs in the video for her tribute to the late Johnny and June Carter Cash.

Johnny and June is a highlight of her solo CD What Am I Waiting For.

Buddy and Julie Miller also eulogised Johnny and June in their song June, penned on May 15, 2003 - the night she died.

It's on their album Written In Chalk.

Fellow Highwaymen recorded Good Morning John, for friend-mentor Johnny Cash, about his struggles with addiction early in life.

It's on the new Kristofferson disc Closer To The Bone - his second on New West Records.

Heidi, 40, grew up on a horse farm in northern California and named her first band after a trick pony.

They split after a decade in 2006.

Newfield and Hunter Valley singer Kirsty Lee Akers both recorded the Angaleena Presley song Knocked Up on their most recent albums.

Click Here for a Heidi review in the Diary on August 10, 2009
LEANN RIMES SWINGING
Texan Leann Rimes reached out to Floridian stone country singer John Anderson to source Swingin'.

Anderson had a major hit in 1983 with the song, reprised on Rimes 14th album Lady And Gentleman.

Former Pure Prairie League singer and superstar Vince Gill produced the disc with Nashville A-team session players.

Rimes, 29, partnered with noted choreographer and dance partner Benji Schwimmer and director David McClister for the nine-hour shoot at the Moose Lodge in Burbank, California.

The riveting video features a dance until you drop contest under the gaze of two huge stuffed moose heads on the wall.

She reaches back to an era when western swing was still the king for her entree by pioneer dance callers.
They morph into a modern scenario with Rimes wearing four-and-a-half inch heels.

Rimes also features legendary Time Jumpers for a super-retro remake her own 1996 career-starter, Blue, on the disc.

She also revamped the late Texan outlaw Waylon Jennings' Only Daddy That'll Walk the Line as Only Mama and is the first-person narrator of his Good Hearted Woman.

Rimes, who appeared in Coyote Ugly movie, lives in Los Angeles with second husband - actor Eddie Cibrian and his two children.

The couple began their romance shooting the Northern Lights movie in Calgary, Alberta.

In 2009 she split with husband of seven years, dancer Dean Sheremet, to be with Cibrian who was also married.

Expatriate Queensland Star Maker winner Kylie Sackley penned Rimes top #5 hit Nothing 'Bout Love Makes Sense.

She penned it with another former Pure Prairie League singer Gary Burr and Joel Feeney for Rimes 12th album This Time, that sold 100,000 copies in its first week.

CLICK HERE for a Rimes feature in the Diary on October 25, 2003.
ZAC BROWN ON HIGHWAY 20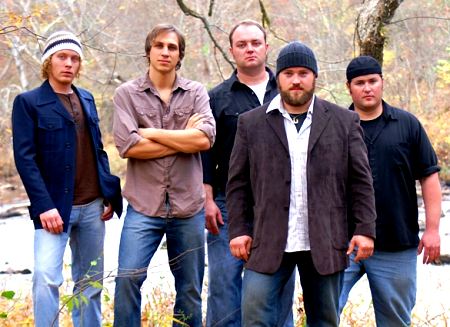 Georgian chart-toppers the Zac Brown Band return to Nu Country with an evocative video for a song about paternal regret.

Highway 20 is a powerful story of a father on the road and missing his son.

Brown, a father for the fourth time, is well qualified to sing about rigors of the road.

But, unlike the character in the song, Brown lives with his wife Shelly and four daughters.

The song is from the band's fourth album The Foundation.

Fellow Georgian Alan Jackson and Floridian Jimmy Buffett - partners on #1 hit It's 5 O'Clock Somewhere - join the band on fifth album You Get What You Give.

Jackson performs a duet on As She's Walking Away and Brown's mentor Buffett joins the band for Knee Deep on the Atlantic Records album.

Zac spent a week in Mexico, filming the video for Knee Deep featuring Buffett.

The video was shot around the Costa Careyes resort from May 17-20 and includes scenes on a private beach, pool area and under a coconut tree.

Zac has since launched record label Southern Ground with artists diverse as The Wood Brothers, Sonia Leigh, Blackberry Smoke, Nic Cowan and Levi Lowrey.

CLICK HERE for a Zac Brown Band CD review in the Diary on August 9, 2010.

DAMIAN HOWARD - YARRA VALLEY
Shipwreck Coast singer Damian Howard headed for the Yarra Valley to illustrate his video clip for One Step Forward from second album Out Of My Hands.

It was filmed at The Ploughboys managerial property that houses a rustic home and rotunda with ornate chandelier featured in another video for the album title track.

They used the rotunda on the banks of Little Yarra River at Gladysdale to illustrate the song's message.

The house - facade and veranda - were the locale for Ned Kelly party held a few years ago and the rotunda is a stage for an annual festival.

Damian and elder siblings Eric, Shane and Marcia sang for their supper in the shade of the Nestles factory on a different river - the Merri - as kids.
It was where the family sowed the seeds for Goanna and subsequent solo careers.

Eldest brother Eric overcame being a Warrnambool under 18's football finals winner with this diarist to become a successful administrator.

Damian featured Warrnambool pianist Richard Tankard, guitarist Jason King and Yackandandah fiddler Pete Denahy on the album.

The 2011 Tamworth Starmaker finalist has been frequent flyer to Europe during a 16-year career as a solo artist and Ploughboys singer.

Other guests on his discs include guitarist Lee Morgan, drummer Jon Emry, Lost In Suburbia pedal steel guitarist Murray McDowell, Anthony O'Neill on mandolin and fiddler Dan Burke.

Further info - www.damianhoward.com.au
JACKSON AND LAMBERT PRIZES FOR TOURS
There's great news for fans of Georgian born superstar Alan Jackson and quadruple CMA Award winning Texan star Miranda Lambert.

We have the duo's latest CDS as prizes for viewers who renew Nu Country TV memberships or become members.

Sony-BMG promotions chief Emma Smith also gave us Miranda's new DVD - Revolution: Live By Candlelight.

Alan's 34 Number Ones features his biggest hits including his duet with Zac Brown Band - As She's Walking Away.

The bonus tracks also include his cut of the late June Carter Cash-Merle Kilgore written Johnny Cash hit Ring Of Fire and rare track Look At Me.

Emma also donated the newly wed Miranda's huge selling 4th CD Revolution.

And as a bonus there is Miranda's new DVD featuring rare acoustic performances of six songs White Liar, The House That Built Me, Love Song, Heart Like Mine, Love Is Looking At You and Rolling Stones country classic Dead Flowers.

Jackson played Rod Laver Arena on Friday March 4 before headlining CMC Rocks The Hunter on March 5 and 6.
WIN KEITH URBAN CDS ALSO
Expatriate Australasian superstar Keith Urban returned for a triumphant tour with chart-topping mates Lady Antebellum in April.

And Keith's long time record company EMI-Capitol has great news for Nu Country TV viewers.

Promotions ace Bianca O'Neill donated autographed copies of his huge selling ninth album Get Closer.

She has also donated new compilation The Very Best Of Slim Dusty and CMAA Winners - 2011.

All you have to do to win Jackson, Lambert, Urban and Dusty CDS or the Lambert DVD is become a member of Nu Country or renew membership.

It costs just $20.

Please send a cheque or money order made out to Nu Country Music to us at P O Box 625 - Northcote - 3070.

We also now have electronic banking for membership payment and renewal.

But email us first at music@nucountry.com.au as stocks are limited.

Other prizes on offer include -
Taylor Swift - 2ND CD Fearless.
Tim McGraw Southern Voice Tour CD with 11-bonus video clips.
Dierks Bentley - Feel The Fire.
Felicity - Landing Lights
Slim Dusty Sittin' On 80 Boxed Set
The Very Best Of Slim Dusty
Steve Forde - Guns & Guitars
Catherine Britt - Little Wildflowers.
Mike Brady - Country To Country.
CMAA Winners 2011 and other compilation CDS.