DAVE'S DIARY - 13 JUNE 2011 - PREVIEW OF EPISODE 2 - SERIES 16
RED SMITH PICKS WITH LOT 56

A Melbourne country band featuring a former Nu Country FM DJ and TV show host debuts on Nu Country TV this Saturday - June 18 - at 10.30 pm on C 31.

Sapphire Coast student Anneliese Staubli hosts the show featuring fellow host Red Smith as the bassist in Lot 56.

Anneliese also introduces popular young Australian artists Catherine Britt and Tori Darke and former Australian of the year and country king Lee Kernaghan.

Other artists featured this week are Florida born singer Jake Owen and Georgian Jaron Lowenstein & The Long Road To Love.

The show is repeated on Friday at 2.30 am and is accessible online on the C 31 web page.
LOT 56 AT EAST WALLAN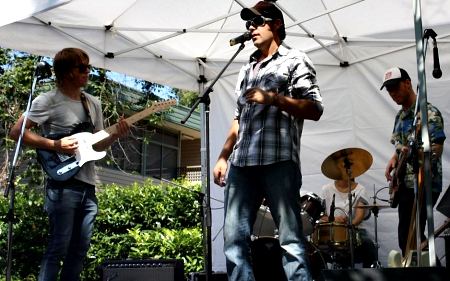 Melbourne band Lot 56 didn't have to hire actors when it filmed a video clip for its song Brand New Shade Of Red.

The quartet had the perfect dancers to portray its song about ever lasting love.

Norm and Joan Coleman took to the dance floor at The Rattler - the East Wallan Hotel - to illustrate their romance that started many moons ago at a rural dance.

Joan reversed her Cinderella role when she drove Norm to the dance in their celestial coach - a sturdy old truck.

Lot 56 included the song on its album Something Real recorded in the northern suburbs of Melbourne.

The band evolved from two other groups Two Short, Too Short and Last Man Standing - fronted by singer-harmonica player Steve Jean.

The video locale was apt - the band played its first gig at The Rattler and returned to the scene of the rhyme for its video.

It has built a strong following at rural pubs, suburban bars, school fetes, community festivals and detention centres.

Lot 56 has a true international flavour.

Guitarist Keaton Tait has performed on cruise ships and exotic locales in Dubai and drummer Saki Garth moved here after 25 years picking up the tempo in her homeland Japan and beyond.

Bassist Red Smith - not subject of Brand New Shade Of Red - combined a hectic professional career with stints in bands diverse as Broken Spoke and The Haybalers.

Further info - www.myspace.com/lot56rockscountry

JARON LOWENSTEIN
Singing actor Jaron Lowenstein debuts on Nu Country TV with his song That's Beautiful To Me.
Jaron's love interest in the wedding video is Kristin Cavallari - known for her role as herself in MTV show The Hills.

The Georgian hired Emmy award winning My Name Is Earl actress Jaime Pressley to play his vanquished vixen in a video for previous hit Pray For You.

Both tunes are on Jaron And The Long Road To Love debut disc Getting Dressed In The Dark that he promoted on a recent U.S. tour with Grafton trio The McClymonts.

This is stage two of the music career of Lowenstein, now 37 and born in Tucker, Georgia just five minutes before twin brother Evan.

The duo released two indie albums in 1995 and 1996 and later soared pop charts with three Top 40 hits as Evan & Jaron.

Radio exposure for three albums on Island and Columbia prompted tours with Sting and The Dixie Chicks.
Their 1998 Island debut We've Never Heard Of You Either preceded the self-titled Evan & Jaron in 2000.

They landed their songs in smash TV soapie Dawson's Creek and movies Runaway Bride, Princess Diaries and Serendipity.

Jaron's acting break was his role as choir director Cantor Nathan in 2006 Jewish comedy movie Keeping Up With The Steins.

The movie is a spoof of family rivalries hosting the biggest and best bar mitzvah for a 13-year old boy.

It starred Jeremy Piven, Jami Gertz, Darryl Hannah, Richard Benjamin, Doris Roberts and Daryl Sabara with cameos by Jaron, Gary Marshall and Neil Diamond.

CLICK HERE for a Jaron interview in the Diary on August 30, 2010.

LEE KERNAGHAN - KICKING UP DIRT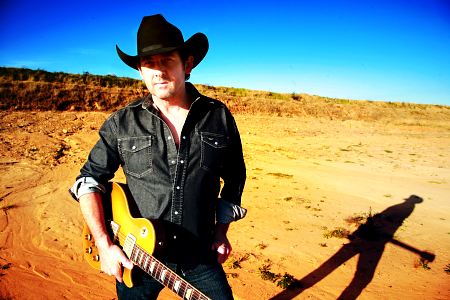 Lee Kernaghan returns to Nu Country with the video for Dirt from his ninth album Planet Country.

Lee, 47 and father of two sons, played his hometown Corryong in April and is touring nationally during winter and spring.

The singer recently released new album Bringing The Music Home in conjunction with Planet Country in a special Deluxe Double CD Edition.

For those who only want the new songs - 10 of them - the tracks are also available separately on iTunes.

In addition to Bringing The Music Home the bonus disc includes several new songs that Lee considered using for his next album but included on this CD.

They include Feeling Pretty Naked, penned with James Blundell, and Kerosene Lane - a tale of love, betrayal and running from the law - written with producer Garth Porter.

My Outback World has been remixed on a disc that includes duets with his dad Ray on the Hank Williams Jr song, Family Tradition, and singing spouse Robbie on Bruce Springsteen hit Fire.

Kernaghan included Shane Howard song Talk Of The Town - also a hit for Johnny Farnham.

CLICK HERE for a Lee feature in the Diary on November 10, 2009.
JAKE OWEN
Florida born singer Jake Owen returns to Nu Country with the video of his song Tell Me from his second album Easy Does It.
The song tells the story of a pistol-packing prisoner who escapes with the car and the loot.

Jake is an opening act on Keith Urban's Get Closer 2011 U.S. tour, beginning in Biloxi, Mississippi, on June 16.

Owen enjoyed hits with Don't Think I Can't Love You and Eight Second Ride.

He's currently in the studio recording his third album, due for release later this year.

Jake, 29, wrote eight songs on his second album, recorded in the home studio of his producer.

Owen, born Joshua Ryan Owen at Vero Beach, has had five solo hits and reached Top 30 with Sugarland and Little Big Town on Life In a Northern Town.

It's a far cry from his teenage passion for golf.
The singer received multiple golf scholarships but chose Florida State University, so he could be close to his brother.

His plans quickly changed after a wake-boarding accident pulled his arm and shoulder out of socket leaving him unable to swing a club for a year.

"I was depressed. I never really had a Plan B because I feel like if you set yourself up for Plan B, you set yourself up to fail," he recalled.

Instead he borrowed a neighbour's guitar in 2000 and dedicated himself to music.

More info - www.jakeowen.net
CATHERINE BRITT REPRISES EMMYLOU
Novocastrian Catherine Britt reprises her Emmylou Harris tribute Sweet Emmylou on Nu Country this week.

It's an evocative eulogy to the revered Alabama born legend, now 64, who performed in Sydney in January.

The song is on Britt's fourth album - a self-titled ABC Music release produced by Bill Chambers and son in law Shane Nicholson at Sing-Sing Studio in Richmond.

Catherine toured overseas with Alan Jackson and Brooks & Dunn in a six-year sojourn in Nashville.

She returns to Victoria in August for gigs with James Blundell.

The singer, a young veteran at 25, headlined the 10th Wandong Country Music Festival in March.

CLICK HERE for a Britt feature in the Diary on May 2, 2010.
TORI DARKE - CRAWL
Camden singer Tori Darke returns with the video for her song Crawl.

Crawl, directed by Duncan Tombs, is one of three video clips on her first six-track EP.

Darke, 21, recorded indie debut album Dreams & Chances with producer Michael Davey in Nashville in 2010.

It features 14 songs including Not My Time To Fly and You Better Run from her debut EP.

The former Elderslie High School student visited Canada in 2009 where she played Merritt Mountain Country Music Festival, opening for Kenny Chesney, Jo Dee Messina and Doc Walker.

Tori also has another video for Someone Else's Baby off her new album.

We will feature that later in this series.

Further info - www.toridarke.com

JACKSON AND LAMBERT PRIZES FOR TOURS
There's great news for fans of Georgian born superstar Alan Jackson and quadruple CMA Award winning Texan star Miranda Lambert.

We have the duo's latest CDS as prizes for viewers who renew Nu Country TV memberships or become members.

Sony-BMG promotions chief Emma Smith also gave us Miranda's new DVD - Revolution: Live By Candlelight.

Alan's 34 Number Ones features his biggest hits including his duet with Zac Brown Band - As She's Walking Away.

The bonus tracks also include his cut of the late June Carter Cash-Merle Kilgore written Johnny Cash hit Ring Of Fire and rare track Look At Me.

Emma also donated the newly wed Miranda's huge selling 4th CD Revolution.

And as a bonus there is Miranda's new DVD featuring rare acoustic performances of six songs White Liar, The House That Built Me, Love Song, Heart Like Mine, Love Is Looking At You and Rolling Stones country classic Dead Flowers.

Jackson played Rod Laver Arena on Friday March 4 before headlining CMC Rocks The Hunter on March 5 and 6.
WIN KEITH URBAN CDS ALSO
Expatriate Australasian superstar Keith Urban returned for a triumphant tour with chart-topping mates Lady Antebellum in April.

And Keith's long time record company EMI-Capitol has great news for Nu Country TV viewers.

Promotions ace Bianca O'Neill donated autographed copies of his huge selling ninth album Get Closer.

She has also donated new compilation The Very Best Of Slim Dusty and CMAA Winners - 2011.

All you have to do to win Jackson, Lambert, Urban and Dusty CDS or the Lambert DVD is become a member of Nu Country or renew membership.

It costs just $20.

Please send a cheque or money order made out to Nu Country Music to us at P O Box 625 - Northcote - 3070.

We also now have electronic banking for membership payment and renewal.

But email us first at music@nucountry.com.au as stocks are limited.

Other prizes on offer include -
Taylor Swift - 2ND CD Fearless.
Tim McGraw Southern Voice Tour CD with 11-bonus video clips.
Dierks Bentley - Feel The Fire.
Felicity - Landing Lights
Slim Dusty Sittin' On 80 Boxed Set
The Very Best Of Slim Dusty
Steve Forde - Guns & Guitars
Catherine Britt - Little Wildflowers.
Mike Brady - Country To Country.
CMAA Winners 2011 and other compilation CDS.