DAVE'S DIARY - 1/2/11 - PREVIEW OF EPISODE 9 - SERIES 15
MID PACIFIC BOB RESCUES KOREAN AND TATHRA OYSTERS

Septuagenarian star Loretta Lynn headlines this week's Nu Country TV - Saturday February 5 - at 9.30 p m on C 31.

Sheryl Crow - former fiancé of Texan cycling champ Lance Armstrong - and Miranda Lambert help Lynn revive her epic Coal Miner's Daughter.

It will be a timely sales tool for quadruple CMA Award winner Texan Lambert who tours here in March with Georgian superstar Alan Jackson - and maybe her Oklahoma singer fiancé Blake Shelton.

Oklahoma oriole Carrie Underwood and Merle Haggard, who made the dust bowl state famous long after his folks decamped for California, are also on the show hosted by expat Californian Mid Pacific Bob Olson.

Mid Pacific Bob upstaged guests by rescuing a speechless Korean surfer from a king-tide at the Bega River mouth on the NSW Sapphire Coast after filming his piscatorial platter - Tathra Oysters.

Olson and fellow former Northcote High School lecturer - Nu Country editor Peter Staubli - showcased their entrée recipe at Staubli's Tura Beach retreat before Bob selected his mains.

"It got pretty hairy the last few days in Tathra with storms and king tides," Olson reported on his triumphant return to the Beer Can Hill Delta in Northcote.

"Thursday evening a snorkler had to be pulled from the normally placid Kianney Bay by some surfers, and Friday I had to pull a Korean from the surf. He'd been sucked out by the king-tide at the mouth of the Bega River. Fortunately a nurse with a boogie board, who had just managed to get out herself out of trouble (thought I was going to have to pull her out, while the Korean went to Tassie) and I managed to get him in a dead spot and pull him in.

He was blue. Hopefully he survived to swim another day. But the ambulance took 45 minutes to get him away, alive, but still not speaking English."

The show, repeated on Monday at 3.30 a m and Tuesday at 4.30 p m, also features Georgian Zac Brown adding to the culinary flavour, performing the video for his breakthrough hit Chicken Fried.

And Northern Territory-born Markus Meier, guitarist for prolific Golden Guitarist Lee Kernaghan, debuts on Nu Country with the video for second album title track A Different Land.
LORETTA, MIRANDA AND SHERYL
Kentucky born Loretta Lynn, now 78, is living proof real talent endures fads, fashion and foibles.

Diverse peers honour the merry widow of 14 years on Coal Miner's Daughter - A Tribute To Loretta Lynn.

A half-century ago Loretta drove across the south with husband Mooney Doolittle Lynn, handing records to DJS and hoping for airplay.

The mother of six, who wed at 13, scored airplay, record, book and movie deals, Grammy Awards and Country Music Hall of Fame membership.

In her 50th anniversary year - 2010 - tributes flowed with Grammy Salute at the Ryman, re-release of her autobiography and new multi-artist album.

Texans Lee Ann Womack, Miranda Lambert and Steve Earle, Gretchen Wilson, Alan Jackson, Martina McBride, Faith Hill, Lucinda Williams, Carrie Underwood, Allison Moorer, The White Stripes, Paramore and Kid Rock are featured on the disc.
In 1976 she released best-selling memoir, Coal Miner's Daughter that led to the 1980 film version.

Sissy Spacek's Oscar-winning lead role performance expanded Loretta's fan base.

Six years ago, Lynn recorded the critically acclaimed CD Van Lear Rose with rocker Jack White of the White Stripes.

We feature the video this week with Loretta, Lambert and Crow sharing vocals to the backdrop of Lynn's journey from Butcher Holler to her dude ranch in Hurricane Mills, Tennessee.

That's where I caught her live in 1978 at a boy scouts concert with the late Johnny Russell and singing spouse Beverly Heckel, Kenny Starr and various members of the Lynn-Webb clan.

As chauffeur for Russell, who wrote Buck Owens-Beatles-Ringo Starr hit Act Naturally I enjoyed a midnight roast chicken and steak BBQ hosted by Loretta and Doolittle who died at 69 in 1996.

CLICK HERE for a Loretta Lynn feature from the Diary.

MERLE HAGGARD - MAMA TRIED
Former convict country star Merle Haggard returns to the show with a live cut of his classic hit Mama Tried.

Haggard, 73 and survivor of recent lung surgery, spent his 21st birthday in San Quentin.

The Hag was busted in Bakersfield in the fifties for breaking into a Beer Can Hill nightclub via the restaurant back door while chef was serving desserts.

Haggard, five times wed and long pardoned, was one of the recipients of the 2010 Kennedy Centre Honours on December 5.

Merle mingled with heads of state, legendary singers, composers and TV and film celebrities including Paul McCartney and recent Tennessee born Aussie tourist Oprah.

It was a three-day gala for the Hag, beginning with a State Department Dinner, hosted by Secretary of State Hillary Clinton, then a meeting with President Obama and the First Lady in the White House the night before the event, and the star-studded gala performance in Washington.
Merle also dined with old buddies Willie Nelson and Kris Kristofferson.

As they chewed the fat they discussed their new trio album.

"We got to eat a little something together - we didn't know what the hell this food was, but we thought it was funny," Merle revealed.

"We talked about doing that together, but with the presence of Kris, we talked about the three of us doing it. I'm sure if we're healthy and live to do it, we'll do it. We thought about the title: the Musketeers. You know, because there's the three of us. We'll come up with some little way of describing ourselves I guess, and put it together into a show."

Haggard has recovered from his lung surgery but maybe not enough to reprise his 1996 Australian tour with The Strangers.

"It took a long time to get over that surgery," Haggard said.

"It took the best part of two years and I'm just now feeling like I might be able to reach over and pick up a garbage can with the right arm. They removed an upper lobe of my right lung, and had to go in underneath my arm. It's quite painful and irritating to have that. You know how tender that is underneath your arm. To have that heal up, it takes a couple of good years. I think I'm all right now. I went down and had a checkup just prior to going back for this little gig and I was clear. I didn't have anything, and that's an awful good sign. For the two years following the surgery for lung cancer you get infections from the hospital. They call them staph infections - I guess because the staff gets 'em first. I had an ongoing infection that lasted for the best part of two years after that. It was touch and go because I only have this one part of my lung and I had an infection in it. We're going to try touring another year.""

CLICK HERE for a Haggard CD review in the Diary on June 14, 2010.
CARRIE UNDERWOOD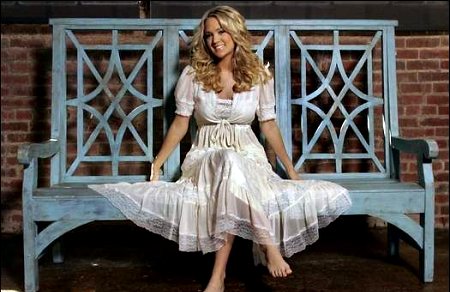 Oklahoma born chanteuse Carrie Underwood honours her mother Carole in a video for recent hit Mama's Song on this week's show.

Both Carole and Carrie's sporting spouse - Ottawa Sentinels hockey star husband Mike Fisher - have cameos in the video.

The song is the latest hit from Carrie's huge selling third album Play On.

Carrie has co-written and recorded There's A Place for Us for new movie The Chronicles of Narnia: The Voyage of the Dawn Treader.

She wrote the song with David Hodges and Hillary Lindsey.

Based on a C.S. Lewis book, the fantasy film was released on December 10.

"I'm a big fan of the Narnia books and films, so I was really excited about seeing this new movie and writing and performing a song for it," Carrie said.

"I was blown away by the film, and I think people are going to be really excited when they see it."

Carrie also plays a church youth leader in inspirational film, Soul Surfer.

The film is based on Bethany Hamilton - a champion surfer who lost her arm in a shark attack when she was 13.

She also released Carrie Underwood: Biography ghosted by veteran writer Vernell Hackett who researched old stories at the Tulsa World offices in Oklahoma.

It documents Underwood's rise to fame from hometown Checotah, a successful stint on American Idol and her country music career.

Carrie also inspired a new character on Sesame Street named Carrie Underworm - she also recorded a short song The Worm Anthem.

CLICK HERE for a Carrie feature in the Diary on January 29, 2007.
ZAC BROWN STILL CHICKEN FRIED
Georgian star Zac Brown survived New Year's Eve to provide host Mid Pacific Bob Olson with an accompanying song for his recipe of the week.

Bob resurrected Zac's breakthrough video for Chicken Fried - his first #1 hit after years in the honky tonks and Dixie bars.

Brown plans to follow his benefactor - fellow Georgian superstar Alan Jackson on an Australian tour this year.

Jackson, 51, gave Brown a 1966 Cadillac at a concert in Nashville on December 29.

Alan gave his burly barroom buddy the Caddie as a reward for their duet on their #1 hit As She's Walking Away.

Jackson earlier passed on recording Chicken Fried a few moons ago and gave Brown his first #1 hit.
Zac says he noticed the Caddie before the gig and thought, "That's Alan's car. It's gotta be. That's bad-ass. Then Alan said, 'That's your car.' Man, that's unbelievable - it's unreal."

Zac adds, "I will pay it forward. What an amazing night, amazing friend, amazing car and if I want to pull a Hank Sr, I now have the ride to do it in."

Luckily the 58th anniversary of Hank's death at 29 on New Year's Day in the back of his Caddie has passed and Zac hasn't.

CLICK HERE for a Zac Brown review in the Diary on August 9, 2010.
MARKUS MEIER TILLS A DIFFERENT LAND
Northern Territory singer-songwriter-guitarist Markus Meier performs the video for the title track of his second album A Different Land.

Markus joined Lee Kernaghan's band after the Black Saturday bushfires.

He also pays homage to his wife and two children on his album produced by Garth Porter.

"It's been an interesting few years. I got married, we've had two children, we've taken over the management of my career after a pretty tough time, I've signed to a new agent, and I've had to find a way to earn a living and still build my music career," says Markus who was raised at Halls Creek in the Kimberleys.
"But in the end, it's all been really positive - I've got an amazing, wonderful wife who's really supportive, two gorgeous kids, and my career is going better than it ever has before. I couldn't be happier."

Meier, who performs at CMC Rocks The Hunter on March 5 and 6, says his album reaches deep.

"This is a pretty personal album, but I figure the truthfulness of the songs is what makes them connect with people," he says.

"I'm glad I can put my experiences into music and turn them into something more universal," Markus said.

The title track is a good example.

"You look at all those images of Australia being the lucky country, living off the sheep's back," he explained.

"But life's not like that for a lot of people these days, and all they can do is their best - and sometimes even than can be really tough."

Markus also digs deep on My Patch Of Dirt.

Markus takes a different approach to that subject on My Patch Of Dirt.

"I think this is a really important song. It's about being proud of what you have, even though it might not seem much to someone else," he said.

The autobiographical One Of These Days was inspired by his life and dreams after decamping to the Queensland hometown of prolific Golden Guitar winner Graeme Connors.

"I live in Mackay, and there are a lot of people in this town who will relate to this song. I wanted to tell their story, as well as my own," he said.

"I spend the part of my life when I'm not on stage underneath the big trucks they use at the mines - with two kids, I have a really good reason to be earning a living."

Further Info - www.markusmeier.com.au
JACKSON AND LAMBERT PRIZES FOR TOURS
There's great news for fans of Georgian born superstar Alan Jackson and quadruple CMA Award winning Texan star Miranda Lambert.

We have the March tourists latest CDS as prizes for viewers who renew Nu Country TV memberships or become members.

Sony-BMG promotions chief Emma Smith has also given us Miranda's new DVD - Revolution: Live By Candlelight.

Alan's 34 Number Ones features his biggest hits including his duet with Zac Brown Band - As She's Walking Away.

The bonus tracks also include his version of the late June Carter Cash-Merle Kilgore written Johnny Cash hit Ring Of Fire and the rare track Look At Me.

Emma also donated Miranda's huge selling 4th CD Revolution.

And as a bonus there is Miranda's brand new DVD featuring rare acoustic performances of six songs White Liar, The House That Built Me, Love Song, Heart Like Mine, Love Is Looking At You and Rolling Stones country classic Dead Flowers.

Jackson and Lambert perform their hits at Rod Laver Arena on Friday March 4 before headlining CMC Rocks The Hunter on March 5 and 6.
WIN KEITH URBAN CDS ALSO
Expatriate Australasian superstar Keith Urban returns for a triumphant tour with chart-topping mates Lady Antebellum in April.

And Keith's long time record company EMI-Capitol has great news for Nu Country TV viewers.

Promotions ace Bianca O'Neill has donated autographed copies of his huge selling ninth album Get Closer to You.

All you have to do to win the Jackson, Lambert and Urban CDS of the Lambert DVD is become a member of Nu Country TV or renew your membership.

It costs just $20.

Please send a cheque or money order made out to Nu Country Music to us at P O Box 625 - Northcote - 3070.

We also now have electronic banking for membership payment and renewal.

But email us first at music@nucountry.com.au as stocks are limited.
Other prizes on offer include -
Taylor Swift - 2ND CD Fearless.
Tim McGraw Southern Voice Tour CD with 11-bonus video clips.
Dierks Bentley - Feel The Fire.
Felicity - Landing Lights
Slim Dusty Sittin' On 80 Boxed Set
The Very Best Of Slim Dusty
Steve Forde - Guns & Guitars
Catherine Britt - Little Wildflowers.
Mike Brady - Country To Country.
CMAA Winners 2011 and other compilation CDS.