DAVE'S DIARY - 26/7/10 - PREVIEW OF EPISODE 8 - SERIES 14
CHART COMPETITORS HEADLINE NU COUNTRY TV
Superstar Tim McGraw and one of his hit writers Lee Brice share top billing on Nu Country TV this Saturday - July 31 - at 10 p m on C 31.

Ironically, McGraw performs the video for his hit Still - a song penned by Brice.

Brice, former partner of expatriate Queenslander Kylie Sackley, acts out the video for his debut album title track Love Like Crazy.

Tennessee guitarslinger Brad Paisley also returns to the show hosted by Heather Rutherford and repeated Wednesday at 1 am and 3.30 p m.

Mt Barker born bluegrass singer Kristy Cox performs her video for a song produced by prolific Nashville songwriter Jerry Salley.

And Dianna Corcoran, originally from Parkes in western NSW, and Chuck Stokes, raised in the wild west of Sydney, return to the show.

If you miss it live you can catch it online any time on the C 31 web page.

LEE BRICE STILL MAKING WAVES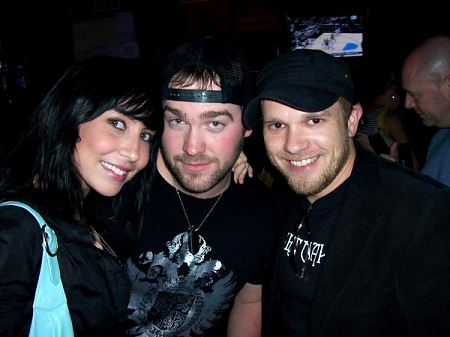 Kylie Sackley, Lee Brice & Kyle Jacobs
South Carolina born singer-songwriter Lee Brice has a nice little earner on singing superstar and actor Tim McGraw's debut Australian tour in September.

McGraw, 43, will perform the Brice penned hit Still - recent hit from his 10th album Southern Voice.

Brice penned the song with Kyle Jacobs - latter day fiancé of young star Kellie Pickler.

Lee, who wrote a brace of songs with expat Queenslander Kylie Sackley during their two-year romance, debuts the video for Top 10 hit Love Like Crazy.

The video depicts a small town couple who defied odds with longevity of their romance - 58 years - after meeting at 17.

Brice also enjoys longevity with the song that had a slow rise to the top - 46 weeks to crack the Top 10 but still hanging in there after 50 weeks.

Brice's producer Doug Johnson and Tim James penned the evocative tale.

Lee, 33, and former Tamworth Starmaker winner Sackley, 29, also wrote Some Things for his album.

They dated for two years as she wrote hits for stars Alan Jackson, LeAnn Rimes and Faith Hill.

The singer also landed one of his originals Boy in new McGraw-Gwyneth Paltrow movie Love Don't Let Me Down that has had its name changed to Country Strong.

Name changes are nothing new for Brice.

His album had a working title of Picture Of Me before Love Like Crazy hit and that became the new name.

CLICK HERE for a Brice feature from the Diary on May 30, 2010.
TIM MCGRAW
Tim McGraw has time out from his thriving acting career for his spring tour here with his band The Dancehall Doctors.

McGraw's singing spouse and fellow actor Faith Hill accompanies him here and is expected to make vocal cameos.

It's not clear if their three daughters will join them on stage as they have on some albums.

Hill appeared with Keith Urban's wife Nicole Kidman in a remake of The Stepford Wives.

McGraw played the husband of Sandra Bullock in Oscar winning movie The Blind Side.
He also appeared as husband-manger of Gwyneth Paltrow in new movie Country Strong that began life as Love Don't Let Me Down.

The movie is set to open on December 22.

That's before another new film Dirty Girl with fellow singing actor Dwight Yoakam who toured here twice between his movies.

"I don't know when that will be out," McGraw says.

"William H Macy, Mary Steenburgen and Millo Jovovich are in that. Some great people."

McGraw appeared in Four Christmases, released in Australia as Four Holidays, with Yoakam and Robert Duvall who had a cameo in Crazy Heart.

McGraw previously appeared in Friday Night Lights, Flicka and Black Cloud.

Nu Country viewers have a chance to win Tim's tour souvenir CD of Southern Voice by clicking here for our membership page.

CLICK HERE for a feature on Tim in our Diary on May 23, 2010.
BRAD PAISLEY
West Virginia born guitarslinger Brad Paisley took phone calls from U.S. president Barack Obama during the recent Nashville floods.

Paisley, 37, was one of many country stars to lose precious guitars and other instruments when the Cumberland River overflowed and destroyed homes and storage facilities.

Brad became a phone pal with Obama after appearing at the White House early in his reign with Allison Krauss.

So it's fitting that Paisley appears on Nu Country in the video for new hit Water - his 13th consecutive #1 hit and fourth single from seventh album American Saturday Night.

He recently attracted more than 65,000 fans to the Austin Aquapalooza festival at Lake Travis where the only access was by boat.

Lee Brice and current U.S. chart topper Jerrod Niemann also performed on a floating stage at the festival.

CLICK HERE for a Paisley CD review from the Diary on December 15, 2008.

KRISTY COX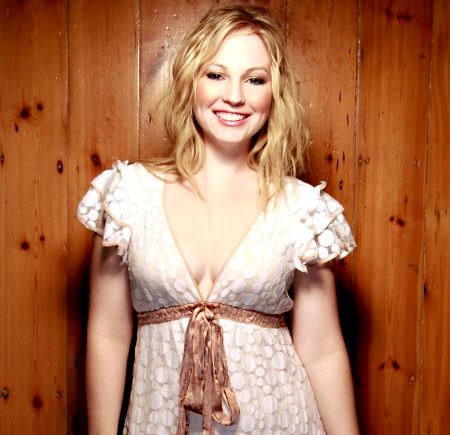 Bluegrass belle Kristy Cox shares geographical roots with expatriate Greencards multi-instrumentalist Kym Warner, hotshot guitarist Jedd Hughes and Beccy Cole.

Cox came down from the mountains - Mt Barker - at the gateway to Adelaide in South Australia.

Kristy and some Aussie mates exude vibrance with some back porch picking in the video for her new single That's Where The Faith Comes In.

It's from her second album Breaking New Ground, recorded at the EMI studio in Nashville
Prolific songwriter Jerry Salley produced the disc featuring hot guitarist Bryan Sutton, Randy Kohrs, Andy Leftwich, singer Alecia Nugent and other bluegrass aces.

Kristy Cox began singing at 11, worked the festival circuit and released two EPs Twisted Heart (2001) and My Affections (2003).

In 2002 she was one of six winners of $20,000 from Nescafe Big Break.

She also graduated from the CMAA Australian College of Country Music in 2004 after being awarded a scholarship.

Kristy made 2005 Starmaker Grand Final and opened for fellow South Australian reared stars Kasey Chambers, Beccy Cole, Jedd Hughes and Jake Nickolai.

Her debut 2006 album From My Eyes contained nine original songs.

Further info - http://www.kristycox.com/
DIANNA CORCORAN
Parkes born singer-songwriter Dianna Corcoran returns to Nu Country with the video for her new single Thanks For Cheating On Me.

Dianna's soldier beau Tom rescued her from a cheater after his tour of duty in Afghanistan.

She met Tom when she performed in the Solomon Islands where he was on a peacekeeping mission.

She also wrote another new song Come Back Home for Tom.

The songs are on Corcoran's third album Keep Breathing produced by hit singer-songwriter Rebecca Lynn Howard in Nashville.

Corcoran recorded it after winning the Tamworth Golden Guitar for best female vocal in 2008.

She also performed her single on Hey, Hey It's Saturday.
Further info - www.diannacorcoran.com
CHUCK STOKES
Well-travelled troubadour Chuck Stokes performs the video for honky tonk single Lost Highway.

In the video the dance floor blonde got the gold mine and Chuck got the shaft - but not the mirror ball.

Stokes band Chuck's Wagon is touring here and overseas to promote Lost Highway from third album Lipstick & Sin.

Chuck followed his dreams to the U.S. where he performed in Texas, California and Colorado.

Chuck's Wagon shouldn't be confused with seventies band Chuck Wagon & The Wheels,
Stokes grew up in Sydney's wild-west badlands beyond urban sprawl of Cabramatta.
It was there he learned guitar from a cricket teacher, wrote songs while working as a boilermaker, went to hell and back on booze and dope and indulged his love of roots music as a writer for street magazine On The Street.

Further info - www.chuckswagon.com.au
WIN TIM MCGRAW TOUR SOUVENIR CD
Award winning Tim McGraw tour promoter Michael Chugg and Rob Potts are promoting Series #14 of Nu Country TV.

Now the superstar and singing actor's record company Sony has given Nu Country viewers a chance to win his souvenir tour CD.

The Southern Voice CD, with bonus tracks, is released here to promote McGraw's debut Australian tour with wife Faith Hill and The Dancehall Doctors in September.

All you have to do is become a member of Nu Country TV or renew your membership.

It costs just $20.

Please send a cheque or money order made out to Nu Country Music to us at P O Box 625 - Northcote - 3070.

Please email us first at music@nucountry.com.au as stocks are limited.
WIN ROSANNE CASH CD
We also have Rosanne Cash's acclaimed new EMI CD The List - new versions of classics from a list given to her by late father Johnny when she was 18 in 1973.

Guests on the Cash collection include Bruce Springsteen, Elvis Costello, Jeff Tweedy and Rufus Wainwright.

Cash's second husband John Leventhal produced the CD for Manhattan Records.

It features songs dating back to the Carter Family, the Hanks - Williams, Snow and Cochran - Harlan Howard, Merle Haggard and Bob Dylan.

We'll reward your new membership or membership renewal with a copy of the CD - please send us a cheque or money order for $20.

Please email us first at music@nucountry.com.au as stocks are limited.
WIN DIERKS BENTLEY CD

EMI Records has provided Nu Country TV with Arizona born Dierks Bentley's fifth chart topping CD Feel The Fire.

Bentley won an enthusiastic following on his debut Australian tour in May with superstars Brooks & Dunn.

Dierks, 33, has scored seven #1 hits since leaving Phoenix for Nashville as a teenager.

The singer has broadened his music by including bluegrass - featuring the famed McCoury family - on albums dating back to his indie debut Danglin' Rope.

He has also recorded duets with prolific Grammy winner Alison Krauss and Texan chanteuse Patty Griffin.

Win Feel The Fire by becoming a member of Nu Country or renewing membership.

It only costs $20 including postage.

Please email us first at music@nucountry.com.au

We will then send you the CD on receipt of your cheque or money order made out to Nu Country Music.
WIN SLIM DUSTY CLASSIC BOX SET
We have more good news for viewers - EMI Records has given us an invaluable collectors' item - a brace of the 4 Box sets by late Australian country legend Slim Dusty.

Sittin' On 80 features a lost, classic track discovered by Slim's widow Joy McKean.

Joy found Give Me Room from a 1997 recording at their home studio Columbia Lane.

It was written by one of Slim's favourite writers John Dohling - outback station hand and good mate who passed away in November last year.

Sadly he never heard the final version of Slim's recording of his classic trucking song.

It has now been released as a single and included on Sittin' On 80.

Slim's legendary Travelling Country Band played on the song that has been digitally re-mastered by Australia's mastering guru Don Bartley.

All you have to do to win Slim's 4 CD Box set is become a member of Nu Country TV or renew your membership.

It only costs $20 and includes postage.

Please email us first at music@nucountry.com.au

We will then send you the CD on receipt of your cheque or money order made out to Nu Country Music.

TAYLOR SWIFT FEARLESS CD OFFER
Universal Music has donated copies of teen sensation Taylor Swift's huge selling second album Fearless to Nu Country TV.

Viewers who become members or renew their membership for just $20 can win the Fearless CD.

Swift, 19, played capacity audiences on her Australian tour in March and returns here in February.

Please email us at music@nucountry.com.au with your pledge.

Important note - please email us first.

Don't send membership cheque until you have been confirmed as the winner.
WIN FELICITY CD
Multiple Golden Guitarist winner Felicity Urquhart returned to Nu Country TV as hosts during Series #12, beginning in June.

You can win autographed copies of Felicity's sixth album Landing Lights, available here in shops on Shock.

All you have to do is become a member of Nu Country TV or renew membership.

It only costs $20 including postage.

Please email us first at music@nucountry.com.au and let us know which CD you would like.

We will then send you the CD on receipt of your cheque or money order made out to Nu Country Music.
WIN CATHERINE BRITT CDS
MIKE BRADY TOO
We have Catherine Britt's third CD Little Wildflower for viewers who wish to become members or renew membership.

Catherine, Adam Brand and Mike Brady were among artists who donated their talent to the Whittlesea Bushfire benefit on Saturday April 4.

Brady donated autographed copies of his Country To Country CD to viewers who become members or current members who renew their membership.

Mike was also a VIP guest host of Nu Country TV during our eighth series.

So for your $20 membership you can win Mike's CD Country To Country or Catherine Britt's Little Wildflower CD.
WIN JASMINE RAE & STEVE FORDE CDS
We also have the following CDS for viewers who email our web page and pledge $20 membership at music@nucountry.com.au

Telstra Road To Tamworth winner Jasmine Rae's debut CD Look It Up.

We also have Steve Forde's fifth album Guns & Guitars.