DAVE'S DIARY - 28/6/10 - PREVIEW OF EPISODE 4 - SERIES 14
CHILD PRODIGIES ON NU COUNTRY TV
We have a vast cast of child prodigies and TV talent show winners on Nu Country TV this Saturday July 3 at 10 p m on C 31.

Brothers 3 - singing siblings from Carcalgong near Mudgee in the Central Western Slopes of NSW - debut a video filmed on their family farm.

Lawrie Minson, from further north at Tamworth, carries family tradition in his new clip featuring international locales.

And Oklahoma born Carrie Underwood - most successful American Idol winner - celebrates more recent record-breaking feats.

Georgian trio Lady Antebellum - featuring the daughter of Linda Davis - Grammy award winning duet partner of Reba McEntire - strut its chart topping stuff.

Former Hootie & The Blowfish singer Darius Rucker returns to the show, repeated on Wednesday at 3.30 p m and 1 a m.

And Melbourne roots rocker actor Nick Barker - co-writer with country star Felicity - exposes his mellow leanings.
BROTHERS 3 - MUDGEE MAESTROS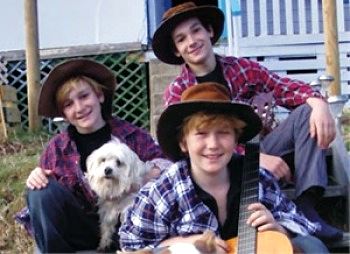 The fertile plains of Carcalgong near Mudgee are known for wine, wheat, sheep and cattle.
But now the three young sons of former Simon Townsend Wonder World reporter Alita Fahey blaze their trail as actors, musicians and singers.

Brothers 3 - Tayzin, 12, Makirum 11 and Shardyn 13 when they filmed their video - have won acclaim way beyond their farm locale for Road To Carcalgong.

The trio prove proficient on nine instruments as well as being handy with farm chores in their Ross Wood directed video.

It's on debut album Where the Eagles Fly that showcases 10 original songs they wrote on the farm.

Their filial musicality includes proficiency on guitar, keyboards, banjo, trumpet and clarinet.

And like the brothers Gibb their vocal talents are magnified by fraternal harmonies - their music has scored airplay here and in the U.S.

A quick check of their thespian track record is a salient signpost to their talent.

Shardyn played the young Peter Allen in the Hugh Jackman tour of The Boy from Oz.

The trio appeared in films and TV series diverse as Son of the Mask, Hell has Harbour Views, Cavalaria Rosticana/Pagliacci, Quambatook, Black Balloon, Happy Feet, Farscape, Home and Away and My Place.

It's fitting the siblings recorded their album at the Sydney studio of an older trio - The Robertson Brothers.

Ben Robertson engineered the disc, distributed by Hardrush Music.
LAWRIE MINSON - PEEL STREET TO WALL STREET
Multi-instrumentalist Lawrie Minson preceded Brothers 3 onto stages and studios as a pre-pubescent prodigy under tutelage of syndicated radio host and musician father John in hometown Tamworth.

Minson poured earnings from sessions and touring with Lee Kernaghan, Ross Wilson, James Blundell, Matt Scullion and Davidson Brothers into solo projects.

This week the quadruple Tamworth Golden Guitar winner ventures north from Peel St to Wall St in Jason Archer directed video for Too Far Gone from second solo album Love's Journey.

The singer, who occasionally bared his chest on Kernaghan tours, lets the animation do the talking here.

Minson branched out when he produced Indian singer Bobby Cash - long marketed as "one in a billion."

The affable hired hand emulated sentiments of Love's Journey to marry his soul mate Shelley Watts.

CARRIE UNDERWOOD - SOUL SURFER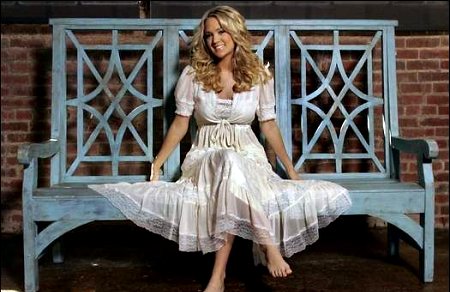 Oklahoma born Carrie Underwood created history as first female to twice win Academy of Country Music entertainer of the year in Las Vegas.

The American Idol winner delved into acting in new movie Soul Surfer.

The film is based on the life of Bethany Hamilton - a champion surfer who lost her arm in a shark attack when she was 13.

Carrie's terrier Ace was also a guest at her wedding to Ottawa Senators hockey star Mike Fisher.

This week Carrie performs a video for her poignant hit Temporary Home from her third huge selling album Play On.

The disc features Cowboy Casanova and Undo It and debuted at #1 on the Billboard 200 pop chart and has since been certified platinum.

Underwood's video on the plight of adopted children will impact with fellow country singers - Louisiana born recent Australian tourist and Spicks & Specks guest Mary Gauthier and Mindy Smith.

Both artists wrote and sang passionately about rising above struggles of being adopted in the Deep South and north of the U.S.

Underwood and Texan star Miranda Lambert are pro-active in raising funds for animal welfare.

Carrie's pet adoption passion ignited her foundation in her Oklahoma hometown Checotah and promotion with Pedigree Dog Food to assist animal shelters and find homes for abandoned animals.

Underwood also inspired a new character on Sesame Street - Carrie Underworm that she honoured with a short song, The Worm Anthem.

CLICK HERE for a Carrie feature in the Diary on January 29, 2007.

LADY ANTEBELLUM - NOT GONE WITH THE WIND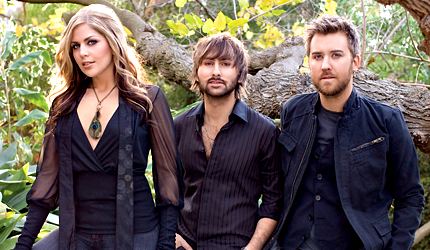 Georgian trio Lady Antebellum won five gongs at the ACM awards in Las Vegas in April.

This helped propel second album Need You Now to #1 on Billboard Top 200 on debut.

It has reigned at #1 on country charts for 22 weeks with sales exceeding 2.2 million.

The trio, formed in 2006, performs the video for Grammy winning #1 hit I Run To You this week.

Hilary Scott, 24 and daughter of singer Linda Davis who won a Grammy for a duet on Does He Love You with Reba McEntire, is from Nashville.

Hilary's dad is Lang Scott - a veteran Music City musician, producer and entrepreneur.

Band partners Charles Kelly, 28, and Dave Heywood, 27, were raised in Augusta - home of the Masters Golf tournament.

Charles is the younger brother of pop star Josh - who also cut a country album - and former professional golfer John.

The trio took its name from pre-Civil War architecture and plans to sell its crossover country pop back into Europe.

Lady Antebellum ends a six-month 55-date tour with superstar actor Tim McGraw in mid-August.

CLICK HERE for a Lady Antebellum CD review in the Diary on June 22.
NICK BARKER - MOVIES AND MUSIC
Former punk rocker Nick Barker displays a sensitive new age persona in his country career.

Barker vividly captured paternal surfing and seaside memories in his video for Sunny's Song.

The song, inspired by Nick's son, is on his seventh solo album Black Water Blues.

The multi-media musician appeared with Rachel Griffiths in 1998 movie Amy and had roles in long running TV show Blue Heelers and Pizza.

He performed with Ohio born singer-songwriter Kim Richey at Northcote Social Club and Hepburn Springs in March.

Barker also wrote songs with Felicity Urquhart for her acclaimed sixth album, Landing Lights.
DARIUS RUCKER - MORE PATERNAL PRIDE
Former Hootie & The Blowfish singer Darius Rucker explores paternal pride in his video for It Won't Be Like This For Long.

Rucker wrote it with Chris DuBois and Ashley Gorley.

It was his second #1 hit on huge selling solo album Learn To Live.

Rucker, 44, has good reason to nurture children - his dad was absent from his own childhood in South Carolina.

Now, with more than a million albums sold, his soulful country is sweet solace.

Rucker hopes to emulate success of his former band who sold more than 25 million albums in their 22-year career that started at college in South Carolina in 1986.

When Rucker scored with Don't Think I Don't Think About It he was the first Afro-American to top country charts solo since Charley Pride's 29th smash Night Games in 1983.

Rucker has succeeded where fellow Afro-American artists, dating back to cardiologist Cleve Francis with three albums from 1992-4, failed to top charts.
Louisiana singer Trini Triggs tried again in 1998 and more recently Rissi Palmer from Jacksonville, North Carolina released a self-titled debut CD and three singles.

Cowboy Troy's short-lived success was more about novelty of a black-country rapper than about being a country artist.

The late Ray Charles was the last black artist to have a No. 1 country single - duet with Willie Nelson on Seven Spanish Angels in March 1985.

More info - www.dariusrucker.com
WIN TIM MCGRAW TOUR SOUVENIR CD
Award winning Tim McGraw tour promoter Michael Chugg and Rob Potts are promoting Series #14 of Nu Country TV.

Now the superstar and singing actor's record company Sony has given Nu Country viewers a chance to win his souvenir tour CD.

The Southern Voice CD, with bonus tracks, is released here to promote McGraw's debut Australian tour with wife Faith Hill and The Dancehall Doctors in September.

All you have to do is become a member of Nu Country TV or renew your membership.

It costs just $20.

Please send a cheque or money order made out to Nu Country Music to us at P O Box 625 - Northcote - 3070.

Please email us first at music@nucountry.com.au as stocks are limited.
WIN ROSANNE CASH CD
We also have Rosanne Cash's acclaimed new EMI CD The List - new versions of classics from a list given to her by late father Johnny when she was 18 in 1973.

Guests on the Cash collection include Bruce Springsteen, Elvis Costello, Jeff Tweedy and Rufus Wainwright.

Cash's second husband John Leventhal produced the CD for Manhattan Records.

It features songs dating back to the Carter Family, the Hanks - Williams, Snow and Cochran - Harlan Howard, Merle Haggard and Bob Dylan.

We'll reward your new membership or membership renewal with a copy of the CD - please send us a cheque or money order for $20.

Please email us first at music@nucountry.com.au as stocks are limited.
WIN DIERKS BENTLEY CD

EMI Records has provided Nu Country TV with Arizona born Dierks Bentley's fifth chart topping CD Feel The Fire.

Bentley won an enthusiastic following on his debut Australian tour in May with superstars Brooks & Dunn.

Dierks, 33, has scored seven #1 hits since leaving Phoenix for Nashville as a teenager.

The singer has broadened his music by including bluegrass - featuring the famed McCoury family - on albums dating back to his indie debut Danglin' Rope.

He has also recorded duets with prolific Grammy winner Alison Krauss and Texan chanteuse Patty Griffin.

Win Feel The Fire by becoming a member of Nu Country or renewing membership.

It only costs $20 including postage.

Please email us first at music@nucountry.com.au

We will then send you the CD on receipt of your cheque or money order made out to Nu Country Music.
WIN SLIM DUSTY CLASSIC BOX SET
We have more good news for viewers - EMI Records has given us an invaluable collectors' item - a brace of the 4 Box sets by late Australian country legend Slim Dusty.

Sittin' On 80 features a lost, classic track discovered by Slim's widow Joy McKean.

Joy found Give Me Room from a 1997 recording at their home studio Columbia Lane.

It was written by one of Slim's favourite writers John Dohling - outback station hand and good mate who passed away in November last year.

Sadly he never heard the final version of Slim's recording of his classic trucking song.

It has now been released as a single and included on Sittin' On 80.

Slim's legendary Travelling Country Band played on the song that has been digitally re-mastered by Australia's mastering guru Don Bartley.

All you have to do to win Slim's 4 CD Box set is become a member of Nu Country TV or renew your membership.

It only costs $20 and includes postage.

Please email us first at music@nucountry.com.au

We will then send you the CD on receipt of your cheque or money order made out to Nu Country Music.

TAYLOR SWIFT FEARLESS CD OFFER
Universal Music has donated copies of teen sensation Taylor Swift's huge selling second album Fearless to Nu Country TV.

Viewers who become members or renew their membership for just $20 can win the Fearless CD.

Swift, 19, played capacity audiences on her Australian tour in March and returns here in February.

Please email us at music@nucountry.com.au with your pledge.

Important note - please email us first.

Don't send membership cheque until you have been confirmed as the winner.
WIN FELICITY CD
Multiple Golden Guitarist winner Felicity Urquhart returned to Nu Country TV as hosts during Series #12, beginning in June.

You can win autographed copies of Felicity's sixth album Landing Lights, available here in shops on Shock.

All you have to do is become a member of Nu Country TV or renew membership.

It only costs $20 including postage.

Please email us first at music@nucountry.com.au and let us know which CD you would like.

We will then send you the CD on receipt of your cheque or money order made out to Nu Country Music.
WIN CATHERINE BRITT CDS
MIKE BRADY TOO
We have Catherine Britt's third CD Little Wildflower for viewers who wish to become members or renew membership.

Catherine, Adam Brand and Mike Brady were among artists who donated their talent to the Whittlesea Bushfire benefit on Saturday April 4.

Brady donated autographed copies of his Country To Country CD to viewers who become members or current members who renew their membership.

Mike was also a VIP guest host of Nu Country TV during our eighth series.

So for your $20 membership you can win Mike's CD Country To Country or Catherine Britt's Little Wildflower CD.
WIN JASMINE RAE & STEVE FORDE CDS
We also have the following CDS for viewers who email our web page and pledge $20 membership at music@nucountry.com.au

Telstra Road To Tamworth winner Jasmine Rae's debut CD Look It Up.

We also have Steve Forde's fifth album Guns & Guitars.