DAVE'S DIARY - 14/6/10 - PREVIEW OF EPISODE 2 - SERIES 14
TIM MCGRAW FINDS SOUTHERN VOICE
Superstar Tim McGraw headlines Nu Country TV this Saturday - June 19 - on the eve of his debut Australian tour.

The singing actor performs the video for his hit Southern Voice - used in the closing scenes of Oscar winning movie The Blind Side.

The song is also the title track of McGraw's 10th album that we will give away later in the series.

Texan icon Billy Joe Shaver, who emulated McGraw by fighting the law and winning, also returns to the show, broadcast at 10 p m and repeated Wednesday at 1.00 am and 3.30 pm.

Former Californian convict Merle Haggard, who fought the law and lost before he turned 21, joins Redneck Woman Gretchen Wilson in a social comment duet.

Texan Dale Watson eulogised Shaver in song before and after his trial and showcases trucking country this week.

And roots duo Montgomery Gentry performs an agrarian tribute in the show also featuring Gippsland born singer Tracey Killeen.
TIM HAS FAITH AND SANDRA
Louisiana born McGraw, 43, and father of three daughters, shaved his moustache as on screen husband of Sandra Bullock in The Blind Side.

But the singing spouse of fellow star Faith Hill grew a beard for his role as Gwyneth Paltrow's husband and manager in new movie Love Don't Let Me Down.

South Carolina born singer Marshall Chapman plays the tour manager of Paltrow - real life wife of Coldplay singer Chris Martin.

McGraw is reunited in the film with Garret Hedlund who played his son in 2004 gridiron movie Friday Night Lights, set in Odessa, Texas.
And in yet another new movie Dirty Girl, Tim shares billing with Robert Duvall and Kentucky born singing actor Dwight Yoakam who were all in the 2008 movie Four Christmases.

McGraw is touring here in September to promote his music, now boasting career sales beyond 40 million, with his band The Dance Hall Doctors.

Viewers may recall The Warren Brothers - Brad and Brett - who toured here as a duo last century.

But, unlike their debut at long defunct ID's bar in Greville St, Prahran, they'll be on the big stage at Rod Laver Arena on Sunday September 19 before heading north.

McGraw's spouse Faith, who shared the screen with expatriate superstar Keith Urban's wife Nicole Kidman in The Stepford Wives, may join him on stage for an occasional duet.

Other scheduled acts in Melbourne are Steve Forde and Jonah's Road.

CLICK HERE for a McGraw feature in the Diary on May 23.

BILLY JOE SHAVER WANTS BULLET BACK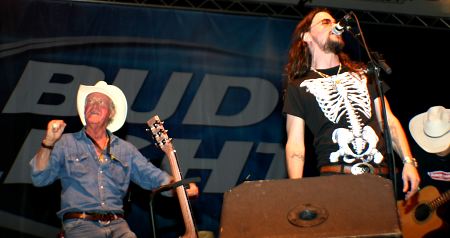 Photo by Carol Taylor
Texan legend Billy Joe Shaver celebrated the flip side of his 70th birthday with acquittal for shooting another Billy outside Papa Joe's Texas Saloon at Lorena south of Waco.

Now Shaver, who had a quadruple heart bypass after his third Australian tour in 2002 with singing Texan crime novelist Kinky Friedman, wants his bullet back.

So far that song has not been released but on the night of his acquittal he played the Fireside Saloon in Houston with Dale Watson.

Watson, who has also toured here five times, performed his song Where Do You Want It - triggered by Billy Joe's alleged question to shooting victim Billy Coker before he shot him after the barfly stirred his whiskey with a rusty knife.

Shotgun Willie Nelson and Duvall supported Shaver in Waco Court but were not called to give character evidence.

They both returned to movie and singing commitments.

Shaver appeared in 1997 movie The Apostle with Duvall, June Carter Cash, Billy Bob Thornton and Farrah Fawcett.

Duvall also sang Billy Joe song Live Forever a capella in Oscar winning movie Crazy Heart.

This week Big & Rich join Shaver in the classic video of Live Forever - the singer also performed his song in the Wendell Baker Story movie.

Billy Joe was also cast as a bi-plane truck driver in 2003 film Secondhand Lions with Duvall, Texan singer Terry Allan's singing spouse Jo Harvey Allan and Dixie Chicks singer Natalie Maines husband Adrian Pasdar.

Pasdar met Maines at the 1999 wedding of Dixie Chick and latter day Court Yard Hound Robison and ex singing spouse Charlie Robison.

They wed a year later in a $55 no-frills ceremony at famed Little White Chapel in Las Vegas.

Duvall's partner Luciana Pedraza also directed Shaver documentary The Portrait Of Billy Joe in 2004.

It ran alongside Nick Brenner's ABC-TV Nu Country FM docco at the Nashville film festival.

CLICK HERE for a Shaver feature from the Diary on April 11, 2007.
DALE WATSON TRUCKING AGAIN
Billy Joe's little mate Dale Watson is also in movies and a docco Crazy Again about his career that includes five Australian tours.

The thrice-wed honky tonker, now 48, was cast to appear in Austin Angel with David Carradine when director Zalman King opted for the docco.

It was a far cry from his 1993 debut in The Thing Called Love - the Peter Bogdanovich directed film about the famed Bluebird Café in Nashville.

That was the last movie by the late River Phoenix whose brother Joaquin played Johnny Cash in Walk The Line.

Sandra Bullock and Samantha Mathis were female leads in the film with Kevin Welch, Trisha Yearwood, Pam Tillis. K T Oslin, Katy Moffatt, Jimmie Dale Gilmore, Webb Wilder, Earl Poole Ball, Jo-El Sonnier and recent Australian tourist Rosie Flores.
This week Alabama born Watson performs in the video for Good Luck And Good Truckin' Tonight.

CLICK HERE for a Watson feature from the Diary on February 21, 2007.
MERLE AND GOOD OLD GIRL GRETCHEN
Redneck woman Gretchen Wilson and legendary outlaw Merle Haggard perform a parody of society's tepid tastemakers in humorous vintage hit Politically Uncorrect.

Viewers can play spot the celebrity in a rollicking video from Wilson's second CD All Jacked Up.

Haggard and Wilson, 37 on June 26, performed at the Myer Music Bowl in Melbourne in different decades.

Merle, now 73, and his Strangers played in the Governor's back paddock in 1996 and Gretchen was the country oasis in the Tsunami rock benefit concert there in 2005.

Ironically, Daddy Cool - featuring Leslie Avril's drummer Gary Young - closed the show for Gretchen.
Former Californian convict Haggard boomeranged from lung cancer a year ago to recently release one of the best albums of his career - his 76th I Am What I Am.

It's simple for the singer who turned 21 in San Quentin after a bungled back door burglary on a Bakersfield restaurant when it was still serving dessert.

So when Merle hooked up as producer with Lou Bradley he tore up his back pages for fodder.

The singer's rollcall of heroes Bob Wills and Elvis ignites his entrée I've Seen It Go Away.

Wilson split with long time label Sony and released her fourth album I Got Your Country Right Here on her indie Redneck Woman label.

The Black Crowes sued Wilson over first single Work Hard Play Harder, claiming Gretchen and co-writers John Rich and Vicky McGehee ripped off the verse melody from their tune Jealous Again.

This was a major hurdle for Wilson who settled with rock band after she mortaged her 300 acre Lebanon farm to finance her label and had to lay off 12 staff.

CLICK HERE for a feature on Gretchen in the Diary on January 3, 2005.
CLICK HERE for a Merle Haggard feature from the Diary on November 26, 2006.
CLICK HERE for a new Haggard CD review.
MONTGOMERY GENTRY
Chart-topping American turbo tonkers Montgomery Gentry return with the video of their hit Daddy Won't Sell The Farm from their 1999 debut disc Tattoos & Scars.

It long preceded their #1 hit Lucky Man from their fifth album Some People Change.

Troy Gentry and Eddie Montgomery - brother of Kentucky star John Michael - broke Brooks & Dunn's run as best CMA duo in 2000.
They also broke animal lovers' hearts in the bizarre bow and arrow-hunting escapade that ended the life of Cubby The Bear on October 13, 2004.

CLICK HERE for details of the brown Bear's death in the Diary on January 29, 2007.
CLICK HERE for another CD review on January 9, 2005.
TRACY KILLEEN BRAVE
Gippsland born Tracy Killeen returns to Nu Country with the Duncan Toombs directed video for Brave off her second album Drivers Seat.

It was written by Goulburn Valley born singer Tamara Stewart & Jenny Landis.

Killeen launched her CD at Rooty Hill RSL after playing the Katherine Muster and Nardoo Station, Cunnamulla.

Her Victorian based family crossed the border for the gig also featuring
Sarah McMonagle.

Killeen, about to relocate south to Sydney, sings of moving on from an old relationship.

In 1998 she won Gippsland Singer of Year and debuted with Ophelia's Charm for ABC/EMI disc The Open Road - Undiscovered Country.
She was a 1999 Tamworth Starmaker finalist, graduating from Australian College of Country Music where she met Kiwi singer Nicky Sweeney.

They teamed as Sweeney Killeen and scored airplay on Nu Country FM, ABC and community radio for an EP and string of singles.

Sweeney returned to New Zealand in 2006 and Tracy cut her 2007 album with former Bushwackers member Roger Corbett who also produced the duo's music.

She appeared in Nashville on the 2008 Aussie showcase and TV shows diverse as Landline, Escape With ET and Today.

Tracy returns to Victoria in October for Mildura country music festival.

Further info - www.tracykilleen.com
WIN ROSANNE CASH CD
We also have Rosanne Cash's acclaimed new EMI CD The List - new versions of classics from a list given to her by late father Johnny when she was 18 in 1973.

Guests on the Cash collection include Bruce Springsteen, Elvis Costello, Jeff Tweedy and Rufus Wainwright.

Cash's second husband John Leventhal produced the CD for Manhattan Records.

It features songs dating back to the Carter Family, the Hanks - Williams, Snow and Cochran - Harlan Howard, Merle Haggard and Bob Dylan.

We'll reward your new membership or membership renewal with a copy of the CD - please send us a cheque or money order for $20.

Please email us first at music@nucountry.com.au as stocks are limited.
WIN DIERKS BENTLEY CD

EMI Records has provided Nu Country TV with Arizona born Dierks Bentley's fifth chart topping CD Feel The Fire.

Bentley won an enthusiastic following on his debut Australian tour in May with superstars Brooks & Dunn.

Dierks, 33, has scored seven #1 hits since leaving Phoenix for Nashville as a teenager.

The singer has broadened his music by including bluegrass - featuring the famed McCoury family - on albums dating back to his indie debut Danglin' Rope.

He has also recorded duets with prolific Grammy winner Alison Krauss and Texan chanteuse Patty Griffin.

Win Feel The Fire by becoming a member of Nu Country or renewing membership.

It only costs $20 including postage.

Please email us first at music@nucountry.com.au

We will then send you the CD on receipt of your cheque or money order made out to Nu Country Music.
WIN SLIM DUSTY CLASSIC BOX SET
We have more good news for viewers - EMI Records has given us an invaluable collectors' item - a brace of the 4 Box sets by late Australian country legend Slim Dusty.

Sittin' On 80 features a lost, classic track discovered by Slim's widow Joy McKean.

Joy found Give Me Room from a 1997 recording at their home studio Columbia Lane.

It was written by one of Slim's favourite writers John Dohling - outback station hand and good mate who passed away in November last year.

Sadly he never heard the final version of Slim's recording of his classic trucking song.

It has now been released as a single and included on Sittin' On 80.

Slim's legendary Travelling Country Band played on the song that has been digitally re-mastered by Australia's mastering guru Don Bartley.

All you have to do to win Slim's 4 CD Box set is become a member of Nu Country TV or renew your membership.

It only costs $20 and includes postage.

Please email us first at music@nucountry.com.au

We will then send you the CD on receipt of your cheque or money order made out to Nu Country Music.

TAYLOR SWIFT FEARLESS CD OFFER
Universal Music has donated copies of teen sensation Taylor Swift's huge selling second album Fearless to Nu Country TV.

Viewers who become members or renew their membership for just $20 can win the Fearless CD.

Swift, 19, played capacity audiences on her Australian tour in March and returns here in February.

Please email us at music@nucountry.com.au with your pledge.

Important note - please email us first.

Don't send membership cheque until you have been confirmed as the winner.
WIN FELICITY CD
Multiple Golden Guitarist winner Felicity Urquhart returned to Nu Country TV as hosts during Series #12, beginning in June.

You can win autographed copies of Felicity's sixth album Landing Lights, available here in shops on Shock.

All you have to do is become a member of Nu Country TV or renew membership.

It only costs $20 including postage.

Please email us first at music@nucountry.com.au and let us know which CD you would like.

We will then send you the CD on receipt of your cheque or money order made out to Nu Country Music.
WIN CATHERINE BRITT CDS
MIKE BRADY TOO
We have Catherine Britt's third CD Little Wildflower for viewers who wish to become members or renew membership.

Catherine, Adam Brand and Mike Brady were among artists who donated their talent to the Whittlesea Bushfire benefit on Saturday April 4.

Brady donated autographed copies of his Country To Country CD to viewers who become members or current members who renew their membership.

Mike was also a VIP guest host of Nu Country TV during our eighth series.

So for your $20 membership you can win Mike's CD Country To Country or Catherine Britt's Little Wildflower CD.
WIN JASMINE RAE & STEVE FORDE CDS
We also have the following CDS for viewers who email our web page and pledge $20 membership at music@nucountry.com.au

Telstra Road To Tamworth winner Jasmine Rae's debut CD Look It Up.

We also have Steve Forde's fifth album Guns & Guitars.