DAVE'S DIARY - 9/8/10 - PREVIEW OF EPISODE 10 - SERIES 14
HOME MOVIES ON NU COUNTRY TV
Georgians Alan Jackson and the Zac Brown Band headline Nu Country TV this Saturday - August 14 - on C 31 at 10 p m.

Brown and North Queensland globetrotter 8 Ball Aitken turn their video clips into home movies.

Teenage Sapphire Coast student host Anneliese Staubli who debuted last week also features Tennessee troubadour Rodney Atkins latest video clip.

Anneliese extends the filial theme with filmmaker editor-father Peter by introducing young Gold Coast family band The Bostocks.

Veteran Victorian musician-singer Graham Gould also debuts on a show closed by Sydney trio Jonah's Road who tour the east coast in September with Louisiana born superstar and actor Tim McGraw.

Nu Country TV is repeated on Wednesdays at 1 am and 3.30 p m and is accessed 24 hours a day online at the C 31 web page.
ZAC BROWN BAND DIP TOES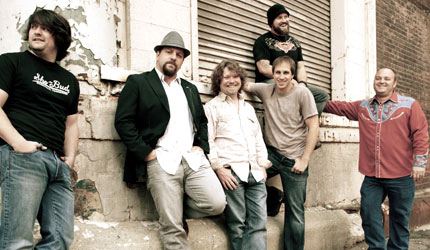 Zac Brown did his time in the beer and wine mines before breaking with his eclectic band as an indie artist on mainstream radio.

The band primed the sales pump with a vast vat of video clips - a smart marketing move to penetrate radio.

We feature the vibrant video for one of its Top 10 hits Toes, filmed in home movie style on a Bahamas beach.

It's one of the first three hits from the band's 4th album The Foundation - best known for the culinary classic Chicken Fried, once recorded by the now defunct Lost Trailers.

Major labels passed on the band in Australia so leading indie label Shock picked up the baton.

Now its fifth album You Get What You Give for Southern Ground Artists is set for a September 21 release on Atlantic Records.

The Foundation was released in 2008 and has sold more than two million copies.

You Get What You Give includes potential singles Colder Weather, Who Knows and As She's Walking Away.

The band, whose music has the joyous summer vibe perfected by Jimmy Buffett and Kenny Chesney, opened shows for the Dave Matthews Band in July.

CLICK HERE for a CD Review from the Diary.

8 BALL AITKEN TAKES NASHVILLE WITH A COCKATOO
Far North Queensland banana and guitar picker 8 Ball Aitken is also a master of quaint videos to compliment his albums.
So his latest clip Cowboy Movie, shot as a home movie in Nashville, is a perfect passport to airplay.

Tall troubadour 8 Ball, whose step-dad is known as Cue Ball, has a strong support cast in his satirical song.

First there's the cockatoo on his shoulder and the faithful dog by his side.

They are all refused admission to famous Nashville locales - Sony Music, publishing powerhouse ASCAP and an unidentified downtown Lower Broadway honky tonk.

But the sting is in the tail of this tale as 8 Ball gets the smash hit and the girl he serenades outside the famed Ryman Auditorium - original home of the Grand Ole Opry.
It's highly reminiscent of the saga of former convict, country star-actor David Allan Coe who once pitched his songs from his long black hearse parked outside the Ryman.

8 Ball, just 26, may not have as many wives as eight times wed Coe, now 70, but he has more siblings - 11.

His waist length red hair is cut from the same cloth as singing satirist and pianist Rev Billy C Wirtz - it trumps that of Coe who shares a penchant for hair extensions with female starlets.

The creative casting makes up for the low budget - the middle aged man cast as a Music Row bouncer also serves cocktails to 8 Ball, his cockatoo, canine, female conquest and good self in the lavish swimming pool party.

It's one of the best video clip story lines to grace our show and a fitting tribute to the multi-instrumentalist from Aitkenvale - the tiny town near Mareeba named after his Scottish born ancestors.

Cowboy Movie is on 8 Ball's third album Rebel With A Cause.

Further info - www.8ballaitken.com
ALAN JACKSON'S HARD HAT AND A HAMMER
Alan Jackson and fellow singer-songwriter Steve Young share the same Georgian hometown - Newnan.

Jackson, 51, has sold more than 51 million albums in a recording career that began in 1989.

But Young, now 68, beat Jackson into the studio by two decades.

The latter day Buddhist has toured here three times - the last in 2006 with Louisiana born Mary Gauthier.

Jackson, steered to fame by expatriate Australasian Barry Coburn, was set to tour here last year but changed his mind.
Expatriate Queenslander Kylie Sackley, 29, earned lucrative royalties off Alan's #1 hit of her song It's Just That Way.
But this week Jackson performs with his band in the video for new blue collar hit Hard Hat And A Hammer from his 18th album Freight Train.

It's one of nine Jackson originals on the disc that features Canadian Fred Eaglesmith's title track.

Jackson and wife Denise recently sold their Tennessee lakeside mansion for $28 million and put their Tequesta, Florida, beachfront retreat on the market for $1.275 million.

They have owned their Margaritaville style slice of paradise, built in 1966, for six years.

The 2,200-square house is a few miles north of Jupiter where they also have an 8,000 square home.

Not quite as lavish as their former lakeside six-bedroom home with 20-car garage, log cabin and barn with two bedrooms and boathouse.

CLICK HERE for an Alan Jackson CD review from the Diary.
CLICK HERE for an Alan Jackson feature in the Diary on May 28, 2008
RODNEY ATKINS COURTS FARMER'S DAUGHTER
Tennessee country star Rodney Atkins didn't have to look far to find a woman to play his love interest in the video for his latest hit Farmer's Daughter.

Atkins chose real life wife Tammy Jo to play the bucolic belle in the summer love song on the farm near Civil War town Franklin, south of Nashville.

The song, tale of a farmhand who falls in love and marries the farmer's daughter, is the fourth hit and bonus track from re-released fourth album - It's America.

Chris Hicky, who also directed Miranda Lambert's White Liar video, shot the clip featuring wide-open shots of crop fields and country living.

It's reminiscent of Rodney's earlier videos Watching You - featuring his son Elijah - and It's America.

Atkins, now 41, graduated from Tennessee Tech in Cookeville with a degree in psychology.

Perhaps it was a fitting reward for the singer who was returned by two families after living in an orphanage.

It was third time lucky for Atkins, named Jimmy Holston, when Allan and Margaret Atkins proudly raised him.

Jimmy Holston was the name given to him by the Holston Home in Greenville, Tennessee.

Now the Holston United Methodist Home for Children has a renovated campus and residence hall with a new name: The Rodney Atkins Youth Home.

Atkins performed fund and spirit raising concerts for his original home.

Daughter is the fastest climbing single in Rodney's career, selling more than 140,000 downloads on iTunes in just a few weeks.

His previous No. 1 hits, If You're Going Through Hell, These Are My People and Cleaning This Gun have sold nearly 750,000 downloads on iTunes.

CLICK HERE for Rodney Atkins CD reviews in the Diary.
BOSTOCKS - SIBLING SUPREMACY
Gold Coast family quartet The Bostocks debuts with the video of the title track of its second album Not By A Long Shot.

Jason Millhouse directed the video in which sisters - violinist Rachel and bassist Sara vocalise with guitarist brother Brendan and drummer Robert.

The family group began touring at the ages of 9, 12, 13 and 15 with help from Phil Emanuel.

They also performed Xstrata Mt Isa Rodeo and Port Fairy Folk Festival where they were awarded The Maton Young Talent Award.

Their support roles included rock artists diverse as Jimmy Barnes, INXS and Steve Wright after releasing debut album In The Neighbourhood.

In 2008 they played to more than 6,000 fans at the Stars under the Stars Concert on a New Zealand tour.
Further info - http://www.thebostocksband.com/main.html
GRAHAM GOULD - BEYOND STONEY CREEK
Moonee Ponds minstrel Graham Gould blazed a trail from 1979 with Melbourne band Stoney Creek on the east coast festival, pub and club circuit.

It was also backing band for contestants in Tamworth Starmaker Quest in 1981-1982.

The band won a talent quest at famed Wandong Country Music Festival and most popular vocal band at the FEIP Southern Hemisphere awards in 1983 and 1984.

That was long after Gould debuted in 1969 in a band called Fuzz on the embryonic Uptight TV show.

They also played dance halls with Master's Apprentices and Valentines in venues such as Festival Hall.
He later joined the Live Sound Dimension cabaret act.

But these days Graham is concentrating on his solo career.

He performs in the video on Nu Country TV this week for his revamp of Kenny Loggins hit Danny's Song.

It's on his career album The Journey - 40 Years.

That journey included TV roles in The Prisoner and The Sullivans and a part as an extra in the movie Thirst during 1979-80.

In 2001 he recorded an album with ex-Stoney Creek member Steve Cross.

It was produced by another ex-Creek member Charlie Kneale and scored radio airplay in Malta and the Channel Islands.

Then in January 2006 he released a four song EP, played on radio here and Europe while he finished his solo album.

Further info - http://www.grahamgould.com/
JONAH'S ROAD ENCORE
Sydney band Jonah's Road closes the show with a snippet of the video for its song Giddy Up from its second album Counting Down The Days.

It's one of several video clips released since 2004 debut album Hold On first scored national ABC and community radio airplay.

Jonah's Road cut its second album at Matt Fell's Love Hertz studio and visited Nashville before winning a support role on McGraw's east coast tour with Steve Forde.

The trio recently released 9-track EP End Of The World.

Members Jay Collie, John Kater and Rodney Auld are prolific writers with a penchant for harmonic hooks and melodies.

Jay's brother Jasper Somerville-Collie joined him and Kater as writers of Giddy Up.
WIN TIM MCGRAW TOUR SOUVENIR CD
Award winning Tim McGraw tour promoter Michael Chugg and Rob Potts are promoting Series #14 of Nu Country TV.

Now the superstar and singing actor's record company Sony has given Nu Country viewers a chance to win his souvenir tour CD.

The Southern Voice CD, with bonus tracks, is released here to promote McGraw's debut Australian tour with wife Faith Hill and The Dancehall Doctors in September.

All you have to do is become a member of Nu Country TV or renew your membership.

It costs just $20.

Please send a cheque or money order made out to Nu Country Music to us at P O Box 625 - Northcote - 3070.

Please email us first at music@nucountry.com.au as stocks are limited.
WIN ROSANNE CASH CD
We also have Rosanne Cash's acclaimed new EMI CD The List - new versions of classics from a list given to her by late father Johnny when she was 18 in 1973.

Guests on the Cash collection include Bruce Springsteen, Elvis Costello, Jeff Tweedy and Rufus Wainwright.

Cash's second husband John Leventhal produced the CD for Manhattan Records.

It features songs dating back to the Carter Family, the Hanks - Williams, Snow and Cochran - Harlan Howard, Merle Haggard and Bob Dylan.

We'll reward your new membership or membership renewal with a copy of the CD - please send us a cheque or money order for $20.

Please email us first at music@nucountry.com.au as stocks are limited.
WIN DIERKS BENTLEY CD

EMI Records has provided Nu Country TV with Arizona born Dierks Bentley's fifth chart topping CD Feel The Fire.

Bentley won an enthusiastic following on his debut Australian tour in May with superstars Brooks & Dunn.

Dierks, 33, has scored seven #1 hits since leaving Phoenix for Nashville as a teenager.

The singer has broadened his music by including bluegrass - featuring the famed McCoury family - on albums dating back to his indie debut Danglin' Rope.

He has also recorded duets with prolific Grammy winner Alison Krauss and Texan chanteuse Patty Griffin.

Win Feel The Fire by becoming a member of Nu Country or renewing membership.

It only costs $20 including postage.

Please email us first at music@nucountry.com.au

We will then send you the CD on receipt of your cheque or money order made out to Nu Country Music.
WIN SLIM DUSTY CLASSIC BOX SET
We have more good news for viewers - EMI Records has given us an invaluable collectors' item - a brace of the 4 Box sets by late Australian country legend Slim Dusty.

Sittin' On 80 features a lost, classic track discovered by Slim's widow Joy McKean.

Joy found Give Me Room from a 1997 recording at their home studio Columbia Lane.

It was written by one of Slim's favourite writers John Dohling - outback station hand and good mate who passed away in November last year.

Sadly he never heard the final version of Slim's recording of his classic trucking song.

It has now been released as a single and included on Sittin' On 80.

Slim's legendary Travelling Country Band played on the song that has been digitally re-mastered by Australia's mastering guru Don Bartley.

All you have to do to win Slim's 4 CD Box set is become a member of Nu Country TV or renew your membership.

It only costs $20 and includes postage.

Please email us first at music@nucountry.com.au

We will then send you the CD on receipt of your cheque or money order made out to Nu Country Music.

TAYLOR SWIFT FEARLESS CD OFFER
Universal Music has donated copies of teen sensation Taylor Swift's huge selling second album Fearless to Nu Country TV.

Viewers who become members or renew their membership for just $20 can win the Fearless CD.

Swift, 19, played capacity audiences on her Australian tour in March and returns here in February.

Please email us at music@nucountry.com.au with your pledge.

Important note - please email us first.

Don't send membership cheque until you have been confirmed as the winner.
WIN FELICITY CD
Multiple Golden Guitarist winner Felicity Urquhart returned to Nu Country TV as hosts during Series #12, beginning in June.

You can win autographed copies of Felicity's sixth album Landing Lights, available here in shops on Shock.

All you have to do is become a member of Nu Country TV or renew membership.

It only costs $20 including postage.

Please email us first at music@nucountry.com.au and let us know which CD you would like.

We will then send you the CD on receipt of your cheque or money order made out to Nu Country Music.
WIN CATHERINE BRITT CDS
MIKE BRADY TOO
We have Catherine Britt's third CD Little Wildflower for viewers who wish to become members or renew membership.

Catherine, Adam Brand and Mike Brady were among artists who donated their talent to the Whittlesea Bushfire benefit on Saturday April 4.

Brady donated autographed copies of his Country To Country CD to viewers who become members or current members who renew their membership.

Mike was also a VIP guest host of Nu Country TV during our eighth series.

So for your $20 membership you can win Mike's CD Country To Country or Catherine Britt's Little Wildflower CD.
WIN JASMINE RAE & STEVE FORDE CDS
We also have the following CDS for viewers who email our web page and pledge $20 membership at music@nucountry.com.au

Telstra Road To Tamworth winner Jasmine Rae's debut CD Look It Up.

We also have Steve Forde's fifth album Guns & Guitars.