DAVE'S DIARY - 1/2/2010 - PREVIEW OF EPISODE 8 - SERIES 13
FISHING WITHOUT A BOAT
Nu Country TV host Mid Pacific Bob Olson combined with editor Peter Staubli to create a fresh fish recipe direct from the ocean.

The duo caught, filleted, cooked and filmed their Seviche special dish at Staubli's oceanfront home on Dolphin Drive at Tura Beach.

It's a highlight of this week's show - Saturday February 6 at 9.30 p m on C 31.

So it's poetic they illustrate the show with touring Texan troubadour Lyle Lovett's video of his classic song If I Had A Boat.

West Virginia born star Brad Paisley returns with social comment tune Welcome To The Future.

And Queens born Australian tourist Kieran Kane premieres a video of a song filmed in Brunswick on his 2009 tour.

We also welcome back late country star John Denver in an historic Adelaide live gig.

And expatriate Texan Doug Bruce has a surprise guest in his video - a Kew women made famous on the Internet after being lost on a New York subway.
LYLE LOVETT GOES BOATING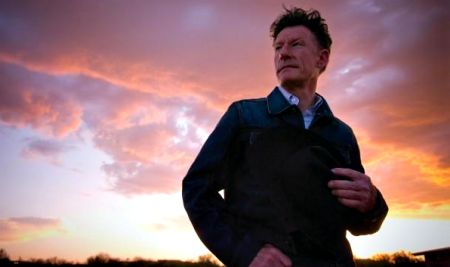 Touring Texan troubadour Lyle Lovett illustrates his historic video for If I Had A Boat with some cool characters from the backwoods.

Lovett originally recorded the song for 1988 album Pontiac but reprised it on his live album and Greatest Hits.

Lyle, 53, is touring Australia in March to promote his 14th album Natural Forces.

Lovett teamed with San Antonio partner April Kimble to write new song Pantry.

It was on location during his role in one of many Robert Altman movies he met former wife - thespian Julia Roberts.

Lovett was cast with Roberts in 1994 in Pret-A-Porter after roles in Altman movies The Player (1992), Short Cuts (1993) and Cookie's Fortune (1999).

Other Lovett movies include Bastard out of Carolina (1996) directed by Anjelica Huston, Breast Men (1997), Fear and Loathing in Las Vegas (1998,) The Opposite of Sex (1998), Three Days of Rain (2000) and The New Guy (2002.)

Lovett was still at school in Texas when Altman directed controversial 1975 movie Nashville.

Lyle and university housemate Robert Earl Keen later wrote It's Rock And Roll - a vitriolic parody of the music industry - while at Texas A & M University at College Station.

It's one of five originals on the album - others are Empty Blue Shoes, Farmer Brown /Chicken Reel, Pantry and the title track.

Lovett revamps songs by fellow Texans Don Sanders, David Ball, Tommy Elske, Vince Bell, late Townes Van Zandt and Eric Taylor - former singing spouse of Texan Nanci Griffith, also making her debut Australian tour in March.

The singer lives in Klein - a town founded by his great-great grandfather Adam Klein (a Bavarian weaver) in 1848 - now a Houston suburb.

CLICK HERE for a pair of Lovett CD reviews from The Diary.


BRAD PAISLEY SOCIAL COMMENT
Brad Paisley strikes blows for racial and social equality in Welcome To The Future from acclaimed seventh album American Saturday Night.

West Virginia born Brad lauds heroes in his video for the song this week - he promotes modern multiculturalism and tolerance in a society torn apart in previous eras.

It's a sequel of sorts to Janis Ian's embryonic breakthrough sixties hit Society's Child.

Paisley name checks Martin Luther King in the video, featuring Asian children illustrating changes in society.

This could be the creative catalyst for the Australian tour by the father of two and singing spouse of actress Kimberley Williams.
It's no surprise Paisley, 37, and Alison Krauss strutted their stuff for U.S. President Barack Obama at the White House last year.

CLICK HERE for a previous Paisley CD review in the Diary - December 15, 2008.
KIERAN KANE - LIFE IN BRUNSWICK
Kieran Kane covered many bases on his 2009 Australian tour with son Lucas, Kevin Welch and Fats Kaplan.

The quartet recorded Black Saturday bushfire benefit song Marysville for the Vinnies album After The Fire.

They were also in a documentary on making of the disc at Salt Studio in East Brighton.

The quartet donated proceeds of the digital version of Welch's evocative song to the Vinnies appeal that is still helping victims 12 months after the tragedy.

Queens born Kane also filmed a video clip for recent single Anybody's Game in the mean streets of Brunswick.

You may recognise many colourful characters in the video when it airs this Saturday.

Anybody's Game is off Kane's 7th album Somewhere Beyond The Roses.

Click Here for a Kieran Kane interview from the Diary on July 25, 2006.
Click Here for a previous interview in the Diary on February 2, 2004.
Click Here for Anne Sydenham's concert review on March 4, 2009.
JOHN DENVER 53 FOREVER
Life didn't imitate art for country folk icon John Denver when he sang When I'm 64 at an Adelaide concert on his 1977 Australian tour.

Denver died at 53 when his plane crashed at Pacific Grove on Monterey Bay on October 12, 1997.

His mother Emma outlived him by 12 years - she died at 87 in Aurora in Colorado on January 17 this year.

The dual Grammy winner's version of the song on a five DVD boxed set is an invaluable legacy.

Shock Records released the mammoth set in Australia - we give a sneak preview with his version of 1967 Beatles hit off their famed Sgt Pepper's Lonely Hearts Club Band album.

The singer, born Henry John Deutschendorf Jr in Roswell, New Mexico, dropped out of Texas Tech University in Lubbock in 1964 and moved to L.A.
He performed with the Chad Mitchell Trio in 1965 before a long career as a solo artist from 1969.

His 1967 song Leaving On A Jet Plane became a huge hit for Peter, Paul & Mary after he recorded it with the trio.

Denver wrote Annie's Song for first wife - Minnesota born Annie Martel - in 1974.

They adopted two children but split in 1982.

The singer wed Sydney singer & actress Cassie Delaney in 1988.

They split in 1991 after she gave birth to his second daughter.

But the biggest shock on his Australian tour was reserved for Queensland reared RCA label mates Moose Malone.

The band, featuring late singer-songwriter A P Johnson as its roadie, was dumped from RCA after drunken delicacies at a Denver cocktail party.

Further info - www.johndenver.com
DOUG BRUCE LONESOME NO MORE
Expatriate Texan Doug Bruce returns with his video for his song I Know About Lonesome from his debut album All I Need.
Bruce filmed his video at the Huha club in Victorian city Bendigo - his adoptive hometown where he lives with wife Jodie Doyle.

Doug's love interest in the video is Kew actress Camille Hayton.

Camille made international news on a New York subway when a man smitten by her posted an Internet sketch and plea to identify herself.

Camille responded to Patrick Moberg and ignited a flood of TV and print media exposure that swept the world.

This time Camille settled for local TV with Doug - one of the headliners at the recent Red Hill Country Music Festival.

Doug hails from small Texan horse town Aubrey and joined Dallas band Cheyenne who played Fort Worth venue Billy Bob's - largest honky tonk in Texas.
They opened for Travis Tritt, Jerry Jeff Walker and Rascal Flatts but split in 2001 as Doug moved to Nashville with singer-songwriter Brit Stokes.
They played Douglas Corner, French Quarter and other gigs while Doug freelanced with diverse bands and studio sessions.

Bruce expanded writing and joined Billy Yates' band before meeting wife Jodie in Guitar Town and following her back to Australia.

He returned to Nashville for a tour last year.

Further info - www.dougbruce.com.au

WIN ROSANNE CASH CD
We also have Rosanne Cash's acclaimed new EMI CD The List - new versions of classics from a list given to her by late father Johnny when she was 18 in 1973.

Guests on the Cash collection include Bruce Springsteen, Elvis Costello, Jeff Tweedy and Rufus Wainwright.

Cash's second husband John Leventhal produced the CD for Manhattan Records.

It features songs dating back to the Carter Family, the Hanks - Williams, Snow and Cochran - Harlan Howard, Merle Haggard and Bob Dylan.

We'll reward your new membership or membership renewal with a copy of the CD - please send us a cheque or money order for $20.

Please email us first at music@nucountry.com.au as stocks are limited.
WIN DIERKS BENTLEY CD

EMI Records has provided Nu Country TV with Arizona born Dierks Bentley's fifth chart topping CD Feel The Fire.

Bentley won an enthusiastic following on his debut Australian tour in May with superstars Brooks & Dunn.

Dierks, 33, has scored seven #1 hits since leaving Phoenix for Nashville as a teenager.

The singer has broadened his music by including bluegrass - featuring the famed McCoury family - on albums dating back to his indie debut Danglin' Rope.

He has also recorded duets with prolific Grammy winner Alison Krauss and Texan chanteuse Patty Griffin.

Win Feel The Fire by becoming a member of Nu Country or renewing membership.

It only costs $20 including postage.

Please email us first at music@nucountry.com.au

We will then send you the CD on receipt of your cheque or money order made out to Nu Country Music.
WIN SLIM DUSTY CLASSIC BOX SET
We have more good news for viewers - EMI Records has given us an invaluable collectors' item - a brace of the 4 Box sets by late Australian country legend Slim Dusty.

Sittin' On 80 features a lost, classic track discovered by Slim's widow Joy McKean.

Joy found Give Me Room from a 1997 recording at their home studio Columbia Lane.

It was written by one of Slim's favourite writers John Dohling - outback station hand and good mate who passed away in November last year.

Sadly he never heard the final version of Slim's recording of his classic trucking song.

It has now been released as a single and included on Sittin' On 80.

Slim's legendary Travelling Country Band played on the song that has been digitally re-mastered by Australia's mastering guru Don Bartley.

All you have to do to win Slim's 4 CD Box set is become a member of Nu Country TV or renew your membership.

It only costs $20 and includes postage.

Please email us first at music@nucountry.com.au

We will then send you the CD on receipt of your cheque or money order made out to Nu Country Music.

TAYLOR SWIFT FEARLESS CD OFFER
Universal Music has donated copies of teen sensation Taylor Swift's huge selling second album Fearless to Nu Country TV.

Viewers who become members or renew their membership for just $20 can win the Fearless CD.

Swift, 19, played capacity audiences on her Australian tour in March and returns here in February.

Please email us at music@nucountry.com.au with your pledge.

Important note - please email us first.

Don't send membership cheque until you have been confirmed as the winner.
WIN FELICITY CD
Multiple Golden Guitarist winner Felicity Urquhart returned to Nu Country TV as hosts during Series #12, beginning in June.

You can win autographed copies of Felicity's sixth album Landing Lights, available here in shops on Shock.

All you have to do is become a member of Nu Country TV or renew membership.

It only costs $20 including postage.

Please email us first at music@nucountry.com.au and let us know which CD you would like.

We will then send you the CD on receipt of your cheque or money order made out to Nu Country Music.
WIN CATHERINE BRITT CDS
MIKE BRADY TOO
We have Catherine Britt's third CD Little Wildflower for viewers who wish to become members or renew membership.

Catherine, Adam Brand and Mike Brady were among artists who donated their talent to the Whittlesea Bushfire benefit on Saturday April 4.

Brady donated autographed copies of his Country To Country CD to viewers who become members or current members who renew their membership.

Mike was also a VIP guest host of Nu Country TV during our eighth series.

So for your $20 membership you can win Mike's CD Country To Country or Catherine Britt's Little Wildflower CD.
WIN JASMINE RAE & STEVE FORDE CDS
We also have the following CDS for viewers who email our web page and pledge $20 membership at music@nucountry.com.au

Telstra Road To Tamworth winner Jasmine Rae's debut CD Look It Up.

We also have Steve Forde's fifth album Guns & Guitars.