DAVE'S DIARY - 25 JANUARY 2010 - LYLE LOVETT CD REVIEWS
2010 CD REVIEW
LYLE LOVETT
NATURAL FORCES (SONY-CURB)
LYLE LOVETT - NO CHEATING
"We loaded up in Buffalo, took 90-South down to Ohio/ on 8-West I'm Frisco bound, and when I get there I'll turn back around/ so thank you ma'am I must decline, for it's on my 18 wheel I ride/ out underneath the western sky/ I'm subject to the natural forces, home is where my horse is." - Natural Forces - Lyle Lovett.

Singing Texan actor Lyle Lovett has this thing about horses and cheating.

His steeds have been faithful companions since his self-titled debut disc in 1986.

You may recall Which Way Does That Old Pony Run, Cowboy Man and many others with an equine affinity.

They gallop back intro the entrée title track of his 14th album on the eve of his Australian tour in March.

Lyle's character resists advances of a woman but sates his wanderlust - "home is where my horse is."

Lovett declares war on cheaters in western swing driven Pantry - written with his San Antonio girl April Kimble.

Kimble was the inspiration for previous song San Antonio Girl and Cute As A Bug but not Fiona, Sonja, Fat Babies and The Fat Girl.

He sets the pantry scene with a reference to the Light Crust Dough Boys, once led by former Texas governor W L Pappy O'Daniel, and famed for their Martha White flour anthem.

Pappy was featured in Coen Bros movie O Brother Where Art Thou - T Bone Burnett produced the soundtrack.

Here the theme is the message to the woman of the house while her man is out on the international road, maybe with his horse.

She is warned not to cheat with a diverse metaphoric range of delicacies from corn bread, bean, bacon and collard greens - she has to keep it in her pantry and await his return so her desire is full and undiluted.

Lovett enjoys his western swing double entendre so much he repeats it in his finale - an acoustic cut of the same song.

His revamp of poultry parable Farmer Brown/Chicken Reel morphs from a droll ditty about chicken choking to wry word play of the finale - "the moral of this sorted tale is you just can't stop the U.S. male."

Ho, ho, ho.

Once again he proves no stereotypical writer - even if he only chances his arm on five of 12 songs here.
EMPTY BLUE SHOES
"You just might die when make Colorado/ and the plains lay behind you, sweet Texas behind you." - Empty Blue Shoes - Lyle Lovett.
There's no shortage of love songs.

He exploits danger of a lover leaving - Texas for the dreams of Colorado - in Empty Blue Shoes.
Lovett, now 53 and a prolific actor, reaches back to flesh out the album as a sequel of sorts to 1998 disc Step Inside This House where he honoured Texas peers with their tunes.

So it's no surprise the journalism graduate covers Bayou Song, penned by Don Sanders whom he interviewed for college magazine Battalion.

Lovett toasts other embryonic mentors with songs he learned when he opened for them in his student days.

There's David Ball's Don't You Think I Feel It Too, Vince Bell's Sun and Moon and Stars, Tommy Elske's Bohemia and late Townes Van Zandt's classic Loretta.
Lovett also revamps Whooping Crane - penned by Eric Taylor, a former singing spouse of fellow Texan singer-songwriter Nanci Griffith.

Griffith is also making her debut Australian tour in March to promote her 19th album The Loving Kind.
ROBERT EARL KEEN
"And agents will abuse you, promoters want to use you/ so they can line their pockets, with what's left down in you soul." - It's Rock And Roll - Lyle Lovett-Robert Earl Keen.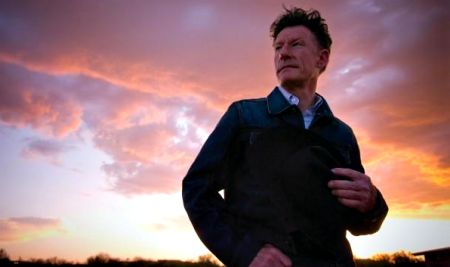 The other original It's Rock And Roll - a vitriolic parody of the music industry penned with Robert Earl Keen as A & M university student housemates at College Station.

That song was unrecorded although Lovett pitched it for the Dewey Cox movie and found the demo tape.

This is vintage Lovett making the most of unique vocals propelled front and centre by his famed Large Band.

And it's country rooted with plentiful pedal steel, fiddle, mandolin and sweet harmony by Keith Sewell.

Now back to those movies.

Well, Lovett had a recent cameo in The Open Road - a film by Michael Meredith, son of former Dallas Cowboys quarterback Don Meredith.

"Michael wanted me to do a song with Charlie Sexton," Lovett said. "They didn't use the song, but Michael gave me a scene and I got to sit around and sing with Jeff Bridges."

And, of course, it's Bridges' movie Crazy Heart that scored a Golden Globe award this month for Texan soundtrack producer T Bone Burnett and singer songwriter Ryan Bingham.

Former rodeo rider Bingham and Burnett wrote The Weary Kind - it won the best original song Globe.

Bridges also won a dramatic acting Globe for his portrayal of Bad Blake - a composite based on the rise, fall and rebirth of Texan drinkers and hell-raisers Billy Joe Shaver, George Jones and Kris Kristofferson.

But Burnett was alone on the L A podium last week to accept the song Globe.

Bingham apparently chose the wrong time for a bathroom break.

"Where's Ryan Bingham?" Burnett asked. "Maybe he's up in the air." The George Clooney character in new movie Up In the Air is also named Ryan Bingham.

Well, maybe this is fertile fodder for another Lovett song - especially if Bridges wins an Oscar for his portrayal of Blake.

Amen.

2003 CD REVIEW
LOVETT BUCKS TRUCKS
"I've been to Paris/ I don't mean Texas /I met Wim Wenders /one time in London." - The Truck Song - Lyle Lovett.
Lyle Lovett composed the soundtrack for 2000 Robert Altman movie Dr T And The Women - saga of a philandering Dallas gynaecologist.

He has won four Grammies in a career that also features acting roles in 10 movies.

He also fractured his right leg in 16 places in 2002 as he rescued uncle Calvin Klein from a bull he bottle fed on the Texas farm that has been in the family since 1848.

So it's understandable Lovett cancelled an Australian tour - because of fears of flying into missiles of mass distraction.

It's not clear if Lyle was paranoid about friendly fire from fellow Texan George Dubya Bush's battalions or religion soaked sooks frocked up as terrorists.
As a journalism graduate he was fully aware of the possible publicity of being the highest profile Texan troubadour to be bumped off in a plane since Buddy Holly and The Big Bopper in 1953.

But it's not much fun being a dead legend when the world is belatedly awakening to the rich catalogue of his songs.

Lovett's 12th album My Baby Don't Tolerate (MCA-CURB) was released by indie Sydney label Compass Brothers through Sony to puncture local radio apathy.

It should have - Lyle is a true country singer who owes more to Texas swing than tin-pan alley country.

With a brief marriage to Georgian Julia Roberts and animated acting in his slipstream he's media made.

Prada and Armani even send him clothes to wear onstage.

But he wears cowboy boots made in Austin by Lee Miller who took over from Charlie Dunn who died at 95 in 1993 long after being eulogised in song by Jerry Jeff Walker.

Lovett, an only child, sang in a Lutheran choir at nine and helps work the family ranch on flat lands at Klein near Houston when he is not singing and acting.

Which means his music has far deeper roots than urban cowpokes - more twists and turns than many of the Altman movies he has graced.

"A lot of these songs talk about where I'm from and how I sort of define my place in the world - my home, as I see it," Lovett says.

"The song that is sort of central to that whole theme is The Truck Song."
SAN ANTONIO GIRL
"We watched that Darwin walk in San Marcos/ then we went over and ate some supper/ drove to Helotes, Flores Country Store is/ out Highway 16, we heard old Robert Keen." - San Antonio Girl - Lyle Lovett.
The vivid vehicular imagery of The Truck Song and San Antonio Girl - both cut on his recent compilation - cloak a satiric sting that underpins his best work.

Hell, he takes his San Antonio Girl to a concert by former college house- mate Robert Earl Keen and rhymes B.F. Goodtire and baling wire in his truck treatise.

It seems the former and entrée Cute As A Bug were inspired by partner of six years, April Kimble, whom he met at Texas A & M when he gave a lecture on ethics in journalism.

It was while studying journalism at College Station that Lovett also wrote for university magazine Battalion.
Lyle delves into self-deprecatory humour in the title track and highway hedonism in Nothing But A Good Ride, Wallisville Road and deceptively simplistic On Saturday Night that he dedicates to a real family.

But the artistic peaks could be the relationship island In My Own Mind, the sardonic Big Dog - parody of local Tomball speed cops.

There's also evocative You Were Always There inspired by his father who died in 1999.

"You steal away/into a lonesome sound/another day is lowered in the ground."
BLAZE FOLEY
"Hey Mr Policeman, please don't take my stuff/ it cost me too much money and it probably ain't enough/ to get me through election day."
Election Day - Blaze Foley.

The timely Election Day - penned by the late Blaze Foley who was murdered by a man named January on February 3, 1989 - is a perfect segue to the hot gospel finale I'm Going To Wait and I'm Going To The Place.

So the songs are deep and satisfying - what about the music and singing?

Well, Lovett has a voice and style peers would kill for - fellow Texan Jon Randall sings harmony on five songs and mandolin ace Sam Bush three.

Lyle produced it with long time mate Billy Williams whom he met in Europe and use an A-team augmented by Alison Krauss's bassist brother Viktor who co-wrote You Were Always There.

This was one of the finest discs of 2003 and Lovett thanks his Houston surgeons for enabling him to walk again.

Lyle's karma has long been good - he bought back the family farm long before his career took off.