DAVE'S DIARY - 16/2/10 - PREVIEW OF EPISODE 10 - SERIES 13
HANK WILLIAMS JR HUNTS - BOB FISHES
Nu Country TV host Mid Pacific Olson renews his fishing cook-off on the NSW South Coast with editor Peter Staubli this Saturday February 20 on C 31 at 9.30 p m.

Olson chose Snapper Vera Cruz as his piscatorial pleasure in the episode headlined by veteran outlaw Hank Williams Jr.

Virginian singer-songwriter and pianist Phil Vassar, making his debut at CMC Rocks The Snowy festival at Thredbo in March, also appears.

Murwillumbah singer Lou Bradley and Londonderry lass Jayne Denham return to the show, repeated Tuesday at 3 p m and online any time at the C 31 web page.

And Mascot minstrel Amber Lawrence showcases the video for her new single.
BOCEPHUS - RED, WHITE & PINK SLIP BLUES
The legendary Hank Williams Jr went on the road at the age of eight singing songs by famed father Hank Snr.

He was just 17 when he starred in The Living Proof movie.

George Hamilton played Hank Sr in 1964 film Your Cheating Heart.

Hank Jr, known as Bocephus, and sister Jett recently gave approval for a new movie on their dad who died at 29 in 1953.

But right now the singer is promoting 51st studio album 127 Rose Avenue - named after his childhood home in Georgiana, Alabama,

Hank Jr performs the video for hard-hitting Global Financial Crisis social comment tune Red, White & Pink Slip Blues.
The album also features All the Roads - a Hank Jr. composition with the Grascals bluegrass combo.

Williams, now 60 and father of recording artists Hank Williams 111 and daughters Holly and Hilary, says he wrote All The Roads to be performed and recorded as a bluegrass song.

Hank Jr pays homage in Last Driftin' Cowboy to Don Helms - celebrated steel guitarist and longest surviving member of his father's band.

Helms died at 81 on August 11, 2008, from a heart attack and diabetes.

CLICK HERE for a Don Helms obituary from the Diary on September 8, 2008.
CLICK HERE for a Hank Jr CD Review in the Diary.
PHIL VASSAR ROCKS THE SNOWY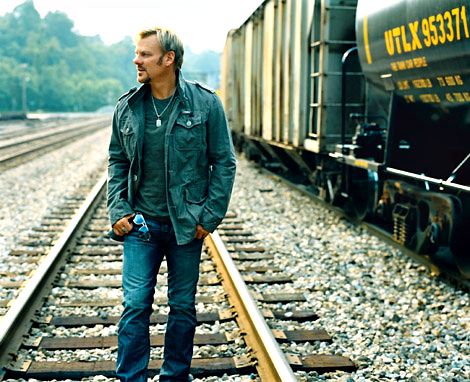 Virginia born Phil Vassar is touring Australia to promote his fifth album Travelling Circus.

"It's something I've always wanted to do," Vassar revealed, "and I finally got the chance to do it."

Vassar, 45, and born in Lynchburg in the Blue Ridge Mountains, reaches back to his early career for the video of his song This Is God.

The father of two daughters arrives in Australia after his European tour that embraced England, Ireland, Scotland, Germany and Italy.

"Life is precious, man," says Vassar.

"And every day I realise that more and more. Take what's going on in Haiti. Life's so fragile. It can just be blown out like a candle in an instant."

The prolific pianist has written hits for Jo Dee Messina, Alan Jackson and Tim McGraw.

He also composed Live For Today - the theme for NBC The Today Show that got him an Emmy nomination.

Now he's writing music for a Broadway play - the theatrical production of Waitress, an independent 2007 movie about a small-town server in the midst of a life crisis.

"It's such a great story," Phil revealed.

"We're staying as close as we can to it."

Travelling Circus features a video with Desperate Housewives star Jamie Denton - childhood sweetheart of recently wed singer Deana Carter who played Thredbo last year.

But he was not cast as the lad who dresses as a woman to get free drinks in a bar on ladies night.

CLICK HERE for a Phil Vassar feature in the Diary.
JAYNE DENHAM & CROCKER CHANTEUSE
Londonderry diva Jayne Denham recruited some local lasses for the video of her single Girls Of 75.

The song is off Jayne's second album Shake This Town.

But some of the video is from film vaults of Jayne's grandfather.

It also includes family movie archives of the legendary former Geelong thespian and singer Barry Crocker.

Crocker's granddaughter Erica Crocker - a friend of Jayne - joins her on backing vocals.

It's a walk down memory lane for those with 8mm movie cameras in the 1970s!
CLICK HERE for a Denham CD Review from the Diary on August 17, 2009.

LOU BRADLEY HONOURS AYERS ROCK
Mullumbimby minstrel Lou Bradley headed inland to Ayers Rock to film her video for new single Uluru.

Her social comment song on the history of Uluru is a highlight of her second album La, La Not Listening.

Lou collaborated with Bill Chambers on the disc produced by his son-in-law Shane Nicholson.

CLICK HERE for a Bradley review from the Diary.
AMBER LAWRENCE
Former Qantas accountant Amber Lawrence joins Texans Jack Ingram and Nanci Griffith and Phil Vassar on CMC Rocks The Snowy festival on March 5 and 6.

The Mascot singer performs the video for her latest single Wrecking Ball from her second album When It All Comes Down.

Jake Nickolai struts his stuff on guitar in Amber's band in the video.

The singer, 24, exorcised grief by writing her second album title track and Always Kiss Me Goodnight about her dad who died of leukemia in 2008.
She recorded her Rod McCormack produced album shortly after he died. "When my Dad was in hospital we spent a lot of time pacing the corridors of the Prince of Wales Hospital,' Amber said.

The album's title track, When It All Comes Down was written during that period, and it asks some pretty hard questions about what life is all about. And what it really comes down to is that life is simply about love.

Her bubbly exterior belies soulful compassion - she wrote The Mile on her debut disc about the tragic death of a teenage jockey.

Further info - www.amberlawrence.com
WIN DOUBLE PASS TO CMC ROCKS THE SNOWY
We have a double pass to the third CMC Rocks The Snowy festival at Thredbo on March
5 and 6.

All you have to do is become a family member for just $40.

This entitles you to a pair of passes to both days to the festival - a saving of $200.

We'll also give you a CD by Jasmine Rae, who returns to the festival this year, and U.S. superstar Taylor Swift who performed Thredbo last year.

Please email us at music@nucountry.com.au so we can confirm you as the winner before you send a cheque or money order for $40.

Click Here for full details at our membership page.
WIN ROSANNE CASH CD
We also have Rosanne Cash's acclaimed new EMI CD The List - new versions of classics from a list given to her by late father Johnny when she was 18 in 1973.

Guests on the Cash collection include Bruce Springsteen, Elvis Costello, Jeff Tweedy and Rufus Wainwright.

Cash's second husband John Leventhal produced the CD for Manhattan Records.

It features songs dating back to the Carter Family, the Hanks - Williams, Snow and Cochran - Harlan Howard, Merle Haggard and Bob Dylan.

We'll reward your new membership or membership renewal with a copy of the CD - please send us a cheque or money order for $20.

Please email us first at music@nucountry.com.au as stocks are limited.
WIN DIERKS BENTLEY CD

EMI Records has provided Nu Country TV with Arizona born Dierks Bentley's fifth chart topping CD Feel The Fire.

Bentley won an enthusiastic following on his debut Australian tour in May with superstars Brooks & Dunn.

Dierks, 33, has scored seven #1 hits since leaving Phoenix for Nashville as a teenager.

The singer has broadened his music by including bluegrass - featuring the famed McCoury family - on albums dating back to his indie debut Danglin' Rope.

He has also recorded duets with prolific Grammy winner Alison Krauss and Texan chanteuse Patty Griffin.

Win Feel The Fire by becoming a member of Nu Country or renewing membership.

It only costs $20 including postage.

Please email us first at music@nucountry.com.au

We will then send you the CD on receipt of your cheque or money order made out to Nu Country Music.
WIN SLIM DUSTY CLASSIC BOX SET
We have more good news for viewers - EMI Records has given us an invaluable collectors' item - a brace of the 4 Box sets by late Australian country legend Slim Dusty.

Sittin' On 80 features a lost, classic track discovered by Slim's widow Joy McKean.

Joy found Give Me Room from a 1997 recording at their home studio Columbia Lane.

It was written by one of Slim's favourite writers John Dohling - outback station hand and good mate who passed away in November last year.

Sadly he never heard the final version of Slim's recording of his classic trucking song.

It has now been released as a single and included on Sittin' On 80.

Slim's legendary Travelling Country Band played on the song that has been digitally re-mastered by Australia's mastering guru Don Bartley.

All you have to do to win Slim's 4 CD Box set is become a member of Nu Country TV or renew your membership.

It only costs $20 and includes postage.

Please email us first at music@nucountry.com.au

We will then send you the CD on receipt of your cheque or money order made out to Nu Country Music.

TAYLOR SWIFT FEARLESS CD OFFER
Universal Music has donated copies of teen sensation Taylor Swift's huge selling second album Fearless to Nu Country TV.

Viewers who become members or renew their membership for just $20 can win the Fearless CD.

Swift, 19, played capacity audiences on her Australian tour in March and returns here in February.

Please email us at music@nucountry.com.au with your pledge.

Important note - please email us first.

Don't send membership cheque until you have been confirmed as the winner.
WIN FELICITY CD
Multiple Golden Guitarist winner Felicity Urquhart returned to Nu Country TV as hosts during Series #12, beginning in June.

You can win autographed copies of Felicity's sixth album Landing Lights, available here in shops on Shock.

All you have to do is become a member of Nu Country TV or renew membership.

It only costs $20 including postage.

Please email us first at music@nucountry.com.au and let us know which CD you would like.

We will then send you the CD on receipt of your cheque or money order made out to Nu Country Music.
WIN CATHERINE BRITT CDS
MIKE BRADY TOO
We have Catherine Britt's third CD Little Wildflower for viewers who wish to become members or renew membership.

Catherine, Adam Brand and Mike Brady were among artists who donated their talent to the Whittlesea Bushfire benefit on Saturday April 4.

Brady donated autographed copies of his Country To Country CD to viewers who become members or current members who renew their membership.

Mike was also a VIP guest host of Nu Country TV during our eighth series.

So for your $20 membership you can win Mike's CD Country To Country or Catherine Britt's Little Wildflower CD.
WIN JASMINE RAE & STEVE FORDE CDS
We also have the following CDS for viewers who email our web page and pledge $20 membership at music@nucountry.com.au

Telstra Road To Tamworth winner Jasmine Rae's debut CD Look It Up.

We also have Steve Forde's fifth album Guns & Guitars.