DAVE'S DIARY - 6 JULY 2015 - PREVIEW OF EPISODE 5 - SERIES 27
ZAC BROWN BAND HEADLINE NU COUNTRY TV JULY 11
Georgian superstars The Zac Brown Band headline Nu Country TV Saturday July 11 at 10.30 pm on Channel 31/ Digital 44.
Texans Ray Wylie Hubbard and Billy Joe Shaver, major acts at Willie Nelson's 42 ND July 4 Picnic in Austin , also perform live on the show repeated Monday 5.30 am and 2.30 pm, Wednesday 7.30 am and Thursday 2.30 am.
Kentucky coalminer's son Chris Stapleton - another picnic performer - also performs in Behind Bars on the show filmed and edited by Laith Graham.
Georgian star Jason Aldean returns and Thornbury troubadour Paulie Bignell debuts on the eve of his band's CD launch at the Gem Bar in Collingwood on the Sabbath - July 12.
Nu Country TV is a highlight of C 31 streaming list on Digital 44.
Just follow this link on your computer or mobile phone - http://www.c31.org.au/program/view/program/nu-country-tv
GEORGIANS FIND LOVING EASY ON THE BEACH
The Zac Brown Band debut their video for #1 hit Loving You Easy from their eclectic seventh album Jekyll & Hyde that they showcased on their second Australian tour in March.
The octet topped both country and all genre Top 200 rock charts before releasing this tropical treat with barefoot dancing and beatific brunettes on far-off beaches.
It's a far cry from their recent performance at the Summer Fest at the Marcus Amphitheatre in Milwaukee on Sunday June 28.
Houston Texans gridiron defensive superstar J.J. Watt lent his talents to stage security.
Just as Zac's band finished Red Hot Chili Peppers' hit Under The Bridge a fan wearing an Alabama football T-shirt jumped from the crowd and danced on stage.
Watt laid the fan flat on his back in one swift gridiron tackle - his Alma Mater is Wisconsin and Wisconsin was scheduled to play Alabama for the first game of the college season.
Perhaps the band was playing the wrong song in Milwaukee .
The late Glenn Sutton's tune What's Made Milwaukee Famous Has Made a Loser Out of Me - an historic reference to Schlitz beer - made the charts for Sutton's singing spouse Lynn Anderson after being a #2 hit in 1968 for Jerry Lee Lewis.
Texans Hank Thompson and Johnny Bush also covered it before the Del McCoury Band gave it a bluegrass tint and Rod Stewart a pop frolic.
Despite Zac Brown's octet playing the dock of the bay at St Kilda Palais in March on the eve of the AFL season Saints captain and country music buff Nick Riewoldt didn't feel moved to test his tackles on stage-invaders.
CLICK HERE for a Zac Brown Jekyll & Hyde review in the Diary on June 23.
RAY WYLIE HUBBARD - SONG FOR A SPOUSE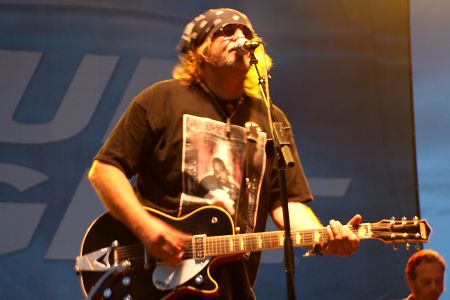 Photo by Carol Taylor
Oklahoma born, long time Texan Ray Wylie Hubbard sings of how he met his wife Judy at Dallas strip club Mother Blues in his live return to Nu Country.
Judy was not a stripper but the club's door damsel and mum of their son Lucas who played in dad's band since he was 12.
Ray, now 68, recently released 16th album Ruffian's Fortune and new single Stone Blind Horses.
I first interviewed him in Austin in 1978 - long before the birth of Lucas, now 21.
Lucas taught a Geelong amateurs under 19 footballer how to throw his Texas Longhorns gridiron ball at Willie's July 3 picnic at Carl's Corner in 2006 before his mum Judy called him onstage.
He also returned to stage with his dad at Willie's July 4 picnic in Austin last week.
CLICK HERE for a Ray Wylie feature interviews and CD reviews in The Diary on July 7, 2012
BILLY JOE SHAVER - WHEN THE WORD WAS THUNDERBIRD
Veteran Texan outlaw Billy Joe Shaver returns with a live version of his classic Thunderbird from famed Billy Bob's super honky tonk in Fort Worth , also known as Cowtown.

Cowtown hosted many Willie Nelson July 4 festivals featuring Billy Joe, now 75, who strutted his stuff at the 42 nd picnic in Austin last weekend.

Sadly Billy Joe's guitarist son - Fast Eddy - died at 38 on New Year's Eve, 2000.

But Willie, now 82, rode to the rescue and gave Billy Joe a gig with him that night to help ease the sorrow.

Shaver released his 23 rd album Long In The Tooth earlier this year.

It's ironic that when Shotgun Willie and Billy Joe both included their satiric song Hard To Be An Outlaw on new albums that reached the peak of exposure on the late lamented syndicated David Letterman Show.

<Photo by Carol Taylor
Letterman, like Don Imus, is a fan of cutting edge country music - Shaver and Nelson's duet is an earthy entrée to Long In The Tooth that also features political parody The Git Go that they both recorded.
Despite recurring health crises Shaver has not slowed down.
But, unlike Willie, his drug of choice is now energy drinks.
"I drink 10 to 11 a day sometimes," Shaver says.
"Other times, three or four. It's an old man's bumper jack. It lifts me up."
This beverage might not be advisable for a man who had a heart attack onstage at Gruene Hall , Texas , in 2001 on the eve of his 2002 Australian tour with singing Texan crime novelist Kinky Friedman, now 70.
Stay tuned for a 2015 picnic review by Dead Livers bassist Michael Schack whose band eulogised octogenarian Nelson with their 1981 tour hit I'd Love To Have Joint With Willie.
CLICK HERE for a Long In The Tooth review in the Diary on February 23.
CHRIS STAPLETON FIRES AWAY
Kentucky coalminer's son and former Steel Drivers guitarist Chris Stapleton returns Behind Bars with his singing spouse Morgane on a live version of Fire Away from his debut solo disc Traveller.

Traveller is the first solo album by the 37-year-old nouveau outlaw - a fitting award for the prolific hit writer.

Chris and Morgane previously appeared on Nu Country with their live version of Bob McDill penned country classic Amanda on the famed Grand Ole Opry .

It was a huge hit for Texans Don Williams and Waylon Jennings who toured here at the peak of their careers.

Chris has written #1 hits for Texan George Strait , Kenny Chesney and Darius Rucker and landed songs in movies Cars 2 and Valentine's Day.

Traveller was recorded at the historic RCA Studio A, The Castle and Blackbird Studio - it was produced by Dave Cobb and recorded by Vance Powell.
He revamped Dean Dillon and Linda Hargrove's Tennessee Whiskey and Don Sampson's Was It 26 alongside 12 originals including Sometimes I Cry .
Stapleton's five No. 1 hits as a songwriter include five-week No.1 Never Wanted Nothing More by Kenny Chesney, George Strait's Love's Gonna Make it Alright and Luke Bryan' s Drink A Beer that Stapleton performed with Lady Antebellum at the CMT Artists of Year show.
He has penned over 170 songs recorded by Adele, Tim McGraw, Brad Paisley and Dierks Bentley notable co-writers Vince Gill, Peter Frampton and Sheryl Crow.
As lead vocalist for The Steel Drivers Stapleton earned three Grammy nominations for Best Bluegrass Album and International Bluegrass Music Association Emerging Artist.
He's won eight ASCAP Awards and joined Little Big Town on their Pain Killer tour in March and The Outsiders tour with Eric Church in May.
Further info - http://www.chrisstapleton.com/
JASON ALDEAN – GEORGIA AND BRITTANY ON HIS MIND
Georgian Jason Aldean returns with his video for Tonight Looks Good On You from his sixth album Old Boots, New Dirt.
Video acting is easy for Jason, now 38, and wed to American Idol singer Brittany Kerr.
He was in 2013 movie Sweetwater with Ed Harris and January Jones.
The movie, set in 1886 in the New Mexico frontier, finds Aldean in cinematic footsteps of fellow singing actors Willie Nelson, Kris Kristofferson and Tim McGraw.
But it's unlikely to bring him acclaim of Texan World War 11 hero actor Audie Murphy who wrote 1965 Tennessee Ernie Ford hit Hicktown that shares its title with Aldean's breakthrough smash.
"I didn't know that, it's a bit of news I didn't know before," joked Aldean who was born in Macon - hometown of Otis Redding and Little Richard.
Audie Murphy has a chapter in January tourist and singing Texan crime novelist Kinky Friedman's book Heroes of A Texas Childhood .
He was one of the most decorated American combat soldiers of World War II, receiving every military combat award for valour from the U.S. Army as well as French and Belgian awards for heroism.
Murphy received the Medal of Honour at 19 after single-handedly holding off an entire company of German soldiers for an hour at Colmar Pocket, France in January 1945, then leading a successful counter-attack while wounded and out of ammunition.
Murphy's post war 21-year acting career included 40 movies and TV series Whispering Smith .
He played himself in 1955 movie To Hell and Back based on his 1949 memoirs of the same name.
CLICK HERE for an exclusive Jason interview in The Diary on March 30.
PAULIE BIGNELL LOST AND DANGEROUS IN SUBURBIA
Paulie Bignell and his Thornbury 2 take us inside their northern suburbs house of morose broken hearts in their video for their new single.
I Don't Mind Any More is on the new trio disc Lost & Dangerous.
Paulie is well known for his explosive Melbourne band The Detonators.
His trio launches the CD at the Gem Bar at 289 Wellington St , Collingwood, at 7 pm on Sunday July 12.
Further info – http://pauliebignell.com
HOW TO KEEP NU COUNTRY ON AIR
We need your support as we celebrate the 27th series of Nu Country TV.
Australian record companies and artists have joined forces to ensure our survival.
We have new CDS by major artists you can win by becoming a Nu Country TV member or renewing your membership.
They include singing actors Willie Nelson and Tim McGraw, Voice judge Blake Shelton, Ashley Monroe, Brad Paisley, Gary Allan, Toby Keith, Dierks Bentley, Eric Church, Chris Young, Charley Pride, Slim Dusty, Rosanne Cash and more.
We also have a Lady Antebellum DVD.
CLICK HERE for our Membership Page for full details.