DAVE'S DIARY - 10/6/12 - PREVIEW OF EPISODE 2 - SERIES 18
NU COUNTRY DJ HEADLINES EPISODE 2
Shipwreck Coast singer-songwriter and Nu Country FM DJ Lee Sonny Boy Morgan debuts on Nu Country TV this Wednesday June 13 on C 31.

Morgan, host of our indigenous music show during our Beer Can Hill era, performs on the 10 pm show, edited by Ashley Hall.

Lee sings about reconciliation with some high profile bush buddies on the show repeated Thursdays at 4.30 pm and Saturdays - 11.30 pm.

That's after international stars Toby Keith, Eric Church and young guns Bradley Gaskin and Chris Young perform songs about the joys of liquid libation.

Queenslander Jacqui Ryan also debuts on Nu Country with her new clip.
SONNY BOY MORGAN
It's a long way from the Shipwreck Coast to the verdant green Jolimont footy and cricket colosseum in Jolimont - home of our national games.

But Lee Sonny Boy Morgan made the journey with fellow coastal colt Shane Howard when the singers celebrated reconciliation on the big stage at the MCG.

Howard and sister Marcia, cousins of former VFL stars Simon and Justin Madden, return the favour by appearing in Morgan's uplifting video clip for his Reconciliation Song.

The Howards grew up on the banks of the Merri River at Warrnambool satellite suburb Dennington while Morgan and video guest Archie Roach were born due north upstream on the Hopkins at Framlingham.

Morgan and Shane Howard also shared a producer - Dingoes guitarist Kerryn Tolhurst - on latter day albums.

Lee wrote all tunes on recent album Feed Me Your Song.

The member of the Gunditjmara Kirrae Whurrong clan and grandson of late wisdom man Banjo Clarke performs on albums by artists diverse as Howard, Roach, Ruby Hunter, Jessica Mauboy, Dean Geyer and Mary G Show.

His first self-produced independently released 2008 EP Sonnyboy took its title from the named bestowed on him as a boy by tribal elders.
Lee played 36th Port Fairy folk festival in March with Marcia and Damian Howard and other homegrown artists - his CV also includes local Tarerer festival near Tower Hill, Apollo Bay and St Kilda.
His new album features special guests including Howard, Roach and Dan Sultan with pedal steel, mandolin and Hammond.

Lee may have not reached football heights of Howard and Madden clans but his mum and dad displayed immaculate taste when they graced famed Continental Café to catch the equally legendary Flying Burrito Brothers concert.

Further info - www.myspace.com/leesonnyboymorgan
ERIC RETURNS TO CHURCH OF HIS CHOICE
North Carolina country star Eric Church returns to Nu Country with the video for the first of our four-pack of drinking songs.

Church, 35, celebrating on stage with a drink in his hand in a song that echoed memories of the late, great Kentuckian Gary Stewart who chose Florida as his launch pad to God.

Eric topped Billboard charts with third album Chief on debut and also declared war on Blake Shelton and Miranda Lambert for their forays into reality TV.

Although Church backtracked after a twitter fuelled faux furore he also donned the amore armour after being named by bloggers as one of the subjects of Shooter Jennings song Outlaw You.

Controversy is a healthy sales tool for Church in his wars with concert scalpers, fake Facebook pages and a recent riot when his Buffalo concert was cancelled because of dangerous weather.
Church name checks the late Waylon Jennings in Like Jesus Does and Johnny Cash in Country Music Jesus - a satiric swipe at critics exposing faux outlaws.

He also chanced his arm with songs challenging radio gatekeepers.
"If I was still a songwriter instead of an artist, I'd never get anyone to record Smoke A Little Smoke and I'm Getting Stoned," Church said.

"None of that stuff would have ever been touched. I mean, the second single we ever released was Two Pink Lines about teen pregnancy. You aren't supposed to write that kind of stuff for a country audience. Before that song came out, I had my label telling me, "You can't be a new artist and put out stuff like this. They've told me I'm crazy so many times.

They said Smoke A Little Smoke was career suicide. They said country radio wouldn't touch it, that it would never be a hit but that song ended up being the one that changed our whole career."

CLICK HERE for a Church feature in the Diary on October 18.
TOBY KEITH CUPS RADIO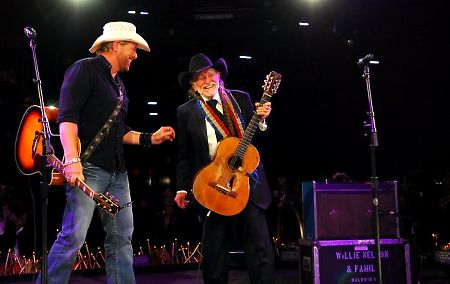 Oklahoma star Toby Keith was challenging radio and Music Row unholy bovines long before Church.

So it's no surprise he rode across the myopic mainstream moat with his drinking ditty Red Solo Cup.

It's probably the first time we heard Freddy Mac and testicles in the same country song.

I know a septuagenarian Melbourne radio programmer who censored his station's version so he wouldn't offend blue rinse belles or public service ponces.

The irony was not lost on TV viewers whose evening diet was flooded with crime families exercising the ignoble art of target shooting on the killing fields of a suburb where the station blares out one of the strongest signals in community radio.

Testes may indeed be an integral part of the daily diet of these chappies who fled their war torn homelands to enjoy the lucky country freedoms.

Red Solo Cup is on Clancy's Tavern - the 17th album by Keith, now 51 and father of country singer daughter Krystal.

Keith, 50, is also purveyor of rarities like I'll Never Smoke Weed With Willie - a humorous eulogy to another septuagenarian who shared billing with him in his movie Beer For My Horses.

Forbes recently rated Keith the highest earning country-music performer with his music and investments earning more than $50 million in the past decade.

They include his chain of I Love This Bar & Grill restaurants, Show Dog record label, Mezcal Tequila brand, horse breeding and movie Broken Bridges.

CLICK HERE for a Keith feature in the Diary on January 25, 2011.
BRADLEY GASKIN & BARTENDERS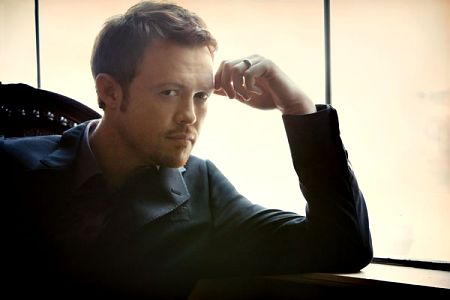 Alabama singer-songwriter Bradley Gaskin sounds a lot like Georgian singing actor Travis Tritt when he bounces onstage.

The Duck Springs born baritone wrote Mr Bartender when he worked on sheet metal with his dad in 2005.

It became a hit in 2011 after John Rich of Big & Rich discovered Bradley - 33 and father of a young daughter.

Gaskin was hanging drywall and he would spend his lunch break writing songs on pieces of Sheetrock paper.

At the urging of his wife, Gaskin uploaded some of his songs to MySpace - Celebrity Apprentice contestant Rich's development company invited him perform at the Get Rich Talent Search that he won.

Gaskin performs the video this week for Mr. Bartender - his self-penned debut that sounds like a timeless country classic as he asks the bartender for a shot to relieve his heartache.

Bradley crafts his classic country, distilled through his honky-tonk heroes Keith Whitley, Merle Haggard and George Jones.

Bradley quit high school, got a GED degree and joined his father in the Sheetrock business, hanging drywall in house after house.

He had been writing songs since age 12 and continued to polish his craft, often jotting down lyrics on Sheetrock paper at jobs.

He also continued singing in churches, but was fired as an entertainer at a local Mexican restaurant for being "too traditional."

Exploratory trips to Nashville proved fruitless except for a brief stint singing on the morning shift at Robert's Western World on Broadway. After his last Robert's gig he toured the nearby Ryman Auditorium and the security guard on duty invited him to sing to the tourists who were there.

Gaskin released his second single Diamonds Make Babies - also cut by Dierks Bentley - but split from Sony on June 2 in an amalgamation.

Further Info - www.bradleygaskin.com
CHRIS YOUNG - POURS PETROL AND HITS
Tennessean Chris Young makes the most of pumping petrol for a trio of women in his video for his fifth #1 hit You.

The 2006 Nashville Star winner Chris Young gave new meaning to drive way service at the pump.

His pure country baritone extended to resisting tyre kicking damsels.

The Murfreesboro minstrel left the trio in his slipstream as he decamped in his pick-up truck with his guitar.

Young worked with video director Chris Hicky who also shot his clip for The Man I Want to Be.

They chose the same locale to bring the song to life - rustic Watertown 40 miles east of Nashville.

"Since we did that first video, everything we've put out has gone No. 1 and then we've got this new song," Young revealed.
"We shot the videos in the exact same spot. It's in Watertown and there's a lot of videos shot out there, but we actually used the same building that we shot in front of at beginning of The Man I Want to Be for this whole video. It's really cool because they don't look alike. If you watch it you're not going to go, "Oh, that looks just like the other one." So it's cool how they used props and everything to change it around. Obviously I love the way he shoots. One of the things he's so great about is he knows when he has a shot. He's not one of those guys going.

"I think we got it, but let's do two more takes just to be safe." Once he sees it and he knows he's got it, he moves on."

Young celebrates his 27th birthday on June 12 and wrote seven of the 10 songs on third album Neon including You with Luke Laird.

"This is the only song we've ever written together," Young said.

"It was really good, actually. It was really comfortable. This is one of the few songs I've ever written where we didn't have a hook. We just kind of started from the beginning with a little melody and started writing, and we're like, 'hopefully, this will turn into something." And it did."

Further Info - www.chrisyoungcountry.com/
JACQUI RYAN
Brisbane singer-songwriter Jacqui Ryan debuts on Nu Country with the video for her song I Need You Now - co-written with Lynn Bowtell.

It's the third single from her 2010 album Break Through.

Jacqui is a seasoned performer, starting dance aged 3 and graduating to music at 12.

Jacqui released self funded EP A Moment in Time in 2007 with two songs on the Twilight Saga: New Moon soundtrack in 2009.

Further info - www.jacquiryan.com/music
WIN CDS ON MEMBERSHIP PAGE
CLICK HERE for our membership page to win CDS by Tim McGraw, Eric Church, Luke Bryan, Carrie Underwood, Dierks Bentley, Russell Hitchcock, Felicity, Taylor Swift, Slim Dusty, Keith Urban, Miranda Lambert and more.