DAVE'S DIARY - 23/1/12 - PREVIEW OPF EPISODE 8 - SERIES 17
TOURISTS HEADLINE NU COUNTRY TV
Chart topping Texans - the Eli Young Band - headline Nu Country TV this Wednesday January 25 at 10 p m on C 31 on the eve of its first tour of Australia.

North Carolina bluegrass singer-songwriter Jim Lauderdale, son of a late Presbyterian preacher and making his third Australian tour, also returns to the show.

Melbourne-born Baptist preacher's daughter Harmony James showcases her new video as a prelude to her Victorian foray with Troy Cassar-Daley.

And host Mid Pacific Bob Olson welcomes fellow food fanatics - the Zac Brown Band - back to the program edited by Ashley Hall.

Young international superstar Taylor Swift also returns on the eve of her third Australian tour.

Mid Pacific Bob also whips up his brand new recipe for peach cobbler with Brogo peaches at the Sapphire Coast home of previous editor Peter Staubli.

The show is repeated as dessert for night owls on Friday at 1.30 a.m.
ELI YOUNG FREE CRAZYGIRL
The Eli Young Band is making its first Australian tour with singing actor Tim McGraw and his wife Faith Hill.

They play Rod Laver Arena on March 20 after being headliners at the second CMC Rocks The Hunter Festival at the Hope Estate at Pokolbin.

The Eli Young Band - who met at university at Denton in North Texas - perform in the video for its first No 1 hit Crazy Girl.

It's the second version of the video - both filmed before the band topped Billboard charts.

"We filmed the first video for Crazy Girl in Nashville at a hospital - in the rehab clinic," bassist Jon Jones told Nu Country TV.

"There were four wings - one was still functioning. The other three were closed down - they gave us the run of the place for a day. It was great using this old medical equipment - for the natural lighting. It was fun to act for a day and lose ourselves in something never had a chance to do before. The female lead is an actress from outside Nashville. I have never spoken to her since. She was great - she was very understanding of how many takes it took us to do everything. We have just shot a second video for Crazy Girl. A lot of times you don't release a video until the song is on the charts here. With this they released it right at the start and that was smart. We'll work this single as long as we can."

The quartet has since released new single and video for Even If It Breaks Your Heart.

CLICK HERE for our exclusive Eli Young Band interview from the Diary on September 14, 2011.
ZAC BROWN BAND - ALAN JACKSON
The Zac Brown Band and fellow Georgian superstar Alan Jackson join forces for the video for their No 1 hit As She's Walking Away.

The video for the band's fifth chart topper was filmed at a quirky bar called The Trap.

Jackson, who made his first Australian tour last year, gave the band a 1966 Cadillac El Dorado after their duet became a hit and earned them their second Grammy.

The band serves Dixie fried duck to fans at its eat and greets with fans before concerts.

Australian promoters are trying to lure the band down here for a tour in late 2012 or early 2013.
Ironically, Brown had a camping holiday on the east coast here before his band's career took off.

His band released No Hurry this week as the fifth single from fifth album You Get What You Give.

CLICK HERE for a Zac Brown feature from The Diary on November 2, 2011.
JIM LAUDERDALE - NOT THE LAST TIME
Jim Lauderdale returns with a humorous video for his song This Is The Last Time from his 16th album Bluegrass Diaries.

The multi-instrumentalist also played in the house band in the recent Tim McGraw movie Country Strong.

He used a prop of the William Faulkner novel The Sound And The Fury in the video.

Jim increased career longevity, writing hits for artists diverse as Texans George Strait, Dixie Chicks, Bruce Robson, Kelly Willis, Jon Randall, Mark Chesnutt, Deryl Dodd, Rick Trevino and Doug Supernaw, Vince Gill and Patty Loveless.

Lauderdale played George Jones in Stand By Your Man - the stage version of the Tammy Wynette story in Nashville.

Jim, now 54, also played the 2007 CMC Rocks The Snowys festival at Thredbo with another of his happy song recipients - California born chart topper and surfing cowboy Gary Allan.
Australian artists Melinda Schneider and Felicity have also recorded Jim's songs on their albums.

CLICK HERE for a Lauderdale interview in the Diary on December 14 2006
TAYLOR SWIFT - COVER GIRL
Superstar Taylor Swift returns to Nu Country TV with the video of her recent hit Mine
from her third huge selling album Speak Now.

Taylor, now 22, debuted here as a teenager at CMC Rocks The Snowys in 2009.

She originally broke in 2006 with her hit Tim McGraw - a metaphor for fellow 2012 Australian tourist.

This time around the Vogue and Billboard Magazine cover girl is about to release her fourth album.

She appeared in Miley Cyrus's Hannah Montana movie and was also cast as a murder victim in the Turn, Turn, Turn episode of CSI.

Swift has won four Grammys and many other prestige awards in a short career that sparked more than 20 million album sales.
CLICK HERE for a Taylor Swift CD review in the Diary on December 13, 2010.
HARMONY JAMES - PRIDE LONG AFTER THE FALL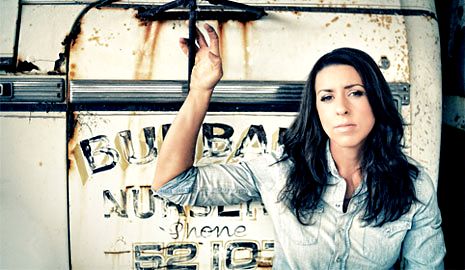 Harmony James returns to Nu Country TV with the video for her song Pride from her second album Handfuls Of Sky.

The singer, fifth of 12 children of a Baptist preacher and former rock musician, was born on the outskirts of Melbourne.

But she was raised in Cairns where she sang in her dad's church choir at the age of 12 and busked on the streets.

Harmony sourced song material when she left home to work as a jillaroo on remote cattle stations in southwestern Queensland.

"I was covered in mud and blood, roughing it with the guys, working so hard I had biceps and thinking, 'This is not what my mother pictured for me'," she recalled.

Harmony found the work rewarding, but dangerous.

"I got bucked off a horse and broke my collarbone," she said.

"Just after I went back to work I got charged by two cows. That re-opened the break. It stayed broken for the next two years. I ended up having an operation with a bone graft, a steel plate and seven screws to fix it."

The singer then chose a safer way to stay on the land.

Harmony studied for a degree in Agriculture and then worked with the Department of Primary Industries in the Northern Territory.

Harmony worked on the Barkley Tablelands in the Mitchell Grass Downs country for the North Australian Pastoral Company that has 14 properties in the Top End.

She collected soil and grass samples and tested beef cattle while singing for her supper.

Harmony then released an indie EP featuring her originals Tailwind and Somebody Stole My Horse.

She reprised both songs when she recorded debut Shock Records album Tailwind with producer Herm Kovac - one time member of The Ted Mulry Gang - at his Ramrod Studio.

Further Info - www.harmonyjames.com
JACKSON AND LAMBERT PRIZES
There's great news for fans of Georgian born superstar Alan Jackson and quadruple CMA Award winning Texan star Miranda Lambert.

We have their latest CDS as prizes for viewers who renew Nu Country TV memberships or become members.

Sony-BMG promotions chief Emma Smith also gave us Miranda's new DVD - Revolution: Live By Candlelight.

Alan's 34 Number Ones features his biggest hits including his duet with Zac Brown Band - As She's Walking Away.

The bonus tracks also include his cut of the late June Carter Cash-Merle Kilgore written Johnny Cash hit Ring Of Fire and rare track Look At Me.

Emma also donated Miranda's huge selling 4th CD Revolution.

And as a bonus there is Miranda's new DVD featuring rare acoustic cuts of six songs White Liar, The House That Built Me, Love Song, Heart Like Mine, Love Is Looking At You and Rolling Stones country classic Dead Flowers.
WIN KEITH URBAN CDS
Expatriate Australasian superstar Keith Urban is recovering from throat surgery.

To celebrate, Keith's record company EMI-Capitol has great news for Nu Country TV viewers.

Promotions ace Bianca O'Neill donated autographed copies of his huge selling ninth album Closer To You.

She also donated new compilation The Very Best Of Slim Dusty and CMAA Winners - 2011.

All you have to do to win Jackson, Lambert, Urban and Dusty CDS or the Lambert DVD is become a member of Nu Country or renew membership.

It costs just $20.

Please send a cheque or money order made out to Nu Country Music to us at P O Box 625 - Northcote - 3070.

We also now have electronic banking for membership payment and renewal.

But email us first at music@nucountry.com.au as stocks are limited.

Other prizes on offer include -

Eric Church - Chief
Luke Bryan - Tailgates & Tanlines.
Taylor Swift - 2ND CD Fearless.
Tim McGraw Southern Voice Tour CD with 11-bonus video clips.
Felicity - Landing Lights
Air Supply singer Russell Hitchcock - Tennessee - The Nashville Sessions CD and DVD
Slim Dusty Sittin' On 80 Boxed Set
The Very Best Of Slim Dusty
Catherine Britt - Little Wildflowers.
Various compilation CDS.