DAVES'S DIARY - 20/2/12 - PREVIEW OF EPISODE 12 - SERIES 17
COUNTRY KING ON NU COUNTRY TV
Australian country music star Lee Kernaghan and singing spouse Robby headline Nu Country TV this Wednesday - February 22 - 10 pm on C 31.

Beccy Cole joins the Corryong born singer on the show repeated Friday at 1.30 a.m.

Melbourne alt country singer Lachlan Bryan also debuts on the program edited by Ashley Hall.

Hotshot guitarist Brad Paisley and fellow stars Carrie Underwood and Toby Keith also return.

And former Air Supply singer Russell Hitchcock showcases a song from his latest DVD made in Nashville.
LEE KERNAGHAN AND ROBBIE DUET
Lee Kernaghan and wife Robby McKelvie perform the video for new single Fire on the eve of their March tour with Arizona born star Dierks Bentley.

The trio appears at the St Kilda Palais on March 13.

Lee, 47, and Robby included their live version of the Bruce Springsteen classic on his CD Bringing The Music Home, released as a bonus version of his 9th album Planet Country.

Robby plays keyboard and sings in Lee's live shows.

The former Australian Of The Year recruited Robby - as a vocalist and co-writer of two songs Cowgirl and Girl's Gone Wild.
"She's a great co-writer," says Kernaghan of the mother of his two sons.

"I think this album has got more female energy on it, more songs written from a girl's perspective. That helped balance it a bit. She has been singing on my albums since Hat Town."

CLICK HERE for a Lee feature from the Diary on November 10, 2009.
BECCY COLE - SHINY THINGS
Beccy Cole returns to Nu Country with a video for Shiny Things from her seventh album Songs & Pictures.

Beccy, now 38, wrote Shiny Things about her son Rikki, now 12.

But Beccy gave the video cameo to the daughter of two Gosford doctors who live near where the video was filmed.

She won two more Golden Guitars at the recent 40th Australian Country Music Awards in Tamworth for best female on Waitress and vocal duo with Kasey Chambers on Millionaire.

Beccy's album also includes a tribute to Bec Buchanan who lost two of her three children and a brother in the Kinglake bush fires on September 7, 2009.
Buchanan, a Whittlesea country music festival volunteer organiser, and pump mechanic-singer Ross have been active in the festival for more than a decade.

Ross recorded his song Salty Tears on the Vinnie's After The Fire benefit CD with Kevin Welch's Marysville and Shane Howard's Carry On.

"Bec was the major inspiration for Australian Woman", Cole revealed of the song.

CLICK HERE for a Beccy interview in the Diary on October 25, 2011.

LACHLAN BRYAN - NO FLY BY NIGHT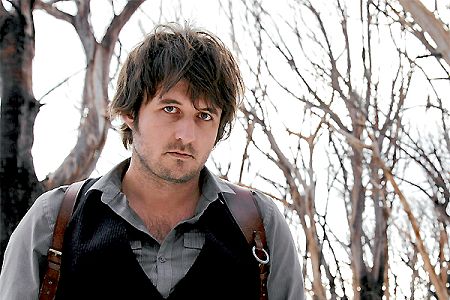 Lachlan Bryan of Melbourne band The Wildes debuts with the video for his song Fly By Night.

It's on his debut disc Shadow Of The Gun on Core through Sony.

Bryan's saga of saga of guns, guitars, girls and movies is one of the many highlights of his album.

Rod McCormack produced Bryan's album at his Music Cellar studio on the NSW Central Coast.

It features a duet with Kasey Chambers, lap steel by her dad - Poppa Bill - and Novocastrian Catherine Britt and Kaylah Anne on backing vocals.

CLICK HERE for a Lachlan Bryan CD review in The Diary.
BRAD PAISLEY AND CARRIE
Brad Paisley and singing actress Carrie Underwood return with their video for Remind Me.

Remind Me was a big hit from the West Virginia born singer's ninth album This Is Country Music.

The guitarist, now 39, recently released his first book Diary Of A Player.

He was so confident Remind Me would be a hit he called Carrie before he finished writing the verses.

And he also arranged a private beach setting away from the prying eyes of their celebrity spouses.

CLICK HERE for a Brad review from the Diary on December 15, 2008.
TOBY KEITH - MADE IN OKALHOMA
Oklahoma superstar Toby Keith flexed his business muscle with a chain of I Love This Bar restaurants.

Keith, 50, performs in the video for his recent hit Made In America from his 17th album Clancy's Tavern.

Made in America describes an older farmer and his wife who only buy American products and are disgusted by influx of foreign goods from cars to cotton.

Keith said he wrote the song with regular co-writer Bobby Pinson as he was disillusioned.

To help local workers he tried to find a domestic manufacturer for ball caps he sells at concerts, only to discover it was nearly impossible.

Then he invested in a factory in Oklahoma that makes blue jeans to keep it from closing.
But he found that, even operating the plant as a non-profit, he could not compete with foreign-made jeans.

Keith said he rejects most patriotic songs that people bring him but Made in America struck him as a nostalgic song about an America he thinks is disappearing.

The album has another nostalgic touch - an old-fashioned waltz about the tavern his grandmother ran and where Keith first played guitar.

CLICK HERE for a Toby Keith feature in the Diary on January 25, 2011.
RUSSELL HITCHCOCK AND ELVIS

Former Air Supply singer Russell Hitchcock returns to the show with the video for recent single Like I'm Elvis.

It's on Russell's solo album Tennessee - The Nashville Sessions.

Hitchcock, 62 and born in Melbourne, formed Air Supply with Graham Russell after they met in the 1975 production of Jesus Christ Superstar.

The singer has made three solo albums after topping charts with songs from the 15 Air Supply albums.

Hitchcock, a prefect of Princess Hill High School, chose to make country his latter career creative font.
His 20-track album, produced by Rappaport at famed Curb Studio, has a twin bonus five song DVD on the Better Angels label in Nashville.

It includes other songs including the Hal Ketchum-John Thompson tune May The Best Man Win and Cash's Last Days.

Further info - www.russellhitchcock.com
WIN DIERKS BENTLEY NEW CD
We have even more exciting news - Dierks Bentley's eighth album Home on the eve of his second Australian tour.

EMI promotions ace Bianca O'Neill gave us copies of his huge selling album shortly after its U.S. release.

The album features the Bentley hit Am I The Only One, Gonna Die Young and his duet with Karen Fairchild of Little Big Town on When You Gonna Come Around.

Bentley, 36, wrote the title song with Brett Beavers and Dan Wilson and it's being used by U.S. President Barack Obama in his new campaign.

The Arizona born singer arrived in Nashville at 19 and had big hits before releasing his acclaimed bluegrass album Up On The Ridge.

All you have to do to win Home is become a member of Nu Country TV or renew your membership.

It costs just $20.

Please send a cheque or money order made out to Nu Country Music to us at P O Box 625 - Northcote - 3070.

We also now have electronic banking for membership payment and renewal.
TIM MCGRAW NEW PRIZES

We have more great news - Sony Music has donated copies of singing actor Tim McGraw's 11th CD Emotional Traffic on the eve of his second Australian tour in March.

The album debuted at #1 on the U.S. charts and Sony promotions chief Natalie Dillon has given us copies.

Tim and singing spouse Faith Hill perform at Rod Laver Arena with the Texan Eli Young Band on March 20 and March 21.

The trio also headline the second CMC Rocks The Hunter festival from March 16-18.

Emotional Traffic sold 67,000 units on debut and features Tim's latest hits Better Than I Used To Be and Felt Good On My Lips.

There's also a duet on Only Human with singing actor Ne-Yo - an R & B star.

McGraw has released a new single Halo - penned by expatriate Adelaide singer-guitarist Jedd Hughes, who plays CMC Rocks The Hunter, and Luke Laird.
MIRANDA LAMBERT PRIZES
Grammy award winning Texan star Miranda Lambert cancelled her 2010 tour at the 11th hour - because of a respiratory ailment.

But we have good news for Lambert fans - we have her award winning fourth album Revolution as a prize for viewers who renew Nu Country TV memberships or become members.

Sony has also given us multiple CMA Award winner Miranda's DVD - Revolution: Live By Candlelight.

The DVD features rare acoustic performances of six songs White Liar, The House That Built Me, Love Song, Heart Like Mine, Love Is Looking At You and Rolling Stones country classic Dead Flowers.
WIN KEITH URBAN CDS
Expatriate Australasian superstar Keith Urban is recovering from throat surgery.

To celebrate Keith's record company EMI-Capitol has great news for Nu Country TV viewers.

Promotions ace Bianca O'Neill donated autographed copies of his huge selling ninth album Get Closer.

She also donated new compilation Very Best Of Slim Dusty.

All you have to do to win Bentley, McGraw, Lambert, Urban and Dusty CDS or the Lambert DVD is become a member of Nu Country or renew membership.

But email us first at music@nucountry.com.au as stocks are limited.
Other prizes on offer include -
Eric Church - Chief
Luke Bryan - Tailgates & Tanlines.
Taylor Swift - 2ND CD Fearless.
Tim McGraw Southern Voice Tour CD with 11-bonus video clips.
Felicity - Landing Lights
Air Supply singer Russell Hitchcock - Tennessee - The Nashville Sessions CD and DVD
Slim Dusty Sittin' On 80 Boxed Set
The Very Best Of Slim Dusty
Catherine Britt - Little Wildflowers.
Compilation CDS.