DAVE'S DIARY - 6/2/12 - PREVIEW OF EPISODE 10 - SERIES 17
ACTORS AND YOUNG GUNS

A former child movie star and a Phillip Island actor debut on Nu Country TV this Wednesday - February 8 - at 10 pm on C 31.

Louisiana singer Hunter Hayes made his acting debut at six with Oscar winner Robert Duvall but now sings for his supper on his debut hit video.

And Liam Hemsworth, known for his romance with Miley Cyrus and his acting, plays lead in a video by Grammy winning Zac Brown Band.

Oklahoma roots rock band The Dirt Drifters also debut with Anneliese Staubli hosting from her Tura Beach home on the Sapphire Coast.

Chart topping Lady Antebellum also return to the show edited by Ashley Hall and repeated Friday at 1.30 a m.

Comedian Buddy Goode debuts with geography and biology lessons.

And 2011 Tamworth Starmaker winner Luke Dickens revives a song by a frequent Oklahoma born Australian tourist.

HUNTER HAYES ISSUES STORM WARNING
Louisiana singer Hunter Hayes performs in the video for breakthrough hit Storm Warning that he wrote with Canadian Gordie Sampson.

Hunter debuted as an actor at the age of six in The Apostle movie with octogenarian Robert Duvall and Texan Billy Joe Shaver.

Duvall gave Hunter his first guitar after making the movie with Johnny Cash's widow June Carter Cash.
It was a different guitar to that played by Hunter on his stage debut at four with Hank Williams Jr - he cut his debut album when he was nine.

And before he was a teenager, he had played with June Carter and Johnny Cash and Charlie Daniels.

Breaux Bridge born Hayes increased his profile with an adolescent gig for then President Bill Clinton.

It's no surprise Hayes, now 21, wrote or co-wrote all songs and played every instrument on his fourth album produced by Dan Huff.

"When I started writing music, I wanted to do my own thing, but I didn't really know anything about the demo process," Hunter revealed.

"I'd been in a studio, but not for my own stuff. What ended up happening is that I had a band trailer in the backyard full of instruments, because I played with a band every now and then, on the weekends at festivals and things. I tried to learn one instrument at a time and eventually remember, I was in seventh grade - for Christmas I got my first recorder and I started making my own recordings of the music."

Hayes enjoyed recording with Huff - for a good reason.

"We took our time and had fun with it," Hayes recalled of recording his self-titled disc that followed three indie albums as a teenager.

"I had a bunch of fun with 30 instruments in the studio. There's 20 different versions of acoustic guitars, four different mandolins, different tunings."

As a teenager he wrote a hit Play for Rascal Flatts and later recorded a duet with actress Victoria Justice for the 2011 Footloose movie.

Further info - www.hunterhayes.com
DIRT DRIFTERS & SHOTGUN WILLIE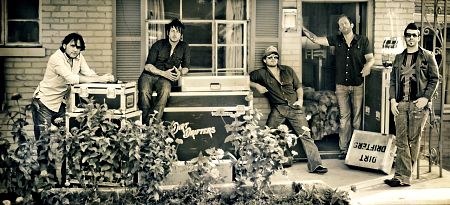 Oklahoma band The Dirt Drifters prove there is something better than working 9-5 in a timber factory in their video for Something Better.

The roots rock quintet performs in a cowboy bar with timber floors as they exorcise a brace of broken hearts from the lost highway.

Drummer Nick Diamond from Louisiana joined Oklahoma brothers Matt and Ryan Fleener in the band that also features New Jersey born vocalist guitarist Jeff Middleton and Chatanooga raised bassist Jeremy Little.

The video was from debut album This Is My Blood, produced by Justin Niebank, with a cameo by Shotgun Willie Nelson on I'll Shut Up Now.

"I remember the day we went to the studio to record that part with Willie," Matt Fleener revealed.

"He was in town recording another song with Kris Kristofferson and his schedule was very tight, so we all met at a writing room on Music Row waiting for the call that Willie was ready. We got the call, were at the studio in less than 2 minutes and walked in to find Willie, Kristofferson and Randy Travis in the lobby. After that and listening to Willie sing on our record, we went to have a drink and for about 30 minutes not one word was spoken. I still don't believe it happened."

The Fleener brothers arrived in Nashville in 2000 and worked as a duo before expanding to a band.

Further info - www.thedirtdrifters.com
ZAC BROWN - COLDER WEATHER
The Zac Brown Band return with the video for #1 hit Colder Weather from their 5th album You Get What You Give.

There were plenty of guns, guitars and snow in the Colorado Mountains as the band flew to the surf.

Zac has a gypsy heart & is tipped to tour here in our warmer weather.

Latter day Hollywood actor Liam Hemsworth hails from Phillip Island and played the lead male in the video.

Liam is a constant companion of Miley Cyrus who toured here last year and stayed with him on the island where she joined a Twitter attack on a local housing development.

Australian promoters are trying to lure the dual Grammy award winning band here for a tour in late 2012 or early 2013.

Ironically, Brown had a camping holiday on the east coast here before his band's career took off.

His band released No Hurry last month as the fifth single from You Get What You Give.

CLICK HERE for a Zac Brown feature from The Diary on November 2, 2011.

LADY ANTEBELLUM - JUST A KISS
Lady Antebellum performs the video for its recent hit Just A Kiss from third album Own The Night.

It's the follow-up to second album Need You Now that earned five Grammy Awards.

The trio embellished its love story on a train.

In real life the trio singer Hilary Scott, 25, wed Love And Theft drummer Chris Tyrell, 24, in upstate New York on January 7.

Scott and Tyrell met when their bands were touring together as opening acts on Tim McGraw's Southern Voice tour in 2010.

Tyrell proposed over the Fourth of July weekend last year while the two were on vacation in Tennessee.

Hilary is the daughter of producer Lang Scott and singer Linda Davis.

Pianist-mandolinist-guitarist Charles Kelley - brother of fellow singer Josh Kelley - and singer Dave Heywood formed the band in 2006.

They toured here with expatriate Australasian superstar Keith Urban in 2011.

CLICK HERE for a CD review in the diary on June 21, 2010.

LUKE DICKENS
Luke Dickens revives latter day Texan Kevin Welch's classic True Love Never Dies in a new video clip.
Kevin has toured here 11 times since forming a trio with Kieran Kane & Fats Kaplin.

Luke teamed with Catherine Britt & former Olympian Paul Greene on his second CD Devil In The Wind.

Dickens hails from Young in NSW and earned his record deal when he won the 2011 Tamworth Starmaker Quest.

Nash Chambers produced his album.
CLICK HERE for a CD review in the Diary.
BUDDY GOODE LOST IN COUGARVILLE
Buddy Goode found success here as a country comedian after moving from Bethlehem, Pennsylvania.

But the singer got lost in the bushes when he recorded the video for his song Cougarville.

He needed a map of Tasmania to find Van Diemen's Land.

The song is on his latest album The One & Only Buddy Goode - sequel to It's All Goode in 2008.

Buddy should have no trouble finding The Hope Estate when he performs at CMC Rocks The Hunter Festival in March.
Further info - www.facebook.com/BuddyGoode

MIRANDA LAMBERT PRIZES
Grammy award winning Texan star Miranda Lambert cancelled her 2010 tour at the 11th hour - because of a respiratory ailment.

But we have good news for fans of Lambert - we have her award winning fourth album Revolution as a prize for viewers who renew Nu Country TV memberships or become members.

Sony-BMG promotions chief Emma Smith has also given us multiple CMA Award winner Miranda's DVD - Revolution: Live By Candlelight.

The DVD features rare acoustic performances of six songs White Liar, The House That Built Me, Love Song, Heart Like Mine, Love Is Looking At You and Rolling Stones country classic Dead Flowers.

All you have to do is either become a member of Nu Country TV or renew your membership.

It costs just $20.

Please send a cheque or money order made out to Nu Country Music to us at P O Box 625 - Northcote - 3070.

We also now have electronic banking for membership payment and renewal.
WIN KEITH URBAN CDS
Expatriate Australasian superstar Keith Urban is recovering from throat surgery.

To celebrate Keith's record company EMI-Capitol has great news for Nu Country TV viewers.

Promotions ace Bianca O'Neill donated autographed copies of his huge selling ninth album Get Closer.

She also donated new compilation Very Best Of Slim Dusty.

All you have to do to win Lambert, Urban and Dusty CDS or the Lambert DVD is become a member of Nu Country or renew membership.

But email us first at music@nucountry.com.au as stocks are limited.
Other prizes on offer include -
Eric Church - Chief
Luke Bryan - Tailgates & Tanlines.
Taylor Swift - 2ND CD Fearless.
Tim McGraw Southern Voice Tour CD with 11-bonus video clips.
Felicity - Landing Lights
Air Supply singer Russell Hitchcock - Tennessee - The Nashville Sessions CD and DVD
Slim Dusty Sittin' On 80 Boxed Set
The Very Best Of Slim Dusty
Catherine Britt - Little Wildflowers.
Compilation CDS.