DAVE'S DIARY - 23/12/2008 - PREVIEW EPISODE 3 - SERIES 11
NU COUNTRY TV ECLECTIC 2008 FINALE
Expatriate Australasian superstar Keith Urban nurtured the career of the young stone country singer who headlines the final 2008 episode of Nu Country TV this Saturday - December 27.

Urban befriended Ashton Shepherd and introduced her to actress wife Nicole when she opened for him on a U.S. tour.

Our host Mid Pacific Bob Olson also introduces twice divorced Canadian singer Terri Clark who toured here several times.

Also on the show, screened on C 31 at 8 pm, are one of the Red Hill Country Music festival headliners - Mornington Peninsula band The Distance.

Former jackeroo-stockman James Blundell returns on the eve of release of new CD Portrait Of A Man.

And Teddy Thompson - son of UK folk legend Richard and Port Fairy folk festival guest - and Ronni Rae Rivers - also appear this week.
ASHTON SHEPHERD PILLAGES PAIN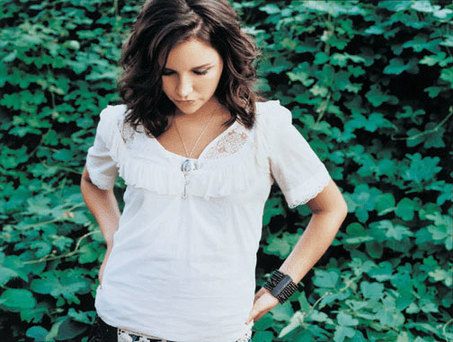 Alabama stone country singer Ashton Shepherd is an oasis in the rock and pop desert. The soulful chanteuse from tiny town Leroy is well qualified to sing Takin' Off This Pain from second album Sounds So Good.

She picked peas and sold them from the back of a truck after losing a brother in a car wreck when she was only 13.

And, at 15, she made her recording debut with an indie CD recorded in the hometown of former super group Alabama.

"It was 12 songs I had written," Shepherd, 22, and recent touring partner of multiple CMA Award winner Sugarland, revealed.

"I was 15 years old when I made the CD. I went to Cook Studios in Fort Payne, Alabama and put 12 songs that I had written on a CD. We took all the pictures ourselves - me and my mama did."

It's a similar saga to fellow Dixie diva Elizabeth Cook who cut her debut CD at 9 and soon appears on Nu Country TV.

Shepherd was born in Coffeeville, population 360 and 90 miles north of Mobile, and lives in Leroy on the Tombigbee River - which doesn't even list a population.

Ashton wrote seven of the 11 tracks on her new CD solo and co-wrote three with her brother-in-law, Adam Cunningham.

CLICK HERE for a Shepherd feature from the Diary.

TERRI CLARK CLEANSES RECORD COMPANY WASHES
Canadian chanteuse Terri Clark also has plenty of roughage to ignite her music.

The twice-divorced singer, raised near Medicine Hat in Alberta, performs recent single Dirty Girl from her ninth album My Next Life on this week's show.

Her mum suffered cancer, her dog died and she got divorced a second time.

"I used that drama to channel into the music," Clark, now 40, revealed.

"I saved money in therapy hours by writing songs. I was living a country song when I made this record."
And to bookend her trauma Clark, a prolific Australian tourist, lost her record deal shortly after she released the prophetically titled disc.

Clark struts her stuff as a truckie and troubadour on the farm in her video clip - sharp- eyed viewers may discern a maple leaf tattoo under the grease.

CLICK HERE for a Clark story from the Diary on December 15, 2003
RONNI RAE RIVERS
Perth singer Ronni Rae Rivers proves her genetics are a powerful weapon in her lunge at fame in Australia.

Rivers was born in Sydney, raised in Perth and Texas and graduated from university with a degree in Astrophysics.

Ronni's dad is a Texas raised military man with Irish and Cherokee blood.

He met her mum - an actress of Welsh and Scottish descent - in Sydney.
Rivers performs in a video clip of new single Cowboys Come Home off her third album Whole Heart To Give.

The singer also plays fiddle and piano and wrote five songs on her album, released here by Shock Records.

Further info - www.ronniraerivers.com
CLICK HERE for a CD review from the Diary.
JAMES BLUNDELL - THE OTHER TEXAS
It's many moons since James Blundell was knee high to a cane toad but he recalls what it was like to be four feet tall - when he grew up near Texas.

Texas, Queensland, that is - the town Blundell's little mate Lee Kernaghan sang about before he met Rick Perry - Governor of the Lone Star state.

Blundell performs with a collage of childhood memories in an evocative video of his song Four Foot Tall.

The locale was the Blundell family farm north of the NSW border at Stanthorpe - the singer's rocking horse still resides on the veranda of a homestead occupied by brother Peter.

Blundell filmed the video to promote the song from his 8th album Ring Around The Moon.

James launches ninth album Portrait Of A Man - not a four-foot tall lad - in country music capital Tamworth this month.
CLICK HERE for a feature on James in the Diary on February 1, 2005.
THE DISTANCE TO RED HILL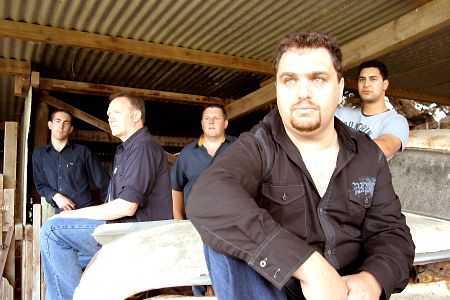 Mornington Peninsula country rock band The Distance has recorded with yet another James - Reyne - Blundell's duet partner in 1992 on The Dingoes hit Way Out West.

But this time the lads perform in a video clip for their song Coming On Fast off their second indie album Grounded.

The Distance, with 12 original songs on its album, is one of the headliners at the 21st Red Hill County Music festival at the historic mountain top showgrounds on Sunday January 11.

The quintet, admired for making a brace of video clips to promote its music, has won national fans and TV exposure for it's sequel to debut disc Don't Look Back - also a collection of originals except for a duet with Johnny Chester on Bill Anderson hit Get A Little Dirt On Your Hands.

Members have travelled throughout Australia to events diverse as Gympie, Barmah and Deniliquin Musters and opened for Catherine Britt on her 2008 Geelong gig.

Blue mountains belle Jayne Denham rides south to the festival that has outlived many rock and country rivals in the district.

Further info - www.thedistance.com.au
TEDDY THOMPSON
English folkie Teddy Thompson proves the eclectic reach of the show by performing his country song Change Of Heart from his album Up Front And Down Low.

Boudleaux and Felice Bryant - writers of many Everly Brothers hits - penned the song, part of Teddy's covers disc.

Teddy, New York based son of famed guitarist and ex-Fairport Convention singer Richard Thompson, has followed his sire to perform in Australia in the new millennia.

The younger Thompson, a member of Rosanne Cash's touring band, was raised on country music in the home he shared with his dad and former singing spouse Linda.

Teddy joined his extended family for an Amnesty International family Christmas show in London on December 17 at Queen Elizabeth Hall.
Richard penned Tear Stained Letter - a 1989 hit for Louisiana country-Cajun singer Jo El-Sonnier and Kentucky born stone county singer Patty Loveless in 1996.

He was a band-mate of late Richmond folkie Trevor Lucas who once worked the local scene with former Wild Cherries, Virgil Brothers and Hit & Run singer Dan Robinson who now practices as a luthier in Anakie - north of Geelong.

Lucas also produced expatriate Kiwi country singer-songwriter and raconteur Peter Caulton who hosted country music shows on 3RRR-FM in the slipstream of Robinson and Geoff King.

Further info - www.teddythompson.com

WIN NEW CDS BY BEING A NU COUNTRY MEMBER
TAYLOR SWIFT, JASMINE RAE & STEVE FORDE
Nu Country TV celebrates its 11th series with a brace of prizes to celebrate the CMC Rocks The Snowy festival and the national tours by superstars Brooks & Dunn, Dierks Bentley and Taylor Swift.

We have the following CDS for viewers who email our web page and pledge their $22 membership at music@nucountry.com.au

Taylor Swift - huge selling second album Fearless.

Jasmine Rae - debut CD Look It Up by the Telstra Road To Tamworth winner and touring partner of Brooks & Dunn and Bentley.

Steve Forde - fifth album Guns & Guitars by the tour mate of Brooks & Dunn and chart topper Gary Allan.

ADAM BRAND CD-DVD PRIZES
We have more good tidings for viewers wanting to join Nu Country TV and keep us on air in Victoria, Queensland, South Australia and New Zealand.

Major independent label Compass Brothers has donated autographed copies of Adam Brand's seventh disc Blame It On Eve for viewers who become Nu Country members or renew their membership.

The CD has a bonus DVD of the making of the album and the video clip of Get On Down The Road that we aired on our show.

Adam also did an exclusive interview with Nu Country TV that we broke up into two episodes during Series #10.

We have limited supplies of Adam's big selling CD-DVD so please email us first at music@nucountry.com.au so we can allocate your reward.

CLICK HERE for the Adam Brand interview from the Diary on March 3, 2008.
KACEY JONES CD, DVD, POSTER AND TEE SHIRT PRIZES
Internationally renowned country comedienne, singer-songwriter and producer Kacey Jones has given us a box of autographed merchandise for viewers and members who renew their membership.

A highlight is her acclaimed tribute disc Kacey Jones Sings Mickey Newbury that is scheduled for Australian release in July.

We have autographed collectors' copies of the CD for viewers who want to become members of Nu Country TV.

She also autographed tee shirts and posters for Nu Country members.

For your $22 membership and postage you can take your pick of Kacey memorabilia. We have limited supplies so please email us at music@nucountry.com.au first.

WILLIE NELSON EXCLUSIVE BOOK
We also celebrate Shotgun Willie Nelson's 75th birthday on April 30 with a special giveaway of his collectors' book.

We have limited stock of Willie Nelson - The Collected Writings Of A Living Legend - The Facts Of Life And Other Dirty Jokes.

The book, featuring yarns, jokes and Willie Nelson song lyrics, is the latest addition to out prize treasure trove.

It's available for viewers wanting to become members or current members wishing to renew their membership.

Please email us at music@nucountry.com.au for a chance to win a copy of this book with your membership.

MIKE BRADY MUSIC FOR YOUR MEMBERSHIP
Internationally acclaimed singer-songwriter Mike Brady volunteered to become a VIP guest host of Nu Country TV during our eighth series.

Brady hosted an episode that also featured an exclusive interview about recording the album in Nashville with expatriate Australian producer Mark Moffatt.

Mike has also donated autographed copies of his brand new CD Country To Country to viewers who become members or current members who renew their membership.

The generous singer donated his autographed CDS to attract your membership to ensure our survival.

So for your $22 membership including postage you can win Mike's CD Country To Country.

We have limited supplies so please email us first at music@nucountry.com.au so we can allocate your reward.
TANIA KERNAGHAN AUTOGRAPHED CDS
Tania Kernaghan has offered autographed copies of her fourth album Higher Ground to viewers who either become new members or renew their membership.

The album was produced in Santa Monica, Franklin, Nashville and the Gold Coast with Daniel Kresco.

Tania recorded 11 songs written by younger sister Fiona and producer Kresco on the acclaimed disc.

If you wish to be rewarded for your membership with Tania's new CD please email us at music@nucountry.com.au.

We also have other CDS in our library as rewards for your valued membership - we rely on membership for our survival.