DAVE'S DIARY - 15/12/08 - PREVIEW OF EPISODE 2 - SERIES 11
SUPERSTAR AVALANCHE ON NU COUNTRY
Nu Country TV features four international superstars who topped U.S. rock charts on debut with their latest discs.

That's all on Episode 2 of Series #11, hosted by Heather Rutherford, this Saturday - December 20 - on C 31 at 8 pm.

Alan Jackson, Kenny Chesney, Brad Paisley and Sugarland scored their success as islands in the swirling mainstream of rap, hip-hop, rock, pop and other radio refuse.

The quartet, all with strong Australian connections, already featured among winners in the recent CMA Awards and Grammy nominations.

Host Heather reveals amazing tales about the colourful lives of the stars in her eagerly awaited return to the show.

She tells how Gippsland singer Victoria Baillie, pride of Moe, moved to Hillbilly HQ on the NSW Central Coast.

But the teenager, discovered at famed Bunyip country music festival, returns home to celebrate the 20th extravaganza on Sunday February 22 with outgoing organiser-dairy farmer Joy Batchelor at the managerial helm.

Rutherford also introduces the video debut of Brad Cole who moved south from Port Macquarie on the mid north coast of NSW to Bundeena south of Sydney.
PAISLEY STILL A GUY - WITHOUT URBAN
Hotshot guitarist Brad Paisley has boosted plans to tour Australia after recording and performing with expatriate Australasian superstar Keith Urban.

The duo performs together on latest hit Start A Band from Paisley's acclaimed fifth album Play.

Sadly, the record companies haven't yet serviced us with that video, so we reach back to live footage of the West Virginian born star with his fifth #1 hit I'm Still A Guy.

Brad and actress wife Kimberley have another hit on the way - a new baby to join son Huckleberry
Kimberley recently appeared on hilarious legal TV show Boston Legal with William Shatner - who shares cameo roles in Paisley videos with octogenarian actor and singer Andy Williams.

Brad enlisted a vast cast of famous guitarists to guest on Play - a brave CD featuring 13 instrumentals and a duet with recently deceased Californian legend Buck Owens.

The axe army includes James Burton, Red Volkaert, Albert Lee, Vince Gill, Brent Mason, John Jorgensen, Steve Wariner and Urban.

Grand Ole Opry icon Little Jimmy Dickens, another octogenarian and regular guest in Paisley videos, also has a speaking role on Play with a bonus cameo by re-born rapper Mr Snoop Dogg.

The canine critter reportedly left a litter of puppies and fillies on heat during a spring sprint to Australia that included attracting a bizarre pied piper pack of grifters, urgers and touts at the famed Melbourne Cup.

It's unlikely Paisley, 35, will be dipping into the same kennel when he heads south to display his licks.

CLICK HERE for a Paisley CD review from the Diary.

CHESNEY CALYPSO CROONING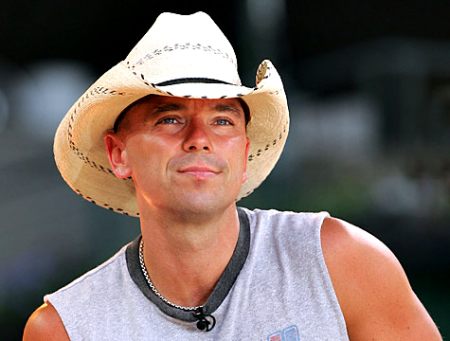 Paisley is likely to land here before Urban's other high profile touring partner Kenny Chesney who has a penchant for the Caribbean akin to one time Aussie tourist Jimmy Buffett.

The Tennessee troubadour confessed he found solace in paradise after nihilist nuptials with actress Renee Zellweger.

The couple wed on the beach in Cruz Bay, St. John, in the Virgin Islands in May 2005 but the Cold Mountain maid gave him the chilled shoulder.

Kenny and Renee were divorced less than a year after the sand strewn ceremony but Chesney sat out his next album without mining his ruptured romance for melancholia.

With annual touring that grosses more than $40 million the singer had a cash cushion to cry on.

But the sorrow fountain gushed in several songs on Kenny's 12th album Lucky Old Sun that featured #1 hit Everybody Wants To Go To Heaven with late reggae king Bob Marley band The Wailers.

The second single enabled Chesney's duet partner Shotgun Willie Nelson to return to sales charts.

Willie, whom Chesney co-produced with Buddy Cannon last year, guested on the title track - Nelson's 121st chart hit.

The song dates back to 1949 when Frankie Laine reached #1.

Willie also cut it in 1976 but this is the Redheaded Stranger's first hit in five years - a duet with Chesney on Christmas classic Pretty Paper was his previous.

Meanwhile Chesney, 40, has boomeranged into the loving arms of beauty queen Amy Colley, 24 - 16 years his junior.

Kenny reaches back to 11th album Just Who I Am: Poets and Pirates on Nu Country this week for a video of 13th No 1 hit Don't Blink.

CLICK HERE for a Feature and Review of Chesney's new album Lucky Old Sun in The Diary.
ALAN JACKSON ENJOYS GOOD TIMES
When Alan Jackson headed north to Nashville from Georgia in 1987 he was a star waiting to be lit.

The ignition came from expatriate Australasian promoter-publisher-manager Barry Coburn who scored the long tall, laconic Georgian his first record deal.

Jackson, now 50, still has the same record company Arista but parted company with his little Christchurch mate who also launched Keith Urban's U.S. publishing.

The singer, who has sold more than 50 million albums, performs the video for the title track of his 17th disc Good Time on Nu Country TV.
Jackson was born in Newnan - Georgia - same hometown as Steve Young who played Northcote Social Club in 2006.

Alan, son of a motor mechanic, has not sponged the oil and grease from his genes.

"Even before I moved to Nashville, I probably owned four or five hundred cars, boats and motorcycles," Jackson confessed recently at his lakeside spread outside Nashville.

"I've had the Ferraris and Porsches, and I'm over that now. I drive an old Ford truck. "I've kind of burned out on buying things."

Jackson can also afford to drive a hard bargain - demanding a fee commensurate to his talent to venture on overseas tours.

The father of three daughters and husband of former airline hostess wife Denise, who hit the top of the New York Times sales charts with the first of her two books, is keen to visit Aussie fans.

Beaconsfield miner Todd Russell met Jackson, whose music helped him through his marathon underground ordeal, on a whirlwind publicity trip to the U.S.

CLICK HERE for a Jackson story from the Diary on May 25, 2008.

SUGARLAND WALTZES INTO #5 ON CHARTS
Fellow Georgian superstars Sugarland bit the bullet and played Northcote Social Club on their debut Australian tour this year.

That was after blowing away rock acts in Fremantle, one time port of call for Buffett, and the inaugural CMC Rocks The Snowy festival at Thredbo.

The duo, once a trio, has sold more than six million albums in six short years since emerging from Atlanta.

Jennifer Nettles, who scored a song on the Dawson's Creek soapie when singing with punny Soulminer's Daughter, and multi-instrumentalist Kristian Bush fronted their seven-piece band on their tour here.

The duo also featured in an exclusive Nu Country TV interview - they spoke about writing with country legend Bill Anderson.
They perform the video clip for All I Want To Do - first single from third huge selling album Love On The Inside.

At the moment Sugarland is #5 on U.S. charts with a waltz Already Gone that shares its title with a 1974 Eagles hit.

CLICK HERE for a Sugarland CD review from the Diary.
CLICK HERE for a Sugarland feature from the Diary on March 3, 2008.
CLICK HERE for a Sugarland concert review from the Diary on March 18, 2008.
VICTORIA BAILLIE RETURNS TO VICTORIA
Moe minstrel Victoria Baillie returns to her home state as a headliner of the 20th Bunyip Country Music festival on Sunday February 22.

The singer earned her big break at the festival - also the swansong for local dairy belle Joy Batchelor who celebrates her 20th year at the helm and behind the scenes.

Victoria, a teenager talent quest entrant at Bunyip before graduating to the main stage at four festivals with stars Adam Harvey, Beccy Cole, The Wolverines and Michael Carr, recently moved to Wamberal on the NSW Central Coast.

She debuts on Nu Country this week with the video for her debut single Melt, penned by her sister Barbara.

Victoria honed her skills in 2005 at Tamworth Country Music College - sibling of sorts of the famous South Plains College in Levelland, Texas.
She released an EP featuring the song Lord, Don't Take Me Yet and has been writing with peers diverse as Felicity, Drew McAlister, Lianna Rose, Jay Collie and Jasper Sommerville-Collie.
They created a brace of songs for her debut album, recorded at Matt Fell's Love Hertz Studio in Sydney.

Victoria has been touring with former Mascot accountant and Golden Guitar winner Amber Lawrence who also played Bunyip festival last year with Jayne Denham.

She opened for former Nu Country TV host and Australian Of The Year and national star Lee Kernaghan in 2005.

That was three years after Victoria and Barbara performed the National anthem at the Rod Laver arena for the Motor Cross Masters.

Further info - http://www.victoriabaillie.com/

BRAD COLE STRUCK BY LIGHTNING
Brad Cole hails from Port Macquarie on the NSW coast but now calls the south of Sydney town Bundeena home.

Cole debuts on Nu Country with the video for his song Struck By Lightning off his album Icebreaker.

The singer waxes lyrical about another of his songs Brazilian - a finalist in Ontario Independent Music Awards in Canada in 2007.

Cole was also voted best international independent artist in the 2008 Ontario awards.

That was after being nominated here in 2008 Golden Guitars for best new talent.

Further info - www.bradcole.com.au
WIN NEW CDS BY BEING A NU COUNTRY MEMBER
TAYLOR SWIFT, JASMINE RAE & STEVE FORDE
Nu Country TV celebrates its 11th series with a brace of prizes to celebrate the CMC Rocks The Snowy festival and the national tours by superstars Brooks & Dunn, Dierks Bentley and Taylor Swift.

We have the following CDS for viewers who email our web page and pledge their $22 membership at music@nucountry.com.au

Taylor Swift - huge selling second album Fearless.

Jasmine Rae - debut CD Look It Up by the Telstra Road To Tamworth winner and touring partner of Brooks & Dunn and Bentley.

Steve Forde - fifth album Guns & Guitars by the tour mate of Brooks & Dunn and chart topper Gary Allan.

ADAM BRAND CD-DVD PRIZES
We have more good tidings for viewers wanting to join Nu Country TV and keep us on air in Victoria, Queensland, South Australia and New Zealand.

Major independent label Compass Brothers has donated autographed copies of Adam Brand's seventh disc Blame It On Eve for viewers who become Nu Country members or renew their membership.

The CD has a bonus DVD of the making of the album and the video clip of Get On Down The Road that we aired on our show.

Adam also did an exclusive interview with Nu Country TV that we broke up into two episodes during Series #10.

We have limited supplies of Adam's big selling CD-DVD so please email us first at music@nucountry.com.au so we can allocate your reward.

CLICK HERE for the Adam Brand interview from the Diary on March 3, 2008.
KACEY JONES CD, DVD, POSTER AND TEE SHIRT PRIZES
Internationally renowned country comedienne, singer-songwriter and producer Kacey Jones has given us a box of autographed merchandise for viewers and members who renew their membership.

A highlight is her acclaimed tribute disc Kacey Jones Sings Mickey Newbury that is scheduled for Australian release in July.

We have autographed collectors' copies of the CD for viewers who want to become members of Nu Country TV.

She also autographed tee shirts and posters for Nu Country members.

For your $22 membership and postage you can take your pick of Kacey memorabilia. We have limited supplies so please email us at music@nucountry.com.au first.

WILLIE NELSON EXCLUSIVE BOOK
We also celebrate Shotgun Willie Nelson's 75th birthday on April 30 with a special giveaway of his collectors' book.

We have limited stock of Willie Nelson - The Collected Writings Of A Living Legend - The Facts Of Life And Other Dirty Jokes.

The book, featuring yarns, jokes and Willie Nelson song lyrics, is the latest addition to out prize treasure trove.

It's available for viewers wanting to become members or current members wishing to renew their membership.

Please email us at music@nucountry.com.au for a chance to win a copy of this book with your membership.

MIKE BRADY MUSIC FOR YOUR MEMBERSHIP
Internationally acclaimed singer-songwriter Mike Brady volunteered to become a VIP guest host of Nu Country TV during our eighth series.

Brady hosted an episode that also featured an exclusive interview about recording the album in Nashville with expatriate Australian producer Mark Moffatt.

Mike has also donated autographed copies of his brand new CD Country To Country to viewers who become members or current members who renew their membership.

The generous singer donated his autographed CDS to attract your membership to ensure our survival.

So for your $22 membership including postage you can win Mike's CD Country To Country.

We have limited supplies so please email us first at music@nucountry.com.au so we can allocate your reward.
TANIA KERNAGHAN AUTOGRAPHED CDS
Tania Kernaghan has offered autographed copies of her fourth album Higher Ground to viewers who either become new members or renew their membership.

The album was produced in Santa Monica, Franklin, Nashville and the Gold Coast with Daniel Kresco.

Tania recorded 11 songs written by younger sister Fiona and producer Kresco on the acclaimed disc.

If you wish to be rewarded for your membership with Tania's new CD please email us at music@nucountry.com.au.

We also have other CDS in our library as rewards for your valued membership - we rely on membership for our survival.