DAVE'S DIARY - 17/2/09 - PREVIEW OF EPISODE 11 - SERIES 11
CARTER & CARTER ARISE FROM ASHES ON NU COUNTRY TV
Christian Golden guitar winning family duo Carter & Carter had God on their side when they survived the Kinglake bush fires.

Merelyn and David Carter, their extended family and pets escaped the flames that ravaged the majestic hills where they filmed their video clips.

The duo perform at the Wandong Country Music bushfire benefit festival on Sunday March 1 and also appear on Nu Country TV this Saturday at 8 p m on C 31.

Carter & Carter showcase the mountains, now a seared moonscape, in the video for their tune Open Road.

We also reprise Adam Harvey's collaboration with Kev Bloody Wilson on their video for Genie In The Bottle to preview his headlining role on Sunday at the 20th Bunyip Country Music bushfire benefit festival.

Harvey, born at Leopold near Geelong, is one of many the high profile artists raising funds for bushfire victims and survivors.

Superstar Taylor Swift and fellow teenage temptress Kaylah Anne add joy to the TV show in these troubled times with their vibrant videos.

And recently resurrected NSW Mid-north coast Golden Guitar winning band Grand Junction also debut on the show with a video of their new single.

The late Texas legend Lefty Frizzell and surviving bother David strut their stuff in our live concert Video Vault segment.

CLICK HERE for Tonkgirls Gig Guide for details of Bunyip and Wandong bush fire benefit festivals.
DAVID AND MERELYN CARTER - BUSH ALTRUISM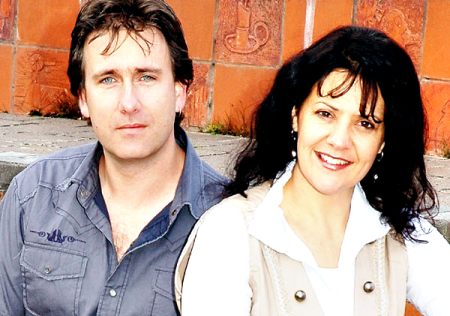 Merelyn and David Carter are well qualified as country altruists - and it's not just their support of the festival bush fire appeals.

They also lecture at the Camerata and Australian College of Country Music and have taken younger artists on tour with them.

The Carters have also provided board and lodging for peers at their Kinglake farm and former home at Lilydale.

It was their Lilydale digs that was the locale for fellow Golden Guitarist Felicity's Nu Country TV hosting role and her interview with Darren Coggan.

The picturesque and rustic homestead was the perfect backdrop for latter day ABC 2 and then Nu Country TV producer and videographer Sofie Bli's filming.

But it was Duncan Tombs who filmed the graphic video for their single Open Road on this week's show.

Tombs filmed the duo performing in a sports car against the backdrop of high country in Kinglake and the Yarra Valley.

The song is one of five singles from Carter & Carter's fourth album Leap Before You Look.

"I think Leap Before You Look really reflects on how we try to live our lives," David Carter revealed.

"We follow our hearts, and sometimes that definitely requires some leaping."

Merelyn, mother of two daughters and co-writer of the 12 songs on the album, agrees with her collaborator.

A lot of times you just have to take a jump into the unknown," Merelyn says.

"In 2006 it all seemed to come together; it was the creative year we had been waiting for.
Leap Before You Look is the expression of that."

The singer, in her 40's, also celebrated the marriage of one of her daughters before the release of Leap Before You Look.

"I am a little self conscious about having a child getting married," Carter said at the time.

"I still feel 21 myself! I was so very young myself when I had the girls; definitely a child bride. Then, after the divorce, the girls and I spent almost five years with just the three of us, and it was an amazing time of bonding and forming a very special type of relationship."

Carter & Carter has released a concert DVD - Unchained - that features their video clips, interviews and career highlights.

They date back well before their single Candle Light And Kisses won a Gold Guitar in 2003.

Further info - www.carter-carter.com
TAYLOR SWIFT - TIM MCGRAW METAPHOR
Teenage sensation Taylor Swift returns with a video for one of her breakthrough hits Tim McGraw.

The song, in which she uses the Louisiana born singing actor as a metaphor for a romance with a pick-up truck-driving paramour, was on her self-titled debut album.

Swift, just 19 in December, has now sold more than six million albums in less than four years.

The singer, one of the headliners at the second CMC Rocks The Snowy festival at Thredbo on March 6 and 7 with Deana Carter, Joe Nichols, Old Crow Medicine Show and former Canadian rodeo rider Corb Lund.

She has added a second concert at the Billboard nightclub in the Melbourne CBD.
Taylor performs an under 18 concert on March 9 and another on March 10.
The singer has also been signed to appear in the Nine Network show CSI: Crime Scene Investigation.

Swift portrays Haley Jones, a teenaged girl whose family runs a seedy motel in Las Vegas.

According to the plot synopsis, "Over the course of a year, Haley goes through a series of changes that have tragic consequences."
Although Swift appeared as Little Orphan Annie in a Saturday Night Live sketch that coincided with her musical performance on the comedy show, the CSI episode marks her first major acting role.

Her CSI episode has not yet been shot, and an airdate has not been determined
Swift recently shot her Trey Fanjoy-directed video for new single White Horse in the Nashville suburb of Germantown.

It features One Tree Hill's Stephen Colletti and adorned TV show Grey's Anatomy.

CLICK HERE for our membership page and learn how you can win Taylor's CDS.
CLICK HERE for a Taylor Swift feature from the Diary on January 5, 2009.
KAYLAH FOLLOWS TAYLOR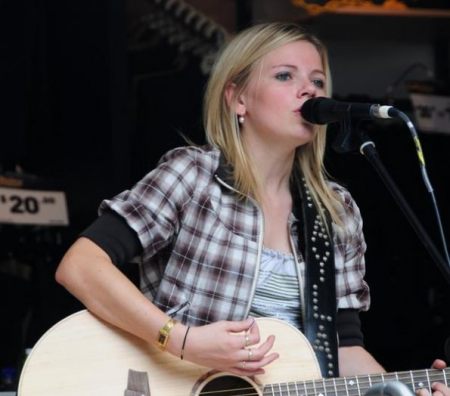 Kaylah Anne follows Catherine Britt as an exciting young export from Newcastle.

The 2009 Toyota Star Maker grand finalist performs in her video for Why Me this week.

It's the second single from debut EP recorded after she graduated from the Australian College of Country Music.

The first single released, in July, 2008, was End Of The Ride.

Kaylah says she's excited about the clip directed by Duncan Toombs, also director of Carter & Carter clips.

"He did such a great job," she said.

"We shot the clip on the Central Coast over one huge day, starting at 4am and didn't finish til 5pm. I was on such a high the whole day and could barely keep a smile off my face. We did some early morning shots on the beach then headed to the set where the main scenes were filmed."

Kaylah recorded her EP after winning a songwriting competition a year and a half ago at Nelson Bay.

"That's when I was first introduced to Rod McCormack. He is a fantastic producer. I had a handful of songs that I wanted to record. We picked our top four and they came out better than anything I ever hoped."

Kaylah has been promoting the EP with live performances as well as radio interviews and festivals, while studying music business at TAFE.

Further info - www.kaylahanne.com.au
GRAND JUNCTION RETURN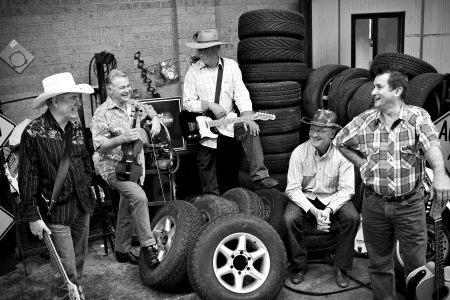 Veteran NSW mid north coast band Grand Junction celebrate its reunion with a video for comeback single Turnback Boys on this week's show.

The song is from its new album The Return, produced by renowned guitarist-singer Doug Rowe.

Grand Junction was the first Star Maker winner in 1979 and scored a Golden Guitar in 1981 for its version of Married Woman, featuring original singer Peter Johnson.

The band recorded two albums Grand Junction and Most Wanted for RCA and opened for Johnny Cash on his 1981 tour.

It was also a support act on the Amazing Rhythm Aces debut Australian tour in 1980.

The quintet, formed in 1973, shared support billing with the Dead Livers on one of the Aces gigs with Leon Russell and his Newgrass Revival at the St Kilda Palais.

Expatriate Kiwi producer Rowe was also in famed 60s country rock band The Flying Circus after being a cadet journalist on the Sydney Morning Herald.

He produced this album at his La Porte Rouge home studio in Bathurst, bassist Dave Tyne's barn in Kempsey and pedal steel guitarist Lance Clarke's Sydney home studio.

Grand Junction members wrote all 13 songs on their new album.

Bassist Tyne penned Lone Star Stomp details the exploits of country scribes who did their time in the eighties Sydney beer, spirits and wine mine - a two story Goulburn Street honky tonk of the same name.

Leading country artists and bands performed on the towering second story stage that overlooked the audience below.

The occasional can missiles thrown from a mosh pit below necessitated faux chicken wire cages to be erected above.

Slim Dusty and singing spouse Joy McKean attended a Dead Livers gig at the Lone Star shortly after the band recorded I'd Love To Have A Joint With Willie - a parody of Slim's Pat Alexander penned #1 hit Duncan.

The song detailed bizarre exploits of journalists at the Surry Hills hotel The Evening Star.

Tyne's jaunty Lone Star Stomp expands those recreational rhythms by name checking the late Papal biographer, Sydney Daily Mirror columnist-feature writer and nocturnal horror movies TV host Jim Oram.

Oram, an expatriate Kiwi who once wrote for pioneer music magazine Everybodys, won acclaim for a bizarre incident on a Sydney airport tarmac.

Oram handed his Papal biography to The Pope for autographs but the Pontiff thought it was a gift and retained it.

Oram shocked His Holiness by snatching the book from his hands.

That tarmac tryst is not featured in the Lone Star Stomp - the infectious tune eulogised the drinking, drugging and dancing frolics of Oram and a fellow Daily Mirror feature writer and columnist who now produces Nu Country TV.

Grand Junction returned to Tamworth for Star Trek - Star Maker's spectacular 30 year journey on Sunday, January 18 - with winners diverse as Lee Kernaghan, Kirsty Lee Akers, Talia Wittmann, James Blundell, Gina Jeffreys, Beccy Cole & Travis Collins.

Further info - www.myspace.com/grandjunctionaustralia
LEFTY RIGHT AFTER ALL THESE YEARS
We have exclusive live footage of late Texan legend Lefty Frizzell performing one of his classics - debut 1950 #1 hit If You've Got The Money (I've Got The Time.)

It's a bonus feature of the new Louisiana Hayride concert by Lefty's younger brother David and Hank Williams' daughter Jett.

Born William Orville Frizzell, Lefty was the vocal template for Merle Haggard and John Anderson and spiritual source for many more protégées.

He earned his stage name Lefty from a schoolyard fracas at 14 and died from a stroke at 47 on July 19, 1975, at the peak of his career.

His songs have stood the test of time - 33 years after his death, with a little help from younger brothers David and Allen.

Lefty shared his East Texas hometown Corsicana with outlaw Billy Joe Shaver who last toured here with singing Texan crime novelist Kinky Friedman in 2002.
He moved to El Dorado, Arkansas, with has family until the early forties and won a talent quest on local radio station KELD.

Lefty performed fairgrounds and honky tonks, developing a unique, soulful voice.

He followed his father into the oilfields - at 19 he hosted a half-hour show on a small Texas radio station, getting a big break when record producer, Don Law signed him to Columbia.
In 1950, he played the Grand Ole Opry and later Louisiana Hayride radio show from Shreveport, Louisiana - he and Cowboy Ralph Spicer then began touring with Hank.

A prolific songwriter, Frizzell had four songs in the top ten at the same time in 1951 - a feat that would not be repeated on any chart until The Beatles scored with five songs in 1964.

In the early 1970s, Frizzell moved to Bakersfield, California, recorded more hits and was first country singer to perform the Hollywood Bowl.

But, like Hank, he lost his battle with the bottle, suffered mood swings and died of a massive stroke and was buried on Music Row at Forest Lawn Memorial Gardens in Goodlettsville, Tennessee.

In October 1982, Lefty was posthumously inducted into the Country Hall Of Fame.

Brother David, 67, also performs another historic Lefty hit I Love You In A Million Ways from their tribute concert to Lefty and Hank.

The younger Frizzell left home at 12 to perform and tour with Lefty.

He enjoyed his three-tiered career as rockabilly and country singer before topping charts as a solo and duet artist and returning to honour the roots of the genre.

CLICK HERE for a David Frizzell feature on December 30, 2008.
WIN TAYLOR SWIFT BILLBOARD CONCERT TICKETS
We have great news in the aftermath of the horrific Victorian bushfires.

The promoters of the Taylor Swift concert at Billboard on March 10 have donated a pair of tickets to Nu Country TV.

We'll give these treasured tickets to the first viewer who takes out a $50 Nu Country TV membership.

Please email us at music@nucountry.com.au with your pledge - we'll send the winner the tickets on receipt of a cheque or money order for $50.

Important note - please email us first and don't send your membership until you have been confirmed as the winner.

Swift, who has sold more than six million CDS in less than four years, also performs an under 18 concert at Billboard in the Melbourne CBD on Monday March 9.

Universal Music has donated copies of her huge selling second album Fearless to Nu Country TV.

Congratulations to renewing Nu Country member HELEN POCILUJKO of Coburg for winning our tickets for the CMC Rocks The Snowy Festival at Thredbo on March 6 and 7.

Helen took out a Nu Country TV family membership.

Swift, Deana Carter, Joe Nichols, Old Crow Medicine Show and Canadian Corb Lund head the international artists at the festival.

And The Waifs, Audreys, Sunny Cowgirls, Steve Forde, Jasmine Rae, Pete Murray, Ash Grunwald, Jonah's Road, John Williamson, Morgan Evans, Ian Moss and Jake Nickolai are among the national acts.

WIN NEW CDS BY BEING A NU COUNTRY MEMBER
TAYLOR SWIFT, JASMINE RAE & STEVE FORDE
Nu Country TV celebrates its 11th series with a brace of prizes to celebrate the CMC Rocks The Snowy festival and the national tours by superstars Brooks & Dunn, Dierks Bentley and Taylor Swift.

We have the following CDS for viewers who email our web page and pledge their $22 membership at music@nucountry.com.au

Taylor Swift - huge selling second album Fearless.

Jasmine Rae - debut CD Look It Up by the Telstra Road To Tamworth winner and touring partner of Brooks & Dunn and Bentley.

Steve Forde - fifth album Guns & Guitars by the tour mate of Brooks & Dunn and chart topper Gary Allan.

KACEY JONES CD, DVD, POSTER AND TEE SHIRT PRIZES
Internationally renowned country comedienne, singer-songwriter and producer Kacey Jones has given us a box of autographed merchandise for viewers and members who renew their membership.

A highlight is her acclaimed tribute disc Kacey Jones Sings Mickey Newbury that is scheduled for Australian release in July.

We have autographed collectors' copies of the CD for viewers who want to become members of Nu Country TV.

She also autographed tee shirts and posters for Nu Country members.

For your $22 membership and postage you can take your pick of Kacey memorabilia. We have limited supplies so please email us at music@nucountry.com.au first.

WILLIE NELSON EXCLUSIVE BOOK
We also celebrate Shotgun Willie Nelson's 75th birthday on April 30 with a special giveaway of his collectors' book.

We have limited stock of Willie Nelson - The Collected Writings Of A Living Legend - The Facts Of Life And Other Dirty Jokes.

The book, featuring yarns, jokes and Willie Nelson song lyrics, is the latest addition to out prize treasure trove.

It's available for viewers wanting to become members or current members wishing to renew their membership.

Please email us at music@nucountry.com.au for a chance to win a copy of this book with your membership.

MIKE BRADY MUSIC FOR YOUR MEMBERSHIP
Internationally acclaimed singer-songwriter Mike Brady volunteered to become a VIP guest host of Nu Country TV during our eighth series.

Brady hosted an episode that also featured an exclusive interview about recording the album in Nashville with expatriate Australian producer Mark Moffatt.

Mike has also donated autographed copies of his brand new CD Country To Country to viewers who become members or current members who renew their membership.

The generous singer donated his autographed CDS to attract your membership to ensure our survival.

So for your $22 membership including postage you can win Mike's CD Country To Country.

We have limited supplies so please email us first at music@nucountry.com.au so we can allocate your reward.
TANIA KERNAGHAN AUTOGRAPHED CDS
Tania Kernaghan has offered autographed copies of her fourth album Higher Ground to viewers who either become new members or renew their membership.

The album was produced in Santa Monica, Franklin, Nashville and the Gold Coast with Daniel Kresco.

Tania recorded 11 songs written by younger sister Fiona and producer Kresco on the acclaimed disc.

If you wish to be rewarded for your membership with Tania's new CD please email us at music@nucountry.com.au.

We also have other CDS in our library as rewards for your valued membership - we rely on membership for our survival.