DAVE'S DIARY - 25 SEPTEMBER 2006 - PREVIEW EPISODE 12 - SERIES 6
DIXIE CHICKS HEADLINE NU COUNTRY TV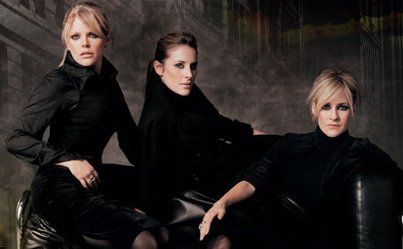 Touring Texan superstars The Dixie Chicks may have been ostracised in the U.S. on the CMA Awards and mainstream radio.

But not down here in the unlucky radio country - they headline Nu Country TV this Saturday September 30 at 8.30 p m on C 31.

Bluegrass queen Rhonda Vincent and Dolly Parton join the trio on the second Heather Rutherford hosted episode - the finale of Series #6 of Nu Country TV.

The Dixie Chicks perform a video of their song Not Ready To Make Nice from their seventh big selling album Taking The Long Way on the eve of their third Australian tour in October.

Although the album has sold more than a million units in the U.S. its sales have been battered by a country radio boycott.

Ironically Taking The Long Way enjoys longevity on the soft Australian charts despite suffering airplay apathy.

Hefty TV advertising for the trio's tour has primed the local sales pump and cashed in on the hype surrounding Rick Rubin's production.

The Dixie Chicks have released a new documentary in the U.S. and are supported on their Australian tour by Pete Yorn who is here to promote third album Nightcrawler on Red Ink-Columbia.

Dixie Chicks banjo belle Emily Robison shares Texan exposure with singing spouse Charlie who performs Wild Man From Borneo on the second Kinky Friedman tribute disc Why The Hell Not? - The Songs Of Kinky Friedman.

Texan indie label Sustain released the sequel to Pearls In The Snow as a conduit for The Kinkster's campaign to become Governor Of Texas.

Trivia buffs may have noticed former Australian Prime Minister Malcolm Fraser's granddaughter performing the Bruce Robison penned Dixie Chicks hit Travellin' Soldier at The Esplanade Hotel on the ABC-TV 7.30 Report.

Yes, the song that was soaring the U.S. charts until Natalie Maines exercised free speech in London.

CLICK HERE for a feature on the Dixie Chicks from the Diary on September 26, 2003.
CLICK HERE for a Taking The Long Way CD review.
RHONDA AND DOLLY - ALL AMERICAN BLUEGRASS GALS
American bluegrass queen Rhonda Vincent enlisted the vocal and video support for her new hit single Heartbreaker's Alibi.

This video is a vibrant vehicle for the magic pairing of Rhonda and Dolly on one of many highlights of Vincent's 12th album All American Bluegrass Girl.

The banjo-playing mother of two has won a brace of major bluegrass awards since her debut in her family band at the age of 5.
Rhonda, 44 and co-producer of her albums, is a long time inspiration for young peers Alison Krauss and Alecia Nugent.

Duet partner Dolly Parton celebrated her 60th birthday this year and is keen to return here for a tour in 2007.

CLICK HERE for a Rhonda Vincent feature from the Diary on April 20, 2004.
CLICK HERE for a CD review from the Diary.
FELICITY RETURNS AS INTERVIEWEE
Tamworth born TV personality and singer-songwriter Felicity won acclaim for her Nu Country TV hosting role early this year.

It scored Series #5 producer Sofie Blichfeldt a Top 5 nomination in the Antennas - the national community television awards.

Felicity hosted the show and interviewed Wagga born touring partner Darren Coggan in the lush Lilydale garden of fellow country singers Carter & Carter.

This time Felicity, who performed in Victoria in July, is the interviewee as she talks of her colourful career.

She also performs a video of the title track of her fifth album My Life.

CLICK HERE for a Felicity feature from the Diary on June 26, 2003.
AUDREY AULD MEZERA
Van Diemen's Land refugee Audrey Auld Mezera returns to Nu Country this week with a video clip of her tune Love You Like The Earth.

Audrey includes the subject of her song - her Californian husband Daniel Mezera in her video that features Texan troubadour Kimmie Rhodes on harmony.

Audrey is touring Australia to promote third solo album Lost Men And Angry Girls (Reckless.)

Audrey recorded most of it at the Boneyard and Music Cellar Studios on the Central NSW Coast on her return here over the summer of 2005.
The singer's touring partner Bill Chambers produced the album that also featured his singing, mandolin, pedal and lap steel and slide guitar.
She enlisted guitarist Nina Gerber, who toured here with Mollie O'Brien, to play on a live cut of evocative biographical Half A World Away in San Rafael on the edge of the Nappa Valley wine belt in northern California.

Audrey also recruited Chambers and Winchelsea raised singer-songwriter Dave Steel for a tour including her home state.

The trio plays Manchester Lane in the Melbourne CBD - September 28, Limelight in Geelong - September 29 and Meeniyan Hall - September 30.

And on October 1 they celebrate with The Flood and expatriate Kiwi Brent Parlane, enjoying a new kidney, at Harmony Row Vineyard at Piper's Creek near Kyneton.

Nu Country TV producer & fellow Tasmanian Kerry Richardson films that show.

CLICK HERE for a CD review from The Diary
THE GIBSON BROTHERS
The Gibson Brothers Eric and Leigh also debut on Nu Country TV this week.

The brothers hail from upstate New York and perform a humorous video clip of their single I Got A Woman.

It was from their sixth album Long Way Home.

Click here for a CD review of The Gibson Brothers from the Diary.
HOTEL KEW SHOWCASE
WIN LEE KERNAGAN AKUBRA
CONCERT TICKETS
Queensland singer Jason Kemp is flying into Melbourne to appear at the Nu Country TV showcase at Hotel Kew on Saturday October 7.

Kemp joins Ruckus, Cyndi Boste, British born Phil Younger & Country Brew, Silver String Outlaws and special guests on the concert that starts at 6 p m.

The showcase is free to Nu Country members or viewers who renew membership or join on the night.

All financial members will be eligible for the draw of the Lee Kernaghan Akubra at the showcase that will be filmed for Nu Country TV Series #7 over summer.

Lee has also donated a pair of tickets to each of his concerts at Costa Hall, Geelong, on October 14 and Frankston Cultural Centre - October 15.

CLICK HERE for details of membership offers for the TV show that returns to air in summer.