FRED NEGRO SINGS A JOHNNY CASH SONG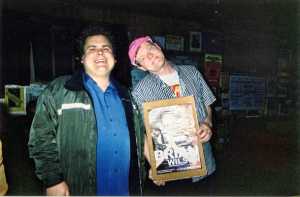 Famed satirical cartoonist Fred Negro and his cutting edge band Shonky Tonk debut in Episode 13 of Nu Country TV on Saturday night.

Negro, designer of the equally famous Nu Country dingo logo, perform a live cut of the Peter Lillie penned I Wanna Sing A Johnny Cash Song.

Shonky Tonk recorded the Cash eulogy on debut CD, I Can't Believe It's Not Butter, five years before his death at 71 on September 12 and reprised it at the Jackson St festival in St Kilda.

Negro, whose dingo morphed into its animated sibling on the TV popular show, strutted his stuff for our director Peter Hosking when he headlined the seaside suburb roots music marathon.

Shonky Tonk supported Willie Nelson, Billy Joe Shaver and the late Waylon Jennings on their 1994 Australian tour.

Guitarist Dave Moll wrote Billy, Willie & Waylon about the experience and it appears on their debut CD I Can't Believe It's Not Butter.

This led to Shonky Tonk winning support roles on tours by singing Texan crime novelist Kinky Friedman and Little Jewford

Negro, whose music career dates back to the eighties, was banned from Tamworth in the previous millenium when he played in the country music HQ with a previous band, The Gravy Billies.

CLICK HERE to find out why and more in the DIARY.

PROBLEM PONY RETURN

Problem Pony

Harmonious Adelaide group Problem Pony return to Nu Country live from the Jackson St fest.

Nu Country TV director Peter Hosking shot the feisty fillies and colt while they battled hay fights in the seaside crowd to perform Understand Your Man.

The band brews up accordion, ukulele, glockenspiel, guitar, bass and vibrant voices into a joyous potpourri.
Problem Pony recorded its debut album late in 2002 with four originals among the eight songs.
You can win their CD by tuning in on Saturday night.

Band members are Gayle Buckby, Di Caught, Bob Chalklen and Susie Skinner.
Further info on Problem Pony at www.problempony.com


TANIA SINGS ABOUT CHEATING
Riverina reared singer-songwriter Tania Kernaghan has long drawn on younger sister Fiona for many of her songs.

But on her third album, Big Sky Country, she also teamed with producer Andrew Farris of INXS fame as a writer.

A sojourn at Farris's wheat and sheep property in New England inspired many of the songs that she performed on her album and recent tour.

Tania, 35, has made several videos for ABC Music including Steal Away - a song about the eternal triangle of cheating.
SARA STORER AND RURAL STORIES
Sunraysia reared singer Sara Storer, born downstream from the Kernaghans at Wemen near Robinvale, has made the finals in seven categories of the Australian Country Music Awards in Tamworth.

The singer combined with other family members to write several rural rooted songs on her second ABC Music album Beautiful Circle.

Storer performs in a video for the single Tell These Hands - inspired by her farmer dad - which was also a finalist last year.

Sara Storer
The singer was also subject of her own episode of ABC TV series, Heart Of The Country, and appeared with Kasey Chambers on an episode of 60 Minutes.
CLICK HERE for a story on Sara from the Diary on October 19.

MARTY ROBBINS DVD GIVEAWAY
Late singing actor Marty Robbins toured here three times during a colourful career that embraced rock and country.


The Arizona born singer was famed for hits such as El Paso, Devil Woman, Story Of My Life, White Sport Coat, Big Iron, Singing The Blues and Just Married.

Robbins, renowned as the prototype for many modern balladeers, was featured in Town Hall Concert series in Los Angeles in 1959.
Other artists featured in the series include Johnny Cash, Bob Luman, Gene Vincent and Eddie Cochran.

Marty, also a racing car driver, died at 57 on December 8, 1982 after recording his final hit Some Memories Won't Die.
Among his movies were The Gun And The Gavel, The Badge Of Marshall Brennan, Hell On Wheels and Buffalo Gun.

Robbins is featured in Ask The Guru after a question from a listener about his Australian tours which included a gig at Mooroopna and a sojourn with Saltbush.

CLICK HERE for a short story on Marty and the DVD prize from the DIARY.
CLICK HERE to see how you can help Nu Country TV and win a vintage Marty Robbins DVD with classic footage of the legend at his pop peak.

LISA MILLER ODE TO DOUG SAHM
Chadstone raised chanteuse Lisa Miller digs into the rich and deep catalogue of the late great Texan tornado Doug Sahm.

Miller performs the Sahm seventies classic Give Back The Key To My Heart.

Sahm, died of a heart attack in a Taos, New Mexico motel on November 18, 1999 - just 12 days after his 58th birthday.

It was the same year peers Hoyt Axton and Rick Danko of The Band also went to God.


Ms Miller, renowned for her eclectic taste, recently supported Canadian legend Neil Young on his national tour.

Lisa Miller
MINDY SMITH TRIBUTE TO DOLLY


Mindy Smith

Maverick minstrel Mindy Smith was the freshest new talent on the recent Dolly Parton tribute disc Just Because I'm A Woman.

Smith performs the Parton classic Jolene which also lent its name to a roots country band who duetted with Kim Richey who toured here in 2002 with Jim Lauderdale, Canadians Jason McCoy and Fred Eaglesmith and Audrey.

Dolly, 57 and a recording artist for 35 years was elated with Smith's version of Jolene.

CLICK HERE for a review of Just Because I'm A Woman in the diary on October 18.

We also have reviews of Little Sparrow and Haloes And Horns recorded after her return to bluegrass on her 1999 disc The Grass Is Blue.
CLICK HERE for the reviews from the Diary on November 11.
CLICK HERE for small Mindy Smith bio.


SENSITIVE NEW AGE COWPERSONS
Perth singing saddle tramps Sensitive New Age Cowpersons romp through their spoof The School Of Country Music.

The band, which has won national airplay since 1994, featured their song on their album on Warner Music last millennium.

Further info visit - http://www.cowpersons.com/