DAVE'S DIARY - 2 OCTOBER 2013 - CHRIS YOUNG CD REVIEW
SOAKING UP THE GHOSTS IN KEITH WHITLEY'S GUITAR
CHRIS YOUNG
A.M. (RCA)
"Everybody's waiting for the weekend/ getting off 5 in the pm/ wanna blow off a little steam and/ go cut loss somewhere/ folks start showing up at seven/ order up a crown or a cold one/ nobody buying rounds for no one/ no girls dancing on the bar in there but/ in the A.M." - A.M. - Chris Young-Chris DeStefano-Ashley Gorley.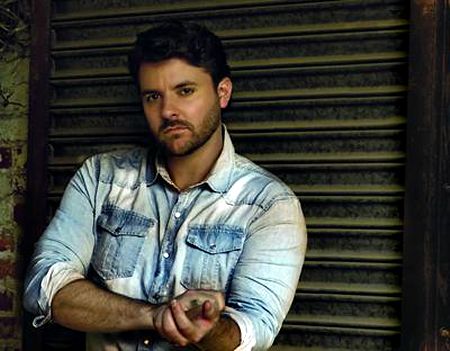 Guitars have long been name checked in country songs that have stood the test of time.

J.D. Crowe & New South eulogised a unique instrument of choice in the Dave Maggard song Lefty's Old Guitar - a potent vehicle for the late honky tonk hero Lefty Frizzell.

John Hiatt exercised some droll humour in Perfectly Good Guitar, Chely Wright sang the praises of a pawn shop sleeper in Emma Jean's Guitar and Reba McEntire and Wynonna kicked goals for other gals in Pink Guitar and Girls With Guitars.

Danny O'Keefe's historic Steel Guitar gave the title for a Linda Barnes crime novel and Willie Nelson's guitar Trigger has graced many a country song by peers.

Expatriate Australasian Keith Urban beat many to the punch when he cut Ghost In This Guitar with The Ranch in 1990 long before his solo career ignited.

But it a real life guitar owned by the late Keith Whitley was spiritual stimulus for a brace of songs on Tennessean Chris Young's fourth album A.M.

The stone country singer, who made his Aussie debut at the 2013 CMC Rocks The Hunter festival, reached out and wrote new tunes on a guitar passed down after the Kentuckian bluegrass ace Keith Whitley died tragically at 34 on May 9, 1989, in the prime of his career.


Whitley, wed to Lorrie Morgan at the time of his death from an alcohol overdose, released four solo albums that produced 19 singles.

An autopsy indicated a massive blood alcohol content of 0.477 %.

Now Young has found inspiration in playing the instrument once held by one of his heroes.

Ironically, Chris is on RCA Records - the same label that launched Whitley's career.

And he is confident that writing dexterity oozed from Whitley's guitar and permeated his literary pores.

"I was just crossing my fingers there's still some magic - some luck - left in that thing," Young, now 28, said shortly before he released his new album.
The 11 track disc - featuring six Young originals - debuted at #1 on country charts and has remained Top 5 despite a summer avalanche of new releases by high profile peers.

Young cut his first album at 21 after winning reality talent show Nashville Star and hopes he won't be jinxed by Keith's guitar.

Whitley, equally at home in bluegrass as trad country, sold more records after he died than during his illustrious career.

His first posthumous album Wherever You Are Tonight was released in 1994 but the first of his 11 greatest hits collections - featured a duet with Morgan on the song Til A Tear Becomes A Rose - shot from the chute in 1990.

Til a Tear Becomes a Rose, was a 1987 demo taken from Tree that featured harmony vocals by childhood friend Ricky Skaggs.

Morgan, with creative control and license to Whitley's namesake, recorded her voice alongside Whitley's, and released it as a single, which rose to #13 and won them 1990's CMA award for Best Vocal Collaboration.

At the time of his death, he had just finished work on his third and final studio album, I Wonder Do You Think of Me.

The album was released three months after his death, on August 1, 1989.

The album produced two more #1 hits with the title track and It Ain't Nothin'.

I'm Over You also reached #3 in early 1990.

Studio albums Kentucky Bluebird and Wherever You Are Tonight escaped in 1991 and 1995 - with a little help from widow Lorrie.

Another song Tell Lorrie I Love Her, written and recorded at home by Whitley for Morgan and originally intended as a work tape for Whitley's friend Curtis Young to sing at Whitley's wedding, was also reprised on the first Greatest Hits.
GOODBYE
"Knock on my door/ you're on my porch/ it's about 11.30/ and that only means/ one of two things/ either you're a little bit lonely/ or something ain't right/ and judging by that tear in your eye/ you're about to say something like goodbye." - Goodbye - Chris Young-Chris DeStefano-Ashley Gorley.
Young paints a vastly different picture than the late Oklahoma icon J. J. Cale did about the flip side of midnight in his epic After Midnight.

"There's plenty of great stuff that happens after midnight," Young revealed about the title track of his album.

"People have a good time, fall in love, work through problems and relationships, lots of good things happen after midnight and that's why we called the album A.M."

Young wrote the song with peers Chris DeStefano and Ashley Gorley.

They celebrate the party side of late night.
"A.M. is a big fun ode to, we're having fun, it's past midnight and it's on," Young added.
"I love hanging out with friends, having fun, playing music, and that happens a lot in the wee hours."

But the trio also exploit the flip side of the midnight hour in their tune Goodbye - it examines relationship dynamics that bend in the late night.

"In Goodbye the girl shows up at 11:30 pm on her boyfriend's doorstep in tears that they're going to break up but he assures her their relationship is worth fighting for, it's too good to say goodbye," the baritone revealed.

"While we wrote the title track and Goodbye in the same day, the songs couldn't be more opposite in every way but they deal with things that happen late at night.

Young wrote six of 11 songs here including temptation and banjo fuelled single-album entree Aw Naw - also with DeStefano and Gorley.

"The three of us were writing together one morning and one of us said, "Man, I stayed up way too late last night! I'm moving kind of slow this morning," Young recalled.

"And we were laughing, going, "Somebody bought one, and one turned in to one too many."

And Ashley goes, "That's what we need to write, and just call it 'Aw, Naw.'" Like, "Oh, hell no." I thought, "That's kinda cool. You're not going to hear that title anywhere, for sure." A lot of the inspiration for the groove came from Chris D's demo. He's an L.A. guy. He'll build an entire track around a song while we're writing it. Pretty unreal. He's one of my favourite co-writers. I love how this track and its energy sets the tone for the rest of the record."

Although Young is in danger of becoming a cog in the machine he dug a little deeper in Hold You To It.

"Shane McAnally and Josh Osborne were two of the writers on Neon," Young explained.

"I love that song, so we'd been talking about all writing together. When I got in the room with them I knew I wanted something mid-tempo that mixed the vibe of a country song with the feel of old-school R & B, something that would get the audience dancing during my live show. We had the groove first, which is rare for me because usually I start with a title. And then as we got to the chorus, we had the title. From the get-go, I knew I wanted this to be on the new record and I think it came out great."

And his album finale Lighters In The Air is also his concert closer.
TEXT ME TEXAS
"Who's in Houston that's keeping you from talking to me/ I ain't used to laying down without the sound of your voice/ before I drift off to sleep/ girl, you got me climbing the walls/ if you can't find the time to call/ text me Texas before you turn off your phone." - Text Me Texas - Rhett Akins-Shane McAnally-Josh Osborne.
Although Young spent plenty of time in the Lone Star state before landing his deal he didn't chance his arm on using Texas as a metaphor in a song title and hook about a belle who doesn't ring him - or for him.
Instead he relied on Georgian Rhett Akins and prolific Kacey Musgraves co-writers Shane McAnally and Josh Osborne.

Much of Young's new material is aimed at the generic weekend party crowd exploited by peers diverse as Luke Bryan, Blake Shelton and Justin Moore.

But here he tempers the telephonic toy that has sunk many lesser mortals with a dash of mandolin and pedal steel.

"This is such a current song idea," Young explained.

"You couldn't have written this song twenty years ago, because no one texted then. I love the alliteration of the title. And coming after Who I Am With You, I wanted to spotlight the other side of relationships, the not-so-happy side. I think what really sold me on the song was the second verse: "Maybe you can give me just a couple of lines that I can read between." I was like, "Hell! How smart is that?" It's one of those lines that just makes you go, "Oh, my God. That's awesome!" I've been playing this song some in my live sets since last year and it really goes over well."
And the singer also found a more creative use of darkness than the drinking and partying pitfalls that claim some combatants in his songs in We're Gonna Find It Tonight.
"We're Gonna Find It Tonight is the result of something that I never, ever did, which is write at night," Young said.

"I had had so much success writing with Chris DeStefano and Rhett Akins and we all wanted to get together but I was going out of town, and the only time we could get together was in the evening. The night we got together Rhett said, "Man, I almost didn't show. It's seven o'clock. We're not gonna get anything done." But we decided we'd try something fun and different, like that big tom drum thing on the opening. So DeStefano put down a little bit of a track, and I was like, "What's the opposite of what you would say if you were trying to be sweet? How about, 'This ain't no candlelight, one glass of wine night/It's more a whiskey water drink that's on the rocks kind.'" And we just ploughed and we wrote the whole thing in thirty-five minutes. We ended up going out and celebrating, saying "Hey, we wrote something at seven o'clock and it's actually pretty cool!"

Young's recent journey hasn't been all smooth sailing.

He had surgery last year to cut a bacterial infection out of his leg during his support role on Brad Paisley's Beat This Summer tour.

"When I left Nashville, I had a cut on the inside of my leg," Young revealed after recovering to climb back in the tour saddle.

"It got bacteria in it, just a freak thing. It can happen from any kind of cut, scratch, anything. It got into my bloodstream. I took off from Nashville and was fine, but by the time I landed in Denver I was in septic shock and they had to wheel me off of the airplane and take me to the hospital. When I got there, they were like "We won't put you in surgery today." As the day wore on, I was on three different blood pressure medications, one of which is the strongest one they can give you to bring your blood pressure back up, and it was still falling. They were concerned about organ failure at one point, so they took me straight into surgery. It was pretty creepy and pretty scary."

But it's not just Young's health that was on his mind before he released his album.

"Ninety percent of the time if I write something that I love, we write it really fast," Young says.

"So I have to be careful when I get on a song, if we love the idea and the melody and where we're taking it. I have to say, 'Okay, did we put enough colour in there? Did we put in enough imagery in that song?' You don't want it to be flat when somebody listens to it.

Like, 'It's really good but I've heard that before.' You want to at least try to find a differe
nt way to say it. An album is a snapshot in time of who you are and where you are as an artist. So, as much as I will overthink it, you try not to overthink it."

Young recorded A.M. with veteran Nashville producer James Stroud - it was released in Australia in September.

CLICK HERE for our Membership page to see how you can win a copy and help Nu Country TV return to air in December for its 21st series.
CLICK HERE for a previous Young feature in the Diary on January 9, 2013.