DAVE'S DIARY - 9 JANUARY 2013 - CHRIS YOUNG
CHRIS YOUNG - NEON AND JOHNNY LEE
"Neon the light they always leave on/ a weekend on the rocks/ an old school jukebox/ with a little Johnny Lee on/ it's the buzz I love to be on/ put a double on your troubles/ the light at this end of the tunnel is neon." - Neon - Shane McAnally-Josh Osborne-Trevor Rosen.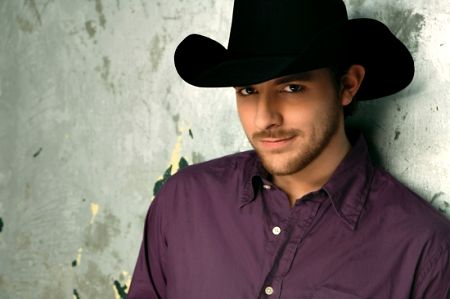 When stone country singer Chris Young was looking for a title track for his third album he found a honky tonk staple - Neon.

It name-checked Texan Johnny Lee - one of the characters in the Urban Cowboy movie.

Lee, one time husband of Dallas soapie star Charlotte Tilton, was a regular act at Gilley's - locale of the movie in Houston oil-town suburb Pasadena.

It's a far cry from where Young was raised in Murfreesboro near Nashville but shared the same state where the singer played bars before winning 2006 Nashville Star TV show.

Now Young is about embark on another journey to the CMC Rocks The Hunter Festival from March 15-18.

The baritone, just 27, is touring here to promote Neon - just a year after it was released in the U.S.

Young wrote seven songs on the album but not the title track that was almost pitched to Texan superstar George Strait.

"When I first heard Neon I thought to myself, "man, I've got to cut this before George Strait finds it," Young revealed.

"If anybody's looking for classic country music, it's that track. I knew immediately that it was going to be the title of the album."

Shane McAnally, Josh Osborne and Trevor Rosen wrote the song.

"Josh, Shane and I were writing in my living room one day," Rosen recalled of the day they penned the tune. "Shane was going through some titles and song ideas he had, like he often does when we get ready to write. We paused when he said Neon and we talked about what that title might be about for a couple minutes. Then he kept going with some more titles. At one point, Josh and I said, 'You know there's something to that Neon idea,' and we started singing all these different rhymes for the word neon which ended up being the main structure of the chorus."

The song's narrator sings of playing some Johnny Lee on a jukebox.

Lee is best known for his Urban Cowboy hit Lookin' For Love - a top 5 smash in 1980.

"I don't remember who came up with it, but when we got the rhyme 'with a little Johnny
Lee on,' we knew we were all in and off to the races," Rosen said."

The lyrics mention just about every colour under the rainbow - plus neon.

"I remember starting to chunk on the verse melody, and the line, 'The sky in Cheyenne, Wyoming is just about as blue as it gets,' kind of fell right out. We immediately jumped on board and started painting scenes about other colours, too."

When the trio completed the song, they thought of sending it to George Strait.

Osborne's publishing company pitched it to Chris Young instead, who put it on hold after hearing the demo.

"Chris did such an amazing job on the song," said Rosen.

"We look back now and are so thankful he got to hear it before George or anybody else, because we can't imagine the song being in better hands! It's funny how one little word idea that Shane casually jotted down on his phone could lead to what it has."

The song's music video - directed by Ryan Hamblin and filmed at Melrose Billiards in Nashville - is featured on Nu Country TV.

Black lights were used as well as special effects to create a neon world of pinks, greens, yellows and blues.

Everything from Chris' guitar to the pool tables are bathed in neon as Chris takes in the scene from his bar stool, picks his guitar and helps a pretty girl with a game of pool.
YOUNG IN THE WRITER'S SEAT - WITH CONWAY TWITTY

"I'm gonna put an old record on/ Conway Twitty, yeah, girl I'd love to lay you down/ kill the ringer on the telephone/ ain't gonna stop loving you till the candle burns out. - I Can Take It From Here - Chris Young-Rhett Akins-Ben Hayslip.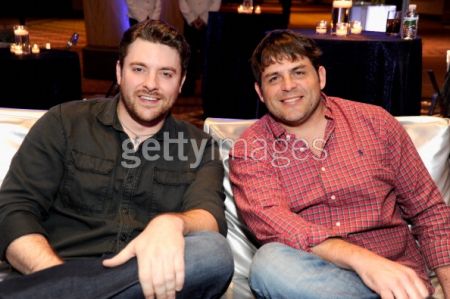 Chris Young & Rhett Akins
Young teamed with Peach Pickers hit writers Rhett Akins and Ben Hayslip to pen entrée I Can Take It From Here - they name check the late Conway Twitty's smash I'd Love To Lay You Down as their seduction soundtrack.

The subject - ignoring parties to stay home for a romantic night is reminiscent of his first number one single, Gettin' You Home.

"It's a great way to kick off the record," Young revealed on the eve of his Australian tour.

"When you pop the CD in, there's no way you'll be confused about what you're listening to.

Immediately it's the low end of my voice, some cool guitar tones, steel and a kind of cool, sexy vibe. This was kind of a kindred spirit to the last album."

It segues into love song Lost about unplugging with the opposite sex - in the same vein.

The upbeat Lost - a song celebrating broken GPS, long country drives and looking deep into someone's eyes is a sleepy summer soundtrack.

"There are so many people who are going to be able to connect with this," Young adds.

"Put that song on repeat and roll the windows down."

Young penned three songs on his previous disc - his first #1 hit, Gettin' You Home (The Black Dress Song), That Makes Me and Voices.

There was also a duet with Willie Nelson on Rose in Paradise - Waylon Jennings' 1987 hit and cover of Tony Joe White's Rainy Night in Georgia that Brook Benton made a pop classic in 1970.

This time he upped the quota.

"One of the things I love about my job is not only am I a singer but I'm a songwriter," Young revealed.

"So really, downtime just gets stuff out of my head and not have to think about, 'OK, what am I going to do for this set list,' and all the other stuff that's going on with the tour and travel plans."

And how about the art of songwriting?

"You can look at structure all day long. When you're a singer-songwriter you can think: verse, chorus, verse, chorus, bridge, chorus. And yeah that's the most successful formula in country. But I just go with my gut. I prefer to keep it simple like that."

The singer says he's supposed to relax but his mind is always active.

"To decompress is just a different mode of work," he insists.

"But I love my job. I love all aspects of it, so it doesn't really feel like work to go, 'I don't want to think about this stuff. I'm going to go write a song' That aspect of being a songwriter helps me relieve stress, to start with a blank piece of paper, you can create whatever you want. It also feeds your career as an artist, too."
TOMORROW
"But tonight I'm gonna give it one last time/ rock you strong in these arms of mine" - Tomorrow - Chris Young-Frank Myers-Anthony Smith.

But second song, Tomorrow - penned with Frank Myers and Anthony Smith - was the album's first #1 hit.

"From the day that we wrote Tomorrow I thought it was going to be the first single," Young revealed.

"I really do believe in timing," Young reflects.

"Everybody has a different point in their career when things start to come together and click, when it's your time."

In the months leading up to Neon's release, Tomorrow, became Young's fastest rising single ever.

"But tonight I'm gonna give it one last time/ rock you strong in these arms of mine"

Tomorrow finds the narrator dealing with the struggles of ending a relationship he knows isn't going to work but is having a tough time executing the breakup and instead putting it off until "tomorrow" so he can give in to her one last time.

Another branch trimmed from Tomorrow is album finale She's Got This Thing About Her.

Young pledges his admiration for a woman who "stops time when she moves through a room" and is "always gone too soon."

Producer James Stroud does a flawless job in allowing Young's traditional roots to shine through while keeping the vocal performances and lyrics at the forefront of every song.

Stroud and Young even take a risk by using a pop flavoured production of strings and piano on the song - it reveals just how much he has grown as an artist.

"I get to do exactly what I love which is write and create and put it in permanent ink," Young says.

"We didn't put it in pencil."

Nearly every song is filled with traditional country sounds like fiddle and steel guitar.

Young made sure veteran producer James Stroud, who worked with Young on second album The Man I Used To Be was back again for Neon.

"Until it stops working, I honestly don't want anyone else to produce my albums. It's so inspiring to be able to work with someone who you have that much admiration for and that much respect for in the studio."
HAGGARD NAME CHECK
"On that front porch in those cut-off jeans/ and that Texas Longhorns tee shirt, hair drying in the breeze/ humming along to some old Haggard song/ you ought to see her when she's on." - When She's On - Monty Criswell-Shane Minor.
Young comes to the rescue of less articulate peers on When She's On.

"Every guy wants to find the way to say what that song says to the girl he's dating," Young explained.

"And that song is exactly what they all want to hear. So anytime I hear a song like that I want to cut it because I can never manage to say it correctly."

Young marvels at a young lady in cut-off jeans and Texas Longhorns T-shirt like no one else - especially if she's "on that leather couch" and "hummin' along to some old Haggard song."

The singer teamed with Brett James and Tim Nichols who wrote The Man I Want To Be on Old Love Feels New.

"So I had this title Old Love Feels New," Young recalled.
"Immediately Brett picks up a guitar and sings, 'Granddaddy always said.' I wanted to know why he started with Granddaddy, and he said, 'I don't know. It just sounds kind of cool.'

Well, my grandparents are that song - they met, fell in love and that was it. We finished it in under an hour."

Fiddle-fuelled You - penned with Luke Laird - features a laid-back delivery reminiscent of Lyle Lovett as Young talks about the glories of true love.

"This is the only song we've ever written together," Young recalled.

"It was really good, actually. It was really comfortable. This is one of the few songs I've ever written where we didn't have a hook. We just kind of started from the beginning with a little melody and started writing, and we're like, "Hopefully, this will turn into something." And it did. It really kind of wrote itself. It was so great writing this with him. We've obviously set up stuff since then, and we're going to get together and write some more. The first time you write with somebody and it not only makes it on the record, but it's the second single, it's not too bad. To me, this song is one that if you've heard it the first time, you're humming it. I hope it gets stuck in people's heads when they hear it."

Young realised one of his guiltiest pleasures was listening to his own music.

"That was honestly one of my favourites to put on and listen to on the record," Young confessed.

"I know I shouldn't be rocking out to my own album, but it's just a great feeling song."
PATERNAL FLASHLIGHT
"He'll never know how much he taught me in that garage/ and I guess the stuff that stuck was more about life than fixing cars/ cause to this day I can't make 'em run right/ but l sure did learn a lot, holding that flashlight." - Flashlight - Chris Young-Robert Arthur-Johnny Bulford.
Flashlight reverses Trace Adkins Just Fishin' as Young reminisces about fixing cars with his dad.

His grandfather Richard Yates was also a performer on the famed Louisiana Hayride.

This song finds the narrator recalling memories he and his father shared while working on the "old Chevrolet" in the garage.

Every Saturday they'd find themselves "huddled underneath that hood tinkering around"
where his father would share stories and life's lessons with his son.

The son confesses during the chorus, "I sure did learn a lot just holding the flashlight."

The writing required a quick co-write with Chris's dad.

"I actually called him and said, 'Hey, when we were working on that Camaro, what size tool did we use?'" Young recalled.

"And he immediately answered, 'Nine-sixteenths.' So we put that right in the song."

It comes as no surprise to see a song about a flashlight show up on a Chris Young album - he included a song titled The Dashboard on his previous disc.

Young's delivery of the hook heavy drought prevention song Save Water, Drink Beer is a catchy anthemic singalong.

Just from the few opening lines of the song you get the gist of how the song plays out.
MUSIC HISTORY
"It ain't rained in four months/ that old well is plumb dry, the city put a limit on the water you can buy, we don't mind, cause 'round here we save water and drink beer." - Save Water Drink Beer - Megan Connor-Ross Copperman-Joy Nite.
"Music is why I'm here and it's something I can't live without," Young revealed.
"It's what I'm built to do."

That thrill of entertaining embraced of Young early.

His first moments on a stage involved acting in school plays, but it wasn't long before he realised he wanted to showcase a different talent in the spotlight.

"I love to sing," admits Young.

"I was the kid in high school who lived and breathed music every moment of every day."

Totally focused on making his passion a career, Young was playing 150 dates a year by the time he went off to college to major in music.
While serious about his studies, he felt the need for a different kind of higher education.

"I did the thing all parents love to hear," Young confessed.

"I dropped out of school and started making music full time. I knew without a shadow of a doubt that music is what drives me and it was what I had to do."

The honky tonk school of hard knocks - including a PHD-level class fronting a seven-piece band on a run through Texas - and countless hours honing his craft at writers nights in Nashville paid off with a record deal and debut on RCA.

The self-titled album earned Young the title of best-selling new country male vocalist for 2006 and a nod for the Academy of Country Music Top New Male Vocalist award.

Young surpassed success of his first record with release of The Man I Want To Be.

He scored three consecutive #1 singles - Gettin' You Home, The Man I Want To Be and a song that earned Young a place in history books.

Voices - first single released from the disc - made its initial run up the chart in late 2008 but stalled just inside the Top 40.

When the label re-released it two years later it soared to #1.

"The last time that happened was 25 years ago with On The Other Hand for Randy Travis," Young confessed.

Chart success earned Young the attention of peers - he opened for Alan Jackson and 2013 Australian tourists Rascal Flatts where he learned tricks of the trade from two successful entertainers with vastly different styles.

"It's such a great opportunity as an artist," Young recalled.

"To hang with those guys and watch them perform every night and see how they engage their fans."

Young also earned several thousand more admirers as he joined Jason Aldean on his My Kinda Party Tour.

Young also earned one of the industry's highest honours - his first Grammy nomination for Best Male Country Vocal Performance for Gettin' You Home.

"It was so cool and humbling to receive a Grammy nomination," Young confessed.

"It's one of those moments I'll never forget. It's exciting to have your name in the hat. Win or not, it confirms that you're doing something right."
PREVIOUS CAREER - DEJA VU TOO
"I'm pushing you away every time I pull up that barstool/ drowning you in every drop I drink/ telling you to go to hell but I'm talking to myself/ cause you're not around here to hear what I think." - Drinkin Me Lonely - Chris Young-Larry Wayne Clark.
At 27 Young's old enough to have tried his hand at a couple of different trades - air conditioner installation was one of them.

"My job was to unscrew stuff, take it out, make sure it was all hooked up all-right," he revealed when he returned to it for a day for a TV show.

"A pretty straightforward job."

There was just one minor inconvenience.

The job involved a lot of moving and lifting from the attic to the outside, and it was 110 degrees outdoors, 112 degrees in the house, and 120 degrees in the attic.

"We picked the hottest day of the whole year," he says.

But for Young it was a nice break from his usual routine.

"It was great to go out and do manual labour for a day," he added.

"I'm just really focused on the task. I'm not singing while I work. Those guys would have laughed their butts off."

His temporary day job was a change of pace but required just as much work as his regular one.

Young tried to make it as a musician since he was a child - he began writing songs in his teens.

In high school, he started doing the club circuit, and by college he was playing more than 150 shows a year.

He took odd jobs in construction, and used the money to put out two independent records.

But Young needed a steady cash flow.

"I needed a way to have income," Young recalled.

"I was doing shows for free, or even losing money driving to them, spending money on gas."

So his best friend's dad offered him a job installing AC units in hometown Murfreesboro - a half-hour drive from Nashville.
NASHVILLE STAR
"Hangin out at the old park pool/right after Sunday school/ banana boat, a rubber float/ another summer afternoon/ bonfire at the creek tonight/ Bubba bringing some home mad wine/ just enough to catch a buzz and get us country fried." - Small Town, Big Time - Chris Young-Tim James
At one show in Texas, a fan told Young to audition for the 2006 Nashville Star TV show.

He won and earned a record deal with RCA in Nashville.

Young signed it before his 21st birthday.

It was a swift rise but Young didn't make it when he signed that piece of paper.

His first album failed to fire - neither did the first release off his second album.

At that point doubts begin to simmer.

"Eight hotels, 15 planes, 20 stations a week.

I was really worn down," Young admitted.

"I was thinking 'I hope this works.' "

But Young was in his early-20s, talented and ambitious.

After all, he had a record deal.
"The people on the top aren't on the top forever," he says.

"Someone's going to pass them."

He wanted that someone to be him.

Where did Young get all that country intensity, and all the perseverance to bring it to the world?

"It's the little things that you don't realize that shape who you are," Young said.

"And installing AC units could definitely be one. The pride that James takes in the job," Young says, had a stirring effect on how he approached work.

"He's really proud of his job, puts a lot of effort into it, and is really great at what he does.

There's always a parallel between music and everything else."

And it's always nice to go back and dip a toe in the past.

"I remembered how much I enjoyed the job," he added.

"But obviously I enjoy my job right now way more."

The first song Chris Young ever wrote was called She's the One - in 1999.

Young was only 14 when he wrote it.

"It was that George Jones style, where you think it's about a girl. But by the time you get to the end, you realise it's really about a car," Young explained.

"I wrote it before I could even drive, because when you're 14, that's all you want to do is to be able to drive. That's all that was on my mind."

Young said looking back on it, it was awful but he has honed his songwriting craft since. He co-wrote seven of the songs on Neon - two were No. 1 singles.

So how does he start the songwriting process now that he's making a living at it? "Usually, I like to work off a hook. So more than 50 percent of the time, I'm a lyric guy first," Young said.
VIDEOS
"Bluest skies don't seem so blue/ and the stars seem to be a little dimmer too/ now that you're around you put them all to shame." - You - Chris Young-Luke Laird.
On the heels of Chris Young's fourth consecutive No. 1 single Tomorrow - a tune that unforgettably dripped with sexuality and regret - the singer-songwriter returned with a lighter, buoyant tune, You.

For the levity laced music clip Young worked with video director Chris Hicky who also supervised his The Man I Want to Be video.

They even chose the same location to bring the song to life - Watertown, Tennessee.

The black-and-white video, interspersed with flares of colour, tells the story of a hunky gas station attendant, of course played by Young, and his admiring lady friends who find reasons to seek his assistance.

"The funny thing is the amount of parallels between the last time I worked with him and this video," Young said of his work with Hicky.

"Since we did that video, everything we've put out has gone #1 and then we've got this new song. We shot the videos in the exact same spot. It's in Watertown and there are a lot of videos shot out there, but we actually used the same building that we shot in front of at the beginning of The Man I Want to Be for this whole video. It's really cool because they don't look alike. If you watch the video, you're not going to go, "Oh, that looks just like the other one." So it's cool how they used props and everything to change it around.

Obviously, I love the way he shoots. One of the things he's so great about is he knows when he has a shot. He's not one of those guys going, "I think we got it, but let's do two more takes just to be safe." Once he sees it and he knows he's got it, he moves on.

So what was the message of the video?

"Obviously, this is a happy song," Young explained.

"I mean, we're not trying to do anything as serious as we did when we did Tomorrow so it's, in a way, kind of the antithesis of that - whereas that last one was so serious and so dramatic. This one's kind of fun, and I think part of the look that he really achieved with this video is it's the first time we ever shot in black and white and then being able to kind of infuse a little bit of colour where we did all the cars are in colour and the accessories on the girls are in the colour of their car. We thought about that in advance and decided to do that, and I love how it turned out. It's gonna look a lot different when somebody sees it.

They're gonna know what it is. They're not gonna go, "Oh, what video is this?" They're gonna immediately know. That's something else we wanted to do. I wanted to make it stand out."

How long did it take to shoot?

"We shot everything in one day," Young recalled.

"It actually wasn't one of those days where we went until 1 in the morning because everything is shot during the day. We started shooting really early. It was the first video I've ever gotten to bring my bus in for, so I rode to Watertown on my bus the night before, slept on the bus and they woke me up at like 8 in the morning. I had all my stuff there, watched a little Sports Centre, had some coffee and went out and shot the video.

Videos to me are not the thing I'm most comfortable with. I love doing them, but it's such a long day, and you get tired. Or if you don't eat throughout the day, you get worn down or maybe you're just doing the same shot over and over and over before you finally get it. This one was a lot of fun because it was so easy. It was so smooth."
2006 CD REVIEW
CHRIS YOUNG
CHRIS YOUNG
"Little beads of light were dancing off the wall/ reflecting off a spinning ball/ in a dance hall down in Texas/ where time slowed to a crawl." - Centre of My World - Chris Young-David Lee Murphy.
Oklahoma oriole Carrie Underwood set the pace when she sold three million copies of her debut disc after winning American Idol.

So it's no surprise Tennessee troubadour Chris Young, 21, scored major airplay with a co-write on Drinkin' Me Lonely from his debut disc after winning Nashville Star.

That might sound worldly for a novitiate with four originals including co-write on Centre Of My World with fellow tourist David Lee Murphy who also penned entrée song Beer Or Gasoline.

Although he spent two years of business studies at university he honed his craft as singer for a honky tonk house band in Arlington, Texas.

Young had perfect roughage for his country career after also singing for his supper in Tennessee during university studies.

He then returned home and won the 2006 Nashville Star.

< David Lee Murphy
Now, 21, the singer laces his self-titled debut Sony-BMG disc with wry tales, fanned by the booze flame.

Young co-wrote four tunes including debut single Drinkin' Me Lonely and draws on his roots for Small Town Big Time - one of two tunes penned with Tim James.

Producer Buddy Cannon - studio chief for superstar Kenny Chesney - aims Young at the thriving youth market with energised traditional country.

But Young didn't write White Lightning Hit The Family Tree that borrows spirit from Robert Earl Keen's Merry Christmas From The Family.