DAVE'S DIARY - 23 OCTOBER 2005 - GARY ALLAN UPDATE
GARY ALLAN AND DANNY O'KEEFE
TALE OF TWO CULTURES
"I just got back from hell and I'm standing here alive/ I know it's really hard to tell/ don't know how I survived." - I Just Got Back From Hell - Gary Allan-Harley Allen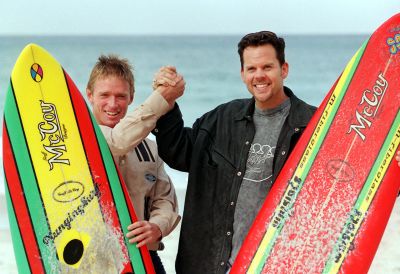 Gary Allan & Cheyne Horan
Promoters for the tours by Californian born country star Gary Allan and legendary peer Danny O'Keefe could be excused for thinking Victoria is the Bermuda Triangle of all great talent.

Allan, 37, cracked #1 on the U.S. Billboard Country charts and bumped off diverse rivals when he reached #3 on the Top 200 rock albums the debut week of his sixth disc Tough All Over.

Allan's album sold 99,662 copies in its first week, leaving it behind only Alicia Keys and Nickelback.

It was the eve of his Geelong concert on Saturday October 22 and a Churchill Saloon gig on the Sabbath.

But despite such an amazing feat, Allan was ignored by local radio with the exception of David Heard on Acid Country on PBS - 106.7 - who presented a top shelf interview with Troy Cassar-Daley.

Pay TV channel CMC broke the Allan boycott mould by airing Allan's videos on high rotation.

Nu Country TV also aired Allan's most recent Top 10 hit Best I Ever Had - penned by Matthew Scannell and previously recorded by Vertical Horizon in 1999.

The mainstream media was equally silent despite having feature stories and photos of Allan solo and with former World Masters Surfing Champion Cheyne Horan.

One newspaper decided the singer didn't fit its young pop demographic despite his sales dwarfing rock artists with unlimited radio exposure.

Beat magazine ran a CD review in which Allan explained the tragedy that prompted four of his original songs.

But the chart topping news was too late for its deadline.

Allan's third wife Angela suicided almost 12 months ago so he exorcised his grief in songwriting.

Gary dedicated his huge selling album to his late wife and included a Suicide 1-800 number on its sleeve.
WRITING AS THERAPY
His original songs, I Just Got Back From Hell, No Damn Good and Puttin' Memories Away, are salient signposts to his suffering.

"Your whole life, all your plans come to a halt," Allan recalled of the single gunshot that ended his wife's life at their Nashville home at 1.20 a.m. on October 25, 2004.

"And you need to start over again. I was definitely in a place that I had never been, by a long shot, when I made this record. I was in total devastation. But I couldn't ignore what had happened. To me, that's what country music is. It's all in the centre of real life."
Allan recorded four songs with co-producer Mark Wright before the tragedy.

"So I had started writing again, and then when she passed writing songs became a healing process for me," says Allan whose six million album sales won him a loyal following here.

"It was the most expensive therapy I've ever had. All my records are personal, but this is by far my most personal record. Recording this album was an emotional experience because everything we were cutting on that second round dealt directly with what I was feeling.

Five songs during those sessions talked openly and honestly about what I was going through. I wanted to be certain that the songs communicated my feelings respectfully. It was almost like letting go. Every writing session that I was in was therapeutic because I was dealing with raw emotions and talking about my feelings. I reached inside myself to get some honest life into these songs."
JAMIE O'HARA
"I was raised with the West Coast bands/ I don't change for anyone, I stay the way I am/ I don't do this for fame, I do this for me/ it soothes my soul and keeps my sanity/ I'll only be here for today/ putting my misery on display." - Putting My Misery On Display - Gary Allan.
Allan wrote Putting My Misery On Display after talking to singer Jamie O'Hara of The O'Kanes who penned George Jones classic Cold Hard Truth.

Ironically, the conversation preceded the tragedy.

"We just got into one of those big philosophical discussions about the music industry, and how it sometimes works against you as an artist," Allan revealed.

"Jamie was talking about the things he thought that it took from him. And said, 'man, it took some things from you, too. When's the last time you wrote by yourself?'

It was before his belated breakthrough after discovery as a teenage honky tonk singer.

"Damn, it was before I had a record contract," Allan recalled.

"I think I was 26 and had just gotten my first publishing deal. I was in a room, writing with somebody different every day, and I got so disenchanted and burned-out that I quit writing by myself. Anyway, Jamie brought it to my attention, and I felt inspired to start writing again."

Allan recorded O'Hara song Nickajack Cave about a dramatic turning point in Johnny Cash's life after drugs and alcohol had "him strung out on the ropes."

Allan headlined Gympie Muster and Tamworth on previous tours - hits include Smoke Rings In The Dark, Nothing But The Radio On, Tough Little Boys, Man To Man and Songs About Rain.

This week he returns to Queensland where Lee Kernaghan hosts him at his 2,000-seat arena at his Great Western Hotel in Rockhampton.

We'll run a review of his Geelong concert with photos too hot for mainstream media.

Allan, like O'Keefe, digs deep into his psyche for his passionate songs that have stood the test of time.

CLICK HERE for a DANNY O'KEEFE tour preview.