DAVE'S DIARY - 14 NOVEMBER 2006 - DOCTOR HOOK
DR HOOK COOK MUSHROOMS FOR WILLIE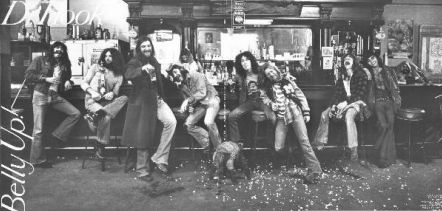 When Ray Sawyer recorded I Hope I Didn't Take Too Many Mushrooms for his new Dr Hook album he didn't realise how prophetic the song would be for Willie Nelson.

"It was perfect timing," co-founder Ray Sawyer joked to Nu Country TV on the eve of his band's latest Australian tour that brings it to Crown Casino on November 23.

"That's obviously what I thought when I saw the news. Willie seems to be alright."

Nelson, 73 and elder sister Bobbie, 75, were busted for possession of marijuana and psychedelic mushrooms on their tour bus in Louisiana in September.

Ironically, the song was one of five penned for Dr Hook disc Too Many Mushrooms by John Carter Cash - son of the late Man In Black and latter day executive producer of the Walk The Line movie.

"John also wrote Anybody Got Any Ganja for our new album," added Sawyer whose career started at 14 as a drummer.

"John and Jeff Williams came up with the idea. Their songs seem to appeal to college kids, typically Dr Hook. We also did a cover of The Games People Play - Joe South did it originally. We also have a song inspired by the first cartoon characters on TV.

Those hand puppets. Our song says what happened to them? Also where are Buddy Holly, Janis Joplin, Elvis and all of those legends who have died?"

Sawyer, who has worn an eye patch since losing an eye in a 1967 car accident while working between bands as a lumberjack in Oregon, believes his song 69 Years Of Uninterrupted Love, is timely and accurate.

"I've been married to my wife Linda now for 37 years," Sawyer, now 69 and father of two, revealed in a call from his home in Daytona Beach, Florida.

"It was a crazy thing I wrote 10 or 12 years ago. It was OK. I kind of liked it. It feels like 69 in my mind. We moved here from Nashville about 15 years ago. Everyone in Nashville is a songwriter - even the guy pumping your gas. I wanted to get away from it."

ALABAMA RAISED
Sawyer, born on February 1, 1937, in Chicksaw, Alabama, is a salty survivor in a career that claimed some of the co-founders of the band.

He released singles Rockin' Satellite in 1960 and I'm Gonna Leave in 1962 for the Sandy label in Mobile, Alabama.

Sawyer also cut a self-titled solo country album on Capitol in 1977 that was launched with the single Daddy's Little Girl.

Fellow singer Dennis Locorriere released solo discs Running With Scissors in 1996, Alone in 2003, One Of The Lucky Ones, Live In Liverpool and has Dennis Locorriere Celebrates Dr Hook Hits And History set for 2007.
He also cut Out Of The Dark in 2000 on Eagle Records featuring 13 original tunes - some co-written with former Asleep At The Wheel guitarist Leroy Preston.

"I'm doing really good considering our lifestyle was so wild and crazy," Sawyer said.

"That was a roller coaster - that was the fast lane. These days we keep fit playing so many shows. I lose 5 or 6 pounds when we're out for 3 weeks. It keeps me healthy."

Sawyer is the only original band member in Dr Hook but not the only family member.

His son Casey, now 27, has played drums in his band for 14 years.

"Casey started playing percussion with me when he was 13," Sawyer said.

"I would take him out on the road during school holidays. One year we were going to Scandinavia and doing Norway, Denmark and Sweden. So he asked his teacher if he could be off for two weeks - she said absolutely, he could learn more there than in a schoolroom for a year. When he finished his high school he joined my band full time. He's good enough to have his own band. He's not a writer but a very good drummer."

Sawyer had hooked up again with original producer and manager Ron Haffkine who turned the band onto a plethora of hits penned by late former Playboy cartoonist Shel Silverstein.
SHEL SILVERSTEIN
Those hits included Sylvia's Mother, Cover Of The Rolling Stone, Ballad Of Lucy Jordan, Everybody's Making It Big But Me, I Got Stoned And I Missed It and Queen Of The Silver Dollar.

"We did a new video clip when we recut Cover Of The Rolling Stone with a different beat," Sawyer revealed.

"It's up on our My Space page."

Dr Hook broke in 1970 when it cut Silverstein song Last Morning for Dustin Hoffman movie Who Is Harry Kellerman And Why Is He Saying Those Terrible Things About Me?

Haffkine produced the soundtrack of the Tony Richardson Ned Kelly movie, starring Mick Jagger, in 1969.

It featured Silverstein songs performed by Kris Kristofferson, Waylon Jennings, Tom Ghent and Jagger.

"I was there when Waylon was cutting his tracks in New York," Sawyer recalled.

"That's when I first met Waylon and later on he became a very good friend of mine.

Actually that's why Ron Haffkine and I got back together. When Waylon died and Shel had just died I said life is too short and called him. We didn't have any bad blood - Ron and I.
I had just decided I wanted to do something else. That was the reason I called him - we were talking about Shel and about Waylon and life. We decided to go back to studio and have fun. Waylon was on one of our albums on Storms Never Last - a song his wife Jessi Colter wrote. His son Shooter is doing well. I saw him on TV recently. Shooter was born after I left for Florida. I enjoyed Shooter playing Waylon in Walk The Line. Also Waylon Payne playing Jerry Lee Lewis. It was a good movie. Johnny picked Joaquin Phoenix to play him."

Silverstein died alone of a heart attack at 66 on May 9, 1999 at his Key West, Florida home, and Waylon died in Arizona at 64 of diabetes on February 13, 2002.
AUSTRALIAN TOURS
Sawyer has fond memories of his Australian tours with the band that featured Dennis Locorriere who owns the name and leases it to him for touring.

"We must have been there at least 20 times," Sawyer recalled.

I reminded him of an early eighties tour when one band member was beaten up in Sydney.
"He wore a Dr Hook tour jacket in wrong part of Sydney and somebody thought he had money and jumped him," Sawyer explained.

"We also helped raise funds and helped build a rehab room there."
WHERE IT ALL STARTED
Prior to forming Dr. Hook And The Medicine Show, Sawyer, George Cummings and Billy Francis were members of an Alabama group called The Chocolate Papers.

They morphed into Dr Hook in New Jersey in 1968 as they added Rik Elswit, Dennis Locorriere and later Jay David to the ranks.

Most hits were on Columbia/CBS before the band moved to Capitol in 1975 and made the album Bankrupt about their financial plight.

It contained the huge hit - Sam Cooke penned Only Sixteen, and was followed by A Little Bit More in 1976 with a Couple More Years and Makin' Love And Music in 1977 with Walk Right In - revamp of The Rooftop Singers staple.

Later albums featured Sharing The Night Together, When You're In Love With A Beautiful Woman, Sexy Eyes and Baby Makes Her Blue Jeans Talk.

Sawyer left in 1982 to pursue a solo career and Locorriere took over the reigns until he resumed solo pursuits in 1985.

Then in 1989 Sawyer began touring again as Dr Hook Featuring Ray Sawyer.

In 1995 he released an album containing re-recordings of classic Dr. Hook hits under the name Dr. Hook featuring Ray Sawyer.

He was inducted into the Alabama Music Hall Of Fame in April of 2005.

Dr Hook, featuring Ray Sawyer, plays The Palms At Crown - Thursday November 23.
Prices - Adult - $79.90*

Bookings - Ticketek 1300 795 012 - www.ticketek.com.au

CLICK HERE for full gig details in Tonkgirl's Gig Guide.