DAVE'S DIARY - 10 MARCH 2023 - EILEN JEWELL INTERVIEW
EILEN JEWELL IN THE CROWN FOR WORKING WOMEN
"Whether she's rich or toiling in a ditch/ no matter the colour of her collar/ the heart of your home/ works her fingers to the bone/ for 79 cents to your dollar/ 79 cents, 79 cents." - 79 Cents (The Meow Song) - Eilen Jewell.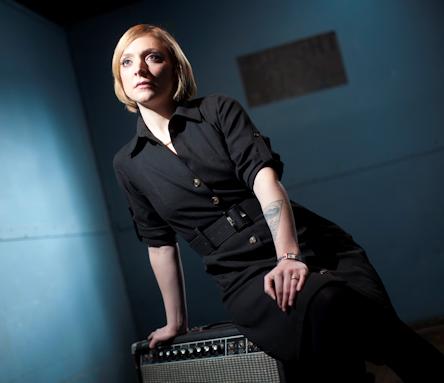 When Idaho singer-songwriter Eilen Jewell observed mothers being exploited toiling in the fields for less pay than their male peers she aimed both barrels at employers in song.
Jewell, now 43 and mother of an eight-year-old daughter wrote and recorded 79 Cents (The Meow Song) for her 12th album Gypsy.
The singer and her band featuring drummer husband Jason Beek have often played it live on her fifth Australian tour in March.
Jewel holds the torch for mentors including the late Loretta Lynn who died at 90 in October after blazing a trail for female peers.
She honoured Loretta on her 2010 Lynn covers album Butcher Holler and resurrected Loretta song The Darkest Day on her fourth album Queen Of The Minor Key in 2011.
Jewell landed her songs in three TV shows True Blood, Hellcats and Earth Hour and believes 79 Cents is an ideal song for a new documentary or movie.
"That song is a fan favourite but it hasn't been attracted to any industry types yet" told Tamworth Country Music Capital News and Nu Country TV on the eve of her tour.
"That would be perfect for a documentary. Maybe just around the corner. Maybe we could do a video for suffragettes for it. I'd like to perform it in Australia. I notice Australians and Europeans like it more than Americans - we're so divided now. Some places when we play it they are very disturbed by that song. Those are the people who need to hear it the most. We're also expecting to have another song in a movie that's coming out soon."
Jewell was saddened by the death of Loretta Lynn.
"It was a year of tough losses for me," Eilen revealed.
"I thought she was going to be here with us for ever. What a legacy she left behind. I'm forever in her debt for what she did for music and women in music particularly. What a talent - she was so willing to rock the boat especially about things that still matter today. She was tireless about double standards – about men versus women. She was never afraid to really get there and push all the buttons and keep country music types on their toes."
Jewell plans to have her 13th album released here for her tour with her new single and video.
"We're going to make a video out of a song called Lethal Love ," Eilen explained.
"It was chosen as one of the singles for this album. It's a song about the darker side of love. As you know that's a favourite topic of mine. We present it in a way that's kind of fun. There's a carnival aspect to this song. It's amusing, it's tongue in cheek and also twisted and dark at the same time. It's really one of my favourite songs to perform. We'll be playing it in Australia for sure. It's got a bit of a rockabilly flavour. It sounds like something that could have been on Queen Of The Minor Key."
Like previous albums Jewell retreated to a cabin retreat in Idaho mountains to write many new songs.
"The last album a lot of writing in a cabin in the mountains," Eilen revealed.
"I also threw in a little time in Hawaii. Any place I can have some peace and isolation. I'm ready to mix it up and enjoy some white sand and palm trees. A lot of songs written in Waikiki."
Jewell has extra impetus to return here for her fifth tour since 2018 after her 2020 visit was cancelled because of COVID.
"It was sad - that was the first tour we cancelled," Eilen recalled.
"I never had to cancel a show in my whole career until then. It was the toughest call I ever made. We were just about to leave in February 2020. The tour was all booked, we had the flights and everything – we were just days away from going. Suddenly started to hear all this scary stuff. The person I hired to be our nanny for the tour to take care of our daughter was living in New York City and she said 'I think you are crazy for considering a tour. You have no idea what's going on because you're sheltered in Idaho.' I was devastated to make that call. We rescheduled it several times."
Jewell's recording career dates began with her first album Boundary County in 2006 and two with the Sacred Shakers gospel group.
"The Sacred Shakers got together for a reunion show in the Boston area in 2017," Eilen recalled.
"We could do it again but everyone scattered."
CODEINE ARMS
"A belly full of codeine will bring the high spirits down/ and the spirits in my glass will wash the codeine down/ and when the shotguns ring I won't feel a thing/ I won't feel a thing, I won't feel a thing/ Oooh codeine arms/ wrap around me safe and warm/ under the light of your sweet charms/ save me, save me, codeine arms." - Codeine Arms - Eilen Jewell.
Jewell revives a few of her older songs on her tour including Codeine Arms.
"We don't perform Codeine Arms very often but people ask for it a lot," Eilen explained.
"We should start playing it again. It was one I wrote a long time ago before I was in a band. I'm still drawn to it even though it's fallen off the set list.
"It's the same with My Hometown, we haven't played that live in a couple of years. It's a good problem to have so much material from so many years. It's hard to decided what to play. Some songs just fall by the wayside."
And what about her historic version of Eric Andersen's classic Dusty Box Car Wall ?
"Eric is still with us. I know people who know him and he was not very keen on my version as it was not very faithful to the original. I respect him as a songwriter and his opinion of course. It's easy to tweak. I never get sick of that song. It's one of my favourites to play. We gave it a rhythm like a train car going by with the futility of writing a letter to someone on the wall of a dusty box car."
Eilen and her band began their 12-concert tour March 3 at Archies Creek Hotel, Victoria and play Melbourne, Sydney, Brisbane, Canberra, Port Fairy folk festival before their final two concerts at the Blue Mountains Folk Festival on March 17 and 18.
See our concert guide for show dates and venues.