DAVE'S DIARY - 1 MARCH 2014 - ERIC CHURCH INTERVIEW
ERIC CHURCH RIDES WITH THE OUTSIDERS
"The Outsiders, they're the in crowd, we're the other ones/ it's a different kind of cloth that we're cut from/ we let our colours show, where the numbers ain't / with the paint where there ain't supposed to be paint." - The Outsiders - Casey Beathard-Eric Church.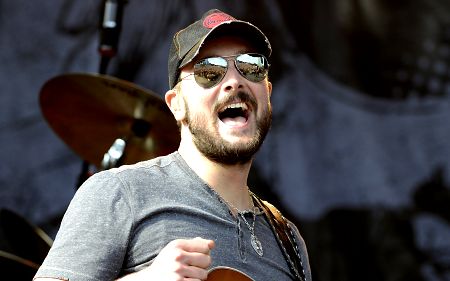 History frequently repeats in country music - especially the outlaw genre - and Eric Church hit horrific hurdles as he rode in the slipstream of heroes who bucked the Nashville system in the seventies.

He was bounced out of the prestigious Rascal Flatts tour in 2006 on his first ascent to stardom and then became embroiled in verbal fisticuffs with Blake Shelton, singing spouse Miranda Lambert and Shooter Jennings when he boomeranged onto the scene.

But the North Carolina born singer-songwriter believes being replaced by latter day superstar Taylor Swift on the Flatts tour was a blessing in disguise.

"That was a defining moment in our career," Church, 36, told Nu Country TV in a call from Nashville as he promoted his fifth album The Outsiders.

"It again goes back to what I say in our story. When we got fired from the Flatts tour they were the biggest act in music at the time. It's probably the worst thing you can, as a brand new baby act with one single out, is get fired from the biggest act in music. It certainly was a problem for us for a while - we were seen as trouble makers. A lot of country clubs and other places wouldn't let us play there. We were kind of banned. When you've got to do that you make it through to the other side and you very much evolve by that path and sticking to your guns and making sure you stick by what you believe. It makes you feel much better about it on the other side."

That's not the other side that Tom Pacheco wrote about when a character in one of his songs ascended to the gates of heaven and hell after being shot by a cocaine dealer and having his pockets picked by a priest.

But that's not unusual for the Granite Falls born singer who graduated from Appalachian State University with degree in marketing and on January 8, 2008, married music publisher Katherine Blasingame in Blowing Rock, North Carolina, and sired a son.

The Outsiders topped the all genre Billboard 200 chart on debut by selling 288,000 - almost twice the debut week for third album Chief.
SHEL SILVERSTEIN AND THE DEVIL
"And there stood Billy Markham, he'd been on the scene for years/ singin' all them raunchy songs that the town didn't want to hear/ he'd been cut and bled a thousand times, and his eyes were wise and sad/ and all his songs were the songs of the street, and all his luck was bad/ "I know you," says Billy Markham, "from many a dark and funky place/ but you always spoke in a different voice and wore a different face/ while me, I've gambled here on Music Row with hustlers and with whores/ and, Hell, I ain't afraid to roll them devilish dice of yours." - The Devil And Billy Markham - Shel Silverstein.
Church's biblical songs on Chief earned him huge sales and a brace of awards that saw him back inside the tent - on his own terms - and the luxury of releasing a live album in the interim.

Eric started writing for The Outsiders in 2012 on his Blood, Sweat & Beers tour.

So when he grew a beard and retreated to a cabin in the mountains of North Carolina for a month to write more songs he was energised.

The singer didn't want to reprise Chief so he and his fellow writers came up with a concept album of sorts with recurring characters prominent in his videogenic songs.
"We actually wrote 121 songs," Church confessed.
"We had to get it down to 12 - it was a long process. We knew we had the right content when at about 40 songs everyone started fighting with everybody about what would go on the album. I felt pretty good when we were fighting that early."

But it was another fight that cost him a song by one of his heroes - it also forced him to stay up for 48 hours to write an apt substitute.

That hero was the late Playboy cartoonist, prolific songwriter and author Shel Silverstein whose song The Devil & Billy Markham contained the birth of the outlaw spirit in Nashville in the seventies.

"We recorded The Devil & Billy Markham but we didn't get permission to release it," Church confided.

"But the core of his story led me to something that is on the new album Devil, Devil The Princess of Darkness. When Shel Silverstein's estate said they wouldn't' allow us to use it we had about three days to pull that portion of the album off. It's a big long thing we worked on painstakingly. We had to come up with something else - I had to stay up for 48 hours straight. It became The Princess of Darkness. For two days I had to write as hard as I could go. It's cool to see the characters come out in what I wrote - verses about what was happening at the time with The Devil And Billy Markham."

And, like Silverstein whose song became a stage show and play, it persuaded him to develop his album as a concept disc of sorts.

Sheldon Allan Silverstein who died at 68 on May 10, 1999, was a poet, singer-songwriter, cartoonist, screenwriter, and author of children's books.

He styled himself as Uncle Shelby in some works.

Translated into more than 30 languages, his books have sold over 20 million copies.

"People will see a theme," Church revealed.

"It's not a concept album but there are characters who develop on the album, they come in and out. The Outsiders title track is the most progressive rock thing done in country music.

After hearing that people thought the album would be like that but the album is more introspective. It's more intimate than people are expecting. It's made to be listened to as an album, not on shuffle. We have thoroughly thought through how to listen to it. That's what the album is - what it's made to be."
THE OUTSIDERS - VIDEO BEHIND BARS
"We're the bad news/ we're the young guns/ we're the ones that they told you to run from/ yeah, the player's gonna play, and a haters gonna hate/ and a regulators born to regulate when it hits the fan, and it all goes down/ and the gloves come off/ you're gonna find out just/ we're the Outsiders." - The Outsiders - Casey Beathard-Eric Church
Church released a teaser video for the title track that dropped from charts after being ignored by radio.

And, like previous videos and the late Porter Wagoner's music clip for the Johnny Cash song Committed To Parkview, it was filmed at the former Tennessee State Prison.

"The Outsiders was just the teaser for the title track," Church revealed.

"There's all the characters in the Give Me Back To My Hometown song and video who, in the course of the album, recur. As we release singles and videos people will get to see more about these characters - a lot of the storylines will be filled in. There's an ongoing drama throughout the album that will continue to develop. The Outsiders video might come back at some point in time. We filmed at the old Tennessee State Prison where we did the Homeboy video. There's also a song on the first album - Lightning - where we filmed its video. It's a great place - it has got a lot of great history. It had that vibe. Every time we've been there has that energy, some bad, that we tried to capture. The people shooting video feel it. I feel it. Any time you are doing anything artistic you feel it - you make sure you can transfer the energy over to the people involved."
GIVE ME BACK MY HOMETOWN
"You can have my grandma's locket, the knife outta my grandpa's pocket/ yea my state champion jacket, I don't care you can have it/ every made memory, every picture, every broken dream/ yea everything, everything, everything/ Give me back my hometown, cause this is my hometown." - Give Me Back My Hometown - Eric Church- Casey Beathard-Luke Laird.
When Church shot the video for new single Give Me Back My Hometown he headed south-west to New Mexico but not Albuquerque that has become a tourism mecca after enjoying the infamy of being the locale for the shooting of the Breaking Bad TV series.
The video, directed by Peter Zavadil, features Church singing as an ominous story plays out, including a priest presiding over a roadside funeral in a rundown part of town.

"Give Me Back My Hometown was shot in New Mexico, out in the desert," Church explained.

"It has a very dark feel in the song, there is a dark undertone to the song and what's going on in the video. The first time you watch it you are a little bit confused. That's how we want it. But when you watch it a few times the story will develop with these characters. I have never done anything like this before, never gone in at the start of an album and basically laid out every single and video from the front side. We have already done that and shot that. It's all been done - the female lead and the other characters will recur. They come in and out - you will find out more about them as the album develops."

Church appears in several scenes as he performs the song on the outskirts and doesn't interact with the characters, but his presence is a force that is felt throughout.
There are scenes of Church singing in the sunlight and in a darker space, while the backstory of a young and bearded man attending a roadside funeral is seemingly told out of sequence.

Church wears signature aviator sunglasses as a result of wearing contact lenses.

When his career started, he was forced to deal with heat from stage lights drying out his contacts.

As he began performing in larger venues, his aviators and Von Dutch denim trucker hat became his signature trademark.
A MAN DESTINED TO DIE YOUNG
"I like fast cars and sharp dreams/ chased a lot of crazy things/ left behind my share of broken pieces/ this morning I turned 36 & when you just remember half of it/ you wonder how you out lived Hank or Jesus." - A Man Who Was Gonna Die Young - Eric Church-Jeremy Spillman.
Church confesses that another new song A Man Who Was Gonna Die Young is definitely autobiographical.

"Right now that's one of my favourite tracks I've done in my career because it's very personal," Church explained.

"I'm 36 years old. It talks about when I was first playing bars and clubs in my youth I thought I'd never make it to 36. It talks about all of a sudden you've got a couple of grey hairs. You never thought that would happen to you. It's a real vulnerable real song. I'm not one of those artists trying to dye their hair or bleach their teeth to look 25. I'm proud I'm 36. I've earned it. I've been through a lot of battles. That's one thing about this record - the honesty about who we are artistically. We didn't try too hard to exploit our previous success."

But Talledega is memorable for a different reason.

"People think it's about NASCAR," Church says of the city famous for its motor racing.

"It's not. It's about an experience built around the town - an interesting storyline."

So is the song Broke Record.

"That was where this rhythmic low piano comes in and out this record," Church added.

"It makes an appearance - not melodic at all. It's rhythmic, very primal. It's about getting a memory stuck in your head and you can't get it out - just like a broke record, just over and over. A funky little tune."
BURNING THE JOINT
"The only joint my momma burned was on the rural route/ she parked in old man Taylor's woods so she wouldn't be found out/ turned off her dome light and snuck off by herself/ crouched down beneath that window, fired it up and gave it hell." - The Joint - Eric Church-Casey Beathard.
Church credits the late Oklahoma legend J. J. Cale as the inspiration for the album finale The Joint.

"J.J. Cale had just passed away and I was a big J. J. Cale fan," Church recalled.

"We wanted to capture the J.J. vibe. When we recorded The Joint we had him in mind artistically. This is really about a mother who got tired of a father not coming home at night. He would hang around in beer joints every night, hang around and drink with his buddies. One night the mother sneaks out and burns the beer joint down. The gist of the song is that's the only joint my mother ever burned. It's an interesting twist - I want people to chuckle at that. It's a play on words."

Maybe reminiscent of Merle Haggard classic I'm The Only Hell My Mama Ever Raised.

But equally a sibling of Smoke That Smoke - an unlikely hit after Church fought his record company to release it as a single from his 2009 album Carolina.
As Dylan once said "money doesn't talk, it swears" - the huge success of the hit silenced the record company.

Eric, like Shotgun Willie Nelson and fellow Texan singing crime novelist Kinky Friedman, has become an avid advocate for the use of marijuana.
OUTLAW YOU
"I'm a long gone Waylon song on vinyl/ I'm a back row sinner at a tent revival/ but she believes in her bible/ and loves me like Jesus does." - Like Jesus Does - Casey Beathard-Monty Criswell.
Although Church copped flak from Shooter Jennings and some critics for allegedly invoking the names of his late father Waylon and Johnny Cash in vain on his previous album Chief on the songs Like Jesus Does and Country Music Jesus there's no chance of a recurrence here.

"No, I don't name check Waylon and Johnny Cash," Church confessed of his blatant outlaw influences.

"No, it's just what I do. I always know there's gonna be people who love it and people who don't. I've been doing it long enough now I just don't care. That's just what I do and that's it, being an authentic journey into who we are is what I do. I'm not gonna change. The outlaw term is recycled. It's not just that. It's true that our brand of music has become popular over the last year or two but it hasn't always been that way. There was eight years before that when what we were doing was not something people recommended. We were beating our heads against the walls in bars and clubs. The industry really kept us at arms-length. They wouldn't let us in, they wouldn't let us on the shows, wouldn't let us on the radio. I certainly fought the battles and paid the price creatively. All those guys you mentioned though, Billy Joe Shaver, Jerry Jeff Walker, Waylon & Willie, Ray Wylie Hubbard, they've all been heroes of mine. Sometimes we get caught up in trying to rename something that we've been doing in this generation. We are whatever you want to call us - the new beacon."

None of the infamy flame slowed down the success of the church of Eric's choice.
TAYLOR SWIFT
"We need a second hand coming worse than bad/ some longhaired hippie prophet preaching from the book of Johnny Cash/ a sheep among the wolves there standing tall/ we need a country music Jesus to come and save us all." - Country Music Jesus - Eric Church-Jeremy Spillman.
Not even more mock shock when he did another teaser video One Will Rise And One Will Fall that featured Taylor Swift.

The video included footage of Swift on the 47th CMA awards show on November 6 joking about replacing Church on the Rascal Flatts tour.

Church also performed The Outsiders at the awards.

He was nominated for two awards - Male Vocalist and Musical Event of Year with Jason Aldean-Luke Bryan for The Only Way I Know.

"Taylor Swift is a great friend of mine, we're kind of connected," Church joked.

"When I got fired from the Flatts tour she was who replaced me. We've always had this point of connection. I'm very proud of that. I'm proud that was the moment we connected up. She went on to have massive success and we got banished out into the wilderness.

We've always had a great relationship and talked about that moment. It was never really about Taylor - the one thing we were trying to show there we were trying to make people pay attention. She talked on the CMA awards about me being fired and how she got her first big gig with Flatts. We just wanted to use that so people would remember that was part of our journey - it connected us and shed light on our path and where we came from.

It was cryptic in that it came at the time The Outsiders was falling off the charts and Give Me Back Our Home Town rose up. We were being cryptic there which you'll see again when we release more videos and the fun. I love the mystery - I'm a big Stephen King fan. I think those things for fans are a lot of fun. Taylor was great about it - she played a long with that and it was awesome and she helped us out with it."
JEDD HUGHES
"It was a perfect day for the end of May/ they say a record high/ I was staring at the green water when out of the blue and by surprise/ she had her feet up on the cooler as she put her love on ice/ she grabbed a beer, said I'm out of here/ and walked out of my life." - Cold One - Eric Church-Jeff Hyde-Lynn Hutton.
Church also praised expatriate Adelaide singer-songwriter and guitarist Jedd Hughes who played acoustic guitar, mandolin and banjo on Chief and Carolina.

"Jedd Hughes was on my previous two albums," Church said.

"He's one of my favourite people. We still talk from time to time. The difference is my producer Jay Joyce and I are doing most of the guitar work on this album. We've done it a little bit different sonically - something we've not done before. When people listen to it they'll hear it's not Chief Part 2. Just because we had success with Chief we didn't want to turn and redo it. We wanted to do something different. It had to be a departure."

Church cites other influences for Cold One.

"It's one of my favourite songs on the album," Church recalled of the tune with a salient sting in the tail.

"I grew up a big fan of The Band and Little Feat. That song captures that era - it will be a single."
Church hopes to tour Australia this year to promote The Outsiders.

"We've been such a slave to the touring in the U.S. we've not been able to really stop," Church added.

"Not only Europe but Australia very important to me - you're going to be seeing us there"

What about his next single and video?

"I can't tell you that," he joked.

"It will continue to develop. There will be a few clips in between that will lead people to what is the next one."

But it won't be the videogenic Swimming Back To Alcatraz.

That didn't make the album released here by EMI on February 11.

Neither did other songs recorded including the following unchosen few.

A.M., Beer, Beer Party, Party, Beer Buzz, Better Place, Cool Became Me, Cowboys & Indians, Don't Ever Grow Up, High, I Am American, I Finally Found Me, I Spent A Week There One Night, If It Rocks, Jenny, Just Go, Makin' Good Time, Miss Her Til She's Gone, More Of A Man, My Back, Your Knife, Old Friends, Old Whiskey, Old Songs, What Ya Got Goin' On and Where She Told Me To Go.

And, as promised, Church has now released a lengthy new video of a song but it's not on his album.

San Destino Rising: Movimiento De Una is a powerful story that leaves more questions than answers.

It begins with the date January 10, 2014 at the sombre graveside funeral also in his previous video.

As the service proceeds the video cuts to a heated exchange in a garage, with time stamp January 4, 2014.

In the garage an attractive, older well-dressed woman warns man he has "five days to get what I want" and has to "do it my way."

It then cuts to December 21, 2012, with a young blond woman also seen at the funeral entering a seedy bar, obviously in distress.

She makes her way to the back of the bar where she encounters the same older woman who appeared earlier in video.

As she quietly begs for a second chance the older woman scoffs at suggestion and says, "This time, you are going to have to show me that there are no bounds and restrictions on what you will do for me," before telling the young woman to "go, because you'll know when I need you."

Church hints on his Facebook page the story "reveals the San Destino townspeople secrets" but he is puzzled.

"I don't understand it either," Church confessed.

"There's storyline so basically everybody you see in the Give Me Back My Hometown video, all the characters, they each have story line and they all relate to each other."

CLICK HERE to win Church's album Chief on our membership page.
CLICK HERE to read another Church feature in the Diary on October 18, 2011.
CLICK HERE for an earlier Church feature in The Diary on February 9, 2009.
CLICK HERE for an exclusive Shooter Jennings interview on the faux outlaw furore in The Diary on April 28, 2012.