DAVE'S DIARY - 3 MARCH 2012 - TIM MCGRAW CD REVIEW
2012 - CD REVIEW
TIM MCGRAW
EMOTIONAL TRAFFIC (CURB-SONY)
MCGRAW BORROWS HALO FROM EXPAT AUSSIE
"Baby, I'll let go when you say so/ try to let your heart fly free/ I'll crawl out of my cradle/ down in to my black hole/ and you just lay low, under your halo." - Halo - Jedd Hughes-Luke Laird
Singing superstar and actor Tim McGraw may have played his best role in his protracted battle to have his 11th and final album released by Curb.
The Louisiana born multi-millionaire tucked in this dozen-track album almost two years ago - after Curb released a brace of Greatest Hits.

So was it worth the wait?

Well, diehard McGraw fans will soak up his radio friendly vocals on a staple diet of country pop aimed at the mushrooming crossover market that has pushed his career sales way beyond 40 million.

Inclusion of a sweet duet with fellow actor and R & B star Ne-Yo on Only Human - forgiveness and hope in a world full of broken dreams - is a cool catalyst for that outreach.

The duet even includes the album title in the body of the lyrics.
But let's start with vitriolic guitar driven entrée Halo - penned by expat Adelaide guitarist Jedd Hughes and Luke Laird - and adorned with pedal steel by Dan Dugmore.

Hughes, no stranger to adding his talents to touring Texan artists diverse as Rodney Crowell, Jack Ingram and Guy Clark and fellow expats The Greencards, has a nice little earner.

The album debuted at #1 on Billboard charts.
Hughes, who toured here last year with fellow singer-songwriter Sarah Buxton as Buxton Hughes, returns solo at the CMC Rocks The Hunter Festival in March.

It's a family tradition of sorts - McGraw's singing spouse Faith Hill also recorded a tune by expat Port Douglas singer-songwriter Kylie Sackley.

But Halo finds McGraw's character playing a subservient role in shadows of a domineering damsel who dispenses with his charms.

Not exactly torn from the back pages of real life although, at 44, he some times plays second fiddle to his wife and three daughters.

McGraw shares production with long time studio czar Byron Gallimore and explores the positive love song formula with Felt Good On My Lips - the first hit from this disc - and Right Back Atcha Babe.

In swampy organ daubed The One he has a leer not a sneer when he sings "give me some of that cotton candy."
McGraw croons with wife Faith on One Part Two Part, written by soul singer Big Dee Irwin.

They offer the following recipe for love: "One part right, and two parts wrong."

It's a fast cooker of sorts.

OK that's a quick glance at the entrée - what about the grist that fuels the McGraw mill.

There's nothing to equal his version of Texan Bruce Robison's Angry All The Time, Cowboy In Me and Red Rag Top from days of yore.
BETTER THAN I USED TO BE
"I know how to hold a grudge/ I can send a bridge up in smoke/ And I can't count the people I've let down/ the hearts I've broke, you ain't gotta dig too deep/ if you wanna find some dirt on me/ I'm learning who you've been/ ain't who you've got to be/ it's gonna be an uphill climb." - Better Than I Used To Be - Bryan Simpson-Ashley Gorley.
McGraw's regret fuelled latest single Better Than I Used To Be was once perceived as a cryptic comment on his bitter parting with Curb.
But the song's history - it was the title track of fellow Louisiana singer Sammy Kershaw's 10TH album released on August 31, 2010 - suggests it's a multi-purpose track.

Thrice-wed Gubernatorial candidate Kershaw - one of his singing spouses Lorrie Morgan sprinted to the altar six times - failed to dent charts on an indie label.

Kershaw, 54, and Morgan, now 52, had better luck as duet partners and solo artist earlier in their careers when Lorrie's singing spouses included Ron Gaddis, Keith Whitley and Jon Randall Stewart.

McGraw has made a video to accompany his latest hit so there might be a few clues there.
He also recorded four tunes by his Florida born Dancehall Doctors road band veterans Brett and Brad Warren - I Will Not Fall Down, Hey Now and The One.

Hey Now exploits a last call for love dance hall pick-up line "Hey now, it don't seem that late now/ I thought the party was windin' down/ gonna stay now, alright /bring the Tanqueray out".

I Will Not Fall Down - where Kansas chanteuse Martina McBride is also a co-writer - is an introspective song about getting older that aims to be inspirational.

McGraw turns it into a powerful paean, ready made for radio.
TOUCHDOWN JESUS
"Old man was losin' his battle with the liquor/ then he stumbled into church one day and found something bigger/ beat the devil at his own game, and he poured him down the drain, yeah/ Touchdown Jesus." - Touchdown Jesus - Rhett Akins-Dallas Davidson-Ben Hayslip.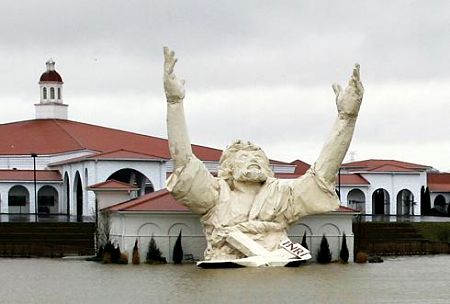 Touchdown Jesus is a biblical parable by Georgia's prolific peach pickers Rhett Akins, Dallas Davidson and Ben Hayslip.

The trio developed a metaphor from a southern Ohio landmark struck by lightning and burned to the ground while Emotional Traffic stalled on the Curb shelf.

More than $700,000 damage was caused after lightning struck and burned down a 62-ft-high Jesus Christ statue and adjacent amphitheatre at Solid Rock Church on June 14, 2010.

The church rebuilt the iconic King of Kings statue - dubbed Touchdown Jesus - valued at $300,000 but couldn't resurrect the fish fried in the adjacent pond.

In the song McGraw thanks the Lord for miraculously rescuing a needy little girl and delivering an aging alcoholic from his dependence on the bottle.

It may resemble old country staples that breaks up rhythms of romance - but not quite as memorable as embryonic hit Don't Take The Girl.

The hook heavy quasi gospel tune has suffice roughage to leap the radio moat and be a single - a new millennia Indian Outlaw with grid irony, so to speak.

Salient song sequencing may catch the eye and ear of critical listeners.

First there's McGraw singing about how Jesus inspired a lifelong alcohol abuser to pour his addiction down the drain.

Three songs later he's celebrating arrival of a pretty young thing on the dance floor with a round of Tanqueray.
DIE BY MY OWN HAND
"Sex in the city, Indian food; I never tried 'em, not until you/ But it's looking like you left me with some habits I can't break/ I feel kinda guilty whenever I cuss/ I lay in bed at night and I think about us/ maybe it's because of all the love you taught me how to make." - Die By My Own Hand - David Tolliver-Chad Warrix-Rivers Rutherford.
But McGraw's delivery of narratives has more impact than love syrup.

The One That Got Away - tale of a small town girl wanting to be a star - is reminiscent of Texan Miranda Lambert's Famous In A Small Town.

It was released as a digital single when the album surfaced in January.

McGraw sounds credible as the heroine defies small town constraints and decamps to pursue her musical dreams.

"You got your head in your supper/ and the eyes of your mother, baby
locked on you/ everybody wants a piece of you, oh yeah/ and your phone keeps ringing/ Cause your cousin's singing at the local bar/ everybody wants to be a star, Just like you are."

The Ne-Yo duet on Only Human - sibling of sorts of Over and Over - his 2004 duet with rapper Nelly - segues into self-deprecatory finale Die By My Own Hand.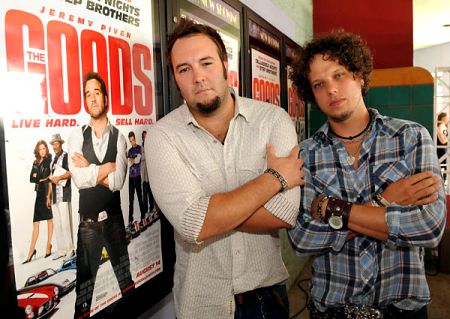 Halfway to Hazard
The metaphorical ode to man's self sabotage of romance was written and previously recorded by Dave Tolliver and Chris Warrix of East Kentucky raised duo Halfway to Hazard.

Hazard County is half way between the duo's homes in their native state.

The duo opened for McGraw and Hill on their 2007 Soul 2 Soul tour and cut it on their debut album, produced by McGraw and Byron Gallimore.

It was there McGraw heard the song and spread publishing royalties by including it on his disc.

The duo, now in hiatus, also opened for McGraw and Aldean on their Live Your Voice tour.

McGraw's invigorated finale is a statement of sly regret.

"You changed me, baby/ given enough time, girl, you might have saved me/ but then again, you might have just gone crazy."

McGraw demonstrates his interpretive skill when he sings "girl I don't blame you for nothing/ I'll always die by my own hand."

The singer is unlikely to do that in real life despite being told by Curb his disc was out of date when he delivered it.

Only time and radio will tell.

McGraw's second Australian tour with Faith Hill and Texan Eli Young Band will expand sales before he returns to movies and cuts an album for a new label.

Sadly, Hill's eighth album Illusion won't be out for the tour after being set for February 28 release.

CLICK HERE for an exclusive McGraw interview from the Diary on May 23, 2010.