DAVE'S DIARY - 8 /3/11 - DINGOES KERRYN TOLHURSTINTERVIEW
DINGOES AND ERNIE
"Though I grew up on a side street/ I knew there was a main highway/ I never saw the traffic/ but I heard it rolling by each day/ there was something in the air/ that made me wanna venture out/ Stand By Me, Maybellene, Twist and Shout/ I was walkin round at midnight/ I thought I heard the sun explode/ but it was just the thunder/ comin down Damascus Road." - Damascus Road - Kerryn Tolhurst.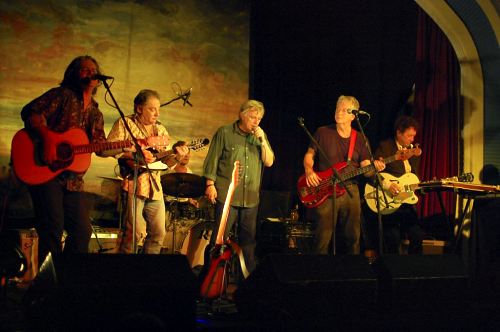 Dingoes Live at the Caravan Music Club - photo by Tim Chuma
Legendary Melbourne country rockers The Dingoes attracted diverse crowds on their resurrection tour.

But, among the celebrities and music lovers in their audience, there was one notable absentee.

No Ernie Dingo.

So will the equally iconic TV host, namesake and music buff be invited to The Dingoes finale Melbourne concerts from April 1-3?

"We'll have to see where he is," guitarist-songwriter Kerryn Tolhurst told Nu Country TV as he promoted the band's gigs and double tour CD Live At Last (Liberation.)

"He hasn't been around but then again we probably haven't been in his neighborhood.

That's understandable, I guess."

The band may film a farewell show for a finale DVD but had not chosen a support act at the time of this interview.

Sadly the paths of Tolhurst, now relocating to Melbourne, and fellow Country Radio singer Greg Quill never passed on their summer tours.

"Everywhere he was we were somewhere else, it wasn't planned that way of course," Tolhurst said.

"When we played in Sydney a couple of the other guys from Country Radio turned up - Chris Branchflower and John Bird. That was good."

But unlike production client Shane Howard in his Goanna era there has not been a flood of footy stars at Dingoes gigs.

"We don't hang out with undesirables," quipped Tolhurst whose band worked with Joe Cocker and George Thorogood at the postponed Day On The Green concert at Rochford Wineries in the Yarra Valley.

They also share billing this weekend at the famous 35th Port Fairy folk festival with U.S. country artists Rosie Flores, Tim O'Brien and Justin Townes Earle and homegrown stars The Waifs, Kasey Chambers, Shane Nicholson and Shane Howard.
MOVIES
"Way out west where the rain don't fall/ got a job with the company
Drilling for oil/ Just to make some change/ Living and a` working on the land." - Way Out West - Kerryn Tolhurst-Dingoes.

Although Tolhurst doesn't have a publisher he has landed another song in the new movie Mad Bastards co-produced by the Pigram Brothers in the Kimberleys.

"I have a song - an instrumental Villeret - in their movie Mad Bastards," Tolhurst revealed.

"It was a song I recorded with them about 10 years ago for an album called Sheer that I produced in Broome. Thought it was suitable for that. "I also want to do an album with Steven Pigram more than anything,"

Historic Dingoes hit Way Out West - the Tolhurst-Dingoes collaboration - was used in Geelong born Guy Pearce's movie Red Dog.

The movie - based on Louis de Bernieres' 2002 novel about a hitchhiking Australian red kelpie - was filmed in Pilbara region of WA.

Way Out West enjoyed a second chart-topping bout for James Reyne and James Blundell in 1992.

The song boomeranged 37 years after its birth - just like the band that toured to promote its fourth album Tracks after a 30-year hiatus.

Tracks was released by Liberation Records - operated by Melbourne music mogul Michael Gudinski who released the Dingoes first album in 1974 on his fledgling Mushroom label.
LEE MORGAN CD
"Dead hawk, dead snake, old ghosts that I can't shake/ black crow barbed wire/ spider crushed by a worn out tyre/ earth turns to dust, dust turns to sand." - Ribs Of The Land - Broderick Smith-Matt Walker.
Tolhurst has produced the latest album by Shane Howard protégé and fellow Shipwreck Coast singer-songwriter and guitarist Lee Morgan.

"Lee is Archie Roach's nephew and a great singer and guitar player," Tolhurst said of the young gun who was also host of the Nu Country FM indigenous country music at Beer Can Hill.

"He had a bunch of songs and we made an album. It came up really well and is being mastered right now. We did that here in Melbourne at Platinum and mixed it at Mixmaster in Adelaide.

He wrote about eight songs for the album.

He also did a Shane Howard song Heart Of My Country and a song by a guy from America - Kostas. He's written a lot of No 1 hits in Nashville and is a friend of mine from over there."
Kostas, a prolific writer, is author of hits by the other famed Kentucky Coalminer's Daughter - Patty Loveless.

"Kostas had a great song Crying In The Rain that Lee did," Tolhurst added.

Greek born Kostas Lazarides, discovered in Montana in the eighties by former Presley pianist and producer Tony Brown, is a prolific hit writer.

He has penned a brace of hits for artists diverse as Dwight Yoakam, The Mavericks, Dixie Chicks, Travis Tritt, Martina McBride, McBride & The Ride, Marty Stuart, Sammy Kershaw, Jo Dee Messina and Holly Dunn.

He has also released two solo albums - the first self titled on American Records in 1980 and XS In Moderation on Liberty Records in 1994.

Tolhurst also dipped into the past for one of his tunes on the Morgan disc.

"He also recorded a new song of mine - I Volunteer."

So how new?

"Well, I wrote it about 10 years ago when I was in New York."

Tolhurst added guitar, pedal steel and mandolin to Morgan's album that also featured Dingoes touring band members Chris Copping on piano and Ashley Davies on drums."

Morgan is one of many indigenous artists that Tolhurst has worked with.

"Lee won an indigenous music award in Western Australia last year and part of the prize was to do an album with a producer and get the record out," Tolhurst said.

"He chose me to produce it. We were in the studio for about a week."

Tolhurst lured Shane Howard from Killarney on the Shipwreck Coast for his 12-song 10th solo album Goanna Dreaming.

"Shane came to Tucson and we cut the tracks there," Tolhurst explained.

"It was a nice change for Shane to get out of the country and work in a different environment with different musicians. It gave it a different feel - probably has a feel of the place on the album."

It also features members of the Howard family, Warrnambool musicians Richard Tankard, John Hudson and Andy Alberts, Neil Murray, Amy Saunders, Bart Willoughby and Broome based Pigram Brothers.
THE HITS
"When the stakes weren't high enough/ it's not worth the life you take on some foreign shore." - Not Worth Fighting For - Kerryn Tolhurst
Although Tolhurst, a prolific writer of hits diverse as Pat Benatar Top 5 smash All Fired Up and Little River Band's Man On Your Mind, has no active song publisher.

"I tried that once but it didn't work," joked Tolhurst.

Now that Tolhurst has relocated to Melbourne he is available to produce other artists to follow past projects with Cyndi Boste, Chris Wilson, Jeff Lang, Paul Kelly, Russell Crowe and The Black Sorrows.

Sadly one of his U.S. clients died during the Dingoes latest tour.

Legendary blues guitarist and harmonica ace Eddie Kirkland was killed in a Florida car crash accident at 87 on February 27.

The Jamaican born artist, father of nine and known as the "gypsy of the blues," perished when his 1998 Ford Taurus was pushed into the path of a Greyhound bus near Crystal City.

Tolhurst played on Kirkland sessions during his New York era and also produced belated solo CDs by veteran singer Jimmy Norman - co-writer of the Stones hit Time Is On My Side.

"I have produced a couple of albums for a guy named Jimmy Norman, an older R & B singer," Tolhurst said.

"He lives in New York. He was co-writer of Time Is On My Side and was in The Coasters. He was a R & B singer back in the sixties but never found fame, a great singer and great song writer. He has written a bunch of songs for Bob Marley over the years - well respected but never broken through. He had all these songs lying around in his apartment - they were going to throw them out in a garbage bag. We rescued them all at the last moment so we saved and shaped them. It was one of the great pleasures of my career - that project."
THE LIVE ALBUM
"Sumac weed on the railroad track/ all the way here and all the way back/ a big red wing is diving on a big old crow/ the world is at peace for all I know." - Rollin Around The Sun - John Bois.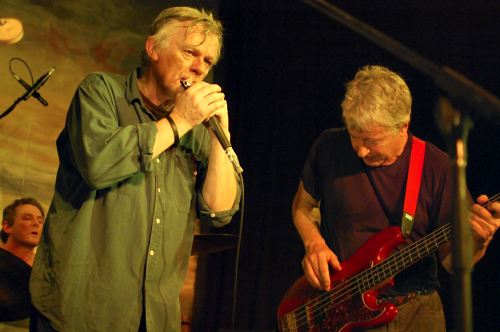 Dingoes live at Caravan Music Club - photo by Tim Chuma
The Dingoes may not be bigger than The Beatles but a misprint on their live CD slick lists Tim Chuma's photos taken at the Cavern Club.

"No that was the Caravan Club at Oakleigh RSL," Tolhurst joked.

Not Liverpool.

The 18-track album, recorded at Norwood Hotel on August 20 and Northcote Social Club on August 25, includes a mix of old and new songs.

They reprise classics Way Out West, Boy On The Run, Smooth Sailing and Sydney Ladies and new tunes from fourth studio album Tracks.

The Dingoes play Prince Of Wales - April 1, Caravan Music Club Oakleigh - April 2 and Williamstown RSL - April 3.

CLICK HERE for their full schedule in Tonkgirl's Gig Guide.