DAVE'S DIARY - 24 MARCH 2010 - LIL' BAND O' GOLD INTERVIEW
LIL BAND O GOLD GLITTERS
"Down in the land of dreamers and dream states/licence plates are stamped by Angola inmates/it takes a big man not to belittle/sun's coming up on your acquittal." - The Last Hayride - CC Adcock-Jimmy Macdonell.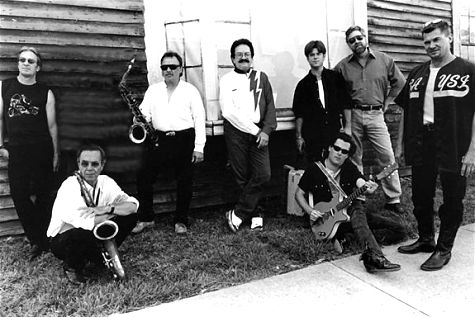 Louisiana swamp pop supremos Lil Band O Gold want to make one thing clear.

They did not take their monicker from the classic 1915 Fatty Arbuckle comedy movie that shares the same title.

And the octet is not a devotee of the late celebrated centenarian actor and singing governor Jimmie C Davis.

"I'm a little too young to remember that movie," co-founder Steve Riley, 47, and acclaimed accordionist told Nu Country TV on the eve of his band's debut Australian tour.

"Jimmie Davis was before my time, too. The name of the band was thought up by a friend of ours late at night."

Fatty and Jimmie may have been too early for Riley but not drummer Warren Storm, 73, - a solo artist and revered performer.

Storm, born in Vermillion Parish, Louisiana, has scored a brace of hits since breaking on U.S. charts in 1958 with The Prisoner Song that sold 250,000 copies.

He also played on blues hits by Lightning Slim, Slim Harpo, Lazy Lester, Lonesome Sundown and many more.

Lil Band O Gold has built its reputation as a dynamic live act.

But it's destined to be renowned for The Last Hayride - a vitriolic song about four time Louisiana Governor Edwin Edwards who celebrated his 80th birthday in jail in 2007 mid-way through a ten-year sentence for racketeering.
JAMES LEE BURKE
"Chicken in every pot - every man a king/ so kiss a nun on the lips for me/ just like I told ol' vigilantes/ "hey baby, we're both good underneath the sheets." - The Last Hayride - CC Adcock-Jimmy Macdonell.

Lil Band O Gold is touring Australia to promote its second album The Promised Land and accompany documentary DVD.

Dust Devil Music - based in Geelong (home of the greatest team of all) - released the CD here this month, before its U.S. launch.

Riley hasn't yet added to three Grammy nominations he scored in another of his bands The Mamou Playboys.

They have released seven albums in a 21-year career that started in the famed New Iberia Parish.

New Iberia will be familiar to readers of James Lee Burke crime novels.

Burke's 1993 book In The Electric Mist With Confederate Dead primed a 2009 movie starring Tommy Lee Jones with Louisiana blues icon Buddy Guy and The Band drummer Levon Helm in cameos.

"I haven't read his books but I know of the movie," says Riley whose band co-founder C.C. Adcock scored films and appeared in 1997 crime movie Night Orchid, set across the border in Ochopee, Florida.

The lead character can see murders from the past and solves a 40-year-old murder mystery.

That movie was filmed in Lake County, Florida.
C. C. ADCOCK
"Even if you walked on water/the last hayride is over/even if your picture's on the dollar/your last hayride is over/but when there's no money left to steal/no oil left to grease the wheel/we're both lying at least I tell you I am, cher/trust me - I believe in Louisiana - The Last Hayride - CC Adcock-Jimmy Macdonell.
Adcock, a Buckwheat Zydeco guitarist and Bo Diddley sideman, appeared in TV show True Blood, performing I Don't Wanna Know - the Bobby Charles song also on this band's new album.
Riley plays three accordions on stage and has done Australian shows with former Asleep At The Wheel pedal steel guitarist and ABC radio-TV host Lucky Oceans on tours with his Playboys.

Steve and guitarist singer Adcock formed Lil Band O Gold in the late nineties in the Swampwater Saloon in Louisiana capitol Lafayette and cut its self-titled debut disc on Shanachie.
In 2006 Tarka Cordell - son of veteran A & R man Denny - began a DVD docco on the band, The Promised Land - A Swamp Pop Journey.

It scored acclaim at the famed Cannes film festival and SXSW in Austin, Texas.

"That was quite a surprise, it got a lot of attention," Riley said in a call from his home at Breaux Bridge, known as the "crawfish capital," in south Louisiana.
THE LAST HAYRIDE
"So pull the rooster for the working man/I'll keep that rice growing/the oil flowing and the good times a'rollin'/just call me little Napoleon." - The Last Hayride - CC Adcock-Jimmy Macdonell
So has The Last Hayride - a song about 50th Louisiana Governor Edwin Edwards who served four Gubernatorial terms before his jailing in 2002 on racketeering charges.

Edwards began his sentence in Cowtown - Fort Worth, Texas - before being transferred to Oakdale, Louisiana, where he turned 80 in 2007.

The former Governor is due for release in July 2011 before he turns 84.

"That's one of my favourite songs on the record," said Riley who read the 1984 book of the same name by John Maginnis.

"Edwin Edwards was very popular here. He did a lot of good work for the people.

There's a theory here he was framed. I'm reading another book on him right now and it suggests that."
So did Edwards share a love of music with two-time Louisiana Governor Jimmie C Davis - writer of classic hit You Are My Sunshine - who died at 101 on November 5, 2000?

"I'm not sure, but he was very busy with politics and business," said Riley, discovered at 13 by Dewey Balfa, and given his first accordion by second cousin Mark Savoy.

"There are photos of him with Elvis and Bob Hope in this new book."
GOVERNOR DAVIS - MOVIE SUNSHINE
"While you was tappin' down sorority row/back at the mansion they were tappin' the phones/if the feds indict/it just means you did your job right, didn't it?" - The Last Hayride - CC Adcock-Jimmy Macdonell
Edwards was the 50th Governor of Louisiana - his four terms were 1972-1980, 1984-1988 and 1992-1996.

That's twice as many as any other Louisiana governor.

He was also Louisiana's first Catholic governor in the twentieth century.

Ironically arch foe the late Dave Treen - Republican Governor 1980-84 - urged both former President George Dubya Bush and his dad to help gain early release for Edwards.

Treen wrote the foreword for the new Edwards book despite a 1983 jibe by Edwards that he was so ponderous and slow it took him "an hour and a half to watch 60 Minutes."
Jimmie Davis's gubernatorial reign - 1944-48 and 1960-1964 - may pale in comparison.

But he trumped Edwards with longevity and singing and movie career.
Those movies included Strictly in the Groove (1942), Riding Through Nevada (1942), Frontier Fury (1943), Cyclone Prairie Rangers (1944), Louisiana (1947), Mississippi Rhythm (1949) and Square Dance Katy (1950)

The Last Hayride should never be mistaken for Louisiana Hayride - the iconic TV and radio show.

The latter first hit radio airwaves on KWKH in Shreveport Municipal Auditorium on April 3, 1948, and became a TV show.

That was the launch pad for many country artists and retreat for late Hank Williams who debuted in August, 1948, when banned from the Grand Ole Opry in Nashville.

It was also a career cradle for the late Elvis Presley.
SPOON BREAD
"A silver fox with a golden tongue/ man you played it smart when you kept us dumb/ yeah you really kept us dumb." - The Last Hayride - CC Adcock-Jimmy Macdonell.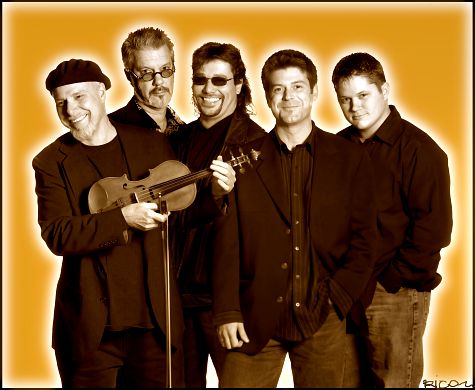 Steve Riley & The Mamou Playboys
Riley revealed Adcock and pianist David Egan wrote most of the original songs on the album.

"Evangeline is an old Cajun waltz by Lawrence Walker that we rocked up," Riley added.

"David is a prolific songwriter down here, writing songs for Joe Cocker, Irma Thomas, Percy Sledge and many others. He's a great writer."

Egan's other clients include Etta James, Johnny Adams, Mavis Staples, Marcia Ball, The Fabulous Thunderbirds and many others.

Although Cajun music and cooking is a south Louisiana staple entrée song Spoon Bread has origins in the north of the state.

"We all sing a verse in that song," Riley explained.

"We've got a kaleidoscope of voices in there. It's the first song on the record."

The new disc is daubed with hefty doses of country - Hard Enough and Hold On Tight, 1981 hit for ELO.

Riley is in big demand as a session player - he performs on four songs on Eric Clapton's new album, recorded in New Orleans.

"That was a lot of fun," says Riley.
COMEAUX EXITS RIVER ROAD
"Now you've got bones buried everywhere/ and bars across your view/ and ignorant children picking cotton down here/ ain't never caught no glimpse of you." - The Last Hayride - CC Adcock-Jimmy Macdonell.
So how much of this is tempered by lauded pedal steel guitarist Richard Comeaux who also plays in local country outfit River Road?

"Richard is the best pedal steel player down here, he also plays in a honky tonk band High Performance with me in local bars and clubs," said Riley.

"That's a side project made up of three of the Mamou Playboys and three other guys."

So is he related to Nashville country star Amie Comeaux who died at 21 in a car accident on December 21, 1997, en route to her Louisiana home?

"I don't think so," said Riley.

What about the rest of the band?

Prolific writer Tommy McLain, 70, is credited as founding father of Swamp Pop music.

In 1966, with the Boogie Kings, he cut a record for Floyd Soileauis's Jin label that resulted in multi-million smash hit Sweet Dreams.

The multi instrumentalist appeared with Paul Newman in the movie The Drowning Pool and wrote late Freddy Fender hit If You Don't Love Me (Leave Me Alone.)

McLain also inducted late Governor Jimmie C Davis into the Louisiana Political Hall Of Fame.

The ordained Catholic Minister has toured with the Rolling Stones, ZZ Top and Yardbirds and spreads gospel of love and music on his weekly radio show on Radio Maria from Alexandria, Louisiana.
TWIN SAXES
"Even if you walked on water/even if you're the working man's podnuh/ even if your picture's on the dollar/even if - you're the Guv'nor." - The Last Hayride - CC Adcock-Jimmy Macdonell.
Jazzman "Dickie" Landry, 68, played sax with artists diverse as Bob Dylan, Mick Jagger, Paul Simon, Phillip Glass, Laurie Anderson and The Talking Heads.

Born in Cecelia, Louisiana, he was also a pioneer of conceptual art and installations, with Richard Serra, Gordon Matte-Clark and Rauschenberg in the early 60s.

Fellow saxophonist Pat Breaux emerged from the South Louisiana Cajun honky-tonk scene.
He tours and performs with BeauSoleil, Red Beans & Rice and Adcock.

Pat is the grandson of Cajun music pioneer Amade Breaux - credited with writing Louisiana's unofficial state anthem Jolie Blon.
Guitarist Lil' Buck Senegal, 70, was born in Lafayette, Louisiana, and still lives in the same house on St. Charles Street.

He has played guitar with Percy Sledge, Alan Toussaint, Joe Tex and 14 years for late zydeco king Clifton Chenier.

Buck recorded several solo albums including wry The Buck Starts Here, with Alan Toussaint - classic cuts include funk fuelled Cat Scream and Monkey in a Sack, recorded in 1967.

Bassist Dave Ranson has previously toured here with John Hiatt & The Goners - his band for 25 years - and lives on a houseboat in the bayous.

Lil Band O Gold plays Apollo Bay Music festival March 27, Meeniyan Hall - March 28 - Northcote Social Club - March 29.

CLICK HERE for Tonkgirl's Gig Guide for full tour dates.