DAVE'S DIARY - 28 MARCH 2009 - RODNEY CROWELL INTERVIEW
RODNEY CROWELL - DAY OF THE JEDD
"There was a world outside my door/ I wasn't in touch with anymore/ there was a way I used to feel/ I knew what was and wasn't real." - You Won - Rodney Crowell-Keith Urban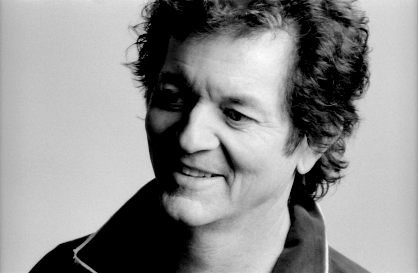 Rodney Crowell has plentiful reasons for touring Australia two decades after his first singing spouse Rosanne Cash.

The Texan born troubadour-producer has long nurtured careers of expat Australasian superstar Keith Urban and hot shot South Australian born guitarist Jedd Hughes.

But Hughes, 26 and better known in the U.S. than the homeland he left at 18, won't be playing in Crowell's band.

The latter day Tennessean poached Quorn born Hughes from Patty Loveless's band about five years ago.

"Jedd has played off and on with me for the past five years," Crowell, 58, told Nu Country TV.

"I met him with Patty Loveless. He couldn't come with me this time so I'm bringing Will Kimbrough. He played with Billy Joe Shaver and Todd Snider."

Hughes, 26, released solo disc Transcendental in 2004 on major label Mercury.

He was discovered by Texan Terry McBride when studying for his country music degree at South Plains College in Levelland near Lubbock in West Texas.

"We wrote a couple of songs together that Jedd recorded," Crowell said.

"I had a band where he and Will were duelling guitar Gods. We had a lot of fun. He's a good lad, I love that guy."

Hughes also guested on Texan Ben Atkins second disc Mabelle, produced by fellow South Australian refugee Kym Warner.

Warner and Coffs Harbour chanteuse Carol Young also played and sang on the disc after working West Texas bars before they founded the Greencards.

So it's no surprise Hughes songs adorned Greencards CDS and he collaborated with Crowell's touring partner Felicity Urquhart and played on the title track of her sixth album Landing Lights.

URBAN MEMORIES
"I wanna sleep with you forever/ and I wanna die in your arms/ in a cabin by a meadow where the wild bees swarm." - Making Memories Of Us - Rodney Crowell
Crowell is even more indebted to Urban who turned Making Memories Of Us into a lucrative Valentine's Day present for his second singing spouse Claudia Church.

He wed Church in 1998 - six years after meeting her when she was hired as an actress for his video Loving All Night.

The father of four produced North Carolina born Church's self-titled 1999 disc.
"Keith did a real bang up job on that song," Crowell added.

"He really brought it to a broad audience - it was #1 on charts for six weeks over here. It was pretty big."
So did Crowell live the life of Riley on the royalties of the hit from Keith's 2004 disc Be Here?

"No, but I was able to buy Claudia a real present the next year," he confided.

"Keith's a hard working lad - he probably could live the life of Riley if he wanted to. If I know him he's somewhere working as we speak."

GOLDEN ROAD
"I'm living in a world that won't stop pulling on me/ I'm not complaining but it's true/ it's like I owe my time to everyone else/ cause that's all I seem to do." - What About Me - Rodney Crowell-Keith Urban.
Crowell and Urban also collaborated on What About Me and You Love on his 2002 Golden Road disc.

"What About Me was written when Keith was going through a time when there was a lot of demand and pressure on him," Crowell said.

"He was probably thinking about I've got to find some time for me just to have a life. So we wrote that as we were talking about it. You Won - if you really look at that song. We started talking about spirituality and You Won is spiritual song. It works on two levels. It could be a love interest having worn you down and finally getting you to come around, or it can be finally surrendering to the love and care of a benevolent God."

Urban had God on his side when he celebrated 12 million album sales with a four-song cameo in BMI Publishing's Nashville HQ late in March.

Keith kicked off on Crowell song Making Memories Of Us and celebrated 10th #1 hit Sweet Thing from his 7th album Defying Gravity, out on March 31.

The singer, 41, was honoured for his 11 songs with 1-3 million plays each on U.S. radio.

Crowell recalled Urban, from his embryonic lawn mowing and menial day jobs, on arrival in Nashville in 1992.

"Yes, I knew him when he had a little band called The Ranch," joked Crowell whose side projects include recently resurrected Cherry Bombs and Cicadas.
ROSANNE AND THE HITS
"Well, I don't drink as much as I used to/ lately it just ain't been my style/ and the hard times don't hurt like they ought to/ they pass quicker like when I was a child." - Song For The Life - Rodney Crowell.
Crowell left Houston for Nashville in 1972 and played guitar in Emmylou Harris's Hot Band in 1975 with Ricky Skaggs, Tony Brown, Emory Gordy Jr. and Glenn Hardin.

He found initial success as a songwriter with songs covered by artists diverse as Waylon Jennings, Willie Nelson, Bob Seger, Nitty Gritty Dirt Band, Oak Ridge Boys and Crystal Gayle.

Seger had a top 10 hit in 1981 with Shame On The Moon - a song Crowell says he never finished.

And the Dirt Band used Crowell song - Voila - An American Dream - as an album title track.

The late Texan Waylon Jennings also cut Crowell's 1978 debut CD title track Ain't Living Long Like This.
His 1972 tune Song For The Life - a latter day hit for Georgian superstar Alan Jackson, was on his 1978 debut disc Ain't Living Long Like This.

"I don't drink as much as I ought to," is in the version Crowell sang live.

But it was "as much as I used to" when Alan Jackson recorded it.

"I wrote it as "used to." But that sounded so prudish. I sang it as "ought to." When I recorded it, Willie Nelson was in the studio singing that song with me. We were sitting there and I was thinking, "As much as I used to? I'm gonna say this in front of Willie Nelson? That seems so light." And "ought to" seemed more like the truth at time. So I sang it as "ought."

Sometimes now I sing it as "I ought to." I wrote that song in 72. It was 28 years later Alan Jackson recorded it. I thought that was a good thing. The song got to have a life cycle that I was talking about."
ROSANNE CASH
"A man stumbles home from a lost weekend/ it's not for me to judge/ woman gets stoned on valium and gin." - It's Not For Me To Judge - Rodney Crowell.
Crowell ascended to chart tops in the seventies and eighties as a singer-songwriter and duet partner-producer of Rosanne Cash - his wife from 1979-91.

His 1988 duet with Rosanne on It's Such a Small World was his first #1 hit.

He also produced Bobby Bare, Guy Clark and Sissy Spacek who played Loretta Lynn in the Coalminer's Daughter movie.

Crowell also had his first Top 10 Australian hit with Stars On The Water in 1982.

His third single Ashes By Now only hit #78 in 1980 but was later a hit for Lee Ann Womack.

He formed the Cherry Bombs (whose members included Tony Brown and Vince Gill), and backed him and Rosanne on their hit albums.

Vince Gill joined Cherry Bombs after cutting three albums as lead vocalist for Pure Prairie League.

Crowell's biggest commercial success was 1988 disc Diamonds & Dirt - it produced five #1 country singles including Grammy winning After All This Time.

The first time Crowell used his life to inspire an entire album was Life Is Messy in 1992 - the year he and Cash divorced.

After a greatest hits package ended his term with Columbia, he cut a pair of MCA albums - Let the Picture Paint Itself in 1994 and 1995's Jewel of the South before re-signing to Warner where he recorded his first three albums.
JOE HENRY
"If I could have just one wish/Maybe for an hour/ I'd want to be a woman /And feel that phantom power". - The Rise And Fall Of Intelligent Design - Rodney Crowell.
The new millennium found Crowell fleeing the mainstream with a quartet of Americana style concept albums.

His narrator on 2001 disc The Houston Kid was an amalgam of characters from his childhood, including himself.

He followed with Fate's Right Hand in 2003 and The Outsider in 2005.

But his 20th album, Sex & Gasoline, produced by fellow singer-songwriter Joe Henry in 2008, was unique.

"That's what Sex & Gasoline is about," says Crowell.
"I started with that song and Truth Decay and I Want You, and that became the pervasive thing, thematically, that I was looking for. I had some other worthwhile songs that I canned because I thought maybe they belonged on another collection of songs."
He surrendered production reigns to Henry who toured here in January.

"It was not a minute too soon," Crowell said.

"It's the best thing that ever happened to me in my whole life. I won't be producing any of my records in the future. I don't feel any angst. Now I can play the guitar, sing and not worry about anything else."

Well not really - Crowell wrote all 11 songs on the album and, like fellow Texan born Guy Clark, is a perfectionist.

And, he also indulged in a gender - not genre reversal - in The Rise And Fall of Intelligent Design with the character having dreams of being first female president.

"When I was writing that album Hilary (Clinton) was making her bid pretty strongly," Crowell said.

"That's where that line if I could be first female president came from. All through writing of that record was born out of a lot of pain. I had somebody, very close to me, teetering on the edge.

Yes, a female family member. When I'm happy, glad, sad, I generally write songs about it. I had the good fortune and misfortune at the same time of writing a lot of songs out of pain. When I write an album I tend to write 10-12 songs that deal with one central theme."

JUNK FOOD HEIRESS
"Poor little rich girl, junk food heiress/ born in Fort Worth, raised in Paris/ well listen honey, screw the money." - I Want You #35 - Rodney Crowell.
Crowell draws on reality for his song sources with a raft of clues without impaling subjects on the media cross.

So is the "junk food heiress from Fort Worth" in I Want You #35 a descendant of some southern Colonel, Maccas mogul, dunking doughnut damsel or a tawdry Taco belle?

"She is based on a real person, not fictionalised," Crowell joked.

"She shall remain blissfully free of me pegging her."

A much more tender singer trades verses with Henry in paternal paean I've Done Everything I Can.

Henry provides the friend's voice.

"The way the world came at you, left you bitter and confused /the more I tried to guide your path, the more you just felt used."

He reaps narcotic nostalgia from gentility of The Night's Just Right with an old fashioned girl who treats him right as his fear of mortality kicks in - a sibling of sorts to Forty Winters where the femme fatale faces her fate.

Crowell ignites passion, not just nostalgia, in celebratory and rollicking Funky & The Farm Boy - where the frolics in a "no-tell motel," aided and abetted by a female choir, energise the mood swing.
CLOSER TO HEAVEN
"I hate Hummers, chirping news anchors, buzz words such as dude and awesome, sushi, smoking grass, pyjamas, golf, fame, long lines, tassled shoes, slick politicians." - Closer To Heaven - Rodney Crowell.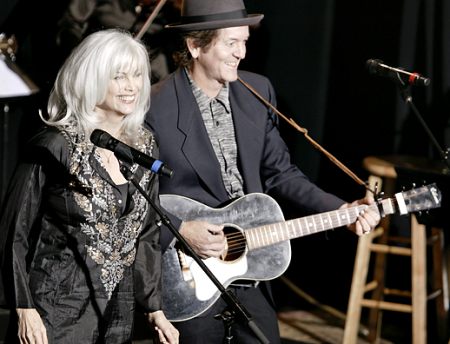 The latter day resident of Tennessee civil war town Franklin and husband of singer-actress Claudia Church, lists his pet hates and loves in his vitriolic song Closer to Heaven.

So what does Crowell love - Claudia and children, friends Sissy Spacek and Guy Clark and biscuits and gravy?

I ask if he has seen BBC Series Grumpy Old Men.

"No, but I think I would qualify," Crowell laughs.

"I took some poetic licence in that as I do like Hummers."

But what about chirping news anchors?

"I believe chirping news anchors are going to bring us down, no matter how big a disaster they're still chirping along," Crowell says.

And what about his reference to the herb superb?

"I smoked so much grass in my day I'll be stoned for the rest of my life without ever having to smoke it again," Crowell confided.

"I'll never catch Willie. I quit and Willie kept going. There was a time when I could have matched him.

And the lyric about Guy Clark whom he spent a lot of time with in his Texas era?

"I spent a lot time with him in Texas in the early days, I spent a lot of time with him last night," Crowell added.

"I have been writing with him. We wrote Home And Dry on his new album that is due out in August. He's just really good."
THE GOOD BOOK
"Grew up in Houston off the Wayside Drive/ song of a carhop
in some all night dive/ dad drove a stock car to an early death/ all I remember was a drunk man's breath." - I Ain't Living Long Like This - Rodney Crowell.
Crowell is also finishing his first book, dating back to his Texas childhood in Houston's channel town.

"It's a 380 page manuscript and I'm working with my editor to get it down to 340 pages," Crowell said.

"It has almost nothing to do with my musical career, more about my grandparents, particularly my mother and father. We lived in the Crays - a working class side of town. It's the reckless shoot from the hip culture I came from. Those cultures produce vivid characters. I'm lucky I grew up around such a wealth of those characters. My father, grandmother and a couple of uncles were musicians. My dad had a band J.W. Crowell and Rhythmaires, and that was my first gig, as drummer. But I wasn't very good."

So what about an accompanying docco or movie?
"It's a narrative that weave into secondary narratives that create the arc of a story," Crowell said.

"It's too early for me to speculate on that."

Crowell and Claudia retreated to Montana to polish his script and her screenplay.

"Claudia is in her fifth or sixth draft," Crowell said.

"The more you do it the more skilled you become - the more particular you become. I would say she's pretty close to having a script. She's written it all over the place - Florida, Montana, Ireland, Tennessee. I'll be writing when I'm in Australia. All my Australian friends - and I have a few - love pop culture. People from pop culture are a good hang."
WYNONNA, DIERKS AND CHELY COVERS
"When all our tears have reached the sea/ a part of you will live in me/ way down inside my heart/ days keep coming without fail/ a new wind's gonna find your sail/ that's where your journeys start." - Please Remember Me - Rodney Crowell-Will Jennings.
Crowell, a more prolific writer than Clark, has a rich royalties stream flowing from CDS, movies and TV shows.

Louisiana born superstar and latter day actor Tim McGraw had a huge hit with Crowell's 1995 song Please Remember Me.

"I would venture to say Tim McGraw probably had lived it, in some way," Crowell said.

"I don't know a lot about his history, but I'll bet he's got one."

The hits continued - for other artists.

"I have the normal flow of people recording my songs, normal ebb and flow," Crowell said.

"I never specifically write songs for people. I write songs with people. I learned a long time ago the best songs are those written just for the purpose of writing a song. If you called me and said write a song for Keith I doubt if I could do it - not a good one. I could write a song but I doubt it would be a good one. Wynonna Judd has one of my songs Sing on her new album that just came out. Dierks Bentley (touring here with Brooks & Dunn in May) cut one recently. So did Chely Wright."

Crowell recently produced Wright's seventh disc Broken.

"We made a really interesting record with her," Crowell added.

"It's an all acoustic record. She wrote every song - it came out really good. We recorded it at Treasure Island in Nashville. I wrote one song with her - Heavenly Days. We wrote it after sessions - we needed one more song so wrote it together and then added it to disc. It was something she wanted to say - part of her narrative. I hope you get to talk to her to ask what it was about."

Crowell also produced Elizabeth Cook's fourth album Balls.

Rodney and fellow Texan born singer Nanci Griffith added their vocals to Down Girl.

CHERRY BOMBS
"She used to call me baby, I thought she was such a lady/ but my how things have changed since times moved on/ I'd give her my last dollar and now all she'll do is holler/ oh my life has become a country song." - Its Hard To Kiss The Lips At Night That Chew Your Ass Out All Day Long - Rodney Crowell-Vince Gill.
Crowell has no plans to reform the Cherry Bombs - the eighties band he resurrected for one album in 2002.

The group core - Crowell and Vince Gill - crossed genders in drag in the hilarious video clip for their tongue in cheek hit.
"Vince was also in drag," Crowell joked.

"My daughter called me and said 'I don't know how to tell you this but you're the ugliest woman I've ever seen.' Cherry Bombs are all too old to go out and promote another record. But Vince and I are on an album on Bob Dylan's label. All artists co-wrote songs with Hank Williams Sr. Vince and I worked on that. We wrote a song called I Hope You Shed A Million Tears that turned out really well - we've very proud of that. You can imagine I would pride myself writing with Hank Williams."
What about the Cicadas who released their self-titled 1997 CD? "Steuart (Smith) is constantly touring with The Eagles," he said.

"Michael (Rhodes) has played on nearly every record I've ever made. I doubt that we would record again. I told those guys I'm a benevolent dictator in studio."
DONOVAN COWART
It's a far cry from Crowell's first trip from Houston to Nashville in 1971.

"Donovan Cowart and I made a record in Crowley, Louisiana, with this drunk producer,' Crowell recalled.

"He took 8-track masters to Nashville, thinking he would get a big deal. He wound up selling it all to Surefire Music - Wilburn Brothers' company - for $100. And he got a bus ticket home to Houston. He called us and said, "I've signed you to a 10-year recording contract with Columbia Records and you're going on tour with Kenny Rogers & The First Edition. Get up here." We got up there, and he was already headed back to Houston.

"Donovan and I found Surefire, waited until lunchtime, went in and stole the tapes. There was a girl in the office. Donovan's a charming lad - he went in and started working on her. He was the decoy. They were on top of a filing cabinet with the song publishing agreement. I swiped it all, walked out and said "well, we did that. Now what do we do?"

Maybe Crowell and Ohio born Kim Richey, both touring here with Felicity in April, will write with her.

Felicity and Richey collaborated on All Good Fun on her 6th album Landing Lights.

CLICK HERE for Tonkgirl's Gig Guide for tour dates.