DAVE'S DIARY - 17 JUNE 2004 - INTERVIEW WITH SARAH HARMER
CANADIAN CHANTUESE CHILLS OUT FOR VIDEO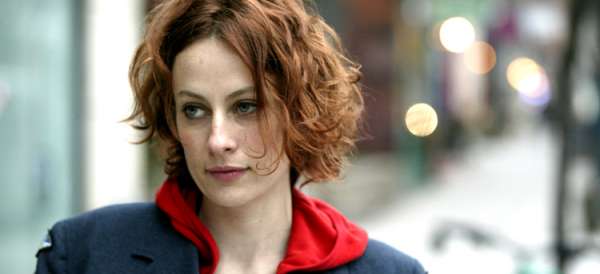 Sarah Harmer
"I've been under the paper you were writing on/ you left your impression long after you were gone." - Almost - Sarah Harmer.

Canadian chanteuse Sarah Harmer puts her heart, soul and body on the line when she makes video clips to promote her music.

"We made the video for my single Almost in Montreal when it was 40 degrees below," Harmer, 33, told Nu Country in a call from Ontario on the eve of her second Australian tour.

"We were all in huge parkas, we had to keep door open for cables and lights. It was the middle of January in the coldest place in world at that time."

The singer has boosted her profile in Canada, U.S. and Australia with a brace of videos and TV appearances.

Harmer, like Kasey Chambers, enjoyed a sales spurt after appearing on Letterman and landed one of her songs in popular TV nocturnal TV show Six Foot Under.

"They used Basement Apartment from my album You Were Here," revealed Harmer, "they used the whole song for one of their episodes. It's a wonderful show on HBO."

Harmer, whose videos won exposure here on shows diverse as Nu Country TV and Pay TV channel CMC, also scored with new tune Silver Road in comedy movie Men With Brooms starring Leslie Nielsen, Molly Parker, Polly Shannon, and writer-director Paul Gross.

TRAGICALLY HIP
"The director Paul had The Tragically Hip working in the movie and on the soundtrack with him," Harmer said.

"I wrote the song and went to the Tragically Hip studio and recorded it with them. It was in two spots including the closing scene. I re-recorded if for my new album and changed the arrangements."

It's a rich reward for a career that began as she studied at Queens University in Kingston, Ontario, before joining the Saddle Tramps.

"When I was 17 I joined a band that had already existed for a year or two, but I started to sing at bars and stuff like that." Harmer revealed.

"I saw Tragically Hip play and that was really exciting, and I really thought they were awesome. As a band collective, they were really cool. So it just kind of evolved, but I did always have music as the thing I sang in choirs and did some musicals, so I was always hamming it up."

< Sarah Harmer
Harmer then made three records with Weeping Tile that featured her sister Mary and a duet country disc with Jason Euringer.

"She played in the band for two years, and when I was recording this last record it was kind of an after thought, but I thought it would have been great to have her," Sarah said.
"I was staying at her place a lot the whole time we were recording, and had a lot of different friends playing on it, but she just had her first child a year ago."

Weeping Tile released an EP in 1994 and two albums in 1995 and 1997.

QUAKER VALLEY
Harmer recorded her third album All Of Our Names in her Quaker Valley home with boy-friend producer Marty Kinack after cutting a song for a CBC radio show in his Toronto basement studio.

"Norah Young, whom I'm a fan of, used to host Coast To Coast and asked me to write a song about greed - one of the seven deadly sins," Harmer said.

"I wrote Took It All the day before it was due. Marty Kinack, who did the whole record with me, produced it at his basement studio. It took me couple of hours to write. I had to sit and do it until I finished. I recorded it right away. I played the drums, bass and guitar. It was very exciting to have a new song so quickly."

The song was reprised for the album she cut in the studio of her home in Quaker Valley near college city Kingston where she graduated from university.

"I live in old house with two wood stoves," says Harmer, "the laundry was a vocal booth, the bedroom the control room. We turned the fridge turned off when we recorded."
SONGS WITH CLEM
Sarah, youngest of six children returned to the family farm in North Burlington, Ontario, to record the sequel to her 1999 disc Songs For Clem - a tribute to her dad not intended for release.

But reaction was so strong she returned to the family farm where they grew up singing as a group after dark and at weekends.

"There's eight of us in total, and my dad was a farmer, but he was a violinist," Harmer recalled.

"My dad's got a beautiful, beautiful voice, and we hadn't recorded it onto tape anywhere.

He has always loved, really loved music, he's pretty shy but he loved to sing. We all went to church growing up and sang in the choir and stuff. My Mom used to have us do like The Candy Man. I'm the youngest of six kids, and we had like barbershop quartet hats and we'd go up the road to the nursing home and do songs. We'd do piano lessons, and went and played and practised our songs for the poor old people who had to listen to us."

Songs With Clem features her father singing and playing violin with his children and friends.

"My parents still live on farm, about an hour outside of Toronto," Harmer explained.

"We bought a mobile studio into my parents home and cut 12 songs over two days in October. My dad has a lovely voice and is singing on five of the songs. It was funny. We had a lot of friends over, playing banjo, mandolin and stand-up bass. At 10 p m my parents went off to bed. It felt like we were in high school and having a party on the sly as we added instruments while they slept. I wrote some new songs, country ditties, for the projects. The others were standards."
POETRY AND PEACE SONGS
Harmer, a prolific poet, performs an infectious country folk hybrid that owes much to her imagery.

Her poetic songs have an ethereal beauty reminiscent more of the Liverpool school of Roger McGough and Adrian Henri than the sixties American Beat poets.


"I don't know much about contemporary poetry," Harmer says, "I'm more a romantic era poetry lover.
Harmer played a solo show at the Cornish Arms in Brunswick on her debut Australian tour in 2002.

She has toured overseas with artists diverse as Blue Rodeo and Tragically Hip and is about to tour Canada with Josh Ritter.

And Harmer fans have a bonus on her return Australian tour.

This time Julie McDonald joins her for her Corner Hotel concert in Richmond on June 24.

"Julie is going to sing a lot and play flute, melodica and keyboards," says Harmer, 'she will be a major part of show. Last time I just showed up with guitar over my shoulder. It was a bit of an adventure. It was a great crowd, 200 people so quiet and attentive, and I was this solitary figure on stage. It was my first night with the record label (Shock.)

Harmer made three videos for her previous album and her songs are also in demand with peers.

"Luther Wright & The Wrongs do a cover of My Friend The Mountain, a bluegrass hoedown," says Harmer.
DANDELIONS IN BULLET HOLES

Harmer's eclectic music range from poetic love songs Pendulums and Almost to pacifist tune, Dandelions In Bullet Holes.
"I like to write something to help the world," says Harmer, "music can be a powerfully understated, subtle message to move you in one direction. I try to encourage positive human action to encourage positive human vibes. Sometimes it's cool to look at all that bigger stuff in a social context. Looks at history and human chain of positive work. But, you can say that everything is political - what you eat, what you spend money on, how you get around. It's still just a song, and music is supposed to be enjoyable, so I think it can be enjoyed simply on a musical level as well."

Harmer also impacts with the edgy Came On Lion - a cheating saga.

"That was about a character who is sort of stepping dangerous but very alluring," Harmer says.
"It was the oldest song on album. It was the easiest to record with stand-up bass, guitar and vocals. We added trumpets. On Greeting Card Aisle we had banjo. I wanted it to be white reggae meets country - a bit of a hybrid."

Harmer is touring to promote All Of Our Names on Canadian liable Zoe and distributed here by Shock.

See the Gig Guide for Sarah Harmer's Melbourne appearances