DAVE'S DIARY - 5 JULY 2011 - ADAM HARVEY INTERVIEW
HAIR OF THE DOG BITES WRITERS
"I woke up this morning looked in the mirror/ and boy, I nearly died of a fright/ I need a hair of the dog that chased me home last night." - Hair Of The Dog - Adam Harvey-Troy Cassar-Daley
Adam Harvey and Troy Cassar-Daley knew they would strike a chord when they wrote their hangover song - Hair Of The Dog.
They were also aware Texan honky tonker and frequent Aussie tourist Dale Watson has beaten them to the bar with his tune of similar name and sentiments.

"I had heard the Dale Watson song," Harvey, 36, told Nu Country TV as he promoted seventh album Falling Into Place.

"That's going back a few years - give me the hair of the dog that bit me. I remember that. It's the same old story. You think you are coming up with something new and then you find out it's all been done before. It doesn't matter what you try to do, someone's beaten you to it in the past."

That doesn't detract from the relevance of the song that sails on the ocean of drinking anthems on Harvey's album.

There's a revamp of the late Doug Mansfield's classic bar song One More Beer, The Bay Hotel about the singer's NSW Central coast local watering hole - and evocative finale Closing Time penned by another Texan tourist Lyle Lovett.
There's also a bonus on Itunes album version - Jerry Salley song Happy Hour Shouldn't be So Sad.

But the album is not all beer, bait and skittles.

Harvey also fleshes out his disc with homilies about values of family, fulfilling dreams about work and career, fishing and that other country staple - love.

But let's revisit that demon dog.

"It was Troy's idea, I wrote a couple of songs with Troy on this album," Harvey confessed.

"He said 'we should write one called Hair Of The Dog - that would be perfect for you.' I said 'why perfect for me?' He said we've all been there once or twice. We whipped up the song - it only took about an hour to write. It's the same old story. People can relate to that song - having one too many and then having to report to work the next morning with an aching head, feeling how it could explode."
ONE MORE BEER FOR DOUG MANSFIELD
"I've been sitting a while in this charming hotel/ it ain't closing time but I know you so well/ don't get excited you'll be quite relieved/ there's just one thing to get to before we must leave/ I think I'll buy one more beer/ buy one more beer and then let's hit the road." - One More Beer - Doug Mansfield.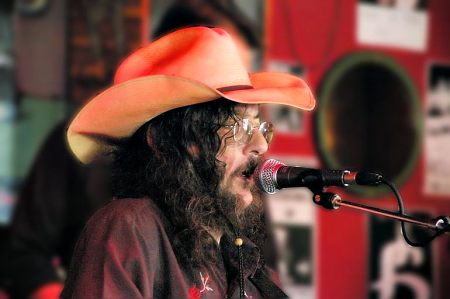 Doug Mansfield
Harvey also decided to exhume the precursor song One More Beer - penned by Melbourne singer-songwriter Doug Mansfield who died of pneumonia at 54 on March 19, 2009.

"I really loved the Doug Mansfield song One More Beer and his writing," Harvey confided.

"I loved that song for many years - sadly Doug's no longer with us. I never thought his song got the justice it deserved. One of the beer company's could have got onto it. Doug's upstairs now but I hope he's not too unhappy with our version, I hope he thinks it's OK - I met him but never saw him perform it live."

The Geelong born singer and former truckie is no stranger to bars - as a performer or patron.
BAY HOTELS - BY THE BUSHEL
"I know a place without social grace, I go down there all the time/ you don't need a suit, sandals will do/ and thongs on your feet are just fine/ there is no valet to park your coupe/ no courtesy bus to your door/ you've got it all here, there's three different beers/ who could ask for anything anymore/ at the Bay Hotel I know it way too well." - The Bay Hotel - Adam Harvey-Rod McCormack-Col Buchanan
So when he chose to record The Bay Hotel about his local NSW Central Coast watering hole it brought back memories of the Lady Bay Hotel on the Victorian Shipwreck Coast.

"The Bay Hotel here is the Bateau Bay Hotel," says Harvey, father of son Conway and daughter Laylah.

"I'm an honorary member of the Bateau Bay Fishing Club. The motto down there is they're a drinking club with a fishing problem - a great bunch of blokes. I played it for them when I wrote it. I invited them into the studio - singing very badly on some of the choruses so it came up perfect. It sounds like you're down at the pub in the thick of things. It's got that calypso Jimmy Buffett kind of a vibe. But it's equally relevant about the Lady Bay Hotel in Warrnambool.

I used to be elected to go in there when I was 15 because I was so tall. I was sent in to buy a few beers for us all. I took my wife Miss Kathy down there in my courting days when we lived in Terang. It would go down well down there."
HOOKED ON FOXTEL
"A fishing rod, a destination/ a couple cans of medication/ and just like my frustration is gone/ my woman says I'm a troubled man but she could never understand/ the simple pleasure of sitting here all day long/ a bad day's fishing could beat a great day working." - Hooked - Adam Harvey-Rod McCormack-Matt Scullion.
But it was the Bateau Bay pub that inspired the Harvey song Hooked.

"I love fishing," says Harvey.

"Just down the road at The Entrance is my favourite spot. I go down there whenever I can. A mate of mine Dave Butfield has got a TV show called Hooked - he said it would be great if I could write a song he could play on the show. I said 'righto then and I wrote Hooked. He has been using that as his theme song on his show on Foxtel."

What about the publishing royalties?

"Hopefully I'll get a couple more free trips away with Dave," joked Harvey.

Harvey is promoting his album on a national tour that includes Gympie Muster, Deni Ute Muster, a pair of cruises and a spring tour with Troy Cassar-Daley.
GEELONG - BUILT TO LAST
"Old Bill's been working in his one man workshop/fixing every car that's ever been made/ always jokes they're a lot like women / find a good one and you'll never ever trade/ said I always love the classic model from the good old days." - Built To Last - Adam Harvey-Rod McCormack
Built to Last - the album entrée - masters metaphors that echo Harvey's philosophy of life.

"It's about my mate Billy Brenner from Geelong," Harvey said.

"He was one of the mechanics at Hall Brothers where I used to work. We were good old mates.

He's one of those blokes that if he's helping to put a new engine together or pull it apart he would say 'take your time - do it properly - so when you put it back together it's gonna last.' If you do it right from the start it will last forever. It was nice to write the song as a tribute to Billy. It's the same in real life. Just do it bloody right whether you're putting together an engine or building a relationship or raising your kids right. If you do it right and put everything into it will last forever. He's gone now - no longer with us - he's up there with Doug Mansfield. He was in his sixties - from a different generation."
FALLING INTO PLACE
"Two country kids in love and living day to day/ trying to make ends meet in a little house with a baby on the way/ his music dreams were calling but he did not hear/ some times failure can be a young man's greatest fear/ she said I'm right here with you till the end/ and if everything falls over we'll just start over again" - Falling Into Place - Adam Harvey-Troy Cassar-Daley.
Equally reality rooted is the album title track Falling Into Place - penned by Adam and Troy.
"When I had a chance to move up here from Terang and get a record deal with ABC and all that we were quitting our jobs," he revealed.
| | |
| --- | --- |
| | "Kathy was pregnant with Conway at the time. I was really worried and a bit nervous. Kathy said let's just get up and give it a go. If it doesn't work out we'll start again. She bought me this lovely plaque that said 'as long as we're together everything else will fall into place.' I was telling Troy about it and he said what a great idea for a song - we whipped it up in less than an hour. It's one of my favourites. Troy was in a similar situation when he first moved away from Grafton. I remember being pretty scared at the time. People saying you're crazy giving up your job to be a country singer, you'll be broke in a month. It was scary times but I'm pretty glad Kath encouraged me to have a go at it. Luckily I haven't had to go and ask for my old job back in Geelong just yet, driving trucks earth moving equipment and excavators." |
BORDERTOWN
"I spend half my life on the open road/ and this old freight liner is a second home/ a six day ren feels like ten/ I can't wait to see that girl again." - Bordertown - Adam Harvey-Rod McCormick-Col Buchanan.
Harvey also reached back to the same era for Bordertown.

"Many years when we lived in Terang Kathy would ring me and say how far are you from home?" Harvey recalled.

"She would say I've got the fire lit and I'm waiting for you to get home for a little romance. I couldn't wait to get home. The other day I was driving from the airport and she rang and said how far are you from home? She said the kids are fighting and you've got to stop and get something for dinner, the dog's thrown up inside and the cat's gone missing. It's funny after ten years of marriage how things change. I said let's write it back in the early days before I was going home to sort out the domestics."

CONWAY TWITTY REPRISE
"In a world that's going crazy no-one cares any more/ I don't have the answers but one thing is for sure/ as long as we're together no matter what we face/ life will have a way of falling into place." - Falling Into Place - Adam Harvey-Troy Cassar-Daley.
The title track might be the follow-up single to the Jim Collins-Craig Wiseman penned Conway Twitty tune You Don't Know My Love.

"We made the video for You Don't Know My Love up here at Long Jetty which is right next to Batteau Bay," Harvey revealed. "I got a bunch of good friends together. Beccy Cole has a cameo dressed up as a bloke. It was a great day. She looks like Harry Butler or the Crocodile man or something in her khaki outfit. I have the original Conway Twitty vinyl version of the song. I have over 50 Conway albums. We named our son Conway after the great man. I always thought it was a great song. But it was never one of his big hits. Our Conway missed out on this video.

He was in the last few. He had his nose out of joint - he missed because the kids were all at school that day when we shot it. He was not too happy. Mike Carr and his wife and another mate Dave Prowst, who is a bush poet, were in it. He's just won a role in the new Underbelly series. I doubt I will be able to get him again for free. He plays a typical husband - some thing happens in the backyard and there's a shoot-out."
BECCY COLE - GOOD WOMAN
Beccy Cole performs a duet with Harvey on A Good Woman Can - a song they wrote together.

"Beccy and I were touring," Harvey recalled.

"We wrote the chorus on a previous tour about 5 or 6 years ago.

I said 'we should write the rest of the song.' I threatened to put those nude photos of her up on Youtube and she came over and wrote the song with me. So she sang the duet with me. It's a funny song - a bit cheeky - and it's going over well live."

The singer also revived two songs recorded by Randy Travis.

"I only heard Randy's version of Tony Martin-Mark Nesler penned Every Thing I Own Has Got A Dent," Harvey said.
"I have always loved it. It's a different spin on trying to get over the ex."

Dig Two Graves is somewhat more serious.

"I love that song," says Harvey.
"It's a killer ballad, it's not as sinister as it sounds. Sometimes I'm sure my wife might like to do that. It's not one of those cheesy lie wake art night and watch you breathe songs. I really don't get into those songs. It reminds me of Johnny Cash and June Carter. Johnny couldn't survive without her. It wasn't too long after June died before Johnny went too. It's a beautiful song."
CLOSING TIME WITH LYLE LOVETT
"So stack those chairs upon those tables/ and stack those empties upon that bar/ and count your money and county my money/ and hear those bottles ringing/ you know where you are " - Closing Time - Lyle Lovett.
And what about the finale - Closing Time?

"I brought the tickets to Lyle's Sydney concert but couldn't go as I was working," Harvey confessed.

"But my wife Kathy who didn't really like his music went and she was converted. I have always loved that song Closing Time. I recorded it. I wasn't sure it would work. It came up beautifully with Michel Rose and his pedal steel on there. It was a lovely way to finish up the CD."

Harvey has toured Canada and performed in the U.S. and Europe but has cut back on overseas tours.

"I'm doing a couple of country music cruises," Harvey added.

"A bunch of singers and country music lovers are going to New Caledonia. All we need is Captain Cook and it will be like the Endeavour when we're heading up to New Caledonia. I'm also doing another cruise in February. It starts in Sydney and ends in Perth. I have no real plans to go overseas. I have scratched that itch and I'm happy here. The food's better here - so are the people."

CLICK HERE for a previous interview with Adam in the Diary on November 5, 2009.
CLICK HERE for Tonkgirl's Gig Guide for Adam's festival dates.