DAVE'S DIARY - 24 JULY 2007 - TROY CASSAR DALEY INTERVIEW
TROY CASSAR-DALEY - MAN ON A MISSION
"We were born to survive outback life/ generations of toil and strife/ we don't know any other way/ when the sun beats down so damn hard/ and it's 40 degrees in the holding yards." - Born To Survive - Troy Cassar-Daley.
When indigenous country music star and TV personality Troy Cassar-Daley performs in outback and rural areas he exploits his not so secret weapons of mass distraction to break the cycle of alcohol and drug abuse and exploitation of young peers.

Cassar-Daley also uses his web page to encourage musical growth of Koori children by inviting them to perform at his sound checks and concerts.
"I get stacks of kids who visit my web site asking for advice," Cassar-Daley told Nu Country TV while promoting us seventh album Born To Survive on Essence-EMI.

"If I'm coming through their town I invite them to my sound check. We ask them to perform when no-one else is around so they feel comfortable. We test them at sound check and if they're really good I'll put them on stage at the gig in front of a crowd. Mate, I would have killed for an opportunity like that as a kid."

Instead Cassar-Daley busked on the streets of Tamworth at the age of 12 for tips.

"I know how it was when I started out as an indigenous kid," says the singer who was chaperoned by his Grafton guitar teacher Leonie Hayes.

"I didn't have a lot of confidence but by going to Tamworth it gave me an idea of how you have to be able to stand in front of a crowd and sing. I was busking. That was not the easiest thing in the world. I thought if I can get through the busking apprenticeship I'll be alright. I only knew about 10-15 songs but I learned that people were generous. Even if they thought you had no talent they would throw you some money."
TV AND TROY
"I rode the boundary of our place for the very last time/ then I was leaving for Sydney on the mail train I'd made up m mind/ when dad died in June never seen my mother so frail/ and three months later we had to put the family farm up for sale." - Family Farm - Troy Cassar-Daley-Colin Buchanan.
The latter-day star of Seven Network music show It Takes Two only earned $11 for his first street stint but the struggle paid off.

Cassar-Daley, now 40 and father of two children, has 13 Golden Guitars on display at the home and the farm retreat that he shares with his singing spouse Laurel Edwards - a commercial radio breakfast host on Brisbane station 4KQ.

And the singer's pro-active support of peers has been honoured with a Troy Cassar-Daley scholarship at the Tamworth TAFE annual Australian Country Music College course.

The scholarship funds an indigenous country music artist to attend the college, now in its 12th year.

"I was pretty chuffed about the scholarship actually, it's not often you get something named after you," says Cassar-Daley whose career was fostered by his mother Irene - a teacher - and his grandparents.

"I'm keen to get involved. I'd like to see one indigenous kid get through and see how they go. The college is important for development of younger artists on how to tackle it. It wasn't around when I first started out. But one thing everyone has realised over the years is there are no short cuts. There's hard work that has to be put in which is obvious. I want to be there to give them my angle on how I got through and what I did to achieve what I have so far. The TAFE course is accredited and serious. People are there for right reasons from young 16 to 17 year old kids to mature age students up to 35. They don't go there to muck around. I went through the college as a tutor."
MAMA TRIED
"We're getting ready to say goodbye to this fourth generation farm/ and all that's left of what we have is right here in my arms." - Walking Away - Troy Cassar-Daley-Don Walker.
Cassar-Daley, whose mother became a mature age art teacher after working buffet cars of trains, supports Government initiatives to tackle child abuse and alcoholism.

"First of all protection of our children is the utmost importance right now," he said.
"If it's a way to make sure kids are fed and clothed and not being abused I'm for all that. If that's the only way to go with it for a short-term fix I'm happy to go with it.
There are obviously people who say you can't tell people where they can and cannot drink but these communities have been destroyed by alcohol over many years. They have to try to make people self-sufficient and break the cycle. Both my grandparents worked hard to pay off their commission home. Now it's different with a cheque posted out every fortnight."

But Cassar-Daley believes there's room for controlled drinking in some communities.

"Some places I have been to people get to go to their canteen for a couple of hours and have a couple of drinks and it's all controlled," Troy added.

"They're not drinking all day and not allowed alcohol at the house. I have seen that work successfully and have felt comfortable in those places. I have been there for a week at a time. There is a two-hour window for a drink - you have a drink and the rest of the time you go out in the bush and fish for barramundi. That, to me, is an easier way to solve what is going on."
THE NEW VIDEO
"Now something's wrong, I don't feel the best/ something cold and heavy inside my chest/ I say keep driving, you say don't let go/ in this getaway car on the northern road." - Getaway Car - Troy Cassar-Daley-Don Walker.
Troy and fellow Grafton raised singer-songwriter Don Walker didn't have to look too far for a locale for the video of their new single, Everything's Going To Be Alright.

"We shot the video clip at this beautiful old Anglican church in South Brisbane," Troy revealed of the clip that will feature on Nu Country TV in August.

"We wanted to capture the whole gospel choir feel so we hired director Ross Wood and booked St Andrew's Church and a young Samoan choir for the evening. We also got hold of Wendy Matthews and Paulini, Dave Gleeson and David Campbell."

The single is one of two new songs on Troy's compilation CD Born To Survive that embraces the 28-year career of Cassar-Daley that began as a busker at the age of 12 on the mean streets of Tamworth.
Troy's use of videos as a vehicle for his songs is a salient signpost to his reliance on TV as a surrogate radio outlet.

ABC-TV featured Cassar-Daley as the focus of documentaries long before his leading role on two series of Seven Network TV show It Takes Two.

The singer has also hosted his own shows on PAY TV channel CMC and Nu Country TV on
C 31 in Victoria, South Australia and New Zealand.

Cassar-Daley had a cameo in the movie Race The Sun and frequently lands songs in soapies such as McLeod's Daughters and diverse lifestyle shows.

"They use my songs in lifestyle shows, especially the BBQ scenes," Troy joked.
ERNIE DINGO VIA THE CAPE
"I came down from the country on a long and lonesome road/ I was running from some trouble over horses they say I stole/ I never fired a shot in anger, there is no blood on my hands." - Wanted Man - Troy Cassar-Daley-Don Walker.
And his tour to promote his album dovetails with a high profile role with Ernie Dingo on another major wildlife show.

"The last thing I did was an indigenous special up through Cape Of North Queensland with Ernie," Cassar-Daley revealed.

"We saw some beautiful remote places and some walks people didn't know you could take.

We also discovered some cave paintings over 5,000 years old. They also used some of my songs in it."

The singer is hoping to add to those healthy royalties by asking his publisher to pitch his songs for the soundtrack of the new movie Australia, also being shot in the deep north of Queensland.

"I would love to get my songs in the new Baz Luhrmann film," he said of the movie starring Hugh Jackman and expatriate superstar Keith Urban's wife Nicole Kidman.

"It would be great if they could use some acoustic music from Australia."

And while touring to promote his 20-song disc on Nash Chambers label Essence he is writing for his new studio album.
SHIPWRECK COAST TOO
"I remember you close the back gate behind you/ say goodbye, watch the river running by you/ hear the whistle blow, you stand to go/ leaving everything behind you." - Factory Man - Shane Howard
He hopes to collaborate with Shane Howard and Andy Alberts during his Shipwreck Coast visit for the Tarerer festival at Killarney Recreation Reserve on November 10-11.

The festival began 11 years ago in the Framlingham Forest as a small musical soiree.

It grew rapidly because of interaction between local indigenous artists and peers such as Howard and Lake Bolac reared Neil Murray.

Further info - www.tarerer.com.au

"I want to get down there more often," Cassar-Daley revealed.

"The Gunditjmara people there have a wealth of knowledge of their area - it's also an incredible place to go and let the spirit fly a bit. I'd like to do some more recording at Shane's studio. Shane is talking to Nash Chambers about a project he is doing with Archie Roach at the moment. There is a stack of artistic stuff going on in Victoria that I get inspired by. Shane was a huge influence on me as a kid. He gave a lot of young indigenous kids in Grafton a voice with Goanna. We found where we belong through his music - we felt we didn't have a place at times musically but his music embedded in us there was music at the end of the tunnel. There was a future of us."
PAUL KELLY
"I left my home in a hail of blows/ and I went as far as I could go/ in my ears Daddy's words still ring/ if you walk out now, don't come back again." - Lonesome But Free - Troy Cassar-Daley-Paul Kelly.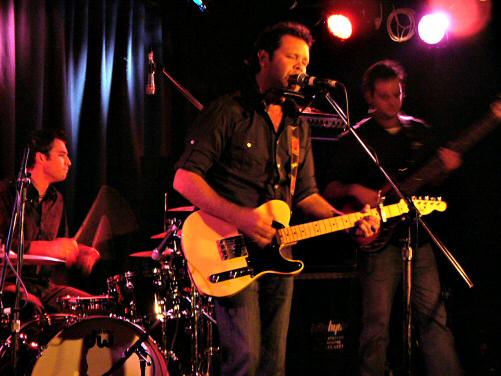 Troy Cassar Daley - Northcote Social Club
Troy's version of Howard's song Factory Man and a duet with Shane on River Boy - penned by Fred Carter Jr and a hit for Willie Nelson - are also on Born To Survive.

"I will also travel around early next year and plan to get together to write with a lot of artists such as The Pigram Bros in Broome and Paul Kelly in Melbourne," Troy said.

"I want to collect these new songs on the way around. I want to make it a have guitar will travel style collection of songs. You tap into something every time you go into the outskirts of these towns, you pick something up."

Cassar-Daley has also won many ARIA and APRA Awards and healthy CD and DVD sales despite being shunned by corporate commercial radio chains.

The singer has landed prestige support roles on tours by major artists diverse as Merle Haggard, Johnny Cash, Willie Nelson, Leanne Rimes and the Dixie Chicks.

Troy also toured the U.S. in 2006 with Emmanuel who duets with him on the Allman Brothers classic Ramblin' Man on Born To Survive.

His new disc further enriches cross fertilisation on duets with the late Slim Dusty on The Biggest Disappointment, Jimmy Barnes on Bird On A Wire and Paul Kelly on I Wish I Was A Train.

CLICK HERE for Anne Sydenham's review of Troy's launch of Born To Survive at Northcote Social Club.