TROY CASSAR DALEY & SHANE HOWARD - NORTHCOTE SOCIAL CLUB - 9 JULY 2007
It was a chilly night in Melbourne, but the warm intimate atmosphere of the Northcote Social Club band room, soon had everyone glowing, enhanced by the fine entertainment on tap there - the launch of Troy Cassar Daley's new CD, Born to Survive - The Best of Troy Cassar Daley.
Shane Howard, the legendary singer songwriter of Goanna fame, opened the show with a short set performing his songs to an appreciative audience. Included in his set were the well loved Goanna tunes Razors Edge and Solid Rock, but he did sing a number of other songs from his back catalogue such as This Old Town. All up he performed about six songs interspersing them with illuminating observations as to their origins and the relevance to his life.

It was good to hear acoustic versions of these old numbers, artfully played on his guitar. At one stage he admitted he couldn't decipher his set list, whereupon someone in the crowd threw him a pair of glasses. They weren't much help but he soldiered on nevertheless.

< Shane Howard - NSC - 9 July 2007
After a short break Troy Cassar Daley took over the stage. A small band comprising Luke Austen on bass, Damien on drums and, making his debut to the stage keyboardist, Vaughn Jones, provided backing. They instantly launched into Walking Away a song he penned with Don Walker. Country ballad Bar Room Roses came next, followed by Everything Is Going To Be Alright.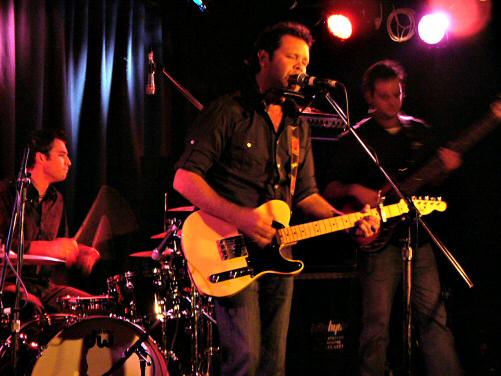 Troy Cassar Daley - Northcote Social Club - 9 July 2007
The CD, to be released on 14 July contains twenty of Troy Cassar Daley's popular songs and at the NSC gig he managed to get through about half of them.
Wendy Matthews and Dave Glesson of Screaming Jets fame helped on Everything Is Going To Be Alright, singing harmony, and Shane Howard returned to the stage to sing along with River Boy.
Make The Most of Every Day With You was prefaced by a comment from Troy regarding his appearance on Andrew Denton's Enough Rope, how he was nervous facing the devious interviewer even though he had no skeletons in his closet that Denton could confront him with. Make The Most of Every Day With You was one the songs he sang on the show. Click here to read the transcript of Denton's interview with Troy.
Exchanging his acoustic guitar for the Fender Telecaster, Troy rocked it up for the rest of the evening, giving us a rousing version of Rambling Man, his take on the Leonard Cohen song, Bird on a Wire, reprising his first single Dream Out Loud and finished with the title song to his new CD Born to Survive.

He returned for one encore singing Last Mile Home to a rapt audience and then called it a night.

Troy Cassar Daley is of course very well known in Country Music circles as the winner of multiple Golden Guitar awards. It was unusual to see him in an urban venue like the Northcote Social Club, but he certainly put on a great show and didn't disappoint his fans or even those casually along for the ride like myself.
Set List

Shane Howard
1. ?
2. Razors Edge
3. This old Town
4. Song from The River CD
5. ?
6. Solid Rock
Troy Cassar Daley
1. Walking Away
2. Bar Room Roses
3. Everything Is Going to Be Alright
4. I Wish I Was A Train
5. Riverboy
6. Make The Most Of Every Day With You
7. Dream Out Loud
8. Little Things
9. Rambling Man
10. Bird On A Wire
11. Born To Survive
Encore
1. Last Mile Home
Review and photos by Anne Sydenham
See also David Dawson's features on Troy:
http://www.nucountry.com.au/articles/diary/april2004/280404_troy.htm
http://www.nucountry.com.au/articles/diary/january2006/300106_troy_cassar_daley.htm