DAVE'S DIARY - 25 /1/ 2021 - CATHERINE BRITT CD FEATURE
2021 CD FEATURE
CATHERINE BRITT
HOME TRUTHS (BEVERLEY HILLBILLY RECORDS)
CATHERINE BRITT MINES FAMILY MOTHERLODE
"I grew up out west where the rain don't fall/ where only the Spinifex grows and gums stand tall/ and while these roots are buried deep within me/ oh I can't leave/ mumma liked to play her music loud/ heavy drinking daddy taught me how/ nothing else to do on a Friday night/ but waste the time/ and I know old Hank would understand/ and I know George Jones would be my friend/ no I don't need the radio to tell me what's wrong/ I am a country song." - I Am A Country Song - Catherine Britt-Gareth Hudson.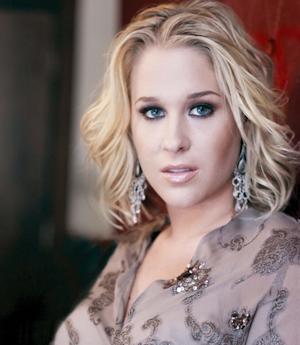 Novocastrian singer-songwriter Catherine Britt mines a deep lode of personal experiences to fuel her 12 original songs on her ninth album.
Britt name-checks Hank and George Jones in entrée I Am A Country Song that segues into sibling Fav'rit Song, eulogising her dad.
Both have been released as singles, accompanied by videos on Nu Country TV.
Britt, now 36, is a true talent and survivor after beating breast cancer that struck when she was 30.
Her recovery included giving birth to two sons, publishing national magazine Rhythms, hosting ABC Radio Saturday Night Country and touring to promote her new music on her Beverley Hillbilly Records label.
Britt produced her album with Michael Muchow - it was mixed by Ted Howard and mastered in the USA by Jim DeMain.
Equally importantly she now controls her own song publishing - a lucrative gold mine for singer-songwriters.
"I think things are easier now to be independent," Britt revealed in a recent interview.
"When I was younger there was no Facebook , there wasn't really an online presence like there is now and I think that really determined having to be with a record label if you were going to get anywhere.
"I always had such a great experience with record labels but I just wasn't making any money from my music. I was putting all this hard work in and I'd be like well did I sell any records because I haven't seen any money? When you're young you don't really care about making money because you're just stoked to be making music and you can do it for the love of it. But as you get older priorities change, I've got kids and a mortgage and I want to take care of them. I want them to own this record one day and make money from it after I'm gone and that's really important to me now.
"I realised my kids weren't going to own any of my music and reap the benefits of it and that felt wrong. I was thinking about that a lot and I talked to friends where were independent and doing well. I feel a lot more in control and I love the challenge. It's a lot of work but you reap the rewards. I've gone down the path of buying out my publishing and I'm also looking at my back catalogue. I'm learning lots of new things now about running a label and now feels like the right time and I'm ready for it. I'm making the leap. So now that I've become independent I can kind of relax and go back to just doing it for the love of making music and not for the bloody for the business side. It feels pretty empowering actually as a woman. It feels good to be in control and be the CEO of my own business. Now I run my own race and my own show, it's a pretty great feeling actually."
The love of music was born before she was discovered by Bill Chambers at 14 and cut her debut EP.
Then at 17 she moved for six years to Nashville where she became the youngest Australian to appear on the Grand Ole Opry and score top 40 Billboard hits.
Britt digs deep into her family during adolescence and adulthood in her music but it was a Nashville friend who inspired I Am A Country Song .
"She was my best friend when I moved over there at 17," Britt explained.
"She's been married a few times and her husbands were abusive. The third one was an alcoholic and he was out fox hunting and fell off his horse and it rolled on him and he was in a coma and then disabled for a year before he died. We went over there for Americana Fest , just after it happened, and on the way from the airport I asked her what was new on the radio in Nashville and she simply replied in her Mississippi drawl, "Oh honey, I don't need to listen to the radio, I am a country song".
"It has always stuck with me as such a great idea for a song and I kept it in my list of ideas for years until this album. When I sat down with Gareth Hudson, I told him my idea and the song just fell out of us. We both knew straight away it was a special song that many country fans can relate to".
PATERNAL PAEAN AND HOME TRUTHS
"My earliest memory was riding in my dad's car/ think we went to a football game to watch the knights and sharkies play/ he turned on the stereo and played me a country song/ for a man of so few words/ he found a way to be heard." - Fav'rit Song - Catherine Britt-Sam Telford-Will Cumming.
But her dad inspired Fav'rit Song and her mum sourced Mother and was name checked in Original Sin.
"It was an idea I have had for a while based on how my father and I connected over music and later in life, I did the same with my husband", Catherine said of Fav'rit Song.
"I always feel like I can really get to know someone when they share their favourite music with me. It helps me to connect and get them completely".
Equally powerful was the title track - one of two songs penned with fellow young mother and Adelaide born touring partner Melody Moko.
Home Truths is a reality rooted relationship song and Gonna Be Mumma is a riveting reflection of the long days and nights of young mothers.
Melody is pregnant with her third child after touring to promote her second album Two Kids and A Radio.
Britt and Moko have long drawn on their collective lives to fuel their songs.
"I chose to call it Home Truths because it's a pretty hard-hitting honesty in a good way," Britt revealed.
" Home Truths are kind of like a comfortable thing. They're truths and they hurt but it's ok because they're coming from someone who loves you, so I kind of like that image of people listening to the album and them being comfortable with hearing real stuff which is what country music should be - hard truths."
"I write a lot from my own life experience but I do tend to also write songs from things that others will say or their life stories as well. I do like to do that a little more as I get older, I find I'm looking a bit more outside of myself and my own problems. So I definitely tried to do that on this record a bit. Also because I am such an intuit songwriter, if you don't know me as an artist, you maybe wouldn't always understand my songs. I feel like you've kind of got to know my story and I wanted to get away from that a bit and make it a bit more like an everyone sing along now sort of vibe, it was tactical songwriting. I also feel like sometimes people forget that telling the truth doesn't always have to be autobiographical. And it doesn't always have to be true though too. Like I think people forget sometimes poetic license. You know when you're even writing your own story not everything is going to be exact, it might be because it sounded good or had a better melody to write something a little differently, so yeah I think it's all just a part of the creativity and enjoying that process. That's the way it is with home truths - they need to come directly from the heart of the person doing the telling."
DIAMONDS AND BRIGHT LIGHTS
"I used to party with the A list/ was the greatest, I was shameless/ caught up in the moment of the bright lights/ the free ride, the upside of being on the inside." - Me - Catherine Britt-Katrina Burgoyne.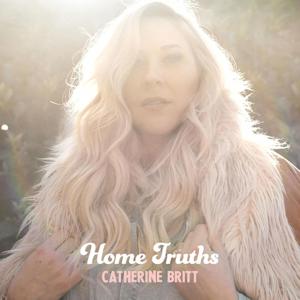 Catherine wrote Make A Diamond with Andrew Swift and Me with expat Katrina Burgoyne who now calls Nashville home.
Both songs accentuate life's struggles on the flip side of fame.
Catherine wrote her third single Me with Katrina over Zoom during the 2020 Covid lockdowns.
She conceived the idea after going through old boxes of memorabilia.
"We wrote the song after going through memorabilia from my past, mostly the Nashville days, and wanting to address how I felt about all of that now", Catherine explained.
"Me is an honest song that comes from a place of reflection and looking back over a crazy, wild, interesting and intense career that has had its highs and lows, creating the artist I am today - someone who is not willing to compromise on being 100% ME".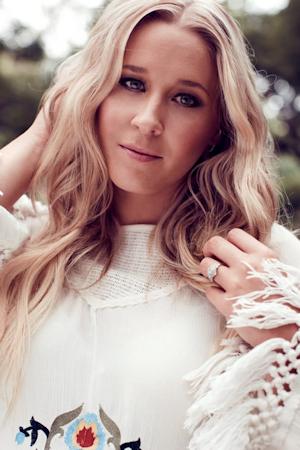 Natalie Henry is co-writer of Original Sin - another maternal metaphor in a spiritual sprint for salvation - while New Dawn , penned with Grace Turner, references 2020 in its survival strategy.
Her Country Fan duet with Lee Kernaghan praises loyal audiences while Hard To Love , featuring Jim Lauderdale, is a true romance triumph.
Long Way Round, penned with Charlie Collins, uses parental emotions to fuel her rocky joyous journey - a fitting finale to a dynamic disc by a supreme survivor.
"I always found that fascinating when I sat down with people like Guy Clark and they'd tell me they'd just listen to people talk and then write down their stories," Britt recalled.
"I wanted to write a whole record that wasn't all about me. I wanted everyone to be able to see themselves in these songs and not necessarily have to know Catherine Britt."
She has been a prolific award winner since 2009 with the first of four Golden Guitars that led to ARIA, APRA, CMC and her 2010 CMA Global Artist of the year.
Catherine has toured and recorded with Kasey Chambers, Paul Kelly, Sir Elton John, Steve Earle, Dolly Parton, Don McLean, Chris Isaak, Brooks & Dunn, Alan Jackson, Guy Clark and Keith Urban.
And that road that goes on forever has many memorable milestones.
Britt began her Home Truths tour with Moko and is now on the lost highway with Amber Lawrence on their Love And Lies tour.
CLICK HERE for tour dates in our Gig Guide.