DAVE'S DIARY - 12 FEBRUARY 2012 - EILEN JEWELL CD REVIEW
2010 CD REVIEW
EILEN JEWELL
SEA OF TEARS (SIGNATURE-SHOCK)

EILEN JEWELL RIDES A DUSTY BOX CAR
"A bellyful of codeine brings the high spirits down/ spirits in my glass will wash the codeine down/ when the shotguns ring I won't feel a thing." - Codeine Arms - Eilen Jewell.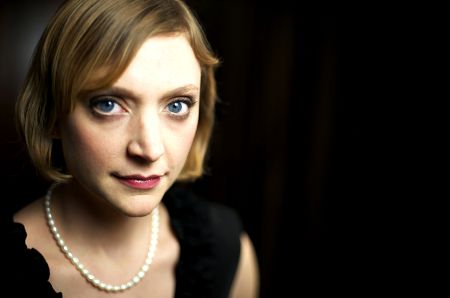 When Boston belle Eilen Jewell cut Eric Andersen's Dusty Boxcar Wall on her second album Letters from Sinners and Strangers she resurrected a classic buried in the sands of time.

It worked but not just because the Boise born balladeer brought new life to a timeless treasure - it was also her deft delivery.

The singer, who toured here in 2010, has since released Loretta Lynn tribute album Butcher Holler and Queen of the Minor Key in 2011.

Eilen won an enthusiastic following on her previous tour at the Port Fairy and Mossvale folk festivals and the East Brunswick Club.

She returns in April for the Byron Bay Blues Festival and other east coast concerts.

We don't have the new disc so we'll backtrack to her third album, Sea Of Tears.

She produced it with her long time band - drummer Jason Beek, guitarist Jerry Miller and upright bassist John Sciasica.

Jewell proves a melancholic minstrel from entrée Rain Roll In, as the narrator fears she won't be missed when she dies young, through to the narcotic finale Codeine Arms.

Codeine dulls the metaphoric pain but not Jewell's passion.

The thorny Sweet Rose belies its title but dynamic Sea Of Tears, Fading Memory and blues rooted Final Hour are salient signposts to lachrymose lava flowing from the pen and maybe heart of Jewell.
ONE OF THOSE DAYS

"I'm over here with a rusted 44/ sitting on the step of your back door/ the only thing that moves is the laundry on the line/ and a dusty dog that bites just to kill the time." - One Of Those Days - Eilen Jewell.
Equally dark is One Of Those Days where her character has a warning for her vanquished villain.

Casual observers might suspect Jewell, now 32, is an eternal victim but she delivers summary justice in rollicking Nowhere In No Time - an assertive leaving anthem where the singer drives the train.

On her Letters From Sinners & Strangers album she exploited train and highway metaphors in wanderlust anthems - Rich Man's World and Blue Highway.

Loretta Lynn epic The Darkest Day is delivered here with a jaunty swing - she yearns for and promises sunshine at the end of a tumultuous tunnel.

That spiritual spring segues into the vibrant Everywhere I Go.
Her cut of Johnny Kidd's oft-recorded Shakin' All Over is superfluous - a song, long ago decomposed by The Who and The Guess Who.

But it works live - as proven on her 2010 Australian tour.

Ditto with funereal sixties Them tune I'm Gonna Dress In Black.

That's the danger of pillaging the past - especially for a prolific writer.

The Idaho native and member of gospel group Sacred Shakers, who also cut a 2008 album, punctuates her acoustic guitar playing with cameos on organ.

Her impassioned delivery injects life into bleak messages that make the trip worth the ticket.

Her songs have also appeared on TV shows True Blood, Hellcats and Earth Hour.

It's a far cry from busking on the streets of Santa Fe while at college in New Mexico, Venice Beach and famed folk clubs such as Club Passim.

In August 2010 Jewell wrote for her Queen Of The Minor Key album in a tiny cabin in the mountains of Idaho.

Her temporary abode had no running water or electricity - at the end of a winding dirt road.

A dilapidated truck she found on the property was featured in the album artwork.

CLICK HERE for Tonkgirl's Gig Guide for the Jewell 2012 tour dates in Victoria and beyond.