DAVE'S DIARY - 17 FEBRUARY 2009 - FELICITY URQUHART
FELICITY FIRST PAST THE POST
"You had to be small to ride in the silks/ you had to work hard to learn all the skills." - Ernie's Daughter - Felicity Urquhart-Mick Thomas-Chuck Jenkins.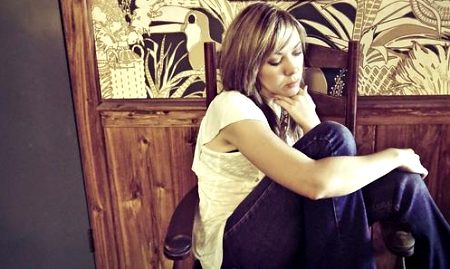 Singing TV host Felicity Urquhart is riding high in the saddle - because of some bright sparks in her family.

First there is her late grandfather Ernie Walmsley who sowed the seeds of one of the highlights of her sixth album Landing Lights.

The revered jockey-trainer regaled the Tamworth born singer with yarns about his life and career including the meeting of her mum and dad.

Urquhart embellished the true-life romance - Ernie's Daughter - with Weddings, Parties Anything-Sure Thing icon Mick Thomas and Chuck Jenkins.

Then there is guitarist fiancé Glen Hannah who proposed to her in quaintly named Indiana town New Harmony during a break in the recording of the album in Music City.

The couple will wed here in March on the eve of Felicity's tours with two of her idols - Ohio born Kim Richey and famed Texan troubadour Rodney Crowell.

Felicity developed her love of western swing, showcased on a previous disc with the Feral Swing Katz, from Ernie.

The singer has overcome mainstream radio ban to adopt a high profile from hosting roles on Sydney Weekender, Golden Guitar Awards, CMC and Nu Country.

She also opened for Waylon & Willie, Merle Haggard and The Pope and was flown by chopper from a Hunter Valley writing workshop to entertain the former U.S. President George Dubya Bush and John Howard during APEC for a Garden Island BBQ on Sydney Harbour.

So it's no surprise she had a Melbourne Cup field of seasoned songsmiths keen to collaborate with her on Landing Lights, produced in Nashville by Brad Jones.

They included Richey, frequent co-writer Randy Scruggs, Mark Selby, Robert Lee Castleman - Alison Krauss major song source - and expatriate Adelaide guitarist and singer Jedd Hughes.

WHAT ERNIE'S DAUGHTER TAUGHT HER
"Boys made a pass and tried to court her/ to win the heart of Ernie's daughter/ she was proud to be the daughter/ who was blessed by holy water." - Ernie's Daughter.
Felicity's ascension from busker to major artist is a triumph for the singer, raised in the Peel River country music capital.

And, it was there the upholsterer's daughter scored spring from her dad as well as spark from her grandfather.

Not quite like the same charge that Ernie applied to some of his mounts that disrupted his pre-war riding.

Felicity wrote Ernie's Daughter about the post war romance of her mum and dad who met at a Tamworth dance after Ernie swapped riding for training horses at tiny Bingara in the New England Tablelands.

"Ernie grew up on the Central Coast in a little country town called Jilliby and went to Sydney and did his apprenticeship," Felicity told Nu Country.

"It was the era of Phar Lap and he raced there until he got banned for using a battery on a horse. I asked him why he needed a battery and he said to give it a little more get-up and go. After the war they lifted the ban - he was able to ride again."

And it was after a rural riding stint that included three Cameron Handicap wins at Newcastle on Homeleigh Dick from 1946-9 the song seeds were sown.

"He went out to the country and started training horses for my Nan's dad," Felicity revealed.

"She met pop through her dad's horses - she had an eye for him and thought he was pretty alright. They got married and had a family."
MICK THOMAS AND CHUCK JENKINS
It was the equestrian romance of one of those foals that ensured Ernie's Daughter had a happy ending.

"The song was finished but it was all over the shop when I took it to Mick Thomas and Chuck Jenkins in Melbourne," the singer recalled.

"I was sitting in the kitchen at Chuck's place in Brunswick and playing if for the fellows. We literally knocked it into shape - they had a couple of cool things to add.

Mick added a line about the spring carnival and helped polish it. I need reinforcement when I'm writing. I love co-writing for that purpose."

Felicity's mother was also elated with the song.
"I'll get brownie points with mum, baked dinners for the rest of my life," she quipped.

"She grew up with jockeys and trainers and was eyed off by all the jockeys."

But not by George Adams - a Bingara bootmaker and SP bookie and father of Northern Daily Leader journalist Anna Rose.
JEDD HUGHES
"Landing lights guiding me through lonely nights/ touching down, back to you/ safe and sound/ when I see those landing lights." - Landing Lights - Felicity-Jedd Hughes
It was an 11th hour writing session with Jedd Hughes, born at Quorn, north of Adelaide, that inspired her title track.

Hughes, a graduate of the country music course at South Plains College at Levelland, near Lubbock in West Texas, joined the band of another Coalminer's Daughter, Patty Loveless, before releasing his solo disc Transcendental for major Nashville label MCA.

"Landing Lights is another family song," Felicity confessed.

"It's also about my partner Glen Hannah - we're getting married in March. I was literally leaving Nashville for home on my last writing trip before going back to record. I left the apartment I was staying in and called Jedd as I had couple of hours to kill. I said 'let's work on a song'. He started playing a little melody on his guitar. I said 'I just want to get home to see those landing lights.' We just started writing it as we related to that concept of looking forward to going home to the ones who support you. We got the bulk of the song out and finished second verse by email. He came to the studio and played on it."
GLEN HANNAH
So did Hannah, known for his guitar work with many local acts including Kasey Chambers.

"Glen and I have been going out together for eight years," the singer confessed.

"When first met he was playing with Anne Kirkpatrick. About two years ago Anne said 'when is it going to happen?" Well, it happened when we were away recording this album. We had a couple of days off and went to New Harmony - hometown of Mickey Grimm who plays on the album. Glen proposed to me in New Harmony, very cool. There are 900 people in the town. It was founded by the Harmonists. When we got back to the studio Brad said 'what did you guys get up to?" I said we got engaged. He said 'you Aussies don't muck around."

Ironically, Jewel Blanch - the first Australian country starlet to record in Nashville - was born at tiny Harmony Hills between Armidale and Glen Innes in the New England Tablelands.

I can't tell you when expatriate Australasian publisher-promoter Barry Coburn proposed to Jewel but they were living in another Armadale before I drove their getaway car to Tullamarine when they eloped to Christchurch for their wedding.

But I digress.
GIRL IN THE MALL
"She grew up on the flood plains/ across the great divide/ in a painted wooden fold house, out on the eastern side/ of a slow flowing river that split the town in two/ between the local legends and the trippers blowing through." - Girl In The Mall - Felicity-Mark Seymour.
Cross fertilisation has long been one of Felicity's strong suits.

So it was no surprise when former Hunters & Collectors singer Mark Seymour seeded Felicity's life story narrative Girl In The Mall.

"I told Mark my story on a trip to Tamworth when I invited him to play a show with me at the 2008 festival," the singer recalled.
| | |
| --- | --- |
| | "After the festival I got his email - he said 'you told me that story at your mum and dad's place over toasted sangers I just got a total understanding of you and your family and upbringing - the town of Tamworth and how it changes for festival and how you started. We've got to write your story. I said 'what, are you serious? If it wasn't for Mark saying this is worthy of a song I probably wouldn't have written it. My first guitar was an old nylon string crappy thing - then after that I had more money to go and get a cooler guitar. I bought an acoustic Fender for about $500. I made $90 in the first half an hour when I was busking on my first day - my first year of Tamworth High School. l was 12. Even then I re-invested from my busking and the extra money I got from dad helping in his workshop where he worked as an upholsterer." |
ALL GOOD FUN WITH KIM RICHEY
"It's all good fun until somebody cries/ people come undone when somebody cries/ where are you going to run too now." - All Good Fun - Felicity-Kim Richey.
The singer's joint Australian March tour with Kim Richey - her co-writer on All Good Fun - is serendipitous.

"I was in the front row of her Tamworth show in 2002, I already had her albums," Felicity recalled.

"The years went by and we went our own way. Bill Page of Mushroom Publishing said 'have you heard of Kim Richey?' I replied 'I love Kim Richey.' He said 'how would like to write with her. I said 'I would love to. Where do I need to be and when? I couldn't believe it. It was incredible - she was someone I looked up to. She's amazing - all the incredible people I write with they make me lift my game to their level. I find them very inspiring. We wrote two songs in two days at her Nashville home. When she comes out to do the tour with me we also have some songwriting time set aside."

Felicity and Kim perform at the Apollo Bay festival from March 27-29 at the start of their national tour.

Richey was born in Dayton, Ohio suburb of Zanesville, named by Ebenezer Zane - great, great grandfather of Western novelist Zane Grey.

She first toured here in January, 2002, with seasoned songsmith Jim Lauderdale, Canadians Fred Eaglesmith and Jason McCoy and expatriate Tasmanian Audrey Auld.

Kim, 52, has written hits for artists diverse as Trisha Yearwood, Radney Foster, Mary Chapin Carpenter, Patty Loveless, Lorrie Morgan and Cyndi Thompson.

The singer's father drowned when she was just two and landed songs in movies diverse as Happy Texas and Field Of Dreams.

She is touring to promote her sixth album Chinese Boxes.
ROBERT LEE CASTLEMAN
"It's with me everywhere I go/ waiting in the corner for my shadow." - Little Cricket - Felicity-Robert Lee Castleman
Equally exciting were sessions with truck driving troubadour Robert Lee Castleman.
Felicity recorded two songs she wrote with Castleman - Little Cricket and Time For A Change.

"I was left a CD of his when I was looking for songs for the previous album My Life," says Urquhart.

"I was over in Nashville writing but also wanted to record one of his songs. Alison Krauss doesn't write but recorded his songs - she took several of his songs and made them unique. I asked if he had any songs I could record - next thing I know I have this CD of his on my doorstep that Robert dropped off. I didn't get to meet him that time. I was playing his songs over and over and came home and said I've got to record one of those songs on My Life - the only cover.
"I sent Robert Lee a copy of the album - I hoped he would say thank you and say he liked what I had done. I then got this incredible email saying I liked what you did and I love your whole album. Glen produced it. Robert said 'we should meet next time you are in town.' I was really happy - I took him up on that. We went to dinner and I was really nervous about meeting this guy who had written all these great songs for Alison. It was an incredible night and he talked about 'Ali this and Ali that.' I was getting to know the character behind these heart-wrenching songs. He said 'how long are you in town for - we need to write.' I almost fell off my chair. I would so love to write with him. When you write with Robert Lee it's like a marathon. It's so intense and a real test of stamina and concentration level, learning from all his writing techniques. We would write and there was always a break for lunch, serious time out. Then we would saddle up again. It was a big day, early in the morning until late at night.

"He would later ring up and say we need to change that. I've never written with Guy Clark but from what I've heard from Jedd it's like that. Every word has a purpose - meticulous."

Also a meticulous writer is Texan troubadour Rodney Crowell - with whom Felicity is touring here in April.

"I only found out last night I'm touring NSW and NSW with Rodney," Felicity confided.
"It will be a great experience."
RANDY SCRUGGS
"Rollercoaster, leave the ground, touch the sky/ faster, faster like a runaway train/ Rollercoaster see the stars in your eyes/ while it lasts, enjoy the ride." - Rollercoaster - Felicity-Randy Scruggs.
Felicity also resurrected her writing with Randy Scruggs - one of the sons of bluegrass icon Earl.

"We wrote and finished four songs this project," Felicity added.

"I love writing with Randy and also him as a human being. He has a genuine warmth and also an incredible musician and personality. I really click with him. We have written so many other songs. I love all these songs, that didn't make the album, to be there as well.

Rollercoaster was the first song ready for the album. It was written after seeing those television shows about making stars - both here and overseas. I had the chorus and sang it to Randy. It didn't take long to finish. He also came in and played guitar on the album."
GEORGE DUBYA
"She listened to the stories of an overnight sensation/ and cover bands who never got that far/ and the legend of a lonely girl with a hand-me down guitar/ and a thousand voices singing in the mall." - Girl In The Mall - Felicity-Mark Seymour
Felicity is no stranger to high profile concerts and tours.

She has opened for Waylon & Willie, Merle Haggard and The Pope and toured the U.S. with The Feral Swing Katz.

And she has also performed overseas for Australian troops and Federal police officers - most recently in the Solomon Islands.

But she was sceptical when approached in a Sydney pub and quizzed about a secretive sin city gig.

"I was playing at the Vanguard in Sydney and this gentleman said 'what are you doing on this certain date?" Felicity confided. "I said 'that's when the big APEC thing is on.' I said I'm not sure. I have a writers' thing on, I was all very candid. He said we might have a performance for the Prime Minister for you. I said 'yeah right,' and laughed it off. He said 'and the President.' I said 'the President of the U.S., well, I'm not sure. I have this songwriter's workshop and that's where my priorities are at the moment. Next day my manager (Joan Douglas) called up and said 'did you say no yesterday to performing for the Prime Minister and the president?' I said 'there was this gentleman and I didn't really know how fair dinkum he was. I did say my heart is about writing songs. Joan said 'they're prepared to chopper you into the BBQ lunch from the Hunter Valley and chopper you back. You won't miss too much at all, just a couple of hours.' They wanted someone to represent the Australian country genre because the President was a country fan. I said 'forget the politics I'll be able to tell the grandchildren one day.'
SECURITY
Felicity and her band scored international publicity for their short set on Garden Island.

The recently departed president, like Rick Perry (successor as Texas Governor) who befriended 2008 Australian Of The Year Lee Kernaghan at a function in L A., is a genuine country fan.

"Afterwards we had photos taken with George," Felicity added.

"He asked if I had been to Texas. I said 'no but I had been to Nashville. He said 'well done, come on over.' I was even more intrigued by Condoleeza Rice. She was there as well - she has a real air about her. She was fascinating to watch. The PM was lovely. He came up and thanked me and my band - the personal touch. And we had the best security of any gig. My old guitar case was checked out for foreign objects. Landing on Garden Island was very dramatic with the Secret Service everywhere. The band all got to meet George and the PM.

We did three songs. It was great to represent Australia."

Especially when there were no fly by night dance divas, refried rockers or rappers within shooting distance.
FELICITY AND CARTER & CARTER
Felicity, a previous Nu Country TV host, will also record a new hosting role for Series #12 that begins in June.

She filmed her previous hosting role at the Lilydale home of Golden Guitar winners Carter & Carter.

Felicity was touring and staying with Merelyn and David Carter who recently moved to a farm at King Lake with their animals.

The Carters had a narrow brush with death when the bush fires engulfed King Lake last weekend.

Luckily the duo and family survived and will feature on Nu Country TV on Saturday February 21 and 28.

We will feature two of their video clips filmed in the King Lake area that now resembles a horrific moonscape.

CLICK HERE for TonkGirl's gig guide for Felicity and Kim Richey tour dates.