DAVE'S DIARY - 15 AUGUST 2010 - THE DINGOES
ART IMITATES LIFE FOR DINGOES
"Though I grew up on a side street/ I knew there was a main highway/ I never saw the traffic/ but I heard it rolling by each day/ there was something in the air/ that made me wanna venture out/ Stand By Me, Maybellene, Twist and Shout/ I was walkin round at midnight/ I thought I heard the sun explode/ but it was just the thunder/ comin down Damascus Road." - Damascus Road - Kerryn Tolhurst.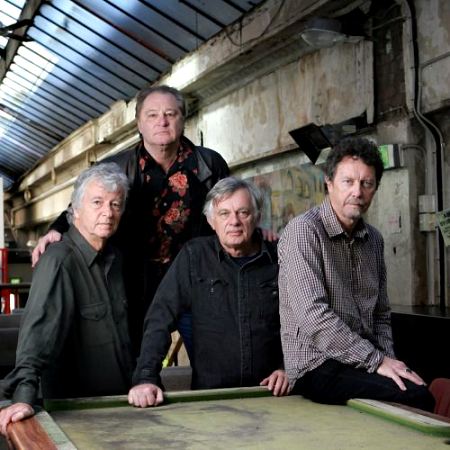 Art has frequently imitated life for iconic Melbourne band The Dingoes in a career rudely interrupted three decades ago by a series of tragedies.

As their hit Way Out West enjoyed its first local pop chart reign, guitarist Chris Stockley fought for his life in a suburban hospital after being shot by a member of a notorious Richmond underworld gang.

Stockley - an innocent victim who refused to surrender a carton of beer to the gang outside a Brighton party - survived the 1973 shooting.

But the diminutive musician is still carrying bullet fragments in his liver and lungs.

And as he clung to life the band replaced him on their tour until he was well enough to perform again.

Fast-forward just 21 years and Dingoes singer-actor Broderick Smith - brother of a Victorian detective once based at Colac - is cast as a police weapons instructor in the TV crime series Janus.

His character's role was teaching special operations cops to use weapons in the series - one of a pair (the other was Phoenix) - about their war with Stockley's shooters.

The name of the Allen family crime clan was changed in the TV drama for legal and artistic reasons.

That was long before the garden state sunk into quixotic quicksand as the court inflicted name suppression capital of the western world.

The rich and infamous escaped the glare of the media blowtorch as they rode on the back of the ethnic crime gangs waging a bloody battle on city and suburban streets and rural retreats.
Now, 16 years on, the Dingoes howl again as Way Out West has a cameo in new Geelong born Guy Pearce's movie Red Dog.

And the movie - based on Louis de Bernieres' 2002 novel on a lovable hitchhiking Australian red kelpie - is filmed in the famed Pilbara region of Western Australia.

Ironically Red Dog is set in a similar locale to Way Out West.

History repeated when The Dingoes song enjoyed a second chart-topping bout for James Reyne and James Blundell in 1992.

The song boomeranged 37 years after its birth - just like the band that toured to promote its fourth album Tracks after a 30-year hiatus.
Tracks is on Liberation Records - operated by Melbourne music mogul Michael Gudinski who released the Dingoes first album in 1974 on his fledgling Mushroom label.

ROLLIN AROUND THE SUN
"Sumac weed on the railroad track/ all the way here and all the way back/ a big red wing is diving on a big old crow/ the world is at peace for all I know." - Rollin Around The Sun - John Bois.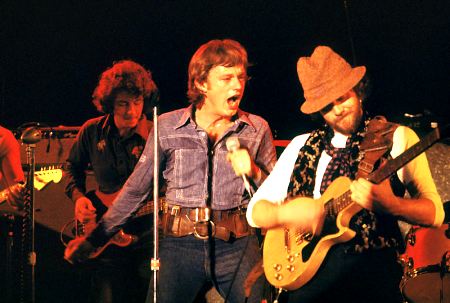 The new disc, ploughing bleak landscapes akin to those tilled by the Coen Brothers in their badlands movies, is a timeless testament to survival.

So is the music, concedes expat Australian co-founder-producer Kerryn Tolhurst whose Locomo studio in Tucson, Arizona, was the scene of the rhyme.

"I guess it's an album of survival, also about the journey," says Tolhurst - a prolific producer and writer who survived a protracted battle with colon cancer in the early eighties.

"I spent about a year in recovery. I was living in New York but when I got out of hospital I moved up to Woodstock, as you do, to recover. Garth Hudson lives up there - and Levon Helm. I was writing songs and getting back into recording during my recovery."

Original drummer John Lee, who rejoined the band in 1976 for its lunge at international fame, wasn't so lucky.

He died at 45 in 1998 from liver failure.

Although Tolhurst and bassist-teacher John Bois have lived in the U.S. since the band split in 1979 there's distinct outback imagery in the 10 original songs on Tracks.

"We wanted to give it more of an Australian feel," Tolhurst said.

"It's not so much about the land but a metaphor for no pain, no gain."

The album is not only book-ended by road songs but fuelled with tunes rooted in that milieu.

"Everyone sent songs in, we sifted through them got a short list and voted on the 10 favourites, democracy," Tolhurst revealed.

"We worked out a plan for the other guys to come to Tucson. We found some funding to do it - it all went pretty smoothly"
LOVE AND WAR
"When the stakes weren't high enough/ it's not worth the life you take on some foreign shore." - Not Worth Fighting For - Kerryn Tolhurst
They ignited social comment in timely Tolhurst song Not Worth Fighting For.

"There's a line drawn between love and war and what's worth getting into trouble about that," Tolhurst added.

"The current conflicts in Iraq and Afghanistan are the underlying subtext to it.

It also deals with domestic issues but draws a parallel. Those wars have dragged on a lot longer than Vietnam. We don't know where it's going to end. That's one element of it that fuelled the idea. In Arizona there's an air force base, always troops leaving and coming back. It's in the psyche - all over the news."
Also all over the news was the plane that crashed into swampy thicket at Gillsburg, Mississippi, on October 20, 1977, and killed three members of Dixie Rock legends Lynyrd Skynyrd.

The Dingoes dreams also went up in flames - they were scheduled to tour with the legendary Dixie Rock band to promote second album Five Times The Sun.

They cut third album Orphans Of The Storm in the U.S. in 1978 but split before its release in 1979.

But that was then and now, supported by Tracks guests - drummer Ashley Davies, Kevin Bennett and former Procul Harum organist Chris Copping - they went on the road again.

"After induction into the Hall of Fame at the ARIAS - that's when this all began," Tolhurst said.

"We got together and played live - first time in 30 years. After that we got talking about doing something - this was the opportune moment to do it."
RIBS OF THE LAND - NOT ON THE RUN
"Dead hawk, dead snake, old ghosts that I can't shake/ black crow barbed wire/ spider crushed by a worn out tyre/ earth turns to dust, dust turns to sand." - Ribs Of The Land - Broderick Smith-Matt Walker.
Tolhurst moved to Tucson three years ago, created his Locomo studio a year later and made the most of his new abode.

It's the same city where Calexico record at the Wavelab studio.

So was creating a studio expensive?

"Ask my wife," was the concise answer.

Tolhurst lured Shane Howard from Killarney on the Shipwreck Coast for his 12-song 10th solo album Goanna Dreaming.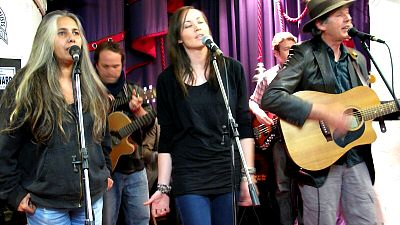 Shane Howard live at Basement Discs - August 2010
"Shane came to Tucson and we cut the tracks there," Tolhurst explained.

"It was a nice change for Shane to get out of the country and work in a different environment with different musicians. It gave it a different feel - probably has a feel of the place on the album."

It also features members of the Howard family, Warrnambool musicians Richard Tankard, John Hudson and Andy Alberts, Neil Murray, Amy Saunders, Bart Willoughby and the Broome based Pigram Brothers.

Tolhurst has also produced belated solo CDs by veteran singer Jimmy Norman - co-writer of the Stones hit Time Is On My Side.

"I have produced a couple of albums for a guy named Jimmy Norman, an older R & B singer," Tolhurst said.

"He lives in New York. He was co-writer of Time Is On My Side and was in The Coasters. He was a R & B singer back in the sixties but never found fame, a great singer and great song writer. He has written a bunch of songs for Bob Marley over the years - well respected but never broken through. He had all these songs lying around in his apartment - they were going to throw them out in a garbage bag. We rescued them all at the last moment so we saved and shaped them. It was one of the great pleasures of my career - that project."

Tolhurst also released a compilation CD of songs he produced for clients diverse as Dandenongs raised and latter day northern suburban singer-songwriter Cyndi Boste and the Pigram Brothers.

So is writing still a financial pleasure for Tolhurst?

"My songs are mostly recorded by artists I'm working with, independent artists," Tolhurst confessed.

"There has not been a big one since Pat Benatar recorded All Fired Up. I was signed to Chrysalis Music and was a staff writer there for about three years. They paid me to write songs for whoever was looking for songs. I didn't like that a lot."

So what about the source of Damascus Road?

"Life is a series of awakenings, that's what it's about," Tolhurst said.

So how many hurdles had the writer hit in recent times?

"Plenty, you wouldn't want to know," was the answer.

None were visible when The Dingoes won wide acclaim on their east coast tour to promote Tracks.
Click here for a concert review of The Dingoes at The Corner Hotel