THE DINGOES AT THE CORNER HOTEL - 6 AUGUST 2010
THE DINGOES - SHANE HOWARD - MICK THOMAS
CORNER HOTEL, RICHMOND.
TAKE YOUR PICK - SHANE AND MICK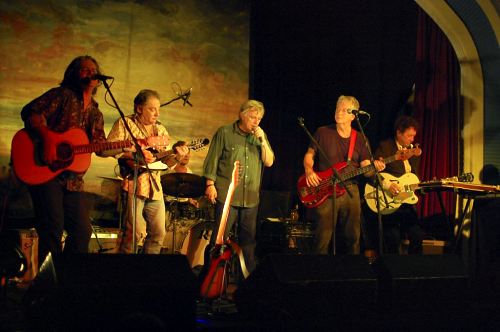 Photo by Tim Chuma - The Caravan Club
There was a distinct rural flavour to this time travel tableau enriched by support acts of a certain age and talent.

Mick Thomas was born in Gippsland and raised in Yallourn, Horsham, Colac and Geelong suburb Herne Hill.

The Weddings Parties Anything and Sure Thing singer-songwriter was a solo artist for the night and earned two inspirational cameos - before and after Shane Howard and band.

Former Goanna singer Howard, born in Warrnambool and raised in the shadows of the Nestles milk factory in the satellite suburb of Dennington, also spent time in Geelong as a student and musician.

Neither was persuaded to surrender AFL teams of choice - St Kilda and Richmond - in their sleepy hollow stints.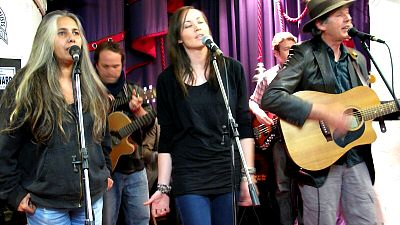 Photo by Anne Sydenham - Basement Discs
Howard brought his seasoned Shipwreck Coast band, featuring guitarists John Hudson and Lee Morgan and a couple of female clan members, to embellish his original material dating back to Goanna hit Solid Rock and rarities off his new compilation Driftwood.

He also showcased tunes from new disc Goanna Dreaming that he co- produced with Dingoes guitarist Kerryn Tolhurst at his Locomo studio in Tucson, Arizona.

There was also a dash of pre-production and polish at Howard's famed Shed studio at Killarney.

That's just off Highway 1 and mid-way between Warrnambool and Port Fairy.

And, unlike many support acts chosen because of label and/or managerial links, both Thomas and Howard were ideal entrees for the headliner.

It's unclear if either artist attended Dingoes seventies gigs or recording of the Live At The Station Hotel album in Greville Street, Prahran, before the pub and street became gentrified.
AUDIENCE CAMEOS

But Terang born latter day Herald Sun journalist Bernie Slattery - former denizen of a humble flat in the attic of Leggett's Palladium - sprung from the Station shadows to reach this Richmond locale.

So did Dead Livers guitarist Rodger Delfos who graced the Station Hotel disc with another embryonic country rock pioneer The Wild Beaver Band.

Delfos, fresh from a stint as a surveillance tech in Darwin keeping an eye on boat, sky and cyber people, had eyes peeled for Dingoes in the falling dark.

The crowd was littered with a roll call of sixties and seventies survivors.

Next there was Greg Macainsh - Skyhooks bassist, latter day lawyer and some time country songwriter.

Then it was Robert Price, former mine host of Beer Can Hill delta café of choice - Alphabet City.

Price enjoys an acting career these days - often as a baddie in TV dramas and good guy in TV ads for products we should consider buying.

Price was also a band-mate of Tolhurst in Melbourne band The Rattling Sabres.

They recorded All Fired Up before Pat Benatar earned a small fortune for writer Tolhurst when she hit the U.S. Top 5 with the song in 1988.

A listing of further celeb survivors in this ageing audience may preclude us ever reaching The Dingoes review.

BROD - BITES AND BYTES
The much-awaited appearance on stage of the headliners brought a hush over the crowd.
Were the Dingoes all there and who were the new pups in the kennel and engine room?
Singing actor Broderick Smith wryly suggested to his bemused audience that flying bras from beatific days of yore might morph into loose teeth as projectiles of choice of the demographic in the dimly lit cavern.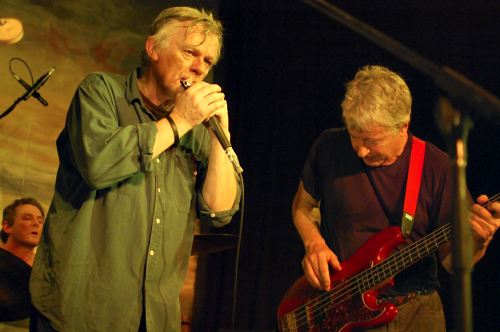 Photo by Tim Chuma - - The Caravan Club
At least that's what it sounded like from beneath the sidebar shadows on threadbare carpet at stage right.

As lead singer of this iconic canine combo he frequently injected healthy humorous bites into his repartee.

This ensured on stage survivors bonded with denizens of a parallel galaxy down yonder.

It wasn't exactly an eerie echo of the sing-alongs of the ghost of recently deceased Mitch Miller who went to God at 99 just as The Dingoes began this epic journey on the Sabbath in Van Diemen's Land.

But Smith and new singer, songwriter and guitarist on the block - Kevin Bennett of Flood fame - ensured mosh pit parishioners filled vocal gaps with gusto, especially in the midnight hour as embryonic hits Way Out West and Boy On The Run galloped back.

It was a testament to song longevity and audience memory this was not a taxing task.

SMITH AND SINATRA

Like Mitch's client Sinatra in latter days, Smith availed himself of an on stage lyric prompter to ensure a literal and literate reading of songs from belated fourth album Tracks.

This was more a sharing than passing of the torch.

Bennett, Procul Harum keys king Chris Copping and drummer Ashley Davies blended with these four seventies supremos seamlessly in delivery of old and new material.

The Dingoes kicked off with Kerryn Tolhurst's Not Worth Fighting For - riddled with competing love and war forces.

It was arguably the best and most topical tune from Tracks.

Smith tripped down memory lane with sardonic swipes at autograph and vinyl collectors surfing E-Bay waves midst the resurrection of Come On Down and The Last Place I Wanna Be.

It was back to now for long time U.S. based bassist John Bois's graphic tune, Rolling Around The Sun - replete with Sumac weed on the railroad track and red wings diving on crows.

Not the West Coast Eagles eating Adelaide Crows in our urban jungle in its early incarnation, one would suspect.

The new songs might have been written across two vast continents but they had a distinct arid Australian outback flavour.

But, like our ever-changing climate there were equal elements of global cooling and warming in the song subject stew.

Tolhurst's No Rain, No River may have been sadly starved of a need for a dam at its Arizona source.

But life definitely didn't imitate art outside on the mean streets in August as refreshing rural rain reached smoggy suburbia.

Sadly, there was no raft of new local dams to captured wasted water and save the bacon for the Bendigo Brumby.

Perhaps vintage song Going Down Again was more than just an apt omen for the yawning yeomen.
CHEATING AND SAILING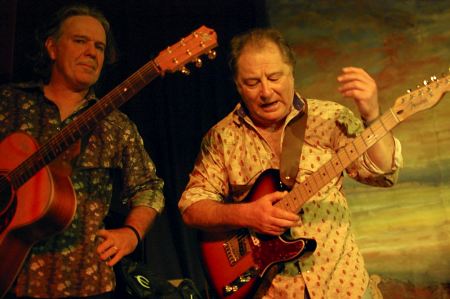 Photo by Tim Chuma - - The Caravan Club
Smith needed no prompter for his 1992 vintage cheating song Snowblind Moon and radio friendly Smooth Sailing that became an aquatic sibling of Waiting For The Tide To Turn, with its way out west reference.

Singing Your Song segued into guitarist Chris Stockley's new tune Blue Sanctuary - flush with even more sailing and sea metaphors - and vintage Shine Your Light.

Salient sequencing ensured the Way Out West singalong preceded winter washed Try Anyway and riveting love surrender anthem Damascus Road.

The latter song, packed with historic song titles dripping with nostalgia, also enjoyed a full thunder weather metaphor.

The encore tunes were fitting - the radio friendly Boy On The Run and sensual Sydney Ladies.

Cosmic karma ensured no return of gun-toting gangsters, once roaming the killing fields south and east of this music mecca in those mean back streets of Richmond.

They wounded innocent guitarist Chris Stockley in Brighton back in 1973 on Way Out West's first chart ascent.

Stockley may still wear the shrapnel from unfriendly fire in his liver and lungs as he plays and writes for his supper.

He has long grinned and bared it in his nocturnal career as a restaurateur.

But those vanquished villains, like their brutal bullets, were all long ago spent as they met their makers in their summary justice OD corral.

It exactly a full week before Friday the 13th with three more new entries in the southern capital's suburban killing fields death roll.
Review by David Dawson
Photos by Tim Chuma unless otherwise stated - check out Tim's website for more great live photos