DAVE'S DIARY - 12 APRIL 2021 - ADAM HARVEY CD REVIEW
ADAM HARVEY CD FEATURE – 2021
ADAM HARVEY
SONGS FROM HIGHWAY ONE (SONY)
HIGHWAY ONE REVISITED
" Highway Number One goes on forever/ once you hit the road it never ends/ just ask anyone who's ever been there/ go around once and you'll go around again." - Highway Number 1 -Adam Harvey-Graeme Connors.
Geelong born trucking troubadour Adam Harvey excels when he sings about his colourful life out on Highway One.
The father of two has travelled it so many times, guitar in hand and heart in his songs, from his deep south hometown to way up north.
Harvey, now 46 and promoting his 16th album, hangs his hat in the "People's Republic of Batteau Bay" on the NSW Central Coast.
That's when not on that not so lost highway that shares sentiments with oft recorded Robert Earl Keen homage The Road Goes On Forever.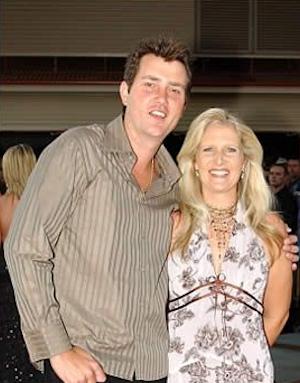 One of the singer's many pit-stops was at Terang - when working at Timboon - that he shared a Highway One home with his wife Kathy.
They met at a Geelong gig with her friends from Camperdown - also on that highway - and married on November 24, 2000.
The eight-time Golden Guitarist's 11-song disc featuring eight Harvey originals and revamp of Merle Haggard classic Ramblin' Fever with Corowa born Lee Kernaghan.
It also features his dynamic delivery of The Angel Of Goulburn Hill , penned by Joy McKean, now 91, and the Beccy Cole tune Better With Time featuring Beccy, Darren Coggan and Felicity Urquhart.
Harvey stepped up a notch when he took over production reins for the disc - his 8th #1 ARIA Country Album and 6th ARIA Top 10 Album.
Harvey produced his disc at The Music Cellar on the NSW Central Coast with engineer Jeff McCormack.
"I've had all sorts of different producers through the years," Harvey revealed.
"And I just thought, why don't I have a crack at it myself?' It's another challenge and a whole lot more work than I actually expected. I learnt a hell of a lot too."
Harvey's highway homages in person were delayed by Covid-19.
"Funnily enough, timing is everything. I recorded an album about travelling all over Australia, and then - for a time - that's the one thing weren't allowed to do!"
"I hope it encourages more people to bite the bullet and hit the road and see Australia. I featured different places around Australia that I love and have been to, I'm just trying to convey the general idea of how great it is. It's just amazing."
Adam filmed the Highway I video, directed by Duncan Tombs, at the Bundaberg Rum Distillery.
"The whole experience felt more like a boys' getaway," confessed of the video that premiered on Nu Country TV on June 1 last year.
"To be honest I have never had so much fun recording a video clip. I've toured right around the country, across it, up and down it, every which way you could possibly go and I've been lucky enough to do that for over 20 years,
"There is a feeling of freedom when you're constantly on the move, it's really amazing and very addictive. I thought if I write a song about it, it might connect with people on the roads, it might also encourage people to take the leap, buy the caravan and explore this amazing country as you travel along Highway Number One".
Harvey re-visited the Bundaberg Rum Distillery to film his video for new single All For Rum that featured on Nu Country on March 27.
Adam wrote the song - penned with Matt Scullion - that describes rum as "sweetest nectar in the world" as he revived the quote "all for one and one for all".
LINDEMAN AGAIN PATERNAL PAEAN
"Les would say the sixties were his golden years/ when all his lucky stars fell into line/ he was young and strong and his spirit of adventure/ saw him living in the islands at the time/ Hayman, Happy Bay and Daydream/ but Lindeman was always number one/ it was there he worked with John and Bob on the old Elizabeth E/ and there he met and fell in love with mum." - Lindeman Again - Adam Harvey-Graeme Connors.
Harvey vividly depicted the life and love of his parents for Mackay in Lindeman Again penned with fellow prolific Golden Guitarist Graeme Connors.
"I actually went up to Mackay to write a song with Graeme about my dad," Adam explained of the song in Connors' hometown.
"Dad spent a lot of time in Mackay. Until the day he died, he always said it was his favourite place. I've always wanted to write the song, and I think for me it's probably, personally, one of the most special songs, because it's all about dad."
Les travelled south to Melbourne and Geelong with his wife where they worked long hours to support their family.
Harvey revisits the Northern Territory for Darwin Nights - penned with Darren Howard and Angus Gill.
Red Dirt Town and 16 Summers with "no more ice creams dripping on the floor - written with Michael Carr - are also riveting reflections of the journey.
"Once again, it's a true story," Adam says of 16 Summers .
"A mate of mine from Sony Music used to say to me, 'Mate, you make the most of that time, because you only get 16 summers.' I said to him, 'What are you talking about?' He said, 'Mate, you've got those kids for 16 years. They turn 17, they get their license, and then they're gone, and there's no more road trips with mum and dad. So make the most of that time.'"
Harvey also detailed admiration for outback heroine Joy McKean who toured this vast country with late singing spouse Slim Dusty long before Harvey was born.
"I've become great friends of Joy McKean over the years, and I've always loved her song writing," Harvey explained.
"I just thought that that song would really tie in well with the whole theme about being on the road, especially for all the truckies out there. And it's a bit of an iconic song. I thought that it fit the album perfectly. Then I actually rang Joy again and said, 'Can I really stretch the friendship? It would be great to have Slim's voice in there at the end, to sort of tip the hat to the king,' and she agreed. She said 'I'm only doing this for you just this once,' and I'm very grateful for that."
Also historic is Adam's duet with Lee Kernaghan on the later Merle Haggard's classic Ramblin' Fever.
"Lee and I are both massive Merle fans and we started singing this song together on the Country Music Cruise ," Adam recalled.
"It was Lee's idea to record this song as a duet one day. The song is about being addicted to being on the road and it tied in so well with Songs From Highway One so it was a perfect fit. Lee and I had a ball recording this together."
BANDITS ON THE RUN
"Kids are like a rodeo/ most the time you're barely hanging on/ finally the dust begins to settle/ and you look up, they're gone/ we could rattle around the house/ or we could make some plans/ to have ourselves some fun/ we sold the place right there and then/ now we're bandits on the run." - Bandits On The Run - Adam Harvey-Colin Buchanan.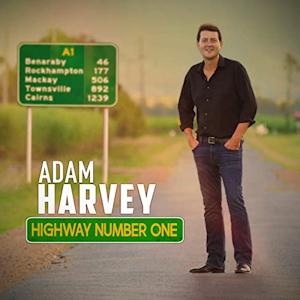 Equally evocative is the album's fitting finale Bandits On The Run written with Dublin born latter day Bourke singer-songwriter Colin Buchanan.
"I rang Colin and said, mate, I need the last song for the album," Harvey recalled.
"I want it to be about an older couple, and the kids have grown up and left. I don't want a soppy love story, but I want a song about this couple that are footloose and fancy free. They've sold up everything, and they're just on the road sharing this wonderful story together. I told him I had the idea that they chased the setting sun like bandits on the run. I said to him, 'I'd really like it to be a bit like a Glen Campbell Gentle on My Mind sort of thing with that rolling banjo. Well, Colin sent me a message half an hour later and said, 'Here's your song.' Incredible, just incredible. It was literally half an hour."
Harvey began his 40 date plus national tour in February with singer-songwriter Raechel Whitchurch, who grew up performing in her family's travelling band The Lees.
CLICK HERE for tour dates in our Gig Guide.