DAVE'S DIARY - 12/10/2020 - PREVIEW OF EPISODE 8 - SERIES 45
TEXAN ERIC PASLAY HEADLINES NU COUNTRY TV
Texan singer-songwriter Eric Paslay headlines Nu Country TV this Saturday October 17 at 9.30 pm on Channel 31/Digital 44.
Fellow Texan producer and singing satirist Steve Stewart returns to Behind Bars with a topical double shot of historic hits on the show repeated on Wednesday at 10.30 pm.
Nu Country TV co-producer, camera man and editor Laith Graham adds more local talent to his hosting with the debut of Melbourne born, Brisbane singer-songwriter David Schaak.
Georgian Caylee Hammack and New York state born Ruthie Collins also return this week.
Nu Country TV is a highlight of C 31 streaming list on Digital 44.
Further info - https://www.c31.org.au/
PASLAY A NICE GUY IN DISGUISE
Long tall Texan singer-songwriter Eric Paslay returns with a self-deprecatory dose of vitriol.
His character pays for his sins behind bars with a message of sorts to the forces of evil.
Abilene born Eric stands out in his video for Nice Guy - title track of his third album on his own Paso Fino Records.
It features cameos from Brad Paisley, Maddie and Tae , Charles Eston, Jamey Johnson, Bobby Bones, Cassadee Pope and co-writer Craig Wiseman.
Tall stories are not Paslay's only towering strength - aged 37 he stands six foot six inches in the old currency.
The prolific singer-songwriter has more than 700 of his songs recorded by peers.
In 2016 he earned a Grammy nomination for Lady Antebellum member Charles Kelley's track The Driver he co-wrote and sang with Kelley and Dierks Bentley.
He also wrote #1 hits - Jake Owen's Barefoot Blue Jean Night , Love & Theft's Angel Eyes and Will Hoge-Eli Young Band's Even If it Breaks Your Heart.
Eric's 2014 debut album produced Top 5 hit Friday Night and two Top 20's - Song About A Girl and She Don't Love.
He wrote all 11 tunes including Country Side Of Heaven featuring Little Big Town and Less Than Whole with Big Kenny Alphin of Big & Rich.
Paslay appeared on Nu Country with She Don't Love You (She's Just Lonely ) that he wrote with Jennifer Wayne of Runaway June.
"We initially were trying to write a song for George Strait , because he had just announced that he was doing the Cowboy Rides Away Tour," Paslay revealed.
"And Jen Wayne's grandfather is John Wayne, so she knows a lot about cowboys. So we were trying to just write that song, and we didn't quite have it."
He also appeared with Song About A Girl and Friday Night - also cut by prolific Grammy winning Georgians Lady Antebellum .
Further info - http://www.ericpaslay.com/
STEVE STEWART'S HUMOUR MASKS UP
Multi-talented Texan Steve Stewart injects more humour into his return to Behind Bars with a topical double shot in the Dandemic.
Stewart performs Take This Mask And Shove It - an update on David Allan Coe's #1 hit Take This Job And Shove It that topped charts for the late Johnny Paycheck and inspired a movie with Coe and Lacy J Dalton.
Steve also reached back to singing sailor and pilot Jimmy Buffett's famed hit Margaritaville for his humour packed Coronaville.
Dallas denizen Stewart proved Margaritaville that inspired a restaurant chain and record label was a much safer place than Coronaville.
Steve and brother Don debuted on Nu Country with a topical humorous take on an old Bee Gees penned song.
Islands In The Stream was a 1983 #1 hit for late fellow Texan Kenny Rogers and singing actor Dolly Parton, now aged 76.
The song, like Dolly, has aged well with diverse covers by major artists here and overseas.
Steve is a veteran singer-songwriter-musician-producer-arranger and mentor.
He plays over 150 shows each year at venues diverse as Billy Bob's Texas in Fort Worth and Grizzly Rose in Denver , NASCAR races, fairs and rodeos.
Further info - https://stevestewartmusic.com/
DAVID DUMPS TRUMP IN HONEYPOT
Melbourne born singer-songwriter David Schaak now enjoys the warmth of Brisbane where he sings for his supper
But a 2017 plane trip home from the U.S. inspired his song Honey Pot and video.
Schaak says he was shocked by Donald Trump's arrogance when he became U.S. President.
It was the second single and set the tone for others on his second album Meet My Ghosts out on November 27.
Schaak did not plan to include a politically charged song on his album but said "I guess when there's something to say, you have to be ready to say it loud."
Honey Pot depicts Trump as the villain but also references countless leaders from the business elite to bankers, royalty and religious hierarchy.
The lyrics include - "Buy and sell the world from a golden penthouse/ while your forked tongue tastes a silver spoon/ born into a name but are you living/ sixty-five floors high, buried in your tomb/ you've got your hand stuck in the honey pot/ full of power and gold/ sneering at the world through your rich man eyes/ you've got your hand stuck in the honey pot/ set in your ways because you're still chasing the money not the soul."
The song features Melbourne singer-pianist Brendan McMahon and Jen Mize on three part harmonies.
Honey Pot and first single Lost, Alone & Lonesome are on the album cut with producer Lee Griffin and engineer Jason Millhouse at Record Works in Brisbane .
Further info - https://davidschaak.com/
CAYLEE HAMMACK LAMPOONS SMALL TOWN HYPOCRITE
Georgian singer-songwriter Caylee Hammack returns with a song inspired by a cheating ex-boyfriend she left behind in her hometown Ellaville.
Small Town Hypocrite is on her debut album - If It Wasn't For You - that earned her best new female artist finalist in 55th Academy of Country Music Awards hosted by Keith Urban on September 16 in Nashville .
When Hammack planned to move to Nashville to attend Belmont University on a scholarship she met an older boy in her hometown.
"We were kind of in a secret relationship because he was older," Hammack revealed.
"I told him I was moving but that I would drive back seven hours every weekend to see him. I just loved hard. That's why I don't give my heart out easily because when I do it stings."
She gave up the college scholarship and stayed in Georgia until she found out the boy was cheating on her a few months later.
Caylee moved to Nashville at 19 and slept in her car in the same park as fellow chart topper Jimmie Allen.
"We stayed in the same parking lot," Caylee, now 26, recalled.
"He was a few months later. We could have been neighbours. It's a really cool world where people have welcomed me into the family in Nashville ."
Four years later she mined gold from ashes when her home burned down while she was at a writers' retreat with Tenille Townes and Brothers Osborne.
The fire destroyed Hammack's life savings, clothes, music gear, canvas art works, song tapes, high school diploma and precious mementoes worth $50,000.
Aged just 23 the embers fuelled Forged In The Fire - one of her 13 original songs on the album, released on August 14.
They included salient sagas inspired by her sister, father and a cousin including a duet with singer actor Reba McEntire.
Her debut single Family Tree - released on January 18, 2019 - was most-added debut song by a female artist at country radio in three years.
She wrote it about her father after his conversation with fellow Georgian mentor Luke Bryan who urged her to move to Nashville at 17.
Further info - https://www.cayleehammack.com/
RUTHIE COLLINS SINFUL TEASING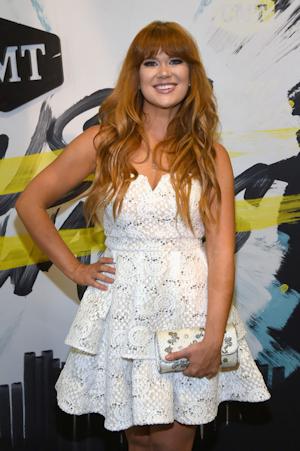 New York state born singer-songwriter Ruthie Collins returns with tongue in cheek humour.
The banjo playing singer teased in her Bad Woman video about sins she might enjoy as a bad babe.
But she proved she is a good gal with love of horses and butterflies.
The wry ballad depicts Ruthie eschewing moral responsibilities women face of putting others first and trying hard to do the right thing making the decision to be a "bad woman" instead.
Ruthie, now 36, wears her heart on her sleeve with a sparkle in her eyes as she cites Patty Griffin and Emmylou Harris as her primary musical heroes.
The Berklee College of Music graduate raised on a farm in Fredonia , New York state, now calls Nashville home.
She revisited Joshua Tree national park in second video Cold Comfort after filming her previous video Joshua Tree in the motel room where Gram Parsons died at 26 in 1973.
Ruthie wrote Joshua Tree after she split with a man whose drug plight echoed Gram's demise.
"I had just gotten out of a relationship with a guy battling addiction and had been through a similar situation," Ruthie revealed.
Bad Woman is third single on her second album Cold Comfort.
Further info - https://ruthiecollinsmusic.co
HOW TO KEEP NU COUNTRY ON AIR
We need your support in Nu Country TV's 45th series with Australian record companies and major artists teaming to ensure our survival.
We have expatriate Australasian superstar Keith Urban's chart topping 12 th album The Speed Of Now - Part 1.
Also vintage BR5-49 CD Big Backyard Beat Show and Billy Ray Cyrus's historic 1992 album Some Gave All that features his Achy Breaky Heart hit.
You can join Watling & Bates as members and win their 13 track CD Small Town Tales and Kip Moore's third album Slowheart .
We also have other CDS by major artists you can win by becoming a Nu Country TV member or renewing your membership.
They include Brad Paisley, Carrie Underwood, Eric Church and late larrikin legend A.P. Johnson.
CLICK HERE for our Membership Page for details.