DAVE'S DIARY - 5/10/2020 - PREVIEW OF EPISODE 7 - SERES 45
SHERYL CROW AND WILLIE NELSON HEADLINE NU COUNTRY TV
Cancer survivor and nine time Grammy winner Sheryl Crow and singer-actor Willie Nelson headline Nu Country TV Saturday October 10 at 9.30 pm on Channel 31/Digital 44.
Fellow cancer conqueror - Novocastrian Catherine Britt and altruistic Woodend singing DJ Donna Fisk - return to the show repeated Wednesday 10.30 pm.
Nu Country co-producer-camera man-editor Laith Graham finds a trio of redheads and blondes in his popular hosting role with debut of Georgian Caylee Hammack - another cancer survivor.
Singing actor and TV host Reba McEntire and Canadian Lindsay Ell also return.
Williamstown duo The Long And Short Of It - Patsy and Dave - inject timely humour during our Dandemic.
Nu Country TV is a highlight of C 31 streaming list on Digital 44.
Further info - https://www.c31.org.au/
ISO DUO SHERYL AND WILLIE LONELY ALONE
Missouri born singer-songwriter-producer Sheryl Crow drew on her links to a famous Texan family to flesh out her 11th album Threads.
She teamed with her band and young Shotgun Willie Nelson, just 87, from his Luck movie town ranch near Austin for dynamic delivery of her evocative video Lonely Alone.
Willie was joined in isolation by family and rescued horses near his chapel of love and history.
Sheryl operates her West Nashville home recording studio and recruited Willie's son Lukas, now 31, to appear on her album.
Crow is a true survivor after beating cancer and brain tumours in a colourful career that included an ill-fated marriage to Olympic cyclist Lance Armstrong.
Willie follows one of his singing daughters Paula, 51, who joined fellow Texan outlaw Ray Wylie Hubbard, 73, and Elizabeth Cook, 48, on recent video Drink Till I See Double - to promote his 18th album Co-starring - released on July 10 on Big Machine Records.
Teaming of Sheryl and Willie is a match made in honky-tonk heaven.
Sheryl recruited Eagles guitarist Joe Walsh in previous video Still The Good Old Days on Threads that also features famed Highwaymen Kris Kristofferson and late Johnny Cash, Vince Gill, Emmylou Harris, Stevie Nicks and Maren Morris.
"This is where my story begins; in the imagination of a young girl from Missouri who began to feel a part of a beautiful and inspiring universe of art, created by musicians who made me want to leave my small town and embark on something bigger than anything I could possibly imagine," Crow revealed.
"As I became a mother, I've explored life through my children and seen the greater impact of our actions and voices. This collection is the threads of both my inspirations and younger artists carrying the torch for humanity with their stories."
Sheryl dated Eric Clapton and Texan actor Owen Wilson earlier in her career.
She played Rod Laver Arena with John Mellencamp and Shane Nicholson on November 21, 2008.
CLICK HERE for our web mistress Anne Sydenham's review in our concert section.
CLICK HERE for Sheryl's 9th album Feels Like Home feature in the Diary on June 16, 2014.
CLICK HERE for Willie Nelson's First Rose Of Spring CD feature in The Diary on August 17.
CATHERINE BRITT'S LIFE IS A COUNTRY SONG
Novocastrian singer-songwriter and festival promoter Catherine Britt's colourful life reads like a true country song.
She was discovered by South Australian born troubadour and co-writer Bill Chambers whose music pedigree includes daughter Kasey and her producer brother Nash.
Catherine was just 14 when Bill produced her debut 1999 EP In The Pines that preceded her first album Dusty Smiles And Heartbreak Cures.
She left for Nashville at 17 to record and wrote with major artists including Pistol Annies pal Ashley Monroe, Chris Stapleton, Jedd Hughes, Morgan Evans, Bobby Pinson, Rory Lee Feek, Brett Beavers and Jerry Salley
Catherine, now 33, had a performing hiatus when diagnosed with breast cancer at the age of 30.
But she beat cancer and gave birth to son Hank on Christmas Eve, 2017, with husband James Beverley.
She also published Rhythms Magazine and hosted ABC Saturday Night Country radio show.
Britt performs her I'm A Country Song video from her ninth album on her indie label Beverley Hillbillies.
" I Am A Country Song is a favourite of mine off the new album and I'm so excited to share it with the world after such a strange time in all our lives," Catherine revealed of the song spawned by a conversation with her best friend in Nashville.
"I asked her when we landed in Nashville for our last US tour, "have you been listening to the radio? What's new?" She simply replied in her Mississippi drawl "oh honey, I don't need to listen to the radio, I am a country song".
Catherine and husband James operated Silverton Hotel when they hosted Silverton Sunset Music Festival.
Catherine performed Whiskey Lullaby and Too Hot To Just Quit on Nu Country during her cancer recovery and released an album with The Cold, Cold Hearts.
CLICK HERE for a Catherine CD feature in The Diary on August 27, 2018.
CAYLEE HAMMACK FINDS REDHEAD REBA
Georgian Caylee Hammack proves resilience as the third cancer survivor on this week's show.
Caylee, just 26, beat cancer at 16 in her southern Georgia hometown Ellaville.
Her reliance on pain killers after a cancerous tumour was removed inspired her first recorded song Addictive.
"When I was 16, I had a two pound tumour removed from my back spinal muscle," Caylee revealed.
"I went a month fearing I had cancer and I was terrified. We had to wait for me to get better before I could have surgery. Three days later the specialist called and said we had the blood screen pathologist look through it and they're now clear. That moment felt like a clean slate from God. It was a wake-up call of sorts. Life is shorter than you thought. I've been given a second chance so go and do something with it. It was the first song I wrote in bed after I was getting through it. It was about the pain killers and a relationship I was having. It was the first song I ever got anyone in Nashville interested in me."
Caylee's pairing with mentor Reba McEntire, aged 65, on her Redhead video is a salient selection - she wrote it about an older cousin with fiery red hair.
Redhead is on Caylee's debut album If It Wasn't For You released on August 14.
Oklahoma born former rodeo star, singer-songwriter, movie star and TV show host Reba toured here with the late Texan Kenny Rogers in 1998 and Troy Cassar-Daley in 1999.
Reba starred with Kevin Bacon in 1990 movie Tremors and North in 1994 and joined Kenny Rogers and Burt Reynolds in TV movies, The Gambler Returns: The Luck of the Draw and The Man From Left Field .
She also appeared on Nu Country in her videos Sing It Now, I'll Fly Away and Just Like Them Horses that she sang at the funeral of her father Clark who died at 86 on October 23, 2014.
CLICK HERE for a Reba story in the Diary on December 9, 2003.
Further info - https://www.cayleehammack.com/
LINDSAY ELL RAPE REVISITED
Canadian Lindsay Ell celebrated her 30th birthday on March 20, 2019, when she toured Australia with Devin Dawson, Tenille Townes and Brandy Clark.
Lindsay, now 31, hails from Calgary, Alberta, and performed originals including Criminal, Just Another Girl and Waiting On You - three of nine she co-wrote for her fourth album The Project.
But it was a horrific rape when she was just 13 that inspired Make You that she penned with fellow tourist Clark who hails from Washington State.
"Three years ago at a visit to help launch the music program at Youth For Tomorrow , I sat down in a conference room with a few girls aged 12-18 who had all been victims of rape or sex trafficking," Ell explained.
"I shared my story. They shared their stories, and I was so inspired. Walking out of that room that day I knew the time had come to share my story more widely. Otherwise I would be denying myself an opportunity to connect and help other girls or boys, like those in that room. It's a very difficult thing to do, but an incredibly necessary thing to talk about. We don't realize how much this stuff is happening in our own community, and that is partly due to not discussing it. I believe music has the power to heal.
"Once I decided it was time to share my story, there was specifically one co-writer who came to mind. I called Brandy, an absolute wordsmith and songwriter genius, and asked her if she would write this song with me. She fearlessly and immediately said yes. The day we wrote 'make you' I knew we had written something special that will hopefully help others to not feel alone in their survival. And more personally, it was finally the moment in my life where I got to validate that little girl inside - letting her know that I see her and I love her.'"
At the song release Ell launched Make You Movement charitable fund whose mission is to help organizations that support at-risk youth, domestic abuse and sexual assault survivors with funding.
Make You is on Ell's fifth album Heart Theory - a concept disc - released in August.
It takes her through seven stages of grief after ending a relationship with radio deejay Bobby Bones.
CLICK HERE for Ell's Athenaeum concert review in The Diary on March 23, 2019.
DONNA FISK SHOULDER TO THE WHEEL IN HAY DRIVE
Woodend singer-DJ Donna Fisk delivers hay and music in her Nu Country return shortly after her dad Gene Bradley Fisk appeared with Otway bushrangers' video Kaanglang Dreaming.
Donna, now 60, created her song and video to highlight hay drives from Trentham to drought stricken Lake Cargelligo in NSW before the Pandemic closed interstate borders.
Acclaimed artist Rose Wilson and co-artists at The Little Gallery in Trentham, hosted an art raffle of their work to purchase hay for farmers in drought.
The idea was to take hay directly ( Farmer to Farmer ) in a music-art hybrid that resulted in over 300 large bales and fuel money donated from local farmers and the community.
Rose reunited with old school friend Janene, who lived in Lake Cargelligo in the centre of drought affected country.
Shoulder To The Wheel is on Donna's Robert Angello produced 14 track second solo album LIT - Playing Not Working - cut in Nashville and due for release this year after several singles.
Donna followed dad Gene, now 85, as a singing DJ after growing up near Geelong and regional radio stations where he worked.
But she upstaged Gene by singing at the 1998 AFL grand final with duet partner Michael Christian.
Their song Rock' N Footy was the hit theme for the Seven Network footy telecasts.
Fisk & Christian released three albums after her 1986 solo disc Turn The Key and 1985 duet album with Johnny Chester - Side X Side .
Further info - https://www.donnafisk.com/
PATSY AND DAVE ON THE DOCK OF THE BAY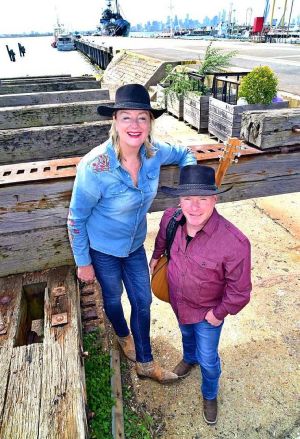 Williamstown duo Patsy & Dave who record and perform as The Long And Short Of It return to Nu Country with some humorous animation in our tough times
They wrote and performed Just Give It All You Got on the dock of the bay from their sixth CD - The Night Of Our Life - released in 2016.
"This country pop/soft rock song with its inspirational and uplifting lyrics is motivated by their life experiences - Sticktoitivity will spark your creativity so never give up, just give it all you got!"
Yarraville singer-sign-writer Dave Baird and Williamstown lawyer Patsy Toop also sourced Biblical song Jesus Money from a homeless woman in an alley near a Nashville recording studio where they recorded.
Dave and Patsy - mother of four children and award winning lawyer - joined forces after meeting seven years ago at a music charity function.
They won best duo at Tasmanian independent music awards and Southern Star Music Awards in Mildura.
Patsy was inducted onto Victorian Honour Roll of Women in recognition of her trailblazing litigation work and volunteering.
She was honoured for 34 years' legal work representing workers' human rights in cases of asbestos-related and chemical-induced illnesses and was founding board member and passionate volunteer for the Seaworks Foundation's restoration and preservation of Williamstown's maritime precinct.
Further info - www.thelongandshortofit.com.au
HOW TO KEEP NU COUNTRY ON AIR
We need your support in Nu Country TV's 45th series with Australian record companies and major artists teaming to ensure our survival.
We have the vintage BR5-49 CD Big Backyard Beat Show and other classics including Billy Ray Cyrus's historic 1992 album Some Gave All that features his Achy Breaky Heart hit.
You can join Watling & Bates as members and win their 13 track CD Small Town Tales and Kip Moore's third album Slowheart.
We also have other CDS by major artists you can win by becoming a Nu Country TV member or renewing your membership.
They include Brad Paisley, Carrie Underwood, Eric Church and late larrikin legend A.P. Johnson.
CLICK HERE for our Membership Page for details.