DAVE'S DIARY - 21/9/2020 - PREVIEW OF EPISODE 5 - SERIES 45
WILLIE NELSON AND TOBY KEITH HEADLINE NU COUNTRY TV
Singer-actors Willie Nelson and Toby Keith revisit a movie as they headline Nu Country TV this Saturday September 26 at 9.30 pm on Channel 31/Digital 44.
Brothers Osborne embellish Willie and Toby's crime theme in their return to the show repeated Wednesday at 10.30 pm
Nu Country TV co-producer, camera man and editor Laith Graham adds more humour in his hosting role as he finds veteran Texan outlaw Ray Wylie Hubbard seeing double with Willie's daughter Paula and fellow singer Elizabeth Cook.
Fellow outlaw Hank Williams Jr revives a live name check in Behind Bars.
Local singing actor Andy Penkow and Nundle DAG Sheep Station host John Krsulja also return in a vibrant show.
Nu Country TV is a highlight of C 31 streaming list on Digital 44.
Further info - https://www.c31.org.au/
WILLIE AND TOBY PROVIDE BEER FOR THEIR HORSES
Veteran Texan singing actor Willie Nelson and Oklahoma star Toby Keith revive their 2009 movie theme Beer For My Horses in our video crime double shot.
At the ripe young age of 87 Shotgun Willie still rides his steeds in horse rescues in his movie town Luck near Austin.
Keith, now 59, starred in the humorous movie 11 years before his isolation during COVID-19.
The duo illustrated their humour by ensuring they provided whiskey for their men and beer for their horses.
Willie, who has toured here many times since his 1981 Australian debut, and Toby pulled huge crowds on their Australian visits.
CLICK HERE for a Toby Keith feature in The Diary on January 18, 2014.
CLICK HERE for Willie's latest CD feature in The Diary on August 17.
BROTHERS OSBORNE LEAD POSSE
Brothers Osborne return to our show after being forced to cancel their return Australian tour that included the Rod Laver Arena because of COVID-19.
Maryland born brothers John, aged 35, and T.J. aged 32, played 2018 CMC Rocks Queensland festival at Ipswich.
They left Maryland for Nashville as songwriters and won the 2017 CMA Awards best vocal duo.
This time they hitched up their horses and chased some familiar suspects in an armed robbery in their humorous video for It Ain't My Fault from their 2016 album Pawn Shop.
The duo also appeared with videos at a legalized marijuana plantation at Terrapin station, Colorado.
They included A Couple of Wrongs Making It Alright and Weed, Whiskey & Willie.
They performed alternate versions of songs from second album Port Saint Joe recorded in The Bellamy Brothers home state Florida and released on April 20, 2018.
The duo also showcased 21 Summer, Shoot Me Straight and Pushing Up Daisies.
They toured the U.S. with Arizona born singer-songwriter-pilot Dierks Bentley after appearing at Joshua Tree on his Burning Man video from his 11th album The Mountain.
CLICK HERE for a Brothers Osborne CD feature in The Diary on July 22, 2019.
RAY WYLIE HUBBARD ACTING SINGLE - SEEING DOUBLES
Veteran Texan outlaw Ray Wylie Hubbard had no shortage of guests on his 18th album Co-starring, released on July 10 on Big Machine Records.
They included Beatles drummer Ringo Starr, Cadillac Three, Pam Tillis and Ronnie Dunn.
Ray, now 73, found two younger women in new video Drink Till I See Double.
Paula Nelson, aged 51 and the oldest of Willie's daughters, joined Elizabeth Cook, now 48 and one of 12 children.
No wonder Ray was seeing double.
Another new song Bad Trick features Eagles guitarist Joe Walsh, Don Was and Chris Robinson of the Black Crowes.
Other guests are Arkansas born Ashley McBryde on Outlaw Blood , bluegrass/folk legend Peter Rowan on Hummingbird and Aaron Lee Tasjan on Rock Gods.
"I have believed in the rule that one should not sing their own praises, but with my new record on Big Machine Records , well I'm going to have to break that rule," Hubbard revealed.
"Co-Starring has got grit, groove, tone and taste and is so righteously cool that small demons will drool, and little angels will want to line dance."
Hubbard was born in Hugo , Oklahoma , and moved to Austin , Texas , and lives in the hill country at Wimberley - former home of Kevin Welch who resides on the NSW south coast with his Australian wife.
CLICK HERE for a Ray Wylie Hubbard feature in The Diary on July 7, 2012.
BOCEPHUS – JUST CALL ME HANK
Another singer actor Hank Williams Jr has no identity crisis with his live version of Just Call Me Hank on his return to Behind Bars .
But Hank, now 71, has been married four times and survived a horrific fall off Ajax Mountain in Montana in 1975.
The singer's face was rebuilt in multiple operations before he revived his singing and acting career.
Tragedy is no stranger to Hank - one of his singer daughters Katherine died in a car crash in June aged just 27.
Bocephus was belatedly admitted to the 2020 Country Music Hall of Fame with Marty Stuart and Dean Dillon.
Hank recorded vitriolic blue collar worker exploitation song Red & White Pink Slip Blues long before Donald Trump used the subject as a fear and redemption weapon in his presidential campaign.
The song, with its powerful video, was on Hank's 51st album 127 Rose Avenue in 2010.
Bocephus named it after his childhood home in Georgiana , Alabama .
Hank Jr revived the U.S. economy with moonshine liquor - his Popcorn and White Whiskey distillery.
Popcorn Sutton manufactured the finest moonshine in Cocke County in East Tennessee in the 1970s before being arrested and sentenced to 18 months in a federal penitentiary and fined $5,000 for not paying taxes on his illegal whiskey.
Hank invited rowdy friends to a party with The Grascals live music to launch Popcorn Sutton's Tennessee White Whiskey after the cancer stricken bootlegger suicided.
Jamey Johnson, Kid Rock, Josh Thompson, Travis Tritt, Colt Ford, Martina McBride, Rodney Atkins, Randy Houser, Zac Brown, Tanya Tucker, Little Texas , Dave Gibson, Lee Brice, Little Big Town , Eddie Montgomery, Heidi Newfield,
Kentucky Headhunters, Two-Foot Fred, the Roys and Jaron Lowenstein were the guests.
Hank Jr.'s son, Hank III, mentions Popcorn in his song Moonshiner's Life on his Rebel Within CD.
Bocephus went on the road, aged eight, singing songs by famed father Hank Sr and was 17 when he starred in his first movie - A Time To Sing .
Richard Thomas of The Waltons fame played Hank Jr in The Living Proof movie and George Hamilton played Hank Sr in 1964 film Your Cheating Heart.
Hank Jr was also in Roadie with Meatloaf, Roy Orbison, Alice Cooper, Joe Ely and Asleep At The Wheel.
The father of recording artist daughters Holly and Hilary, and sister Jett recently approved another new movie on their dad who died at 29 in 1953.
Just Call Me Hank is on one of his 53 albums.
CLICK HERE for a Hank Jr CD feature in The Diary on February 16, 2010.
ANDY PENKOW LOOSE AMONG THE WILDFLOWERS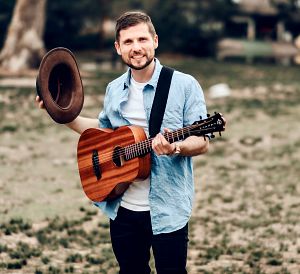 Former child prodigy and singing actor Andy Penkow returns to the show in a career that began as a songwriter at 12.
Andy was born in Sydney and raised on the NSW south coast before joining the SBS choir and appearing in Mel Gibson 2000 TV movie Three Stooges.
This week he acts out sentiments of his new video Wildflowers from his second album Chasing The Sun.
"I wrote this song a few years back, I was heading to Parkes NSW for a gig and I was blown away by the fields of wildflowers on the side of the road," Andy revealed.
"So I wrote this song in a motel at Parkes. A few years later I wrote a song called Wild Hearts but I couldn't quite get it right. Fast forward to now I pulled both songs apart and wildflowers was born.
Chasing the Sun was produced by ARIA and Golden Guitar winning producer and artist Shane Nicholson.
Andy debuted on our show with Drowning In The Whiskey on debut album Sad Love Songs that Rod Motbey produced at his Shellharbour studio Tracking Dog.
Andy studied music at JMC Academy , Sydney , and completed an advanced diploma of popular music and performance while lead singer for Inter-fear , the Thompson Gunners covers band and Ionia and Mundy Bluze .
Andy appeared in Deck Dog's movie 2005 , Deadly Woman series 11 (2017) and Sunday night (2017).
Further info - www.andypenkow.com
JOHN KRSULJA LEADS A PEOPLE REVOLUTION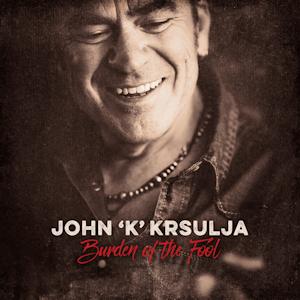 Nundle singer-songwriter and DAG Sheep Station host John Krsulja returns with an inspirational song and video.
Golden Guitarist winner John K leads his revolution from way up high with a powerful message of hope and freedom - timely in this Pandemic.
People Revolution is on his second album Burden of The Fool that came out on June 19.
He previously appeared on Nu Country with Black To Blue - his tribute to late expat Scottish producer and singer-songwriter Karl Broadie and multi-instrumentalist Glen Hannah.
Broadie died from cancer at 44 on April 19, 2016 and collaborated with John K on his song The Busker on his debut album Travellin'.
Edinburgh born Karl moved to the historic Nundle village near Tamworth with his family before he succumbed to his illness.
Nundle is where John lives at the DAG Sheep Station with wife Belinda and their two young daughters Brooke and Jade.
Black To Blue is the only track to feature Hannah on acoustic guitar, as he took his life four weeks later.
Glen died on May 28, 2019 - a month after his wife Felicity's seventh CD Frozen Rabbit was released.
Black to Blue was produced and engineered by Glen - prolific producer-guitarist-photographer-graphic artist - and Matt Fell and recorded at Love Hz studio.
CLICK HERE for a John Krsulja interview-CD feature in The Diary on June 8.
HOW TO KEEP NU COUNTRY ON AIR
We need your support in Nu Country TV's 45th series with Australian record companies and major artists teaming to ensure our survival.
We have the vintage BR5-49 CD Big Backyard Beat Show and other classics including Billy Ray Cyrus's historic 1992 album Some Gave All that features his Achy Breaky Heart hit.
You can join Watling & Bates as members and win their 13 track CD Small Town Tales and Kip Moore's third album Slowheart.
We also have other CDS by major artists you can win by becoming a Nu Country TV member or renewing your membership.
They include Brad Paisley, Carrie Underwood, Eric Church and late larrikin legend A.P. Johnson.
CLICK HERE for our Membership Page for details.